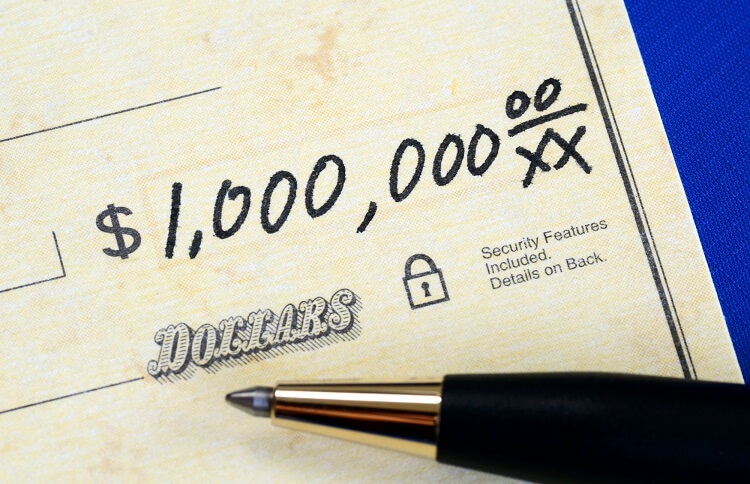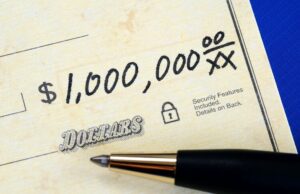 Hahaha. I couldn't resist on the title for this one.
But once again, compounding has shown us its massive power and I simply needed a way to emphasize that.
Let me explain…
The First Million is the Hardest
Several years ago I wrote a post titled The First Million is the Hardest.
The introduction to that post started with this:
Some say that hitting your first million in net worth is harder than hitting subsequent million-dollar milestones. This post examines whether or not this is true.
Short story: it is true.
That's because in getting to the first million you are doing all the heavy lifting yourself. You are having to save a ton of money. And that money has relatively little time to help you grow it into more.
But once you get the first million, you keep on saving PLUS that first million starts working hard for you over time.
Next thing you know you have $2 million!
Now you're still saving but you have $2 million helping you out!!!! It's a wealth snowball!!!!!
Looking at Subsequent Millions
When I wrote that post (which was near the time I retired), I had reached $3 million in net worth.
My milestones were as follows:
$1 million net worth — 19 years, 3 months
$2 million net worth — 4 years, 9 months
$3 million net worth — 2 years, 8 months
As you can see, things got much easier over time.
As I write this, my net worth is now over $6 million, so I'll add the following to what I have above:
$4 million net worth — 3 years, 6 months
$5 million net worth — 2 years, 4 months
$6 million net worth — 5 months
Ok, there are a few things screwy in these numbers (which are my "official" end-of-month numbers from Quicken) that don't make every million easier than the rest.
Here's what's going on in my case:
Between $3 million and $4 million we had higher spending and lower income. We spent a lot on travel. And income was "lower" than it is now — it wasn't low in absolute terms FYI.
We also had a stock market that wasn't as cooperative as it's been more recently. And since a big part of our wealth is in index funds, our net worth rides along with what happens in the market.
And finally, between $3 million and $4 million I kept the value of my rental properties in my net worth at cost. I knew they were worth more but there wasn't any real way to get a solid number on them. Plus there were variables (like taxes, selling costs, etc.) that would play a part in their final value. So I kept them in my numbers at cost as another margin of safety.
Once I got to $4 million, I started making more money (really by accident, but it happened), the market was on fire (except for March 2020), I bought more index funds and dividend stocks on the dip, and I upped the estimated value of my rental properties based on advice from the Millionaire Money Mentors. And what do you know — $5 million happened fairly quickly!
Then I sold my rental properties and realized their true value (which was higher than I had estimated). And the market kept growing on an amazing pace. Plus I earned even more. And Covid put a kibosh on one of our top spending categories (travel), so spending was way down. Before I knew it, we were at $6 million in less than half a year.
If I had valued the rental properties correctly each year my net worth would probably have been more linear with each subsequent million taking less time (maybe not exactly, but much closer than what is shown above). Of course the market is a big factor in this as well and sometimes it's up 20% and sometimes it's up 3% (or even down). So that impacts the numbers too and no amount of investment level is immune from those fluctuations and growth rates.
But the general principle is correct: each subsequent million is easier to achieve than the last one.
If I had updated estimated the real estate values each year, my net worth growth would probably look something like this:
$4 million net worth — 2 years, 6 months
$5 million net worth — 2 years, 1 month
$6 million net worth — 1 year, 8 months
Millionaires Have the Same Experience
In the Millionaire Money Mentors forums we had a discussion about this principle and the general consensus was that it's true.
Some shared their net worth progressions to illustrate the fact and I want to highlight a few for you.
Let's begin with this one:
1M at 37
2M at 42
Now 50K away from 3M at 45
So many in the forums are doing better than I did at an earlier age. Bravo for them!
And another:
1M was ~16 years
31 more months to hit 2M
25 more months to hit 3M
20 more months to hit 4M
7 more months to hit 5M
13 more months to hit 6M
8 more months to hit 7M
15 months to hit 8M
16 months to hit 9M
11 months to hit 10M
12 months to hit 11M
That's a very nice ramp up!!!
This mentor actually listed how he made each jump as well — what percentage was attributed to savings and what percent was from investing.
The specifics:
1M to 2M – 105% Savings as actually lost 5% in Investing
2M to 3M – 85% Savings/ 15% Investing
3M to 4M – 65% Savings/ 35% Investing
4M to 5M – 15% Savings/ 85% Investing
5M to 6M – 10% Savings/ 90% Investing
6M to 7M – 30% Savings/ 70% Investing
7M to 8M – 55% Savings/ 45% Investing
8M to 9M – 30% Savings/ 70% Investing
9M to 10M – 40% Savings/ 60% Investing
10M to 11M – 55% Savings/ 45% Investing
You can see how investing becomes more important as the numbers get larger. Compounding does its thing!
I do think that investing is even more important than what's shown here and I made this comment in the forums:
I think these numbers are more indicative of a VERY high income. Most millionaires make in the $250k range (median). You are at least 3x of that, thus income is a bigger portion of your gains.
For someone who made "only" $250k per year, I would expect investing to be a larger share of the gains earlier in the journey.
Here's another:
First million at 31
Second million at 33
Third million at 34
Three million at 34!!!!!!! Amazing!
As I said, there are some really smart cookies in the forums. Hahaha.
Another example:
Hit $1 million at 41
$2 million at 45
Probably will hit $3 million by 48
And another:
$1M at 31
$2M at 34
$3M at 36
$4M at 37
$5M at 38
Wow. Just wow.
Another:
$1MM – Age 42 (took 20 years)
$2MM – Age 45 (took 2 years, 9 months)
$3MM – Age 46 (took 1 year, 4 months)
$4MM – Age 47 (took 10 months)
Yet one more strong performer.
And one last one for today:
$1M – Age 34 (been working in a career job for 11 years)
$2M – Age 37 – 38
$3M – Age 40 – 41
$4M – Age 44
$5M – Age 46
Time to retire early!!!!!!!
So What?
You may be reading this and thinking, "Ok, so what's the big point here?"
The point is an encouragement for you.
You might have less than $1 million right now, think you need $3 million or so to retire, and might be getting frustrated.
Perhaps you're thinking, "It's taking me so long to get to $1 million! I'll NEVER get to $3 million!"
The point here is: Don't give up! It gets MUCH EASIER!
Work to get to that first million by earning, saving and investing. Then you'll have a buddy (your $1 million buddy) to help you get to the second and third million much easier and faster than it took to get to the millionaire level.
So keep at it! Go get 'em! You got this!!!!