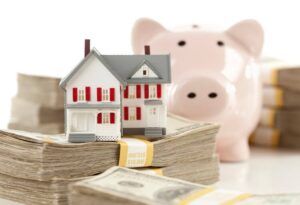 Here's our latest interview with a millionaire as we seek to learn from those who have grown their wealth to high heights.
If you'd like to be considered for an interview, drop me a note and we can chat about specifics.
My questions are in bold italics and his responses follow in black.
Let's get started…
OVERVIEW
How old are you (and spouse if applicable, plus how long you've been married)?
I'm in my late 40s as is my wife.
We have been married for nearly 20 years. Can't believe how time has flown by.
Do you have kids/family (if so, how old are they)?
We have 3 teenage kids.
They will soon be out of the house and off to college which will be a big transition for us. I think my wife is looking forward to that more than I am. 🙂
What area of the country do you live in (and urban or rural)?
We live in the western US in a fairly urban area.
Cost of living is a bit expensive for my taste. We are considering moving out of the area into a lower cost area (with hopefully no state taxes) when the kids are out of the house.
Where we end up will largely depend on where the kids settle down. Don't want to be too far away from the grandkids. 🙂
What is your current net worth?
Our current net worth is about $6M.
I try to do this calculation once a year.
About 5 years ago, I started looking at growing this as a key metric based on a few of the blogs I was reading and my mentors.
If the goal is to build wealth, I can't think of a more important metric, but it should be done as part of pursuing a fulfilling lifestyle. I know several people that want to build wealth at all costs and suffer from a miserable lifestyle to get there.
What are the main assets that make up your net worth (stocks, real estate, business, home, retirement accounts, etc.) and any debt that offsets part of these?


Just a few notes about the above table:
I'm not a big fan of debt so the only debt I have is what I consider "good debt" (vs bad debt like credit cards, etc.) I know that we can't always avoid bad debt, but I encourage everyone to really understand the mechanics of the "bad debt" to avoid any surprises. I use debt in nearly all of my real estate transactions to get the best returns possible. I know there are a lot of investors that prefer to pay all cash for their real estate, but I found it hard to accumulate properties at a healthy clip and get the best returns with this strategy. I also used debt to purchase my primary residence. When my wife and I retire, we will likely purchase our retirement home with all cash.
The individual stocks are from distributions from the VC fund that we invested in. I usually don't like investing in individual stocks with the exception of the dividend portfolio that I'm building (see next point). So I will likely sell these holdings soon.
About $600k of the Vanguard brokerage funds are allocated to the dividend portfolio I'm building. I'm a late bloomer when it comes to dividend investing, but really love it. There aren't that many better ways to create a tax efficient, growing passive income stream. There are a ton of tools out there to help you identify and analyze the right dividend investments. Once you understand the basics it isn't that complicated to build a good dividend portfolio. My portfolio currently includes about 12 stocks all together. My aim is to have a dividend portfolio that yields about 10% per year with it growing at 5% by the time we "retire".
I use a self-directed IRA to invest in mortgage notes. Since the interest income is taxed as ordinary income, I wanted to get some temporary relief from Uncle Sam so it can grow tax deferred for a number of years. The jury is still out for me on the appeal of mortgage note investing. I was originally attracted to the double digit returns (~10-12%) but you have to always keep it invested which is hard when a mortgage note is paid off and it takes you a few months to find another suitable investment. Also, I have had a couple of foreclosures. One resulted in better returns while the other was a loss.
I was given the opportunity to put a little money in a Tier 1 VC fund. So far the returns have been pretty good (~15%). I consider this a long-term illiquid investment. Not sure I would do this again as it is very speculative and not sure the risk-adjusted returns are worth it.
I actually like to include the college savings accounts in my net worth. I know some people may not agree, but I think it is a valuable asset that was built with your income over time. You probably would not include this in your investable assets though.
EARN
What is your job?
I'm a senior level corporate executive at a Global 1000 company.
What is your annual income?
My income last year (2019) was approximately $1.1M, which includes a base salary, bonus and equity grants from my company.
Tell us about your income performance over time. What was the starting salary of your first job, how did it grow from there (and what you did to make it grow), and where are you now?

I tracked my income back to when I was a teenager (via the social security website). It is funny to look at how this trended over time.
My income has been a bit sporadic over the years because as I moved up, more and more of my compensation was based in equity which has fluctuated with the stock market.
The first time I earned any money was when I was in elementary school. This record store had a promotion and he wanted my friends and I to put flyers on cars. It took a couple of hours and it wasn't that hard, but I remember the feeling that I got when he paid us (probably a couple of bucks) and I was able to go to the arcade and play a bunch of video games. That was probably the first time I directly connected working and earning money.
From there I worked in fast food restaurants in high school. One day, the owner of this Italian restaurant gave me a few lessons on life and managing money. One of the lessons he told me I will never forget. He said he has investments that make him money when he sleeps. I didn't fully understand what he meant at the time, but it always stuck with me. He was trying to explain the benefits of passive income.
After finishing college, I took a traditional corporate job in the financial sector. I enjoyed this job as I got to use my finance degree and work with a lot of senior level executives. Income at this job was about $30K. I thought I was making a ton of money. After paying my rent and groceries, I had a lot left over. I have always been a saver and investor (started investing in stocks when I was 16) so I had money automatically transferred to my company's 401(k) each month.
Hands down, the biggest impact on my income was getting an MBA from a top school. The job opportunities really opened up for me that was able to substantially increase my income. You can see in the chart the income trend after I received my MBA.
Earlier in my career, I was focused on getting as much cash compensation as possible. Then one of my mentors told me that most people build their wealth with equity so don't be afraid to push for more equity (and accept lower cash compensation) in your jobs. At first it was hard to put this into action because I had 3 young kids, a mortgage and bills to pay. But I started to slowly ask for more equity as I took on different jobs and it has paid off over time although it has not always been a smooth ride.
What tips do you have for others who want to grow their career-related income?
The best advice I can give on growing your income is learn an indispensable skill and become great at it. There are a lot of people that work really hard, but either their profession or skill set is not differentiated so it is hard for them to fully maximize their earning potential.
Also, once you get into your desired field or profession it is VERY important to network. Building up an internal network (at the company) and external network has tremendously helped my career. Oftentimes networking doesn't come naturally to most people, but please force yourself to do it. Most of my jobs either came directly from my network or college alums.
Finally, this is a great book to ready each time you start a new position: The First 90 Days
by Michael D. Watkins. It has really helped me get off to a fast start on the job. Since you only make a first impression one time, it is important to get off to a good start, build credibility and achieve some early wins. This has helped me to formulate my learning plan and the best way to set expectations with key stakeholders.
What's your work-life balance look like?
Earlier in my career (pre-kids) my work-life balance was terrible. I worked in an industry where I was at the whim of my clients at all hours of the day and night. I didn't like the unpredictability. However, since it paid fairly well, I put up with it.
When I started having kids, the long hours really started to affect me and my family. That is when I decided to stay in the same career, but go "in-house" with a client with more predictable hours. This did help somewhat, but there were always periods of time when the work required a bunch of nights, weekends and occasional all-nighters.
During most of my career I tolerated the hours, but as I started to lose a passion for the work, it really started to weigh on me. I'm at the point now where I am looking forward to full financial independence and building the next chapter.
Do you have any sources of income besides your career? If so, can you list them, give us a feel for how much you earn with each, and offer some insight into how you developed them?
Real estate and dividend income are two other sources of income, but I'm primarily doing that to set myself up for the next chapter in "retirement". My goal is to create $150K in after-tax income during "retirement" between these two income streams. I'm focused on these two types of income streams because they are both passive, tax-efficient and grow over time. The trifecta!!!
I have been investing in real estate now for over 15 years. I really love this asset class because it is stable, tax efficient and leverageable. My strategy has been to buy and hold. I have invested primarily in the Midwest where there is steady cash-flow. Although I won't get the appreciation that other markets offer, I prefer not to speculate on property values so any appreciation I get is icing on the cake. Right now, I generate about $7,500/month in cash flow from my real estate portfolio.
I currently have 27 properties (49 doors). I generally like single family homes and duplexes in "B" / "C" class neighborhoods. The tenants in these units tend to be more stable (vs apartment buildings, tri-plexes and 4-plexes). When there is a smokin' good deal, I will purchase a tri-plex or 4-plex.
I generally put 20%-30% down on each of the properties with as long as a term the bank will give me. Some of the properties are on a 20-year or 30-year term loan with a fixed interest rate, but many of the Midwest properties are on a 5-year term / 20-year amort. loan. I don't particularly like that set-up, but it was the best I could find.
One of the unique things I did was put one of my Vanguard mutual funds up as collateral and take out a home equity line of credit to use as debt for several of the Midwest properties. Although this line is interest only, I pay it back as if it is an amortizing loan over 30 years. This gave me a much better rate (~4%), allowed me to move fast (as no appraisal, etc. is required) and significantly lowered my closing costs (no underwriting fee, etc.)
Since I generally look for cash flow, the primary metric I use to initially evaluate properties is cash-on-cash return. If I can get to a 15% return on my cash, I will usually do a more extensive analysis.
Over the years, I have built up a network of realtors and wholesale investors that send me deals. I also look at MLS quite a bit.
My overall portfolio is currently yielding a weighted average 16% cash-on-cash return. The properties in the southwest are the ones where I expect a bit more appreciation and therefore sacrificed cash flow.
I'm close to being done with adding to my real estate portfolio. I still have to stabilize a few of my properties and complete some renovations, but for the most part I don't see myself adding more than a couple of properties to my portfolio. Once the properties are stabilized, I may start creating a debt snowball schedule to see if I can pay off any properties before I "retire".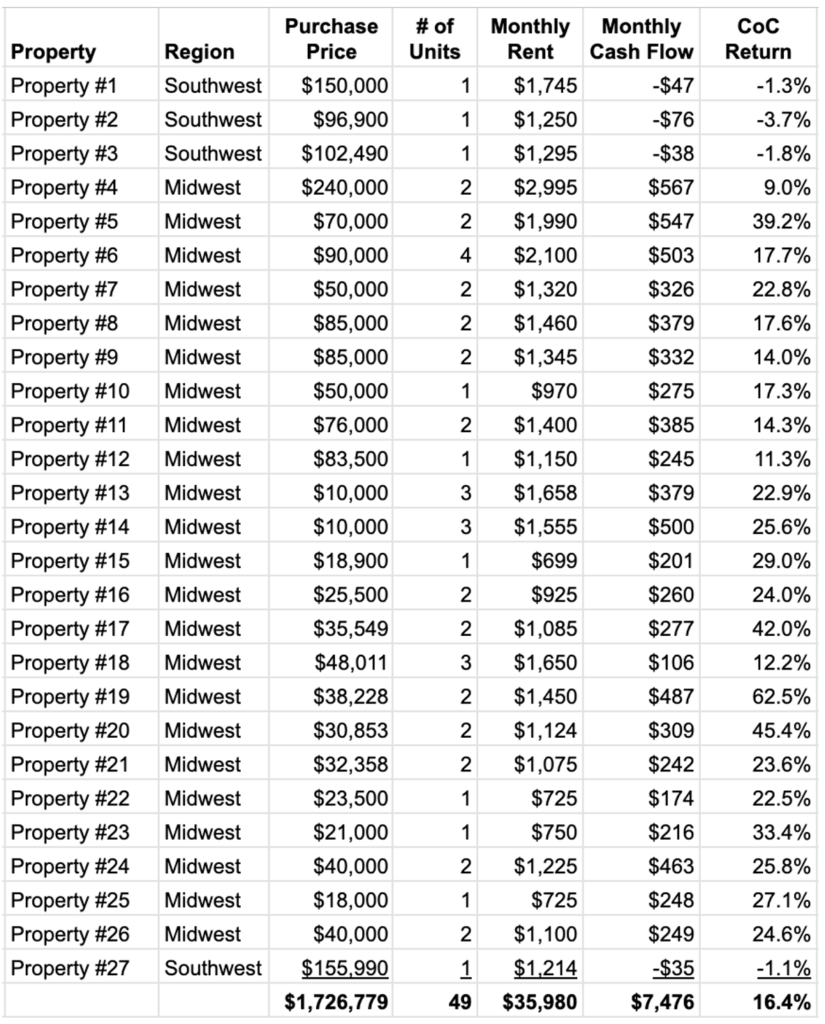 As far as dividend investing, as I mentioned this is a recent endeavor for me. I really do like the steady tax efficient growth of dividends. My goal is to build a dividend portfolio that yields 10% pre-tax. I try to pick dividend stocks with a long track record of paying growing dividends, has a yield of at least 5% and is a business I sort of understand. Currently, I'm getting about $4,250/month in dividend income.
SAVE
What is your annual spending?
This is an area that I'm not very proud of. I am frugal by nature, but my wife is not exactly the same way. I am certainly happy that my wife has helped me overcome my cheap ways over the years because we would not have a comfortable home for the family nor a lot of great vacation experiences. But I think we spend way too much money in a number of areas.
At this point, we spend over $300K per year (not including taxes). By far the biggest expenses are mortgage, kids, food and vacations. I have tried to get us on a budget or spending plan, but no such luck.
What are the main categories (expenses) this spending breaks into?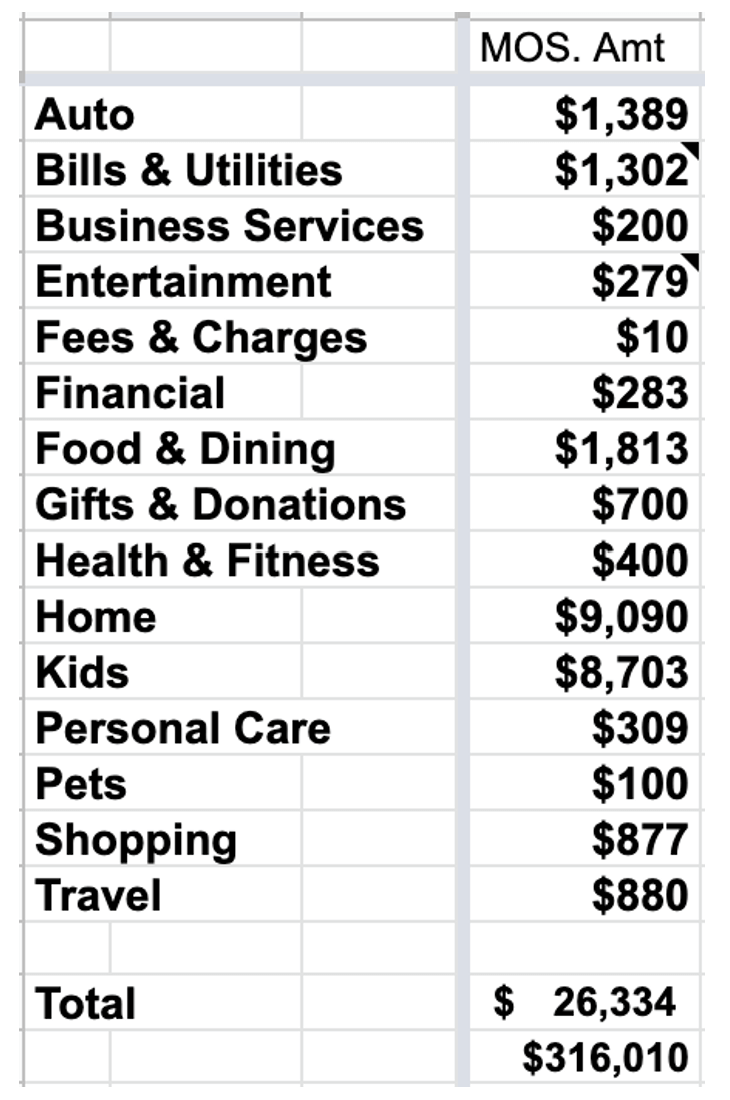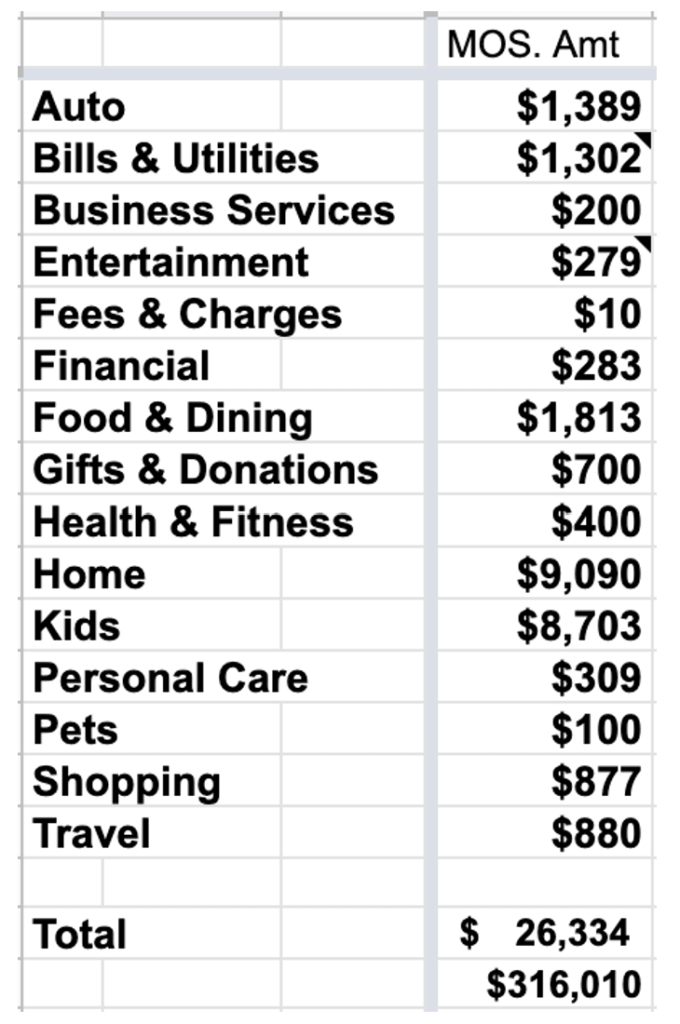 Do you have a budget? If so, how do you implement it?
As I mentioned we don't have a budget per se, but I try my best to automate the savings and avoid unnecessary large purchases.
I track our expenses in Mint each month to make sure things don't get out of control.
There are occasions when my wife and I talk about scaling back a bit. My wife and I tend to talk about large home purchases or renovations in advance, but sometimes it slips through the cracks.
What percentage of your gross income do you save and how has that changed over time?
Earlier in my career, I had a goal to save at least 20%. That has changed over time when I was either between jobs or took a job with low cash compensation in exchange for more equity compensation.
As I am getting closer and closer to my financial goals, it feels as if I'm tightening the reins a bit but it may seem somewhat irrational.
What is your favorite thing to spend money on/your secret splurge?
For me, paying for a nice experience is the best way to spend money.
It doesn't always have to be expensive. I have had countless hours of fun playing $10 board games with my kids around the house or on vacation.
I did buy a nice car a couple of years ago that I really like, but I tend to own my cars a long time (15+ years) and pay cash.
My wife likes to spend money fixing up the house and going on nice vacations.
INVEST
What is your investment philosophy/plan?
My investment philosophy has evolved over the years.
When I first started investing, I tried picking individual stocks, but that went bad pretty fast in the dot com bust.
After that, I got into Vanguard index investing. This made things really simple. I just worried about asset allocation and expense ratio.
Then I got into real estate investing to fund my "retirement".
Now I'm on the tail end of building a dividend portfolio.
Another area that has piqued my interest is mortgage note investing. I started doing this a couple of years ago but the jury is still out.
I was attracted to this area because I wanted to diversify some of my net worth away from the stock market. The stock market can be a great investment, but it is so susceptible to public opinion and mis-information. Over the long-term, you probably can't beat the stock market as a great investment vehicle, but I still think too much reliance on it is not great.
What has been your best investment?
My best investment hands down has been getting an MBA from a top business school. This put me in another category with job opportunities and compensation.
I came from very humble beginnings, so I pinch myself nearly every day at my situation and the blessings I have received.
What has been your worst investment?
My worst investment was buying the QQQ index (full of tech. stocks) in Jan of 2000.
At the time, one of my friends asked me are you sure you want to buy this at this time. I said sure, it seemed like everything was going to go up for a while and I had missed out on the previous run ups.
Well, that was a huge mistake. What made things worse is that I held on to it far too long. I think I sold it about 3-4 years after the dot com bust. Really bad investment.
What's been your overall return?
Hard to say at this point, but probably around 8%.
How often do you monitor/review your portfolio?
It depends if I am in building mode or changing my strategy.
When I'm in steady-state mode, I generally check my equity portfolio every quarter.
With my real estate portfolio, I generally spend a couple hours/week with my property managers reviewing vacancies and any repairs in flight.
NET WORTH
How did you accumulate your net worth?
I'm humbly proud of the fact that I was able to build my net worth without the help of any inheritance. God has blessed my family and I in immeasurable ways and I hope to pay this forward by inspiring others to achieve their financial goals.
All of my net worth came from my job income, saving a portion and investing it in various areas. I have tried to be as tax efficient as possible so I could maximize the dollars working for me.
What would you say is your greatest strength in the ESI wealth-building model (Earn, Save or Invest) and why would you say it's tops?
I think my greatest strength is my earning potential closely followed by my ability to save.
I think I have been an OK investor over the years (which has been helped by a 10-year bull market).
What road bumps did you face along the way to becoming a millionaire and how did you handle them?
I think the biggest roadblock has been getting harmony with my wife on the value of saving and investing.
It has gotten better over the years and I now view it as a great blending of two different styles.
What are you currently doing to maintain/grow your net worth?
I'm working my corporate job for as long as necessary to get to my "retirement" goals.
I will maintain and grow my investment portfolio as well.
I don't think I will pursue any new investment strategies at this point. I think I have stumbled upon a decent investment approach.
Do you have a target net worth you are trying to attain?
I don't have a target net worth. I just want to get to the $150k in after-tax income then I will have a lot more flexibility.
We are probably a few years away from that.
How old were you when you made your first million and have you had any significant behavior shifts since then?
I was probably in my early 30s when I first became a millionaire, but it didn't change much since most of my net worth at that time was in my primary residence.
I don't put a lot of stock in being called a millionaire. Instead, I value financial independence.
Depending on your expenses, you don't have to be a millionaire to be financially independent.
What money mistakes have you made along the way that others can learn from?
I think I was a bit too money obsessed when I was younger. I would spend hours putting our expenses in Quicken and tracking every penny. I have countless spreadsheets analyzing our expenses and investments.
I think there should be a healthy balance between monitoring your investments and being in "set it & forget it" mode. I think I have a good balance today, but it has been a journey.
The other mistakes I made were my initial investments in real estate. When I first started, I chased the appreciation deals and it didn't quite pan out as expected. I sold a few of those homes for a modest gain, but since they were cash flow negative, I had to "feed the beast" for a number of years.
I have kept a couple of those early appreciation focused deals where the appreciation did pan out. But the cash flow is barely break-even.
What advice do you have for ESI Money readers on how to become wealthy?
The best advice I can give is keep it simple and automate as much as you can. If you automatically take the savings off the top and transfer that into an investment account, you won't miss it. And because it is automated you don't have to make a decision on it and can't opt to spend it on a vacation or car.
As far as keeping it simple, I think you can't go wrong with index funds. This allows you to remove a lot of decision-making variables and just focus on expense ratio and asset allocation. Then let time do the rest. The earlier you start this the better, but it is not too late for anyone to get started. The trick is just getting going.
FUTURE
What are your plans for the future regarding lifestyle?
During "retirement" I really want to build a business where I can teach others about personal finance.
I'm not sure what form this business will take, but I don't want to do it for the money. I want to inspire millions of people to reach their financial goals.
I have discovered that many times it is an education issue. People just don't understand how their finances work. But once they get a little bit of education, you would be amazed at what people can do.
What are your retirement plans?
My hope is that I can "retire" and start building the next chapter in a few years. At this point all the kids will be in college.
I would also like to leave the high cost area where we currently live to go to a lower cost warm weather location. This however will depend on where the kids settle down. I can't imagine my wife and I will want to be that far from the kids (and eventual grandkids).
Are there any issues in retirement that concern you? If so, how are you planning to address them?
The biggest issue that concerns me is healthcare. It is so expensive and not sure the best way to adequately insure my wife and I. I will start doing some research on this in a couple of years.
We will also have to take care of a couple of aging parents. Their healthcare is largely taken care of, but there is a strong possibility that we will have to cover some expenses down the road.
MISCELLANEOUS
How did you learn about finances and at what age did it "click"?
I'm not exactly sure why I gravitated to finance, but as early as I can remember, I loved business and finance. I was naturally good with numbers and math so this may have helped.
I would count and save my allowance each week. I was also eager to get a job as early as I could to make more money. I also would lend various family members money with interest. I also loved reading the Wall Street Journal and looking at the stock tables.
When I went to college, Business was a natural major, so this really stoked the flames for my desire to learn more about finances.
Who inspired you to excel in life? Who are your heroes?
I would have to say my mother has inspired me the most. She worked incredibly hard to provide everything we needed. Seeing her work that hard was the foundation for my work ethic.
There are a couple of other people who inspire me. One is Muhammad Ali. You can say what you want about his choices and politics, but he showed everyone what standing by your beliefs and sacrifice really means.
The other person is Jackie Robinson. To play the game at such a high level, under incredibly intense conditions and not have the ability to lash out is truly remarkable. I can't imagine the punishment his psyche must have undergone. But he still preserved and succeeded against all odds.
Do you have any favorite money books you like/recommend? If so, can you share with us your top three and why you like them?
My favorite money books are as follows:
Do you give to charity? Why or why not? If you do, what percent of time/money do you give?
I'm on the board of a non-profit and give regularly to my church.
However, this is one area where I feel we could give more. I need to spend more time thinking about a better giving strategy and make it more consistent.
I do think that you can give to charities based on your "time, talent and treasure".
During "retirement", I'd like to get more involved in a church and target 1 or 2 non-profit boards to join. I'd also like to set up a scholarship fund for underrepresented kids to attend college.
Do you plan to leave an inheritance for your heirs (how do you plan to distribute your wealth at your death)? What are your reasons behind this plan?
I plan to leave any remaining assets to the kids but need to think about the proper stipulations.
I love the philosophy of Shaq (the basketball player). He says his kids need "two degrees to touch my cheese". I think there is something to be said of setting some milestones before your kids get access to their inheritance. My hope is that It teaches them the value of working towards something.
People really underestimate the value of giving the next generation a head start. This not only impacts the current generation, but many generations to come.