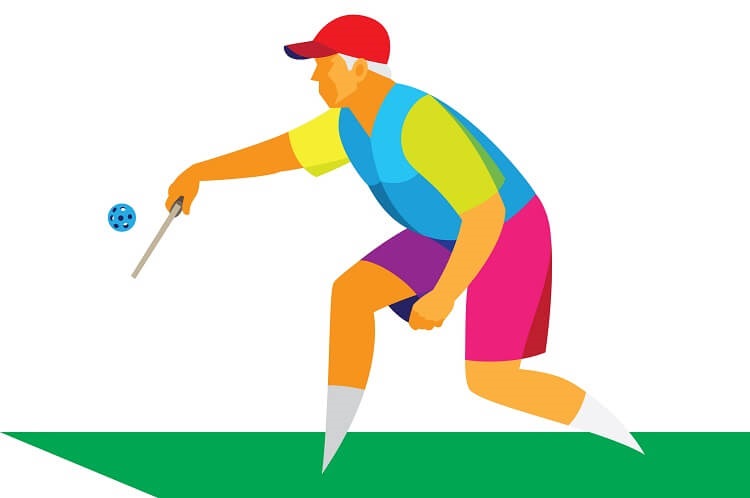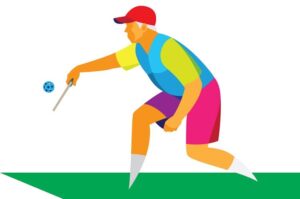 Everywhere I go there are money conversations!!!
A while ago I talked about a money conversation I overheard in my health club's locker room. Well, now we take the talk outside to the pickleball courts (these are from the summer, of course, we're now back inside for the winter, playing at my gym).
If you didn't know, pickleball is a very social game. There's a lot of chatting — while warming up, while waiting for courts to clear, while moving from one game to another, while waiting for group play to begin, and on and on.
During these times you'd be surprised at how often the conversation turns to money.
I've already share the story of where my friend recommended a credit card while we were playing pickleball, so today I thought I'd add to that and detail some of my other conversations for you…
How Did You Retire So Young?
I've mentioned that I look young for my age. Couple that with the fact that the average age of pickleball players (especially those who play in the middle of a weekday) is probably around 65 or so, and I get the question, "How did you retire so young?" quite often.
I have probably been asked this 15 times since I started playing pickleball last spring.
I always respond with what has now become my standard reply to anyone asking this question: "I earned a good salary, I saved much of it, and I invested it."
Good E-S-I branding, huh? 😉
This usually handles most of the questions, but sometimes people want details. Responses I get include:
"Were you in the military?" This is common since Colorado Springs has an Army base, an Air Force base, and the Air Force Academy. Plus my young retirement age and short hair make me a military no-brainer. My response is always, "No, but if I had to do it all over again, I might have been." BTW, many of those who I play with now are retired from one branch of service or another.
"Oh, so you invested well!" People seem to fixate on the "I" and not as much on the other two steps that made investing possible.
"What did you invest in?" I generally respond, "Mostly index funds and real estate I bought around the market crash." This seems to make sense to everyone — especially the real estate part. They then see me as a real estate magnate. LOL!
Most don't ask much after this, but some conversations go deeper for one reason or another. Let's get to those…
Do You Have Any Financial Certifications?
I was gone for a week to FinCon, the financial media convention, so when I came back people wanted to know where I had been. Since the group is made up of largely retired folks, we get to hear about all sorts of great places people travel to.
"I was in Washington, D.C." was my response.
"Oh, that sounds like fun. Why were you there?"
I could realistically go either way with this one. I could answer that I was there for pleasure because much of FinCon is simply a trip of enjoyment — to see old friends and meet some new ones.
But I generally respond with, "I was there for a financial bloggers conference. Believe it or not, that's actually a thing that exists." Most people are surprised to hear there's a conference for what seems like a very tiny group (I then mention there were 2,500 people there and they are amazed.)
They then usually ask, "Oh, are you a financial blogger?"
"Yes, I started blogging in 2005 and do it now for fun," is my response.
Some let it drop then and there, already bored with the conversation. Ha! But I did have someone press on once with, "Do people make money at that?"
"Yes. Some of them do quite well."
"Do you make money at it?"
"Yes, somewhere between $4,000 and $5,000 a month."
One person and I then got into a conversation about various ways to monetize a blog. Ha! But generally the group thinks that's a decent hobby.
One guy pressed a bit and asked, "So you give money advice?"
I responded, "I share what I've done, what's worked and what hasn't, and people can take away from it what works for them."
He then asked, "Do you have any financial certifications?"
His tone was that where I senses he thought only financial planners and the like should be writing about money.
Two immediate responses flashed through my mind:
"Yeah, I have 4 million of them." LOL!!!!
"No financial certifications, only a high net worth."
But I responded that I did not have any financial certifications — I was just a guy writing about what he'd done with money.
That seemed to suffice and he was able to dismiss me as highly unqualified. Ha!
Are You a FIRE Blogger?
When I was talking about the website one day (I'm not sure how it came up), one of the ladies asked, "Are you a FIRE blogger?"
Yes! Finally I met someone who knew what was going on.
We then had a conversation about the various FI bloggers. She was a Mr. Money Mustache fan, but wanted to know what my site was.
I shared it with her and for all I know, she's reading this now.
If you are: HELLO!!!! 😉
Poor Money Management from Husband
One conversation turned serious when a lady took me aside and told me she thought her family was doing well financially.
Then she found out that her husband had made some bad money moves. They were in financial trouble.
She got choked up as she told me and I felt so sorry for her. She had no involvement in the finances and had just discovered the truth.
She asked if I thought Dave Ramsey's materials were good for getting out of debt. Despite some thinking I dislike Dave, I actually agree with the majority of what he says. I told her I did think it his stuff was good and she said she'd check it out.
I haven't seen her for a few months so I hope she's ok.
I Was a Financial Planner
One day I was warming up with three other players at 2 pm on a Tuesday afternoon.
One of the players on the other side looked young, like he was in his 30's. I had seen him before many times (he's a very good player) at around the same time on weekdays. We'd even played a couple games together.
I was curious about what he did — being so young and able to play pickleball in the middle of a week day.
So I asked him, "What do you do for a living that allows you to play pickleball in the middle of the day on a Tuesday?"
He laughed and said, "Well, actually I quit my job."
He wasn't fired. He quit. I was intrigued.
"What did you do before you quit?" I asked.
He responded, "I was a financial planner."
Now I was really intrigued.
"Really?" I asked.
He went on to say he had been a planner and was good at it, but the industry had simply devolved into being a sales person. He had had enough of it (he had worked for a big-name investment firm) and simply walked away. I get where he's coming from.
He said he simply wanted to give advice, but finding places to work at that just wanted to do that was harder and harder these days. He told me he was good at it but just couldn't take the constant need to sell.
He had my sympathies. I know exactly what he was talking about.
His partner then asked me what I had done to retire early. I gave her the standard E-S-I response. She said, "That's great."
Then I just had to add, "I was my own financial planner." We all had a chuckle and she said, "Well, looks like it's working out!"
After the match the ex-financial planner guy and I talked some more. He said he was actually taking a mini-retirement. We talked about how retirement was changing and that some people were choosing to take smaller retirements on a regular basis throughout their careers. He said his investments had done well and while he would eventually need to go back to work, he was simply taking some time off now.
Good for him.
By the way, he told me he was 43, so I'm not the only one who looks younger than he is. 😉
Have You Ever Heard of The White Coat Investor?
In another match that same day I was playing with another good player. We were chatting and I asked him what he did for a living.
"I'm a doctor," was his response. Turns out he works at the hospital near our house. I walk by it all the time.
He's about my age and seems pretty sharp (he's a doctor, I'd hope he's sharp!) so I took a chance and asked him if he'd read any of the doctor money blogs. I specifically asked if he'd checked out The White Coat Investor or Physician on Fire.
He said he hadn't, but his son had bought The White Coat Investor book. Nice!
I then told him the stories of each of the bloggers above since I know them pretty well (I read both their sites and have met each). I mentioned that PoF had just retired at 43, a pretty big accomplishment.
He said he wasn't at retirement yet because he had put two kids through medical school. I didn't ask for particulars (like did he pay the entire amount, was he driving a fancy car, did he live in a huge house, etc.) because I can get kinda nosy that way. I have to control myself as I forget I'm not talking to money bloggers, most of whom are open books with their finances.
Anyway I've made a mental note to find out more later. 🙂
That said, when I mentioned The White Coat Investor and Physician on Fire to my dermatologist, he knew them both!
Very Accomplished Group
In all, I play with a pretty accomplished group of people. Some of the highlights of those who still work:
One guy just sold his hotel and is building two more in Colorado Springs. He's about my age and we chat often. he's a very nice guy, a good pickleball player, and is doing well with his businesses. He's very sharp too, as you might imagine.
Two guys I play with are dentists, one of whom has a pickleball court at his house. I've played there once on a Saturday morning and it was quite nice. I keep "joking" that one of them need to give me free dental care, so I'm working every angle. Ha!
One guy is retired but works part-time training commercial pilots. Talk about an interesting job!
One lady owns a real estate development company that does quite well. Her son runs it so she has time to play pickleball! She's roughly my age too.
Another guy is a software salesman. He has flexible enough hours that he can play one morning a week early (7 am) with us.
One guy is an executive pastor at a local church. Since he works every other day of the week, he gets Fridays off and sometimes plays with us then.
The rest of the group is a hodge podge of retired people (many from the military, one from the government, and some from teaching).
In the summers we get an influx of teachers and others who work for the school system.
Overall, it's a pretty great group.
In the end there aren't really any life-changing money conversations, but my guess is that one may pop up at some point. If it does, you can be sure I'll share it here!