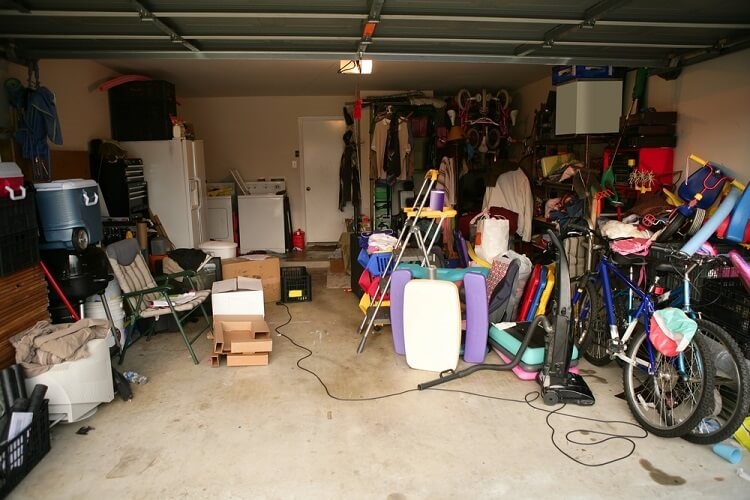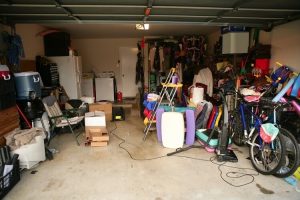 "The more you have the more you have to have to take care of the things you have." Quote from a kids' radio show we listened to when our kids were young.
One of my retirement activities is walking. It's always been at least a small part of my fitness routine but I've been walking more since I have extra time on my hands.
I love walking as it gives me time to think and relax, two things I couldn't find enough time for during my working years. Walking also gives me the chance to notice and observe — to watch what is going on around me instead of simply getting to the next thing as quickly as possible.
One thing I notice regularly is cars parked either in front of a house or in the driveway. You won't believe how many people do not park in their garages.
I used to think that they simply had more cars in their household than garage stalls (i.e. if a couple each has a car and they have two kids who each have cars, someone's going to be outside since there are no four-stall garages in my neighborhood). But that doesn't mesh with what I see. I often see three or four cars parked in the driveway or on the street. And when I get to see inside people's garages (when they have them open for one reason or another) I find that the reason they don't park in the garage is because it's full of stuff.
And "stuff" is a nice word. It's really a combination of items in "ok" to "bad" shape. I wouldn't say it's junk, but it generally doesn't look useful, which is probably why it's in the garage and not the house.
I do see various combinations of cars and stuff too. Sometimes one car fits in a two-stall garage and the rest is stuff (in some cases, the car fits so snugly within the stuff that I can't see how the driver gets out). Other times two cars are outside somewhere and the entire garage is clogged with boxes, old bikes, clothes, you name it.
Our Story of Too Much Stuff
I can sympathize to a degree. We've had our own dealings with too much stuff.
We've had two moves in the past few years. When we moved from Michigan to Oklahoma we purged a TON of stuff. We had 14 years' of accumulated items in a house that had great (read "lots") storage options in the basement. So we took the move as an opportunity to reduce our stuff to what we felt was just what we'd use. We donated (charities) or gave away (friends) all the rest.
Less than two years later when we were supposedly down to just the necessities, we moved again from Oklahoma to Colorado. Somehow our stuff had grown and so we purged again. Most of what we got rid of was stuff we moved from Michigan that we just knew we had to have. But we didn't use it. So we gave away boxes and boxes of stuff again. Thankfully there are charities in both Michigan and Oklahoma benefiting from our excess stuff.
And if that's not bad enough, we recently had to fight off the urge to incur a large expense to store our extra stuff…
The Shed Saga
When we moved to Colorado, we bought a lovely, large home, but one that didn't have much storage room (the basement is finished with only a crawl space for storage). This was really no problem as we had extra storage — in our garage. You see we had a three-car garage and only two cars. So why not use the third stall for storage?
That said, there are a couple caveats. First, we only stored stuff in the garage that was "garage/outdoor stuff." Bikes, lawnmower, tools, gardening items, grill pellets, lawn and plant fertilizer, garbage cans, etc. No washing machines or TVs. Second, we only used about one-third of the last stall. It wasn't packed to the hilt like the ones I described above.
All was fine until my daughter wanted the third stall for her new car. Now we needed a plan to deal with the stuff in the last stall so my daughter could have it.
The solution seemed simple: get a shed. I'd always wanted one anyway and this seemed to be a golden opportunity to get one approved by the finance committee (i.e., my wife).
We started looking at sheds online, visiting shed warehouses, talking to people about sheds, and so forth.
By the time all was said and done, we found that to purchase the shed we wanted, level the ground around it, and everything else associated with the shed it was going to cost us somewhere around $3,500. Yikes!!!
It was at this point we wised up. We cleaned out the garage and opened up the third stall by 1) giving yet even more stuff away, 2) storing some stuff in other areas of the house (we got creative), and 3) organizing the garage better so the remaining stuff could fit in the rest of the garage. In doing so we saved ourselves almost $4k!!!!
All of this is to say: I know how people can get sucked in to having too much stuff.
Size and Cost of the Storage Industry
Anyone want to guess the size of the storage industry? I'm talking about those places you see on Storage Wars where people rent garages to store the stuff they can't use but don't want to give away.
I wondered so I went on a Googling trip around the web and found some very interesting stats about the storage industry.
First, the forecast for the self-storage industry in 2016 is $32.7 billion. A mere six years ago it was $17 billion.
Second, how about this as a fun fact: 9.5% of the US has a storage unit. Almost 10%!
And what about costs? The average US storage unit costs by unit size are:
$40-$50 per month for a 5-by-5-foot unit
$75-$140 per month for a 10-by-15-foot unit
$115-$150 per month for a climate-controlled 10-by-15-foot unit
$95-$155 per month for a 10-by-20-foot unit
$170-$180 per month for a climate-controlled 10-by-20-foot unit
$225 per month for a 20-by-20-foot unit
And here's the percent ownership by unit size:
10×10: 23.1%
10×20: 20.6%
Other: 15.6%
10×15: 14.4%
5×10: 11.3%
10×30: 6.2%
10×25: 5.3%
5×5: 3.5%
Let's do some math. Slate says that the average stint of a storage unit rental is 15 months. Given that, a 10 x 20 unit (most popular we have cost data for) that rents for $150 per month (average of regular and climate-controlled) for 15 months costs $2,250. Multiply that by 9.5% of the population and you can see why the industry is so large.
Reasons for Storage
The NY Times points out that the reasons people use storage units is varied. Obviously there are some short-term, generally moving-related issues that call for the use of a storage unit. But if the average is 15 months and all the movers are using units for 3-4 months, imagine how long the average non-mover is renting a storage unit. Probably two years or more.
One of the biggest reasons people give for storing items is that they'll need them in the future (so it's "cheaper" to store them than have to re-buy the items when they need them). Here's what Money magazine has to say about that:
If you've moved into a smaller home, but feel the need to keep the dining-room set that doesn't fit in your new abode "just in case," you've probably considered paying for extra storage space. Unfortunately, keeping that outdated dining set from 10 years ago can end up costing you quite a bit of cash. If you rent a 10×15 unit that's on the low end of the national average — so, about $75 per month — you're spending $900 per year on a unit. And that price doesn't include any other taxes or fees the facility charges.
Ugh.
How to Profit from getting Rid of Stuff
Fortunately, you can get rid of your stuff, declutter your life and make/save some money. Some ideas:
Sell your stuff. Consignment shops, yard sales, eBay, wherever. Just sell it and pocket the cash! An example of this would be to sell your unwanted phones, tablets, or other tech through websites which help you maximize what you can get for them.
Give it to charity. You can deduct the fair market value of the items you give to a qualified charity. Be sure to record each item given away with an approximate value. Ask for a receipt when you donate, staple the receipt to the list of items donated, and put it in your tax file for the year. It will then be handy when you go to do your taxes the next year.
Make a business out of your stuff. This is an advanced tip, but believe it or not there are people who make their living by buying unwanted stuff and then selling it for a profit. Check out The Scavenger Life for one example.
Now it's your turn. I'd LOVE to hear from ESI Money readers on this topic. What are your thoughts on Americans and their obsession with stuff? Anyone out there find that it's a constant battle to keep the stuff down? Anyone rent a storage unit? Why?