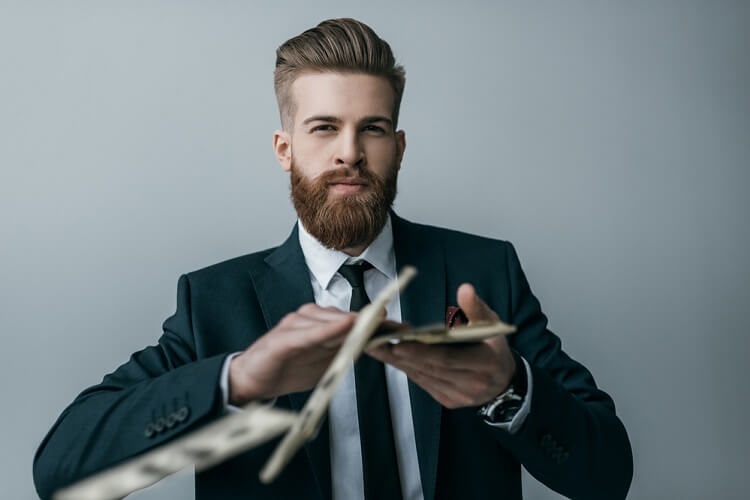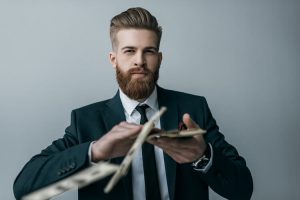 From time to time someone will comment at ESI Money with something along the lines of "what does it mean to be rich?"
It's a topic I've thought about a lot, have wanted to cover for some time, and will likely write about again even with this post discussing the issue.
Obviously one aspect of being "rich" is monetary.
In fact, if you look up "rich" in the dictionary the first definition is "having a great deal of money or assets; wealthy."
Let's dig a bit into that before we head into different territory.
How Much Money Do You Need to be Rich?
To get some top-notch advice on what it takes to be wealthy, I went to Google.
It's actually kind of ironic given the responses I received, but where else do you go to get information these days? 😉
I typed "how much money does it takes to be rich" into the search field. Here are the highlights from some of the first results listed.
Let's begin with this post from Business Insider which gets right to the heart of the issue:
Just how much money do you need to earn to be considered "rich"?
For some Americans, the answer is having an average of $2.4 million to your name — that's almost 30 times the actual median net worth of US households, according to the U.S. Census Bureau.
For one thing, I like that they give an actual number.
For another, they are actually quoting net worth versus income. The former defines wealth while the other only defines the potential for wealth (which is often not realized).
Finally, $2.4 million? Really? I would have thought the number would be lower.
Unfortunately the article doe not stay on the straight and narrow:
Ask the government, and they'll define wealthy as individuals earning at least $500,001 and couples earning at least $600,000 — the new income thresholds that now pay the top federal marginal income tax rate of 37% in accordance with President Donald Trump's new tax plan.
We pooled 5-year estimate data from the U.S. Census Bureau's American Community survey, combining results on median household income from 2013-2017 to determine just how much you need to earn in the most populated city in every state, including Washington DC, to be considered rich (hint: it's at least twice the median household income).
Ugh. Back to income. But they are not alone…
Check out this post from CNBC who doesn't disappoint when it comes to showing that journalists are not money experts:
Americans have varying ideas of how much money you need to earn each year to be considered "rich," but most people say you need to bring in at least $1 million per year.
That comes from a new GOBankingRates survey, which asked participants, "What level of annual income do you think makes you rich?"
While answers ranged from $100,000 to more than $10 million, the most popular response, chosen by 26 percent of respondents, was at least $1 million. An additional 13 percent of respondents said $5 million or more while 12 percent said $10 million or more.
Again with income being used to determine wealth. Ugh. They are killing me.
The Washington Post adds a bit more detail to the study BI quotes above and sticks to new worth:
A recent survey sponsored by Charles Schwab asked 1,000 Americans ages 21 to 75 what level of personal net worth would make them feel "financially comfortable." The average figure was about $1.4 million. It would take another $1 million — a total of $2.4 million on average — for them to consider themselves wealthy.
I'm interested to hear what you think of these numbers. I personally started feeling "comfortable" in the high hundred thousands.
The smart blogger at Financial Samurai starts talking about income, but since he knows what he's talking about, he switches to net worth. He provides a chart to answer the question but also offers this guideline:
Here's a good net worth target to follow. After all, it's not so much how much you make, but how much you keep. To be truly rich, you should aim for a net worth equal to 20X your average annual gross income or more.
Then there's this reality check! According to Bloomberg, bankers think you need a whole lot more to be rich:
Just how rich is "rich?"
In rich-tropolises such as New York and London, 1 percenters moan that living on $500,000 a year feels Dickensian. With a pot of $40 million—and private schools, a Hamptons retreat, a horse and a charity to feed—a hedge funder on the Showtime drama "Billions" exclaims: "F—! I'm broke!"
Here, then, is a real answer, courtesy of the hush-hush world of private banking: $25 million.
Twenty-five million dollars in investable wealth. The kind of money you could afford to see dip into the red for a quarter or three, maybe even a year or two, without breaking a sweat. With $25 million, maybe, just maybe, you're starting to be rich.
Because in this era of hyper-wealth and hyper-inequality, that is simply where rich begins—a ticket, in truth, to the first, lowly rung of rich. For most of the planet, $25 million represents unfathomable wealth. For elite private bankers, it buys their basic service.
Call it economy-class rich. Business class? That's $100 million. First class? $200 million. Private-jet rich? Try $1 billion.
Haha! Yeah, right!
Finally, I really enjoyed this post from The Balance. Some of their key thoughts:
Those bemoaning the current state of the middle class are largely displaying their economic ignorance. Yes, it should be better. Yes, healthcare and education costs are rising beyond what is sustainable due, in no small part, to perverse government incentives, inflating a bubble along the way just as was done in housing last decade.
It doesn't change the fact that there has never been a better time to be alive for a super-majority of the citizens of this country. Still, that's not what people mean when they ask, "What is rich?". This is because of two fascinating quirks in human evolution that behavioral finance has given insight into in recent years.
1. People are satisfied by the perceived trajectory of their life, not necessarily the absolute quality of their life once certain minimum needs have been met. That is, a person who goes from making $25,000 a year to $150,000 a year is going to feel more happiness than a person who goes from making $10,000,000 a year to $500,000 a year despite the fact that the latter is still among the highest-earning households in the United States and earns far more than the former.
2. People are satisfied by being materially, but not excessively, richer than their peers, family members, friends, colleagues, and neighbors. It is not an accident that the amount of annual income at which personal happiness tops out ($75,000 according to a study by wealth experts) is about 50 percent higher than the median household income. There is also an element of envy present. To borrow an example put forth by a well-known investor, you see traders ecstatic to get a $1,000,000 bonus on Wall Street until they realize the guy at the next desk got $2,000,000; then they are miserable. In most cases, it's irrational but people develop grudges, hurt their own reputations, become spiteful, and, in some cases, outright hostile because of a perceived lack of fairness. The money, in other words, has become a proxy for emotional considerations—how valued the person is, how intelligent they are perceived to be, how necessary they are to the team.
Then the post goes on to define rich three different ways (though they still focus on income in the first two):
The Absolutely Rich: On a global scale, I think the line probably starts somewhere around $80,000 per annum. A family earning that amount in the United States, and run by someone who is financially intelligent, will enjoy a standard of living that utterly surpasses, in every meaningful way, the experience of a vast majority of people alive on planet Earth, both now and at any time in history. On a country-specific scale, I think it begins somewhere around $400,000 in household income here in the United States.
The Relatively Rich: If forced to draw the line somewhere, I'd probably do so at the top 5 percent to 10 percent of household income, perhaps adjusted by geographic peculiarities, because it means that a family in that situation is out-earning 90 to 95 out of 100 other families.
The Truly Rich: Someone can be considered rich based on a simple relationship between personal desires, control over time, and insulation from financial disaster. That is, a person becomes rich the moment 1. he (or she) can afford the lifestyle he desires solely from a stream of passive income or from a career that does not exist at the mercy of others and therefore cannot be taken away easily, and 2. is able to spend his time doing precisely what he wants, when he wants, how he wants, where he wants. Thus, there are situations in which I may consider someone earning $50,000 a year to be rich while someone earning $2,000,000 a year something else entirely.
Interesting stuff!
You can see that the numbers vary depending on who you're talking to and whether you're talking (correctly) about net worth or (incorrectly) about income.
Wealth is Much More than Money
But when most think about the question for some time, many come to the conclusion that what makes them "rich" (or "wealthy" if you prefer) are not financial assets but the things in life that money can't buy.
Recently on Twitter (you can follow me here if interested) I saw the topic "#ImRichBecause" was trending.
Obviously, this caught my attention. So I clicked on the link to see what people had to say.
As with anything on social media these days, there were a lot of junk responses. But there were some insightful comments as well.
I thought I'd share some with you plus provide my personal list of why I think I'm rich.
The Jokesters
Of course any social media topic would not be complete without the jokesters chiming in, so let's get the humor out of the way.
Here are some of the funnier responses I saw:
#ImRichBecause I don't give into pyramid schemes. I run them.
#ImRichBecause I measure wealth in carbs.
#ImRichBecause I use extra virgin olive oil, not the slutty one.
#ImRichBecause oh wait you said rich.
#ImRichBecause today is Opposite Day.
#ImRichBecause I've won the Nigerian lottery!!! ???? just sending my bank details now……woohoo
#ImRichBecause I own Boardwalk and Parkplace, and they have two hotels each.
#ImRichBecause I have like 4 jobs. No, wait, I'm poor and that's why I do that.
Yes, there are some cute ones there.
Social media never seems to lack when it comes to humor.
Unfortunately that's as deep as it gets sometimes.
Money Answers
That said, several people did respond with at least some sort of money related comment. A few of these — along with my comments:
#ImRichBecause I look after the dollars and let the cents take care of themselves.
Lots of wisdom packed in there. If you simply control the large expenses in your life, most of the rest will sort out.
That said, the small expenses can kill you too, so you can't ignore them.
#ImRichBecause I don't have much money. I live a simple life in tropical #Colombia and have everything I need.
I'm not sure if it's because this person lives in Columbia (perhaps lower cost of living) or because he/she lives simply, but either can be a solid way to grow your wealth.
#ImRichBecause of all the money I saved by not having kids.
Ok, kids can be expensive, right?
#ImRichBecause I save money on haircuts.
I can just see the book now: "How I Became a Millionaire by Cutting My Own Hair." LOL!
I cut my own hair BTW (actually my wife cuts it), so I get this, but I'm not sure it would make the top 10 of why I'm wealthy.
#ImRichBecause I work my ?? off for it running my business
Someone understands the power of earning!
#ImRichBecause I worked hard to get where I am today.
Ditto for this person!
#ImRichBecause I save all my money.
Someone understands the power of saving!
The first step in becoming unconstrained is to be able to measure your constraints. For most of us, this is money. If you don't have a budget, you can't have peace. Man up, and do a financial budget now. #ImRichBecause
Haha! This person is scolding anyone who doesn't have a budget. Love this!
#ImRichBecause I don't go out to eat or buy Starbucks.
Oh no! Someone had to bring up the Latte Factor! Ha!
#ImRichBecause tax return baby!!
I'm not sure if this was meant to be funny or not, but unfortunately I think many people believe this.
#ImRichBecause of my endless supply of common cents.
I'm not sure whether this belongs in this section on money advice or not. I would guess that he meant common "sense", but if you have enough common "cents" (whatever those are) I guess you would eventually be wealthy. 🙂
People Get Serious
But the joking and money-focused responses were simply mixed in. The vast majority were about how people felt rich because of some non-monetary thing in their lives.
By far the largest group of responses were around relationships with others. Some examples:
#ImRichBecause my kids make me feel like a million bucks.
#ImRichBecause I am surrounded by friends and family who are priceless
#ImRichBecause I'm surrounded by people who love me.
#ImRichBecause of these 2 precious gems my grandkids
#ImRichBecause these 3 people, love, and depend on me.
#ImRichBecause I am fortunate enough to have 3 beautiful, happy, healthy kids.
#ImRichBecause I'm surrounded by friends who love me
#ImRichBecause I have two wonderful children
#ImRichBecause I have friends
#ImRichBecause I have love & support from friends & family
#ImRichBecause I have the best family
#ImRichBecause I have some good friends.
#ImRichBecause of the kindness many have shown me…
#ImRichBecause I have unconditional love
#ImRichBecause I have two amazing children and I'm starting to like myself ! , just a little … but it's a start
#ImRichBecause I have the best wife
#ImRichBecause I have my family
#ImRichBecause I'm covered in love.
Lots of great stuff here, IMO.
Then there were the more philosophical responses (still non-monetary) to the question. Here are some that stood out to me:
#ImRichBecause I understood, it's not about money in life!
#ImRichBecause I know my own self worth.
#ImRichBecause I know that money can't buy happiness.
#ImRichBecause well, I'm rich with health, wisdom and experience.
#ImRichBecause it's not measured by money.
#ImRichBecause I have a roof over my head & food in my belly
#ImRichBecause I have no worries.
#ImRichBecause: I know how to laugh and have fun!!
Overall some pretty insightful stuff packed in very few words.
Non-Monetary Wealth by the Numbers
A different Bloomberg post highlights the fact that many answer the "rich" question with non-monetary answers.
Here's a summary of their findings:
While 18 percent defined wealth as being able to afford anything they desired, 17 percent said it was "loving relationships with family and friends." That jibes with how Joe Duran, chief executive officer of money manager United Capital, said he likes to think of "wealth." After building and selling his first company, "I realized that money is nothing more than fuel," he said. "It is a resource that lets you have choices, but if you don't think about what you are working for, you will die rich but not live rich."
They then highlight the question "What is wealth to you?" with the following responses:
28% Living stress free/peace of mind
18% Being able to afford anything I want
17% Loving relationships with family and friends
14% Enjoying life's experiences
11% Having lots of money
7% Having good health
2% Being charitable
And stated a different way ("What makes a rich daily life?"), here's what they found:
62% Spending time with family
55% Taking time for myself
49% Owning a home
41% Meals out/meals delivered
33% Subscription service like Netflix/Spotify
29% Grooming/pampering
27% Having the latest tech gadgets
22% Shopping at specialty grocery stores
21% Having a busy social life
21% Driving a luxury car
17% Gym membership/personal trainer
12% Using a home cleaning service
10% Using a car service, not public transport
Some interesting responses.
In the latter group, I can identify with the first two, but not really the others.
And as I went farther down the list I was left wondering, "Really?"
For instance, having Netflix and/or Spotify makes people feel rich in daily life?
All I have to say is that's a marketer's dream for those two companies!
Why I'm Rich
There are a wide variety of opinions on what it means to be rich, that's for sure.
But here's my list. I won't share every one or else this post would be a book (it's already pretty long), but I will highlight the major ones.
And BTW, only one of them has to do with money — and it's not because of a net worth number. 🙂
Why I'm rich:
My health. If you don't have your health, you can't enjoy much else in life. That's why this one comes first. For me the foundation of feeling rich is being healthy. I think I would still feel rich if I got sick, but not as rich. BTW, this includes both physical health and mental health (the lack of stress in my life these days.)
My family. This consists of my immediate family (wife, son, daughter) as well as my parents. It's a small circle but a great group I am very thankful for.
My situation/lifestyle. Financial independence makes me feel wealthy in a way that simply a large net worth does not. I'll go back to what The Balance had to say about this: "That is, a person becomes rich the moment 1. he (or she) can afford the lifestyle he desires solely from a stream of passive income or from a career that does not exist at the mercy of others and therefore cannot be taken away easily, and 2. is able to spend his time doing precisely what he wants, when he wants, how he wants, where he wants." Sums me up perfectly.
Where I live. The United States and Colorado. Both are awesome places and being able to live in them makes me feel wealthy. The freedom of the U.S. is a great wealth in itself. And the natural beauty of Colorado far surpasses every other place I've lived and almost all the places I've ever visited (Grand Cayman might be a close rival, but it's a different kind of beauty.) After 3.5 years here my photo stream still has more pictures of the mountains than anything else.
As I said, there's more, but these four certainly lead the pack.
But now let's turn to you.
First of all, what do you think about the question "what does it mean to be rich?" Is it monetary, non-monetary, or a bit of both?
Second, what makes your list of why you feel rich (if you do)? If you don't feel rich, why not?