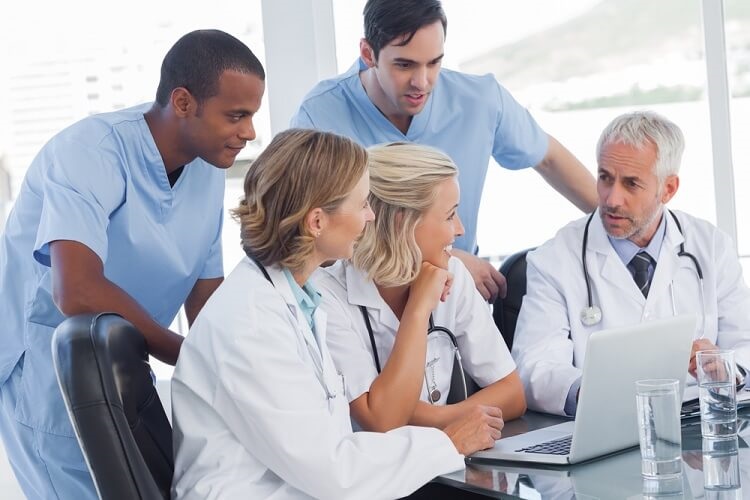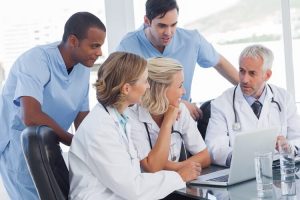 Here's our latest interview with a millionaire as we seek to learn from those who have grown their wealth to high heights.
If you'd like to be considered for an interview, drop me a note and we can chat about specifics.
My questions are in bold italics and his responses follow in black.
Let's get started…
OVERVIEW
How old are you (and spouse if applicable, plus how long you've been married)?
My wife and I are both 44. We have been married for 18 years.
Do you have kids/family (if so, how old are they)?
We have four girls, all school age with college on the horizon.
They are all beautiful, intelligent, well mannered, and only occasionally a royal pain in the butt.
What area of the country do you live in (and urban or rural)?
Subrubia in the Midwest.
We have lived in the Northeast, Southeast, and SoCal.
For family and finances, nothing beats the Midwest! It's one of the biggest reasons we have been able to save. You can keep the coasts with the taxes and ridiculous real estate prices.
It was great to make money in real estate Out There, but I never felt like I was getting ahead until we moved Here.
We will visit, vacation and rent out of the massive surpluses we get by living in God's Country.
What is your current net worth?
Roughly $2.3 million. I can hardly believe it.
What are the main assets that make up your net worth (stocks, real estate, business, home, retirement accounts, etc.) and any debt that offsets part of these?
House: $500k
Retirement Accounts (401K, Whole Life Insurance, IRA's): $704K
Stocks ("Play Money"): $15K
Cash: $60K
Educational Savings (529 Plan): $317k
Employer Long Term Incentives (current market value): $302k
Pension Cash Value (fully vested): $377K
Vehicles and Hard Assets: $51K
NO DEBT. We pay off our rewards credit cards every month
EARN
What is your job?
Me: Marketing executive at a Fortune 500 healthcare company. In my 15 years with the company, I have had 9 different jobs and even more bosses.
Wife: Accountant at a local manufacturing company. She went back to work a year ago after over a decade staying at home with you kids. I am incredibly proud of her for going back into accounting.
What is your annual income?
With salary, bonuses and long term incentives, our annual compensation is about $430K.
Tell us about your income performance over time. What was the starting salary of your first job and how did it grow from there?
I was maybe 12 and still remember the first lawn I mowed for $5.
My parents wanted me to save it, but I spent it immediately, probably on a comic book – I had not learned my ESI lessons yet!
I did however value work early, and started working summers as soon as I could, at age 14.
I did food service in an amusement park and made $3.50 / hour in my first paycheck job.
I could not believe the impact of taxes on my first paystub – huge lesson in life.
I worked extra shifts, made supervisor my second summer, and worked every summer all the way through college.
After college I worked for 5 years in IT, then went back to Business School.
Here is a chart of my income since I started full time work: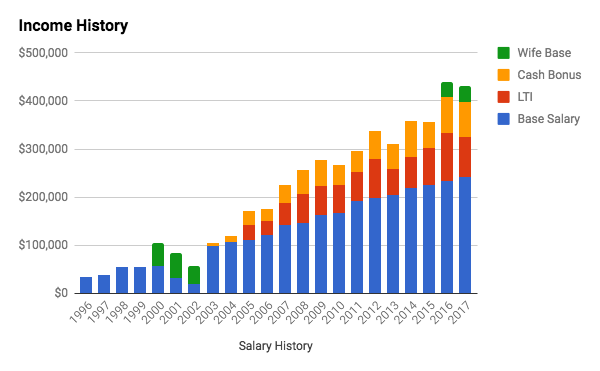 What tips do you have for others who want to grow their income?
I give my MBA a lot of credit in increasing my income.
If my MBA had not put me on a different path, I'd likely be making half my income, or even less.
Going back to school full time, while perhaps not the wisest financial decision (foregoing income and paying out of pocket), completely changed my mindset, network, and idea of what is possible in a career.
We have also taken several career and personal risks in moving our family for a good opportunity. We've moved four times for the company, and it always netted out positively both for my development and our net worth. My wife and I looked at every move as an adventure and not a burden, and that rubbed off on our children.
The last thing I will say about moving up at a Fortune 500 companies is this… Politics are real, a daily fact of life, and you have to roll with them to get ahead.
A true meritocracy is a myth. To advance, you have to play your cards right politically in addition to working hard and being smart. Find the right mentors and advocates, network, build relationships, and HUSTLE. Don't get salty because you're not on the short lists or "in the room"… you make your own luck.
What's your work-life balance look like?
I am big believer in total energy management, balancing cycles of stress and recovery across my spiritual, emotional, mental, and physical dimensions.
So I work hard, play hard, and set aside time to do stuff I just outright enjoy – video games, home projects, reading, YouTube, football, whatever.
I struggle to manage stress in this job. It's kind of "always-on" because I have to take a lot of customer calls, travel a lot, and take meetings at all hours due the global scope. If I am too stressed, my body suffers, my relationships suffer, and I am not my best at work. So really carving out time to relax is important.
Finally, we try to make Sunday family day: church, teaching Sunday School, family meals.
Do you have any sources of income besides your career? If so, can you list them, give us a feel for how much you earn with each, and offer some insight into how you developed them?
I don't have any side gigs but I feel an urgency to set some up in advance of my goal of retirement at 56.
I will be all set with pension and retirement savings, but I also have a goal of setting up several passive (or at least semi-passive) income streams over the next ten years: dividend stocks, real estate, P2P lending…. hit me back with what has worked for you!
I also want side gigs so that I can keep my business mind sharp after I retire from corporate life. But only my own terms of course.
SAVE
What is your annual spending?
About $11,000 a month on standard "operational" stuff. There is a lot more than that spent out of annual bonuses and incentives.
I wanted to share my story because unlike many MI's you have interviewed, we have a fairly high rate of spend and we have still managed to build significant net worth.
Yes, it could be higher, but as long as I am meeting my long term goals I don't mind living big and giving big.
What are the main categories (expenses) this spending breaks into?
On a monthly basis:
25% Dining Out and Groceries (yes, I know, that's ridiculous, but Daddy's gotta eat!)
21% Home Bills, Utilities, Property Tax, Insurance, etc. (NO mortgage… hooray!)
14% on Kids Activities and Experiences
13% Saving for College and School Expenses
13% on Shopping & Entertainment
7% Charity & Gifts
7% on Gas, Car Insurance, and Maintenance
There is also a lot of money that comes in at one time. See below.
Do you have a budget? If so, how do you implement it?
We have a directional monthly budget, which is just a guideline to meet our monthly savings goal.
My income as mentioned is highly episodic – I get a big slug in March from bonuses and incentives.
All of that is budgeted and tracked to the dollar across several categories: saving (50-65%), giving (about 5%), and home improvement, fun, etc. (whatever is left over).
I do monitor total inflows and outflows every month (actually more like 4-5 times a week) and make sure that we are cash flow neutral after monthly spending and meeting savings goals. A big shout out to mint.com… it was a real game changer when I set everything up.
What percentage of your gross income do you save and how has that changed over time?
Right now I am saving around 24% all in (monthly and one-time annual savings combined).
It has varied widely from my first job until now, but I have always taken advantage of 401k company match, plowing in enough to max that out.
I opened a 529 plan for each kid shortly after they were born, and made monthly contributions right away. These were tiny at first, but setting the habit and starting early paid off big time.
For the last three years I have hit the limit on 401k contributions, so I have beefed up savings through Whole Life (I know most "finance people" hate Whole Life, please keep reading), 529 plans, and dividend stocks.
What is your favorite thing to spend money on/your secret splurge?
Full transparency, we live a pretty big lifestyle: luxury vacations, charity dinners, concerts, sporting events, you name it. So it's kind of one big splurge.
If there is any one thing, I will say travel and experiences like a lot of others on this blog!
INVEST
What is your investment philosophy/plan?
I know a lot of folks bash the financial planning industry, and insurance sales in particular, but I need to give a lot of credit to my financial planner. When our kids were very young he helped us set up a long-term plan for insurance, education, retirement, the whole thing.
Yes, I could have done it all on my own by readings books and blogs. BUT, having a guy we trust to just bring clarity to certain tricky financial decisions has been very valuable.
I know I am paying more in fees, I know Whole Life gets a bad rap, but it has worked for us. I don't think I would be a millionaire without the initial plan we worked on together.
That said, I have eggs in many baskets and plan to diversify even farther away from anything actively managed. In terms of asset allocation, I am a little strapped with a lot of it being tied up with the company, but across all my accounts I try to maintain 50% equities, 20% fixed income, and 25% alternative investments, and 5% cash.
What has been your best investment?
I bought Google about 10 years ago. That worked out well!
Buying and selling homes throughout my many corporate relocations has contributed a ton to my net worth. We made about 20% in 24 months on our first home, and on our last home we made 40% in 36 months. Amazing returns. And on the one house where we lost equity, the company offset a large portion of the loss.
My MBA was probably my best investment overall.
What has been your worst investment?
Tony Robbins in "Unshakeable" put forth a golden rule in investing: Don't Lose.
I have been pretty good at that, and there are very few instances where I made any meaningful bets that lost money. Many would probably say my Whole Life policies are a waste, but I don't mind having a bit of my nest egg there.
I worry more about opportunity costs than making a bad investment. I am always wondering if I need to be more aggressive or more diversified.
What's been your overall return?
Really hard to say but I you can find my net worth over time below.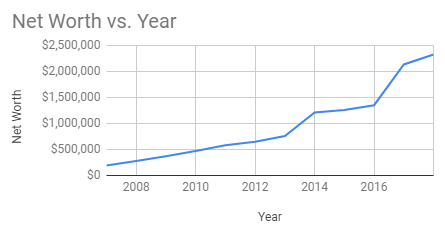 In 2013, I liquidated a bunch of stock and options and sold a house at significant appreciation. In 2017, we paid off our mortgage and put some savings vehicles into overdrive as some sizeable bonuses came in.
How often do you monitor/review your portfolio?
Almost every day, certainly a few times a week. I am addicted to seeing my balance sheet grow. I keep a huge "master spreadsheet" with income history, budgets, biometric history, and a long term projection until the day I die.
NET WORTH
How did you accumulate your net worth?
I set a goal in business school to have a net worth of $1 million by the time I was 40. I made it right at 40, and it doubled less than four years later. It's true what they say about the first million being the hardest.
Here are some tenets of our basic formula:
Set goals and meticulously manage your cash flows.
Participate in the market, and stomach the ups and downs. I did not change one habit or allocation or behavior during the Great Recession, and it paid off big time.
When you get a windfall, pay yourself first. We made a killing selling houses, and 90% of our equity gains went to building Net Worth.
Aggressively pay off debts, including the mortgage. The positive vibe of being debt free cannot be overstated. Beholden to no one, you feel completely in control of your financial fate.
What road bumps did you face along the way to becoming a millionaire and how did you handle them?
Not any real big mistake, but we did take on a few risks I might have played differently.
We bought our first house with an interest only mortgage, but it paid off by getting us on the real estate ladder. We got super lucky with the timing of our relocations and the generous packages provided by my company.
When I went back to school, we plowed everything into my education except for some IRA's that we used for a down payment after school. I also assumed some student loan debt. Getting out from under that was painful and I wish I had had more cash before quitting my job and going to school. It was still the right decision though.
What are you currently doing to maintain/grow your net worth?
We live large, but I am always very careful to make sure we never spend more than what we have left over after some aggressive saving.
As I stated earlier, I'd like to diversify into a bit more cash flow producing assets. I am quite confident in my plans to retire at 56, but I'd like to also have a nice "side" portfolio and set of side gigs to keep me engaged after I quit my stressful corporate job.
Do you have a target net worth you are trying to attain?
By the time I hit retirement, I'd like to at least double my net worth. I think I can make it to $5 million if I stay the course. My big X Factor is that I have four kids who plan to go to college. I've saved a good amount but if they all get into NYU, decide to go, and don't get any scholarships, it will hurt. One problem at a time….
What really matters is having enough resources to maintain our lifestyle given a fairly early retirement. All my projections say I am on track for that.
How old were you when you made your first million and have you had any significant behavior shifts since then?
Age 40. It felt fantastic!
I think the main behavior change I have had is in being more engaged in wealth management. I read a lot more finance books and blogs. While my basic behaviors have not changed (Earn, Save, Invest, Monitor, Reallocate), I do feel much more educated and in control.
What money mistakes have you made along the way that others can learn from?
As mentioned earlier, I wish I had been able to avoid student loan debt. It was painful making those monthly payments, and I got out of debt as soon as I could.
If you had to give advice to ESI Money readers about how to become wealthy, what would it be?
Get out of debt. It's really hard to not take on any debt when stating out – school, marriage, house, etc. But once you get out of debt, you will feel free as a bird.
Be a little weird. We have a few stranger habits to keep us grounded. I hate buying new cars, and when I do, we drive the wheels off of them. My current car is a 13 year old SUV I got for free when my dad passed away. Every year we do a No Spend Month, where the family radically cuts back in discretionary categories: no dining out, no movies or going out, no new clothes or things… We are never 100% compliant but it reminds us of our "wants" vs. our "needs".
Start early, stay the course. I saved tiny amounts when I was young and felt like I could not spare it. This set a lifetime habit of building wealth.
Money is not about the stuff. For me it's about securing the future and being able to be generous. My parents immigrated to the US and they were terrible with money. I promised myself I would be an extraordinary money manager, and I made it happen mostly though self-study.
FUTURE
What are your plans for the future regarding lifestyle?
I expect our lifestyle to improve every year. This is counter to the "live below your means" mantra, but if can ratchet up my pleasure level and my giving, while still realizing all the savings and investment goals I have set out, then why not…?
What are your retirement plans?
I think all the time about what I am going to do, but I know I need to get off of this corporate treadmill. My job is intellectually fascinating, fun most of the time, and allows for some glamorous travel… BUT… I can't keep up with the stress level forever.
I am actively cultivating hobbies and friends and side gigs to keep me engaged when I step away. I am looking forward to doing whatever the heck I want. I picture a life where my wife and I travel a lot, visit our kids and grandkids, have a home on a lake or a beach, and I maintain a sense of purpose by keeping a variety of projects moving: church, shop work, consulting, helping out the kids, etc.
Reading the ESI essay posted on Business Insider has further inspired me to reach for that early retirement goal!
Are there any issues in retirement that concern you? If so, how are you planning to address them?
Two things: Health and Purpose.
I've watched my parents age and it's a big reason I want to retire early. I want to enjoy life while I am fit, and I want to stay fit as long as I can. My current health routine is cardio, resistance training, and core/flexibility, three times a week each. I am about 75% compliant.
While I don't define myself by my job, I do worry a bit about having purpose when I retire. I am fairly confident I will have plenty to do, but I do see a lot folks (retired or not) just flailing around with no real driving force in their life.
MISCELLANEOUS
How did you learn about finances and at what age did it 'click'? Was it from family, books, forced to learn as wealth grew, etc.?
My dad lost his job when I was in elementary school. I was only vaguely aware of what was going on, but I knew things were off when my mom started picking up all kinds of extra shifts.
That Christmas we barely got anything. I know that "stuff" does not and should not matter, but as a kid it was a shock to the system to get a pair of sweatpants when you were used to getting about a dozen different toys. I knew we were in trouble.
I decided then that I wanted to have enough money to feel secure through any ups and downs. As immigrants, my parents did the best they could but they were not at all good at accumulating wealth in the American system. That started me on a lifelong journey of financial learning.
Who inspired you to excel in life? Who are your heroes?
I've had several informal life coaches who have given me a leg up in career, financial knowledge, work/life balance, or faith. I try to pay that forward as much as possible: career mentoring, teaching at church, youth mentoring, and other little things with friends and family.
My parents are heroes because they risked it all to make a better life for our family here in the US. I also greatly admire my in-laws. They welcomed me with love, open arms, a keen work ethic, and sound financial acumen.
My wife pushes me to be better every day. That's a big reason I love her, even if I don't say it enough.
Do you give to charity? Why or why not? If you do, what percent of time/money do you give?
As Catholics, we are called to pair Faith with Good Works, and we are often asked for our Time, Talent and Treasure. I try to balance across all three.
I do monitor our financial giving on a yearly basis, and we have a goal of increasing our giving level every year, currently at 7%.
A healthy 10% in a few years' time seems like the right amount. It's quite gratifying to see our giving make a difference with several causes that are important to us.
Do you plan to leave an inheritance for your heirs (how do you plan to distribute your wealth at your death)? What are your reasons behind this plan?
I certainly don't plan to provide any "financial life support" (from the Millionaire Next Door) while I am alive, and if I do my job right, the kids won't care whether they get an inheritance from me or not.
My master financial spreadsheet projection has me dying at 100 with a couple million left to spare. I'd like to give some big gifts to the schools that have made a big difference for me, and to charities that we care about, rather than die with that kind of money in the bank.
For now, I am keeping the projections where they are, because as I stated earlier, financial security is my number one goal for now!