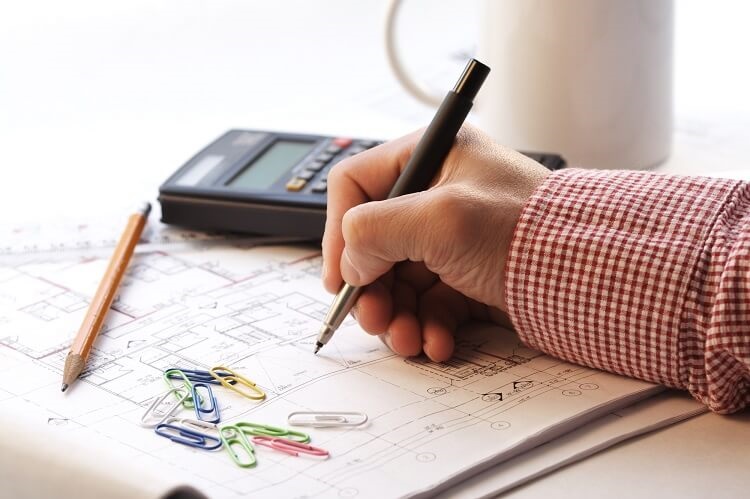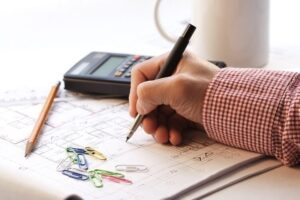 Here's our latest interview with a millionaire as we seek to learn from those who have grown their wealth to high heights.
If you'd like to be considered for an interview, drop me a note and we can chat about specifics.
This interview took place in December. The interesting part of this interview (in addition to the story and great detail the author gives) is that by the time it posts, he will be retired. In fact, he detailed the process for us in the Countdown to Retirement series.
My questions are in bold italics and his responses follow in black.
Let's get started…
OVERVIEW
How old are you (and spouse if applicable, plus how long you've been married)?
I am 58, my wife is 57, and we have been married 34 years.
Do you have kids/family (if so, how old are they)?
We have 3.5 children, ages 29, 27, 25, and 21.
The half-kid is actually a former exchange student that we shared with his natural parents, and still maintain contact with, so we consider him half ours.
What area of the country do you live in (and urban or rural)?
We live in a suburb of a mid-size city in the upper Midwest.
What is your current net worth?
Net worth is $2.8M at the time of this writing.
This includes primary residence but does not include any other big-ticket items like autos.
What are the main assets that make up your net worth (stocks, real estate, business, home, retirement accounts, etc.) and any debt that offsets part of these?
This gets a little complicated, so I'll attempt to show it via a table.
Columns indicate the tax status and rows indicate the asset type.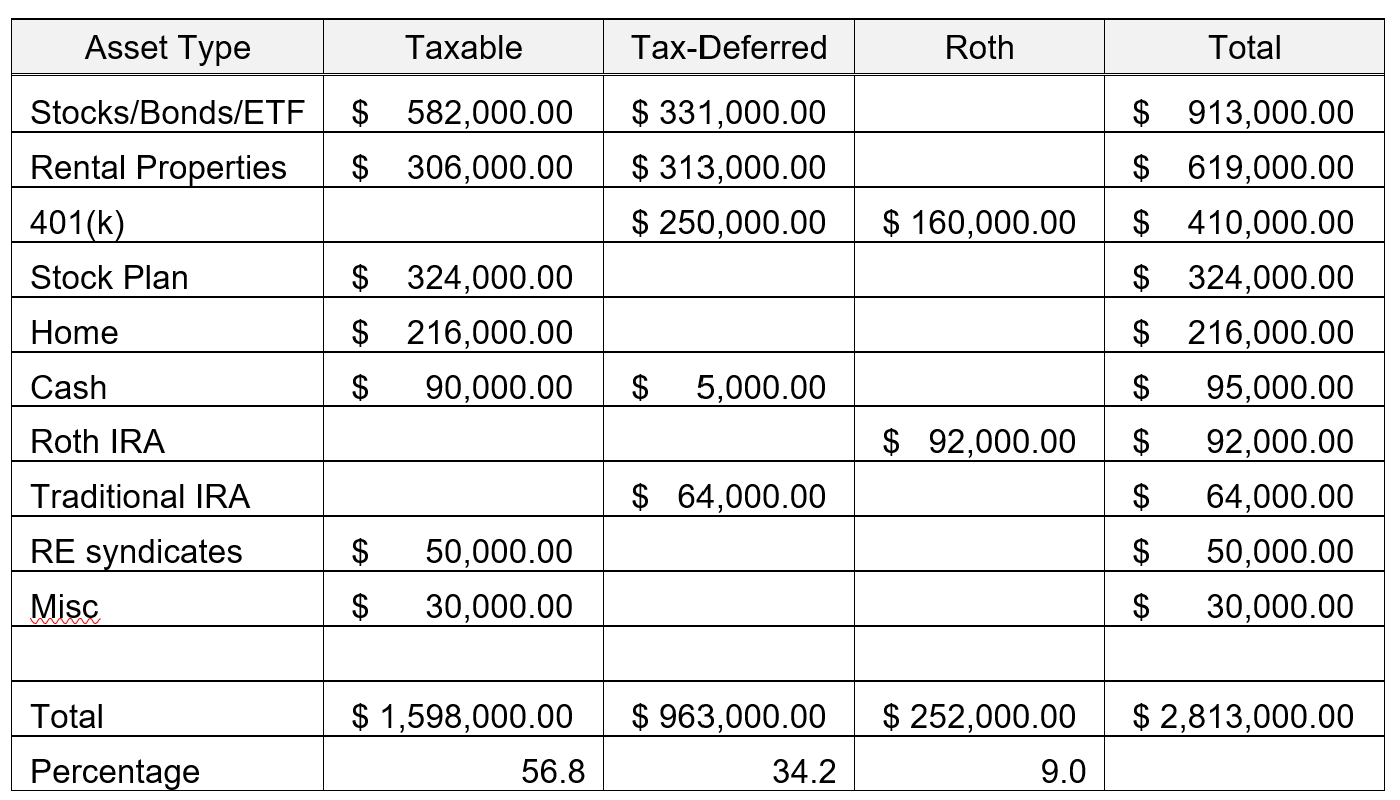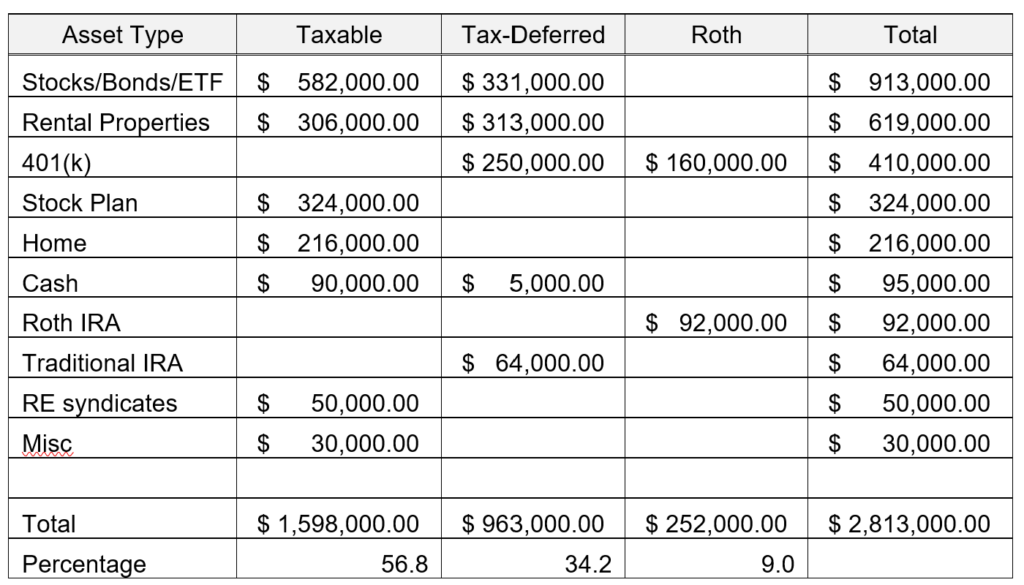 A few notes on this table:
We have a self-directed IRA which contains a rental property, a brokerage account and a checking account. So several rows are distributed between taxable and tax-deferred columns.
My work started offering a Roth 401(k) option after I had been there a while, so I switched all the contributions over to the Roth side at that time.
The Stocks/Bonds/ETF row is allocated to 56% US Stocks, 16% International Stocks, and 28% in US and International Bonds.
We also have some unvested RSU shares which we do not count until they vest and are available.
We have no debt.
EARN
What is your job?
I work in the outside sales group for a large technology company. With a background in engineering, I handle the technical and support side for customers in my local area.
I have never aspired to manage, so I have stayed in a worker-bee role for my entire career. Many companies do not have a defined advancement path for those who prefer to stay on the technical side, other than perhaps a title change. So I guess you could say I have not advanced in 35 years. But I'm OK with that.
My wife has a background in education. She left the workforce when our first child was born and has been a stay-at-home mom ever since. She home-schooled our children.
What is your annual income?
Looking at 2019 data, our total income was approximately $250K.
Approximately $50K of this was from rental property income, and $20K from interest and dividends.
In addition, we sold a rental property for a $160K gain. The tax man smiled broadly at us last year. 🙂
This year, bonuses will be down because of Covid, and we're not selling any properties, so we would expect the total income figure to be around $220K.
Tell us about your income performance over time. What was the starting salary of your first job, how did it grow from there (and what you did to make it grow), and where are you now?
My first job out of college in 1985 paid $26K working as a design engineer. I thought I was making bank. Especially since it was exactly double that of my wife.
In the years after that there was a slow but steady increase in salary which starts showing up on the following chart.
I received a salary cut in 2008 as a result of the downturn, changed jobs in 2009 and changed jobs again in 2010.
We bought our first rental property at the end of 2006, another one in 2009, and a third property in 2011.
The latest job plus the rental income made the graph go in the correct direction again in 2010. The large peak in 2019 was the gain from selling one property.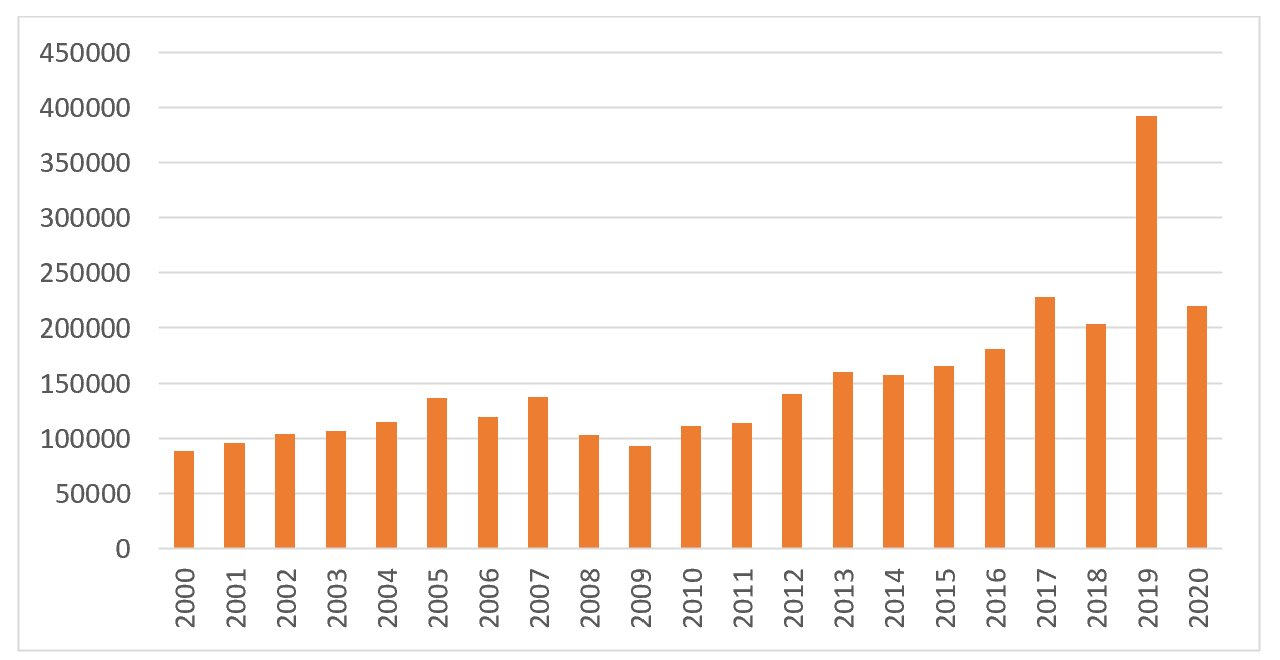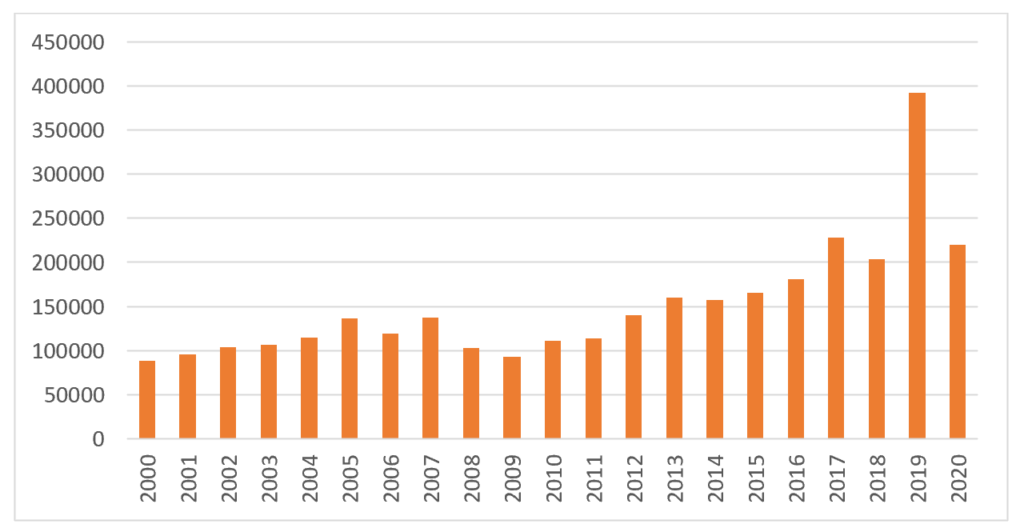 What tips do you have for others who want to grow their career-related income?
At one level, don't do what I did. Although I had one or two title changes, I've always stayed on the bottom rung of the career ladder. So salary growth at each company I've worked for has been only in the form of merit increases and not career advancement.
At another level, do what I did. The value I brought to each company was not in managing people, it was in bringing technical expertise to the table. I worked in the R&D groups for two companies and developed technologies that eventually became big sellers for the company. I have received several patents for this work. This value is reflected in the incremental and steady merit increases at each company.
If you don't wish to manage people, become an expert.
Or change jobs. Each job change resulted in a salary bump that I probably would not have received if I had stayed put. Other Millionaire Interviewees have suggested this also and I probably could have done this more aggressively to maximize salaries, but that wasn't my primary reason for moving to a different job. Usually I just wanted to do something different.
What's your work-life balance look like?
Overall I have considered our work-life balance to be very good. I usually put in 40-45 hours per week at work and am home in time for an early dinner. We joke when we go out to eat that we grew old early because we are at the restaurants earlier than usual and join the retirees in beating the younger crowds.
Commute times for each job has been reasonable so I did not spend a lot of time in the car.
I have a lot of outside interests, so my career was just one thing in a crowded field that demanded my attention. In that sense, retirement will be easy because it will be the removal of one activity among many. All the others can then just fill up the gap.
We have lived most of our married lives with just one spouse working. My wife stayed home when the kids came along. This was a blessing as it allowed her to concentrate on those children with special needs with the necessary doctor and other appointments which typically happened during normal working hours. She also managed the household so that most of that work was done by the time I got home from work.
There were a couple notable exceptions to this work-life balance, and those happened when we purchased the first two rental properties. Both of these were foreclosed properties that were left in quite a mess. They became a family project as we did nearly all the renovation work ourselves.
We closed on the first one in November, 2006, and started work on it just as Winter was closing in. We were blessed with a warmer-than-normal January, which allowed us to continue working on a place with no heat, no water, and electricity in just one-sixth of the building. If we needed to work in a different unit, I would go outside and pull the one electric meter out of the socket on the panel and plug it into the socket of the unit we were working on so we could turn the lights on. We got the gas turned on and the furnaces working one day before the weather took a dramatic turn colder.
This project was 10 months of evenings and Saturdays for the entire family. We would often work until fairly late in the evening, come home, get the kids off to bed, and then I would spend the next hour or so cleaning all the painting equipment and planning for the next day's work. Lunch hours at my job were usually spent at Menard's, buying supplies. Not much else happened while this project was in progress.
The second property was eight months of evenings and Saturdays. By the time these projects were done, we were quite ready to do something else for a change. They were a ton of work up front, but added nicely to the bottom line once they were all rented out.
Would I do it this way again? Probably not. I would hire out more of the work and I would probably not attempt this kind of project while still holding a full-time job. But they gave my teenage kids some valuable work experience that they have now carried to their own real estate. One son bought a condemned house downtown and renovated it to live in, and another bought a fixer-upper and completely renovated several rooms, including kitchen and bathroom.
Do you have any sources of income besides your career? If so, can you list them, give us a feel for how much you earn with each, and offer some insight into how you developed them?
The rental properties, once they were fully operational, began contributing significantly to the income side of the equation. One of those properties is owned by a self-directed IRA, so we won't technically see that income until we begin withdrawing from that IRA. Between the two properties, we net about $45K to $50K.
We are also seeing interest and dividend income in the range of $25K. This is a natural outgrowth of a sizeable stock/bond portfolio and continues to rise as the stock/bond portfolio increases.
We just invested in our first real estate syndicate, hoping to develop this as another source of income. So no income yet, but we should start seeing something in early 2021.
SAVE
What is your annual spending?
Spending can be rather lumpy, so I usually try to take the average of a few years.
So looking at the average of the last three years, annual spending has been around $163K. Yeah, this seemed rather high when I first pulled this data from Quicken, until I sorted the data and the top category was taxes, which comprised nearly 30% of this spending figure.
What are the main categories (expenses) this spending breaks into?
The data from Quicken came out like this: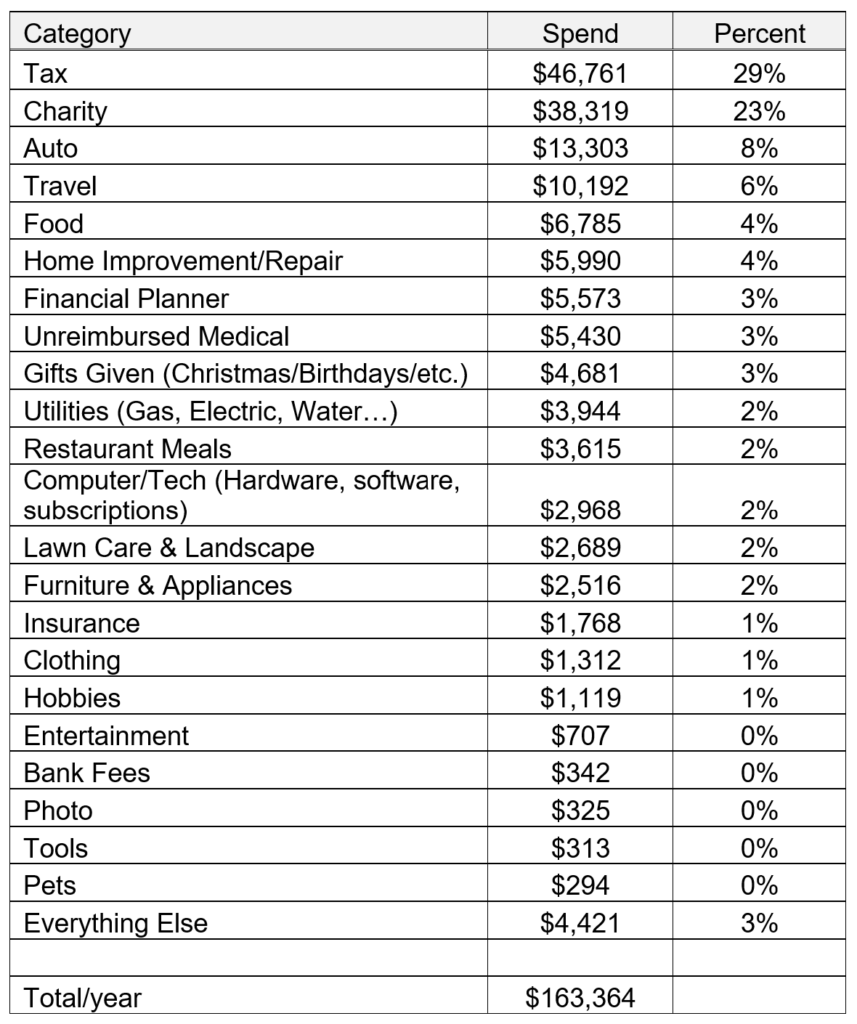 The "Everything Else" category is made up of dozens of smaller categories, each contributing less than 1% of the total spend.
A few of these appear here only because of the lumpy nature of the expenses in that category.
"Photo" barely made it onto this list because I bought a new camera three years ago.
"Lawn care & Landscape" is rather high because I bought a new mower (a really BIG one) last year. The last mower lasted 18 years, hopefully I can make this one last at least that long.
"Auto" could be a bit lower but I had to replace a car after mine burned to the ground last January. It was only 12 years old.
Home Improvement/Repair is up there because we have been preloading some of the expensive stuff to get it out of the way before retirement. We replaced some flooring, had the chimney rebuilt, we're scheduled for a new roof, etc.
Taxes, of course, dominates the list. Uncle Sam smiles on me every year.
Do you have a budget? If so, how do you implement it?
We do not have a budget, and as I recall, we've never had a formal budget.
That being said, we do monitor where everything goes so we do have a good idea of our spending patterns. We've just never forced it into specific amounts in specific categories.
What percentage of your gross income do you save and how has that changed over time?
The first few years, we didn't really "save" anything. Any extra cash went towards extra payments on our home mortgage. So our saving was in the form of home equity. Both of our jobs had some sort of pension system and, quite frankly, retirement saving was the last thing on our minds. We just had a goal to get out of debt as soon as possible.
My second job had a 401k plan that I put some money in. That was over 30 years ago so I don't recall the percentage. I think it was enough to get the company match. We were still focused on eliminating debt.
I don't recall thinking much about retirement saving anything until around age 30 when we went to a presentation at work by some sort of financial planner. We signed up with this firm and he got us into a cash-value whole life policy and some other investments. After a couple years we began to realize just how terrible this was. We paid the big bucks in surrender charges and got ourselves out of it.
Around that time we set a goal to be debt-free by age 40, including the home. We managed to beat that goal by five years. Once the house payment was gone, we kicked the 401k into a higher gear. I also began investing in individual stocks. I did great on a few of them, not so much on others.
This job also had an employee stock purchase program. We may not have been big on saving but we did know a good deal. The company stock purchased in this program could be had at a 15% discount. I maximized the contributions in that (10% of income), and also continued to ratchet up the 401k contributions. By the time I left that job after 13 years, I rolled those 401k funds into a self-directed IRA, with the goal of someday investing in real estate.
My next job also had a ESPP program, but also had employee stock options. We maximized contributions to both of these plus the 401k. At that time (about 20 years ago), we were probably saving 25% of income. The stock price was a bit up and down and I exercised some options during one of those up-times, plus sold some of the individual stocks that we had to invest in our first rental property. Unfortunately, the remainder of the options were worthless when I left that company.
By the time I joined the company I am at now in 2010, we owned two rental properties. All the income from these is saved and accumulates in their associated business brokerage accounts. When I left the prior company, I rolled the 401k funds into my self-directed IRA and used that to buy a third rental property. Income from this accumulates in a brokerage account owned by the IRA. So all rental income and investment income from these properties is essentially saved.
Right now, with contributions to my 401k plan at 20%, another 10% going to the company ESPP program, and the income from the rental properties being saved in their individual business entities, I'm estimating our savings rate to be around 50%
What's your best tip for saving (accumulating) money?
Make it unavailable. By paying down the home mortgage, we were banking our money in our home, in the National Bank of Equity. 401k plans, IRAs and other such vehicles also make money "invisible".
Make it automatic. We read a book not so long ago titled The Automatic Millionaire by David Bach. The entire book can be condensed down to those three words: Make it Automatic. There. You've just read the book.
Automate as much as possible. Online brokerages can automatically dip into a checking account each month and buy shares in mutual funds. I have as many bills as possible set on 'auto-pay' so that I don't have to think about them. 401k plans are usually automatic, as well as company ESPP programs.
What's your best tip for spending less money?
Have a frugal spouse. I earned the money, but she was in charge of a lot of the day-to-day spending decisions. Her natural frugal tendencies saved us a ton of money over the years. She can be frugal to a fault. Sometimes I have to tell her, "Honey, spend the money!"
Align hobbies with either earning or saving money. We have had a large backyard garden for years, growing a lot of our own vegetables. When the kids were growing up, we would plant around 100 tomato plants and then they would sell the tomatoes along the road. It was a nice little income for them.
My wife has also started indoor gardening, growing lettuce and seed sprouts indoors. Our short growing season limits how long they can be grown outdoors, but indoors can go all year. So for the price of a bag of seeds and a little bit of electricity for the grow-lights, we have fresh lettuce and sprouts nearly every day for our salads.
We also keep a few chickens in our back yard. The eggs that come from these chickens are great and the chickens will also eat nearly everything that is left over from the dinner table.
Some of this may not actually save a lot of cash, but we eat well here and there is a lot of value in that, also.
What is your favorite thing to spend money on/your secret splurge?
Several things come to mind…
Costco premium vanilla ice cream covered in chocolate ganache. It's to die for. 🙂
A good pellet smoker. Grilla Grills, made in Holland, Michigan. The ribs and pork tenderloin that come off this smoker are amazing. Can you see that we're all about the food?
Road Trips. We look forward to taking more road trips in retirement. For the last few years we have used vacation rentals as places to stay, but we bought a small RV recently that we have taken on several long weekend trips and have enjoyed that mode of travel, seeing new sights and meeting new people.
I have several activities that can be considered hobbies, and one of those is finding and restoring old pinball machines. If you know of any, give me a shout. It might be worth a road trip to pick it up.
INVEST
What is your investment philosophy/plan?
We do not use debt to finance investments. The only debt we had early on was a home mortgage, which we paid off early. We paid cash for all our rental properties. We were blessed to have no student loan debt for either one of us when we finished college and we wanted to stay out of debt.
Early on, we didn't really have a plan, other than to eliminate debt. Lately, however, with retirement just a few months away, we are working on developing additional sources of cash flow. Rental properties certainly fit that bill. A recent investment in a real estate syndicate goes toward the same goal. We plan to ladder into additional syndicates periodically.
Ideally, if the cash flow exceeded expenses, we would not have to worry about portfolio draw-down. As it is right now, we have enough cash flow to meet about 70% of expenses.
I've been spending a lot of time on the Millionaire Money Mentors forum and have begun to question the conventional wisdom of 70% stocks and 30% bonds (or whatever ratio is suggested by financial advisors). So that part of our investment philosophy is probably a bit fluid until we figure out where to land.
We have continued to look for additional rental properties to buy, but have been stymied by high prices. The math just won't work for anything that we have looked at. The prices are high, the cap rates are terrible, and the lower priced properties are just too much of a mess. So we continue to accumulate the cash flow from our current properties, sending the cash to a linked brokerage account and investing it in stocks and ETFs.
What has been your best investment?
Real estate.
It probably helps that we managed to get into our first multi-family rental property just as the bottom was dropping out of the market in 2007.
Real estate also gave us the opportunity to add value by doing the renovation work ourselves. Sweat equity certainly boosted the returns.
What has been your worst investment?
There have been a bunch of them. A few standouts are as follows:
A whole-life policy. Perhaps if we would have hung on to it long enough we may have realized some return from it, but the fees were so high and the surrender charges huge and the time-horizon so long that it made most other investments look way better by comparison
Annuities. We were given the high-pressure sales push by a second financial firm we signed up for after I decided that I am really crappy at picking individual stocks. High fees, front-end loads, big surrender charges, yes, they were all baked in.
The same firm persuaded us to buy into an entity that invested in major amusement parks, golf courses, and some other leisure businesses, with the argument that the aging population would be driving up demand for these, resulting in good returns. Over the next couple of years, I watched the value return towards zero. First the income portion of this dried up, then most of the assets were liquidated for pennies on the dollar. I got double-digit returns, they all just had a minus sign in front of them.
Individual stocks. It's fun to talk about a couple tech stocks that we doubled our money on, but for every Intel, there were a couple Lucent Technology stocks that were purchased at $44 and sold at $4. I guess I had to learn the hard way that I am not a stock-picker.
What's been your overall return?
The real estate investments have been returning around 9% to 10% ROI over the last 10 years. They have also appreciated in value. If I added in the change in value over the years, it probably adds up to around 18% to 20% IRR (Internal Rate of Return).
The basket of stocks/bonds/ETFs that we have has probably done 12-13% over the last 10 years. This lags the 10-year performance of major benchmarks which shows again that I am not a stock picker. Someone else manages these investments now.
I'm looking at this over the last 10 years not because the 10-year bull market makes the returns look good, but because the worst investments listed above would probably make the returns look really bad if I accounted for a longer time.
How often do you monitor/review your portfolio?
I take a look weekly or a couple times a week, not because I am trying to time the market, but because I just find it interesting.
My financial planner takes care of any rebalancing. I'll review allocations in the 401k plan about twice a year.
NET WORTH
How did you accumulate your net worth?
We are definitely the tortoise in the classic story of the tortoise and the hare. We had a decent income (even breaking $100K about 15 years ago), but the accumulation was accomplished a little bit at a time.
It was first paying off the house. Then it was additional funds in the 401k and stock plans. A series of poor investments and poor decisions created headwinds that probably delayed accumulation significantly. But the inflection point in the net worth curve happened about 10 years ago when the rental properties started contributing to the income picture.
I also maximized any available stock plan at my current job and the stock price has done very well in that time period, so that helped boost the net worth figure.
What would you say is your greatest strength in the ESI wealth-building model (Earn, Save or Invest) and why would you say it's tops?
I'm not sure that one stands out significantly from the others. We've had a consistent income for 35 years, so there is strength in the Earn category.
We've always been fiscally conservative, saving whatever we could, and not spending extravagantly. It helps when both partners are more on the saving side. So saving is probably the tall pole in this tent.
Investing in rental properties has helped our net worth greatly, but other investments have not done so well, particularly early on. It is only in the last 10 to 15 years that we have seen strength in the Investing side, so we are proof that you can get your game going a little late and still come out a winner.
What road bumps did you face along the way to becoming a millionaire and how did you handle them?
No really big road bumps, but many of the setbacks on the way to seven figures were self-inflicted.
From picking stocks to whole life policies and a bunch of other no-nos, I just made a series of bad decisions that set us back many years. It probably took 20 years to learn all the lessons and only in the last 15 years did we get things finally dialed in which allowed our net worth to begin to grow like it should.
Lessons learned:
Don't pick stocks. Leave that to the experts
If you use a financial advisor, use one whose fiduciary responsibility is to you and not to a company selling a product.
Insurance products generally do not make good investments.
Real estate has worked or us in growing net worth.
What are you currently doing to maintain/grow your net worth?
Since we are getting close to retirement, we are working on developing more cash-flow based investments. Rental properties. Syndicates. Dividend income. And we're on the prowl for more.
With W-2 income ending in a few months, anything that generates consistent cash flow is on the table. These development efforts will continue into retirement, and we're looking at more syndicate opportunities over the next few years. Each syndicate will have an expected cash flow and we can essentially "buy" cash flow for several years with each syndicate. It's sort of like Annuities, but without the high fees and high-pressure sales techniques. And you get all your money back at the end of the term. That's the promise anyway.
We are also estimating spending in retirement by examining past spending patterns and reducing or eliminating those items that may not make sense or that we may not need in retirement. Perhaps we can eliminate one vehicle, saving the maintenance and insurance costs. That would be a fairly big one. Any subscriptions, those pesky little expenses that are there whether you use the service or not, can be on the chopping block. Each and every expense category is being looked at.
We're not trying to cut expenses to a point where our standard of living changes. We fully expect to maintain a similar standard of living after retirement as we did before. We just want to eliminate anything that is unnecessary to reduce the amount of income or draw-down needed to maintain that standard of living.
Do you have a target net worth you are trying to attain?
We've settled on 25 times expected expenses as a target net worth. Many will recognize this as the inverse of the standard 4% rule.
We've arrived at a rough estimate of $100K per year in estimated expenses. Add to this about $16K in taxes that will happen on income-producing assets and 25 times $116K is about $2.9M. With a current net worth of $2.8M, we're pretty close.
And the cash flow from income-producing assets currently makes up about 70% of expenses, so only 30% of expenses needs to be covered by portfolio performance or draw-down.
How old were you when you made your first million and have you had any significant behavior shifts since then?
I was 51 when our net worth hit seven digits. That was in 2013.
We crossed the $2M mark in 2018, at age 56.
Now, at age 58, we're closing in on $3M.
The first million was the hardest. That took 28 years. The second million only took six years. The third million, at the current trajectory, would most likely be three years.
This chart shows the yearly net worth over the last 15 years and illustrates the snowball effect as it is starting to roll.


We have stayed the course since then, just maximizing the 401k contributions and stock plan contributions, and taking advantage of every opportunity to save and invest.
Wealth gained hastily will dwindle, but whoever gathers little by little will increase it. Proverbs 13:11
What money mistakes have you made along the way that others can learn from?
I've outlined some of these in earlier questions, enough to give one the impression that I am a slow learner.
It took two bad experiences with financial planners for me to figure out what "fiduciary" meant.
I may not be the brightest bulb on the tree, but I eventually do figure things out. Hopefully others will make this mistake only once, if at all.
What advice do you have for ESI Money readers on how to become wealthy?
For us, it was "slow and steady wins the race". Not everyone will inherit a boatload from an eccentric rich uncle. It's always someone else that wins the lottery. I'm a horrible gambler, and the one of the largest unexpected windfalls I have received was a ten-dollar bill I found in a parking lot. Only a few are blessed with rich parents. For the rest of us, building towards financial independence is done one brick at a time. Eliminate debt, plan for the long-term. Save and invest consistently.
Years ago, we took our two young boys "up north" and kayaked to a small island in the middle of Grand Traverse Bay. It was 3.5 miles one way from where we put in. While we were out, the wind picked up and was directly against us as we were paddling back. Two-foot swells may seem small but they are enormous when you are sitting in a kayak. We lashed the kayaks together with lengths of rope and paddled furiously towards shore. For a long time, we seemed to be getting nowhere. The boathouse we were aiming for remained stubbornly small in the distance. The only real way to check our progress was to look behind us and see the island slowly receding. Finally, the boathouse began to get bigger. And bigger faster. And then we were there.
You may question the wisdom of taking young children on that kind of adventure, but it illustrates the principle perfectly. If you are building wealth a little at a time, the goal will seem distressingly far away and will stay that way for quite a while. The only way to check your progress is to look behind you and see the debt getting smaller. Or your 401k or investment balance start to grow.
At some point, however, you will notice the goal, your net worth represented by the boathouse, is slightly bigger. And then it gets bigger at a faster rate. And then, for the last little bit, you may be even able to coast. For the last 10 yards or so, we were able to ship the paddles and coast, using the momentum built we up, until we heard that welcome sand grinding against the bottom of the kayaks. We made it, and you can, too.
Whoever walks with the wise becomes wise, but the companion of fools will suffer harm. Proverbs 13:20
The same could be said for wealth. Whoever walks with the wealthy becomes wealthy. Surround yourself with friends and mentors that will help you on your path towards financial independence. Join the Millionaire Money Mentors forum. Plenty of wealth wisdom to go around there.
FUTURE
What are your plans for the future regarding lifestyle?
Our current plan is to retire early. "Early" may not seem early to many, since I am already 58, but that's still several years ahead of traditional retirement dates.
We would like our net worth to cover expenses, whether by cash flow, portfolio performance, or judicious draw-downs so that we will not have to seek a W-2 income source if we don't want to. This will allow us the freedom to travel, volunteer, or do whatever we feel led to do.
What are your retirement plans?
I currently have a date of April 1, 2021 as my first day in retirement. So the clock has been started and is steadily counting down. As the clock ticks downward we will continue to analyze expenses with the aim of minimizing anything that is unnecessary while still maintaining our standard of living.
After the April 1 date, we will continue to develop passive income sources to augment current cash flow. One income source we've just started buying into is real estate syndications. We will look at other opportunities as well.
I'll probably take a little bit more active role in the maintenance of the rental properties while still retaining our management company to find and manage good tenants. Especially this year, some maintenance items have gone undone because of Covid, so these will need to be done in 2021.
As far as activities, additional travel is certainly on the docket. We've have quite a list of road trips we would like to take.
Volunteering is high on the activity list. Whether it's disaster relief, short-term mission projects, local volunteering opportunities, we'll be exploring where we would like to serve.
Education is another activity. To keep our minds active, we wish to take courses, develop skills and hobbies, and participate in group activities.
And I have a bazillion hobbies. I really don't know how I had time to work. Must be that the salary was needed to fund all the above.
I don't have a specific set of activities planned out. I'm not really a planner, I'm more of a make-it-up-as-you-go kind of guy, much to the consternation of my wife, who is a planner.
I'll probably take the first few months after the April 1 date to just detox from the former way of life, using that time to finish a myriad of projects that have been pending (some for years), do some serious yard work, and develop those habits which will be useful going forward.
We will also scout out those activities which we would like to do during retirement.
Are there any issues in retirement that concern you? If so, how are you planning to address them?
No big surprises here, health care is probably the number-one concern. We're looking at one of the health sharing ministries to help cover the health care. We've done a bunch of analysis and baked a few scenarios into our spending plans. We do have a long-term care insurance policy in place.
Another concern is sequence-of-returns risk. The risk of the equities markets taking a huge dump just after we retire, which would take some of our investments with it. To cover that, we have been loading up on cash, and will have at least a year or more of expenses in cash or cash equivalents.
MISCELLANEOUS
How did you learn about finances and at what age did it "click"?
I'm not sure I had any Eureka moments with finances. It was probably more like learning from mistakes. And then gaining incremental experience from those mistakes.
Over the last decade or so, I've been more intentional about reading and learning about finances, investing, real estate, and the like. But even then, I learn best by just jumping in and doing something, making things up as I go.
We jumped into our first rental property in 2006 knowing only a little about real estate. We learned a lot that first year. Some of that was through mistakes we made, and a lot of it was just the necessity of learning to swim when we were already in the deep end of the pool.
My wife's father taught her about US Savings Bonds when she was in the second grade. She can remember proudly taking her first bond certificate to school and telling the kids during show-and-tell that this was a way to earn more interest than a savings account. She came home wondering why none of the other kids were interested in this topic.
Who inspired you to excel in life? Who are your heroes?
My dad was an inspiration to me. He immigrated to the United States when he was 13 years old and never made it to high school, but he ran his farm efficiently and worked hard for his family. If he would have had the opportunity for higher education, he could have been an engineer. He had a mechanical knack and invented some of his own machinery for the farm. He also did a lot of the maintenance on the equipment and the buildings himself.
This was a family farm so my siblings and I didn't have jobs outside the farm when we were growing up. All this hard work paid off. It allowed all four of my siblings and I to have a private college education and graduate without debt.
My dad managed to buy up some of the surrounding plots of land and dabbled in other alternate investments also. He was pretty quiet about this and I only learned about some of them after he passed away.
I had an uncle that ran a TV repair shop that I looked up to. I think he was one of the reasons that I pursued a career in electrical engineering. I would "help" him fix televisions occasionally.
I was perhaps 10 years old and this was when a television was a piece of furniture that required a forklift to move. To get at the back of the set, I wanted to just muscle the thing around, but he told me, "you gotta use brains, not brawn", and would creatively lever the set around, including using the required forklift.
I was fascinated with all things electronic, but he told me that I shouldn't go into the repair business. So I went into engineering instead. It was very good advice.
Do you have any favorite money books you like/recommend? If so, can you share with us your top three and why you like them?
The Bible. It has a lot to say about debt and giving.
The Millionaire Next Door
by Thomas J Stanley. A great read about millionaire habits and attitudes. Not all millionaires live in mansions and have Bentleys. Some may very well live next door and drive 12-year-old Hondas. We are the millionaire next door even though we may not outwardly look the part. Stealth wealth is a term that we've heard that describes us.
Your Money or Your Life
by Vicki Robin and Joe Dominguez. This book inspired us to track spending and use the data to make sure our spending aligned with our values. It also planted the idea that we did not have to be 65 to retire.
How to Survive Without a Salary
by Charles Long. This book is not about building wealth but doing what you enjoy without needing to be focused on earning a large salary.
Do you give to charity? Why or why not? If you do, what percent of time/money do you give?
As can be seen earlier in this interview, charity is the second largest line item in the expense column, at 23% of total expenses, just behind taxes and far ahead of the third line item. We have been blessed with much, and we desire to bless others much. So we intentionally give to the local church and to charities that will help others.
Sell your possessions and give to the poor. Provide purses for yourselves that will not wear out, a treasure in heaven that will never fail, where no thief comes near and no moth destroys. For where your treasure is, there your heart will be also. Luke 12:33-34
Without the obligation of a W-2 job, I hope to give more time. We've been gifted with money and we can in return gift others with our time as well as money.
Do you plan to leave an inheritance for your heirs (how do you plan to distribute your wealth at your death)? What are your reasons behind this plan?
Whatever is left when we leave this life will go mostly to a few selected charities. We do have a small amount allocated to our kids and additional amounts to any grandkids. Most of our assets are contained in revocable trusts, and the trust documents and our will dictate our desires after we pass.
While the kids were growing up, we provided rich experiences for them in the form of a good education. We home-schooled our kids which allowed us to provide experiences not available in a conventional classroom such as international travel and overseas volunteer/mission work.
Our first rental property purchase was its own classroom and our teenage kids learned all about renovation, plumbing, painting, cabinet work, windows, and a whole host of other things that went into bringing a foreclosed property online. One son showed an interest in cars, so we bought a car that had an engine fire and restored it. We taught our daughter to cook, we built a barn, and my boys even had sewing lessons. All our kids spent several years playing the piano.
I've always liked the quote by Robert Heinlein: A human being should be able to change a diaper, plan an invasion, butcher a hog, conn a ship, design a building, write a sonnet, balance accounts, build a wall, set a bone, comfort the dying, take orders, give orders, cooperate, act alone, solve equations, analyze a new problem, pitch manure, program a computer, cook a tasty meal, fight efficiently, die gallantly.
Specialization is for insects. We've tried to emulate this in the experiences we provided for our children in the form of a liberal arts education with lots of practical life-skills.
We've poured a lot into their lives already, and now that they are (mostly) out of the house, they are on their own for accumulating wealth. I'm not sure that a windfall from Mom & Dad would really do them much good.
Again, Wealth gained hastily will dwindle, but whoever gathers little by little will increase it. Proverbs 13:11