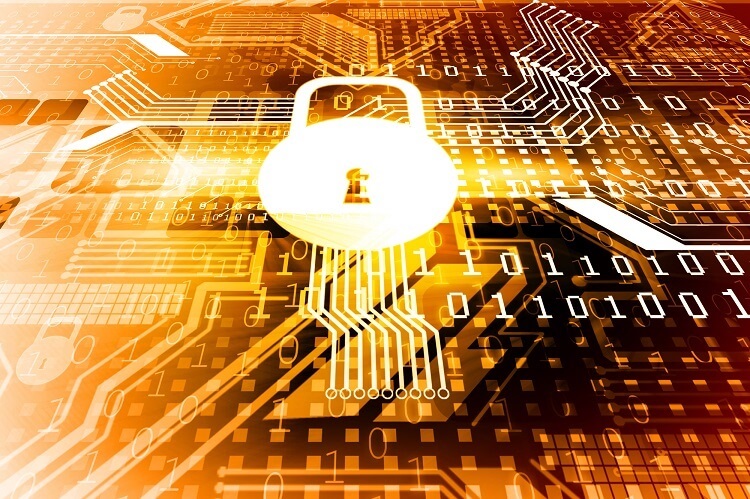 Here's our latest interview with a millionaire as we seek to learn from those who have grown their wealth to high heights.
If you'd like to be considered for an interview, drop me a note and we can chat about specifics.
This interview took place in September.
My questions are in bold italics and their responses follow in black.
Let's get started…
OVERVIEW
How old are you (and spouse if applicable, plus how long you've been married)?
I'm 37 and my wife is 34.
We've been married for 10 years.
Do you have kids/family (if so, how old are they)?
Two children.
One just started elementary school and the other is in pre school.
What area of the country do you live in (and urban or rural)?
Urban Midwest.
What is your current net worth?
As of this writing we're currently at $1,349,000.
What are the main assets that make up your net worth (stocks, real estate, business, home, retirement accounts, etc.) and any debt that offsets part of these?
The information below is rounded up or down to the nearest thousand.
We are currently debt free outside of credit cards which are paid in full each month.
I'll discuss later on my personal journey/battle of paying off our home further down.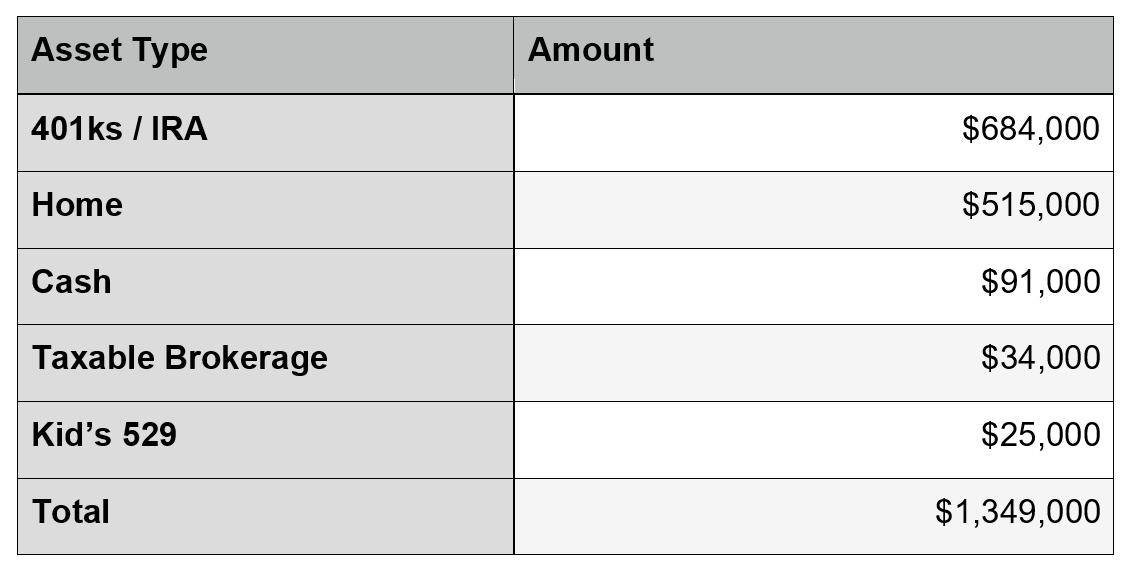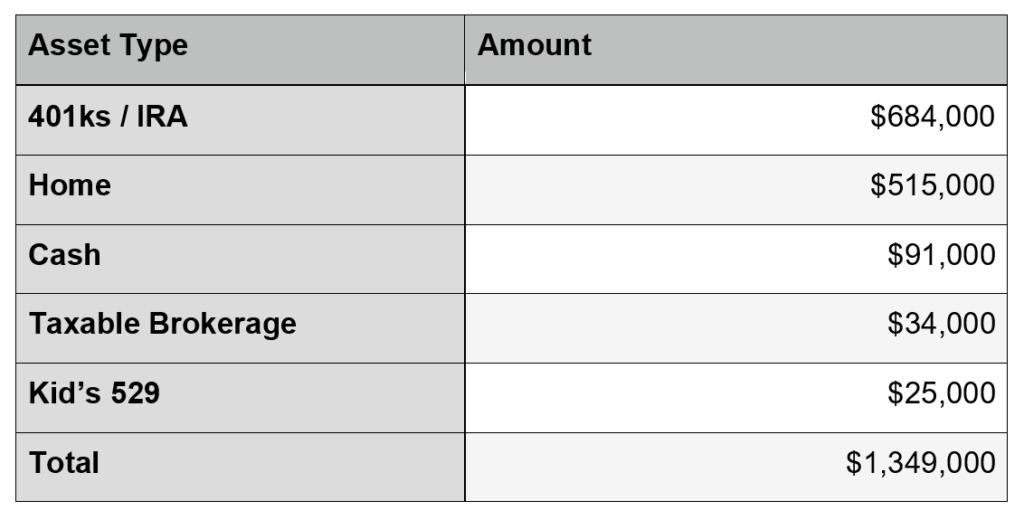 EARN
What is your job?
Currently I'm in a consulting role with a focus in Information Security.
My entire working profession has been in Information Security.
For most folks reading this, Cyber Security is the current buzzword which describes the industry I'm in.
What is your annual income?
My income fluctuates yearly but has held steadily above 200k for the past 4 years and will be this year as well.
The last few years have been between 200k – 230k.
The fluctuation is the nature of the role I'm in and one I've grown accustomed too. I've always preferred roles where I can see a direct output to hours/effort put in. I'm definitely wired to overwork myself and have struggled for years on the life balance equation.
My wife is a Nurse and her income has been around 65k a year.
Combined we sit around $275-295k a year.
Tell us about your income performance over time. What was the starting salary of your first job, how did it grow from there (and what you did to make it grow), and where are you now?
I've been working since I was at least 12 years old. From working on the family farm to mowing in suburbs in middle school.
Once I hit high school and all the way through college I had many of the classic jobs. Waiter, bus boy, dishwasher, cook, cashier, retail, more mowing, detailing cars, factory jobs. I quickly learned about many jobs I didn't want to have and had countless encounters with folks saying use your brain, work smarter not harder.
During high school, college, I've always kept busy. As I began writing this and seeing other interviews, I thought it would be fun to dig into this more and see my history of pay according to the Social Security administration from the beginning through 2020 which is as follows (year/earnings):
1998: $430
1999: $2,745
2000: $6,170
2001: $8,082
2002: $9,381
2003: $5,484
2004: $8,429
2005: $8,377
2006: $20,954
2007: $57,757
2008: $65,440
2009: $68,379
2010: $106,896
2011: $116,224
2012: $119,740
2013: $141,682
2014: $177,520
2015: $168,149
2016: $215,223
2017: $203,374
2018: $218,832
2019: $211,842
2020: $229,577
To add more context to the data above, I graduated from high school in 2002 and from college in 2006.
The old saying of the harder you work the luckier you get I believe has come occurred for me a few times.
I had some interesting opportunities 2009, 2014, and 2016 where I took a shot.
What tips do you have for others who want to grow their career-related income?
The one piece of advice I received early on and have heard many different iterations is as follows: "If your job as an intern is to get coffee for your team everyday, make sure it's the best cup, delivered efficiently and on time every time". My interpretation later in life, "If I can't trust you to do the easy tasks, then there's no way I'll trust you to do hard stuff".
My best advice is multi-part:
Understand the business you work for. Meaning, know how revenue comes in, what product or service your employer produces. Figure out how you can help this product and/or service improve with ideas and initiatives. In technology I see many people in IT and Security who complain about leadership, budgets, how they could solve all problems if they were king for the day, yet they have no clue how they're employer creates revenue nor have they ever been in a position (side hustle / other job) to be responsible for generating revenue, paying employees, bills, etc….Easy to criticize these areas if one's never experienced this unique stress.
Figure out your weak spot, such as specific knowledge or a skillset, then focus and resharpen to make it a strength. For me public speaking wasn't something I gravitated towards, but I forced myself into this area years ago. Today I have complete comfort and a strong voice. Likewise with technology, if I ever felt weak in an area I dove in to figure it out and made it a strength.
Take challenging jobs and push your boundaries. Comfort equates to complacency, complacency equals boredom, boredom equals stagnant careers. There are many stories of great entrepreneurs who figured things out on the fly and weren't afraid to try. I've had many stressful weeks/months where I bit of more than I can chew but always came out stronger on the other end.
What's your work-life balance look like?
Historically not the greatest.
Early on in my career I was on-call all the time. Anytime there was a potential concern of an 'incident' I was called. This equated to calls 3-4 times during the weekday in the middle of the night and at least once a weekend every week for years. I loved the thrill and chase, but I burned out.
When I moved to consulting I traded on-call for flights and hotels. When I was home I was home, however I traveled 50-75% of the time. Traveling seems glorious, it's not. Gets old quickly. Especially when you need to get home for personal items, the travel gods always seem to find a way to create delays and cancellations.
I'm focusing on making this better, but I expect this to be a struggle for a few more years.
Do you have any sources of income besides your career? If so, can you list them, give us a feel for how much you earn with each, and offer some insight into how you developed them?
Passive income is my new project area and would love thoughts/feedback.
The posts on Dividend Investing, Real Estate Syndications, etc…have jump started my drive. I've read these posts dozens of times. I've got a spreadsheet of goals for passive income and they're based on categories in my budget. Little things like once I generate X dollars per year that would cover all my utilities or property taxes, etc…I know this won't happen over night, thus my little goals along the way to build psychological momentum.
I've thought about other side hustles, but on a slow week it's 50 hours and putting in 70-80 a week in my current role isn't that unusual. Then factor in travel being gone a few nights a week and time becomes increasingly scarce.
I try to balance as much as I can with family and work. Thus no side hustles in my near future. When I work, I focus completely on work. When I'm with my family I focus completely on being Husband/Dad. I struggle doing both at the same time, thus I give 100% to one or the other.
SAVE
What is your annual spending?
$60,000-72,000 a year at this time.
What are the main categories (expenses) this spending breaks into?
Child Care: $15,000
Property Tax: $10,000
Groceries: $9,000
Insurance – Home/Auto: $4,500
Utilities (power, gas, water, internet, phone): $4,500
Out to Eat: $2,500
General – Maintenance, Medical, Clothing, Hobbies, Travel, Vacation, Gifts, Merchandise, etc.: $17,000
Total: $62,500
Do you have a budget? If so, how do you implement it?
Our budgeting has become more loose these days but we still follow the principle of giving dollars a general purpose. The key categories listed above is how we run our budget today and as noted with the range above, we have fluctuation to go up and down if needed. Life happens and we tend to have unforeseen expenses throughout the year. Some more than others and this year is turning out to be a much higher expense year, but that's life. Stuff happens.
From a creation, development perspective that's all me. My wife has little interest but follows a budget quite well. What works for us is I generally budget expenses a little higher. Then I automate all bills and savings (cash and investing). Once all the automatic bills and savings/investments are accounted for there's a little discretionary money for each of us to spend as we choose. That goes into the 17k amount shown above.
What percentage of your gross income do you save and how has that changed over time?
Currently we automatically save/invest 33% of our gross income that's salary based.
Bonus and variable compensation is 100% saved after tax.
Our saving rate if I factor in potential bonuses and variable compensation hits right between 37-40% gross income.
Our goal the coming years is to get closer to the 50% rate.
We've always had a high savings rate, but now we're moving to a greater percentage of what's saved to be invested versus pay down debt and/or build cash reserves. Definitely fun to see how this will impact our NW growth.
What's your best tip for saving (accumulating) money?
Pay yourself first.
I've read it countless times in many interviews, had my Dad say this to me daily when I started working in High School, and it holds true. Occam's Razor states the simplest answer is usually the correct answer. Thus that's my best tip.
Beyond the quick answer I also look at any new monthly expenses in terms of yearly costs and how much I need to be FI if I add it. When I hear it's only 100 bucks a month I see $1,200 a year and now I need another 30k (1200 * 25) to be FI. So the cost to me is not $100 but $30k.
Weird way to look at expenses, but this different lens helps me to keep monthly expenses low and save/invest more. I learned this skill from a book I'll mention later.
What's your best tip for spending less money?
I've read the concept that a checking account should be a train station. Money comes in and once it enters, it leaves to its appropriate destinations.
I love this approach. For us we have buckets where I know automatic payments, savings, investing will occur, and our checking accounts are always low. Sort of a self imposed scarcity to block any emotional spending.
I also have a system which I'm sure my wife hates, but I take the concept of sleeping on it and take it to the next level. When I got into a 6 figure income I was 25 I had an old mentor say, don't let the extra money go to your head.
So whenever I want to buy something not on the budget (even if I could easily afford it), I force myself to wait/sleep on it directly related to the cost of the item. If it's a few hundred bucks that's a few nights of sleep. If it's in the thousands I may wait weeks to months. My concept is if it's something I still need (read want) after a longer duration of time, then I'll acquire said fun item.
There have been so many 'things' that after a few weeks/months of waiting I go, "Boy, I'm happy I didn't buy that and have more junk". On the inverse, if I still really want something after months, it's a fun purchase I rarely regret.
What is your favorite thing to spend money on/your secret splurge?
I wouldn't call it a splurge but we tend to buy quality over quantity. We're not big into lots of stuff, but what we do have I'd consider quality items.
I do foresee opening up the splurge category on vacations. For the past 8 years, we've been heads down and I promised my wife when we get to a certain financial point and when the kids are old enough to remember trips we'd open the purse strings in this category. We booked multiple trips for summer of 2022 already so I'd say we're starting down that path.
INVEST
What is your investment philosophy/plan?
Currently I'm in wealth accumulation with index funds and I keep it pretty simple.
Work 401k's for my wife and I are invested in a basic 3 fund portfolio. 60% Total Stock, 25% International Stock, 15% bond. I theorize about different percentages, bonds vs no bonds, etc…But for 401k I've done this route for years with re-balancing as needed. I am leaning more and more towards VTSAX (90%) and VBTLX (10%). No rush right now, something I'm chewing on for IRA accounts.
For taxable I'm mostly VTSAX. My goal is to pump this with as much extra cash as possible. I'm starting to play with Fundrise and some individual Aristocrat Dividend stocks as well, but it's a small percentage. This is part of my learning on different passive income streams, but for now I'll mostly be pumping cash into VTSAX.
For my kids 529, I'm now maxing the amount in there to hit the tax advantage of the state I live in. Those funds are also in Index funds following the 3 fund concept for our 401ks. I'm not going beyond the tax advantage amount as I've chatted with folks who feel they overfunded the 529s and wish that money was in a traditional taxable brokerage account. Following this approach, I feel confident there will be plenty of funds for my children's education.
What has been your best investment?
Learning about index funds was a great investment for me. It clicked and simplified so much on the investment route for me.
In the past 5 years I've really been digging into more financial books, blogs, podcasts, etc…
I'd also include investing in my career and skillset as equally important. Overall investing in myself from a career and learning about money has hands down been the best investment.
What has been your worst investment?
Early on not really understanding what/how to select investments in my 401k. I never bought anything and lost on it in terms of individual stocks nor got caught up in the next 'hot' thing.
However, I'm sure early on my fund selections were 'meh' and I had a tendency to bounce from fund A to fund B the first few years.
Good news it was early on and in my mind, consistently saving/investing in some 401k fund is better than doing nothing.
What's been your overall return?
The first 10 years out of college I was focused more on consistency into my 401k. Didn't really understand the funds that well and didn't really track. I just raced to get to max 401k investment per year.
Around 2016 I switched to index funds, so from that point on being in 3 fund portfolio, I'd wager I've tracked along with the market for the past 5 years.
It pains me not to have all the info here, but until the last 3-4 years I never really tracked this.
The last 3-4 years I've started to track closely in Personal Capital, but the market has been so positive I don't think it's realistic to say here's my return.
How often do you monitor/review your portfolio?
Currently I review 4-5 times a week via Personal Capital. I really got into this about 3-4 years ago and it's fun to watch and analyze.
For me looking quarterly I always felt like I didn't see the entire story nor did I appreciate all the ups and downs. Plus multiple accounts was painful to track.
Watching it more closely the rollercoaster of life makes more sense to me and it's less stressful. Seems odd, but when I can see the picture from the micro/macro view that helps me to better appreciate the journey.
NET WORTH
How did you accumulate your net worth?
Slow and steady, all sweat equity. No big windfalls (investments nor inheritance).
I've always been a saver and will out hustle most folks. Increase income, keep spending down, consistently invest is the boring formula here.
I will say I'm heavily goal focused. I have quarterly and yearly financial goals. Helps to hit goals to feel like you're rowing in the right direction.
My income has been above average and I'm hoping to continuously grow it for the next 10 years to really accelerate NW.
It seems like the first 10 years were just a grind but now my NW is growing faster than what I put in. This market helps, but with no debt and discipline on saving I'm hoping to hit my goals before 50.
What would you say is your greatest strength in the ESI wealth-building model (Earn, Save or Invest) and why would you say it's tops?
I believe I was born a saver. Growing up in Section 8 housing I was aware of financial constraints within my home. I've had a sense of scarcity built into my DNA. It helped me not get into trouble with over spending in my 20s. I've always lived below my means.
Next comes earning. I've never been afraid to work and earnings quickly became my catalyst to building my NW.
My goal is to have investing take over as the driving force on my NW growth.
What road bumps did you face along the way to becoming a millionaire and how did you handle them?
Biggest road bump is mentally the grind.
When you know you need to stay the course, it's easy sometimes to get distracted and wonder if this is the right approach. Sort of a blind trust in the math I'd run to say "hey keep going".
I will say I didn't add any unneeded bumps. My wife and I always keep communications open and are aligned on goals. Neither of us had any crazy debt to the equation.
From that angle I feel very blessed to not have additional challenges to get over.
What are you currently doing to maintain/grow your net worth?
Stay the course.
For 2021 our goal was to invest 60k (taxable/401k/529), we'll have this hit by end of October.
Our goal in 2022 is to invest 80-90k, with a goal of hitting over 100k a year in investing by 2023.
I'm excited to see what this acceleration will do to our NW.
I don't play in the speculative markets and I'm simply looking for compound interest to get me to the finish line.
Do you have a target net worth you are trying to attain?
My baseline goal is NW of 4 million and I want at least 3 million of that in investments.
My stretch goal is NW of 6 million, with over 5 in investments
My audacious goal is NW of 10 million (I like goals).
How old were you when you made your first million and have you had any significant behavior shifts since then?
I crossed the threshold June 2020 at the age of 36.
My only behavior shift was more focus to hit 2 mil before 40.
We crossed the millionaire bridge the same month I wrote my final check for the mortgage. Paying off the house had no impact (assets – liabilities = NW), but it's kind of fun to look back and say we did both in the same month.
What money mistakes have you made along the way that others can learn from?
I'm usually my worst critic and there are some items I've gone back and forth with.
I debated for months/years on paying off the house early. I created more spreadsheets with different risk levels to see what would be the best answer. I read countless blogs and postings on this debate. Perhaps it's a mistake or perhaps not, in regards to impacting my NW. All I know is I've never heard someone who paid off their home early regret it and I only know folks who never paid off their homes saying don't do it.
Mathematically I see the argument for the latter, but we will see over time. For now I will say it's hard to put a price on being debt free. The beer tastes better and the grass feels softer on my feet.
Beyond that internal debate on the home payoff, I'm fairly content with my choices.
What advice do you have for ESI Money readers on how to become wealthy?
Consistency, discipline, power of compounding interest and take time to celebrate the little victories.
I work with clients all the time on large projects and I always promote, you need quick wins and little victories on the journey to be successful. No difference in your personal finances. Have yearly goals and long term goals.
Take everyone out for ice cream when you achieve a milestone, but don't lose track of the big picture.
FUTURE
What are your plans for the future regarding lifestyle?
Initial goal is NW of 4 mil.
I'd love to eventually get out of the hustle and slow down a bit, but my concern (and running joke in the house) is I may not be wired to go slow.
My main goal is to wake up and do what I want for me without worrying about financially taking care of my family.
What that may be, I'm not sure, but it's fun to think about.
What are your retirement plans?
We've thought about this and go back and forth.
The idea (for now), is when the kids are done with High School, move near the mountains in a smaller town (no more cities). Explore and enjoy the local areas, have new hobbies, maybe turn them into a side hustle, and then travel the southern states in the Winter.
My wife and I did quite a bit of traveling BC (before children) but we're more excited to do slow travel. Stay somewhere for 2-4 weeks to get to know/learn the area.
I do want some side hustle to make some cash and keep the brain juices flowing, but nothing too crazy nor something where I 'need' the money.
Are there any issues in retirement that concern you? If so, how are you planning to address them?
Broken record of a response here, but health insurance will be interesting.
I've got time to figure this out and who knows what will happen with insurance over the next 15 years.
Beyond that I know I will need to do something. Little business, something that gives me drive, but on my own terms.
MISCELLANEOUS
How did you learn about finances and at what age did it "click"?
I had multiple 'clicks' come into play.
Early in life my parents didn't have much. Section 8 fun while my Dad went back to school.
My grandparents on both sides were self employed and successful in their own rights, but my parents were stubborn in the sense of we will make it on our own, on our own terms. Long story short they've done quite well. But growing up with a sense of scarcity had me appreciate the art of saving and hustling. So at an early age the 'saving' concept really clicked.
The biggest life lesson around finances was figuring out this little thing called interest in middle school.
The best money life lesson I have ever received was when I wanted some fancy mountain bike. I.e. keeping up with the local Jones'. My Dad said your budget is X dollars, if you want something that costs more you need to come up with the money (i.e. mow more lawns). I came back and said I have enough yards to mow and have the cash (for the fancy bike) but it will be at the end of summer and I'll lose out on some riding time. Enter my Dad's idea of OK, how about I loan you money.
As a kid seeing instant gratification I said YES instantly. Little did I know that a few hours later my Dad called me down and made me sign a loan contract with him, having my Mom act as a witness also signing said document. He gave me the difference I needed and charged me 5% monthly interest with a monthly payment due on the 1st. Every day late he charged me a fee.
First payment I gave him, he said thank you and now you owe me X. Seeing how much went to interest versus principle lit a fire under me. He broke it down and said if you run this through the length you'll end up paying this much extra for your 'must have bike'.
Learning this I hustled more lawns and paid him back as soon as possible. The thought of paying that much extra for a bike did not sit well with me.
After quickly paying back my Dad he said interest can work for you or against. Make sure it's on the right side. This lesson on sense of urgency with debt became a personal ethos for me. Something to this day I avoid at all costs; right, wrong, or indifferent.
Who inspired you to excel in life? Who are your heroes?
I've been fortunate to be surrounded by hard working parents and grandparents. I grew up on a farm watching my Grandfather work countless hours, never complaining, always grateful for the next day, and always aware this year could be a bad year. So plan for the worst.
I saw my Dad leave the trades, go back to college to an engineering school and work non-stop in the summer to pay for the next year. Never being afraid to work and invest in yourself was instilled in me at a young age.
Do you have any favorite money books you like/recommend? If so, can you share with us your top three and why you like them?
My list is almost a cliche' for what I've read in many of the interviews. So while there's nothing new here I'll try to call out specifics in the books which resonated with me.
Millionaire Next Door (including all the other series book), Dr Stanley. For Millionaire Next Door, the story of Doctor North and South, hit me like a bag of bricks. I saw this behavior daily in the suburb I spent my middle school and high school years in. This part of book was my aha moment and is what resonated more with me than any other book/concept. The other books in the series I've read as well and they simply keep reinforcing the key concepts.
Your Money Your Life, Vicki Robin – Biggest takeaway here is how I measure costs in time. Above when I mentioned looking at monthly costs in terms of yearly and additional assets for FI, came from this book. Love this concept.
Intelligent Investor, Benjamin Graham – I loved the math details on stocks here. This book started my journey down the index fund research. It's a dry read if you don't like numbers, but this book was my gateway to everything. Picked it up in an airport 12 years ago and it took a while to read, that's for sure.
The Boglehead's Guide to Investing, Mel Lindauer – Simplifying investments and my love of index funds was born from this book.
Simple Path to Wealth, JL Collins – Solidified the index fund philosophy and really made me think about how diversified index funds are. Love the concept of FU money JL discusses throughout the book.
Reminiscences of a Stock Operator, Edwin Lefevre – This book fascinated me due to when it took place. What clicked with me was reinforcing the idea of be wary of those who claim they can time the market.
Do you give to charity? Why or why not? If you do, what percent of time/money do you give?
Nothing currently. Some tithing to church, but nothing that large.
At this time I'd rather build wealth and build up a donor fund in the future.
I personally struggle here on what to do or not to do. I enjoy around the holidays to leave large tips and help folks directly in need. But I equally struggle giving some small regular amount where it's not as impactful.
Do you plan to leave an inheritance for your heirs (how do you plan to distribute your wealth at your death)? What are your reasons behind this plan?
We do. We've got a Trust setup for our kids. Currently it will be split evenly, with distributions not to occur until certain ages are hit. We will distribute 50% when they turn 30 and at 40 they will receive their final distribution (if something terrible happens to my wife and I).
I want to leave just enough for them to do anything but not too much where they do nothing. I can see over time adding in variables of donations or including other family members to ensure my children do not receive too much to impact their life negatively.
I've seen trust fund babies ruin their lives with too much inheritance and this thought does cause me concern. In a perfect world I will work with my children to teach them the value of money and ensure they become good financial stewards.
I'd like to close this interview thanking many of the previous interviewers before me. I've read countless interviews and it's been a blast to work on this interview to share with others. Hoping I can help someone like the other interviews helped me.