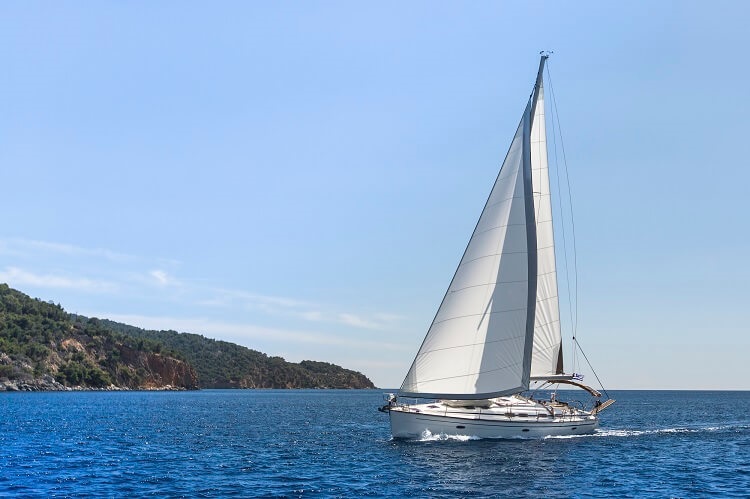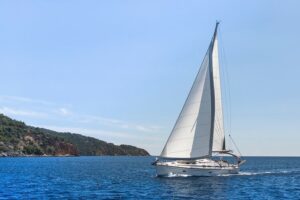 I've been considering the topic of spending lately.
But not in the usual "you're spending too much" line of thinking I've written about for so many years in posts like It's the Spending, Stupid.
These days I'm actually pondering how I can spend MORE money. Yep, you read that correctly. I'm considering spending more, which falls within the spirit of my post titled If You've Won the Game, Stop Playing.
So let's chat a bit about spending more and I can tell you what's going on.
But first let's begin with my spending background…
Always Buy for Value
I have never been a "buy the cheapest thing" sort of shopper (my wife is actually closer to this than I am). I have always tried to look for what I considered to be the best value.
That's why I have purchased Toyotas/Hondas/Subarus — Not the cheapest but they run reliably forever making them great values IMO.
That's why I buy Heinz ketchup and not the cheap Hunt's/private label stuff — Not the cheapest but you can certainly tell the flavor difference (plus I used to market Heinz ketchup, so I'm loyal) 🙂
That's why I shop at Costco — Not always the best price but consistently good prices, great return policy, and products are very good (especially the Kirkland brand.)
In other words, I look at the overall benefits of the item/store in comparison to the price to try and select the best overall value. The cheapest thing is rarely the best value IMO, unless it's a commodity product or you're fairly indifferent to quality among the options.
That said, there usually is a great quality product that's near the lower end of pricing (not the lowest but below average for what it offers) that is generally what I consider to be the best value.
Using this method, we were able to save over 36% of our gross income while I was working (living on 17%) while compromising very little on our quality of life.
While this is how we handled most purchases, we did splurge now and then and go for something a bit more extravagant. Good examples of this are the three cruises we took when the kids were younger — two of which my parents went on with us (which we paid for).
All this was in line with what I call moderate and selective frugality — spending more on things you highly value and keeping all other purchases under control.
Blast from the Past
This has been my go-to policy for many years. In fact, in 2012 I posted on this article from the Bucks Blog that said there are times when we should actually spend MORE on an item than we need to to get a better value. Their thoughts:
It's tempting to tell ourselves this little story about being frugal as we buy garbage from WalMart instead of the quality stuff that we want. Stuff that lasts. Stuff that we can own for a long time.
Here is the issue: when we settle for stuff that we don't really want, and instead buy stuff that will be fine for a while, it often costs more in the long run.
How many shirts do you have in the closet that you never wear because you bought them on sale, despite feeling that they weren't quite right? Those shirts you saved so much money on are now costing you in more ways than just money.
We have to deal with storing them. We have to deal with the uncomfortable feeling we get each time we see them, knowing that we shouldn't have bought them in the first place. Then, we have to figure out how to get rid of them. Next thing you know, you're trying to sell that shirt you bought on sale for $10 for only a quarter at a yard sale. Why not just wait and buy the $20 shirt you will actually wear and then keep it?
At that time, here were my thoughts on this subject:
I'm sure I often seem like a get-a-low-price-no-matter-the-quality sort of guy, but I'm not. I buy more based on value — the relationship between price and quality. I'm willing to pay more for a higher quality item when I really think it has higher quality (not when a company simply wants me to think it has higher quality). Otherwise, assuming equal quality, then I buy on price.
Quality is often subjective. To try and make it less subjective, we often use Consumer Reports to make buying decisions (as a way to measure the quality or lack of quality a particular item/brand may offer), especially when making a big purchase.
One time quality is often the same is when comparing name brand items to store brand items. No, it's not always the same. But in many cases store brand items are just as good as — if not BETTER than (yes, we've found items where we actually prefer the store brand) — the national brands. In this case it's a no-brainer to buy the (usually) cheaper store brand. (I say usually because sometimes a national brand with a coupon is cheaper than a store brand without one.)
Other times there is not a clear way to put a value on "quality." For instance, compare a synthetic sports training shirt from Nike to one from Starter (Walmart's brand.) Are they the same or not? Even if they are, is there some value in the Nike name? Of course we all need to make that decision for ourselves. Personally, I like the Nike name but I don't like their prices. That's why I buy their stuff at outlet malls. 🙂 [Update: And stacking discounts.]
As items get pricier, I'm more willing to pay for quality. A great example of this is when I buy a car. My first step is to determine the sorts of vehicles I'm even willing to consider based on quality (AKA "reliability") as well as preference. Then, once I've determined which cars I'm even willing to consider, I start the hunt based on price — trying to get the best deal possible on a vehicle I want.
So you can see this has been my process for some time. And it's worked quite well — helping us balance both saving and still enjoying life.
A Dinner with Ramit Sethi
Just before that was posted, I attended the first FinCon (financial bloggers conference) in Chicago in 2011. It was the beginning of what has now become a very popular conference for money bloggers — and includes media, industry services, and many others as well.
Prior to that event I received an invitation from Ramit Sethi who ran the blog I Will Teach You to Be Rich and had a book out by the name of, what else, I Will Teach You To Be Rich
.
He asked if I wanted to have dinner with him at the event (his treat). I didn't know him well but was happy to get to know him, so I accepted.
On one of the nights of the first FinCon several of us (including PT the founder of FinCon) went out to dinner and had a great time getting to know each other.
Ramit was such a gracious host. He was very kind to us all and I will never forget his generosity.
10X-ing Your Spending
Now, of course, he's super popular and up there with the big-names of personal finance. But he's one of the good guys, I know that for sure.
So when I Will Teach You to Be Rich, Second Edition: No Guilt. No Excuses. No BS. Just a 6-Week Program That Works
(the updated version of his book) came out, I was anxious to hear about it. I had read the original and didn't think I needed the updated version, but I was excited to know what it was about.
It turns out this was pretty easy to do because Ramit appeared on about every podcast I listen to over a month's time.
My favorite was this interview he did with Tim Ferriss. Here's the video if you want to watch it all:
Yes, it's over TWO HOURS long, but it's also one of the best interviews I've ever heard on personal finances (and even in general). I've never heard pre-nups discussed like this before, so it's ground-breaking as well.
At about the 27-minute point they enter into a discussion about spending. This ultimately leads Ramit (at about the 30-minute point) to say:
I always like to spend extravagantly on the things I love but cut costs mercilessly on the things I don't.
Sounds like moderate and selective frugality, right? 😉
But maybe his "moderate" is a bit less moderate than mine.
We find this out soon thereafter when he introduces the concept of a money dial and says to Tim (edited a bit by me for clarity):
Pick the area of your life that you truly love spending money on…what if you 10X-ed that? What would [that spending] look like for you?
They then go through imagining what 10X-ing travel (Tim's area he likes to spend money) would look like if Tim spent 10 times more money in this area.
Ramit recommends this because he says people generally try to save a little bit here and a little bit there and just end up generally unhappy. That's why he recommends spending a ton where it makes you happy and cutting everything else to the bone.
It was a fascinating discussion (and concept) and really got me to thinking.
My 10X
As I said in Top 10 Money Mistakes I Made on the Way to FIRE, I regret spending too little when our family was younger.
Now that I am retired and have more than enough (both income and assets), I can afford to loosen the spending reins a bit.
I got to thinking about If You've Won the Game, Stop Playing. Now that I've won the game, I should stop playing (saving) and consider other options (like spending more).
I've also considered the same question in my Retirement Interviews. I always ask:
Did you find it hard going from being a saver to a spender?
In many cases the interviewee is having to go from saving assets to spending those assets. I'm not even talking about that issue for me (at least not yet), but a much simpler version: spending more of the income I generate.
As I thought about the question for myself, I have found it hard in a way. Not that the transition has been rough or that I fret about finances, but I have more than enough, could afford to spend a LOT more, and yet I don't.
How much more? With the sale of Rockstar Finance I'm now estimating my income this year to be roughly $110k. Expenses should be about $90k. So I could spend $20k more and not dip into assets.
If I wanted to begin taking out of assets at 3% (to be conservative), I could generate another $13k easily (still leaving many hard-to-withdraw assets untouched). Then when I turn 59.5 I could take out another $60k easily. And then ultimately I'll have Social Security to add as well. So we're ultimately talking about being able to double spending even with conservative estimates.
Ramit's conversation with Tim got me to thinking — wondering where I could be 10X-ing my life. Or, at this point, even 2X-ing or 3X-ing would be a big jump.
FinCon 2019
At the same time all this was rolling around in my head I was booking my trip to the next FinCon. It's in DC this year at the beginning of September (and Ramit will be speaking there!)
As I was booking my flight, I selected a United direct option. Not the cheapest but the best value as it was direct, at the right time, and flew into the DC airport I wanted to fly into. So I booked it.
As United is great at doing, it offered me the chance to upgrade to first class for a few hundred dollars more.
My first thought was, "No, that's not for me."
My second thought was, "This is a 3.5 hour flight, boy would first class be great."
My third though was, "This is an area where I could begin working on 10X-ing my life."
My fourth thought was, "I can easily afford this, what's the big deal?"
So I booked it — and was happy to do so.
I tweeted out to Ramit and we celebrated together…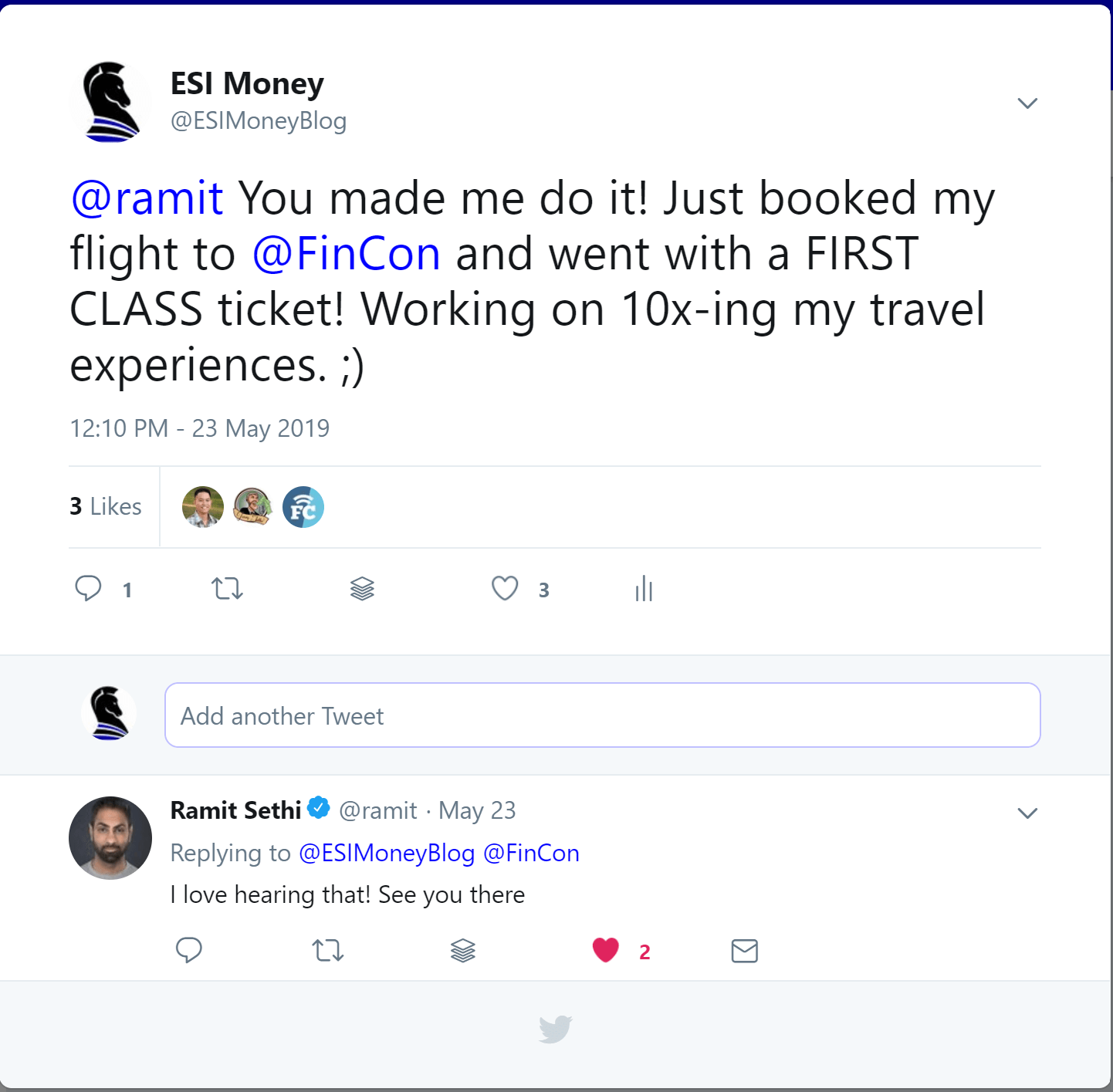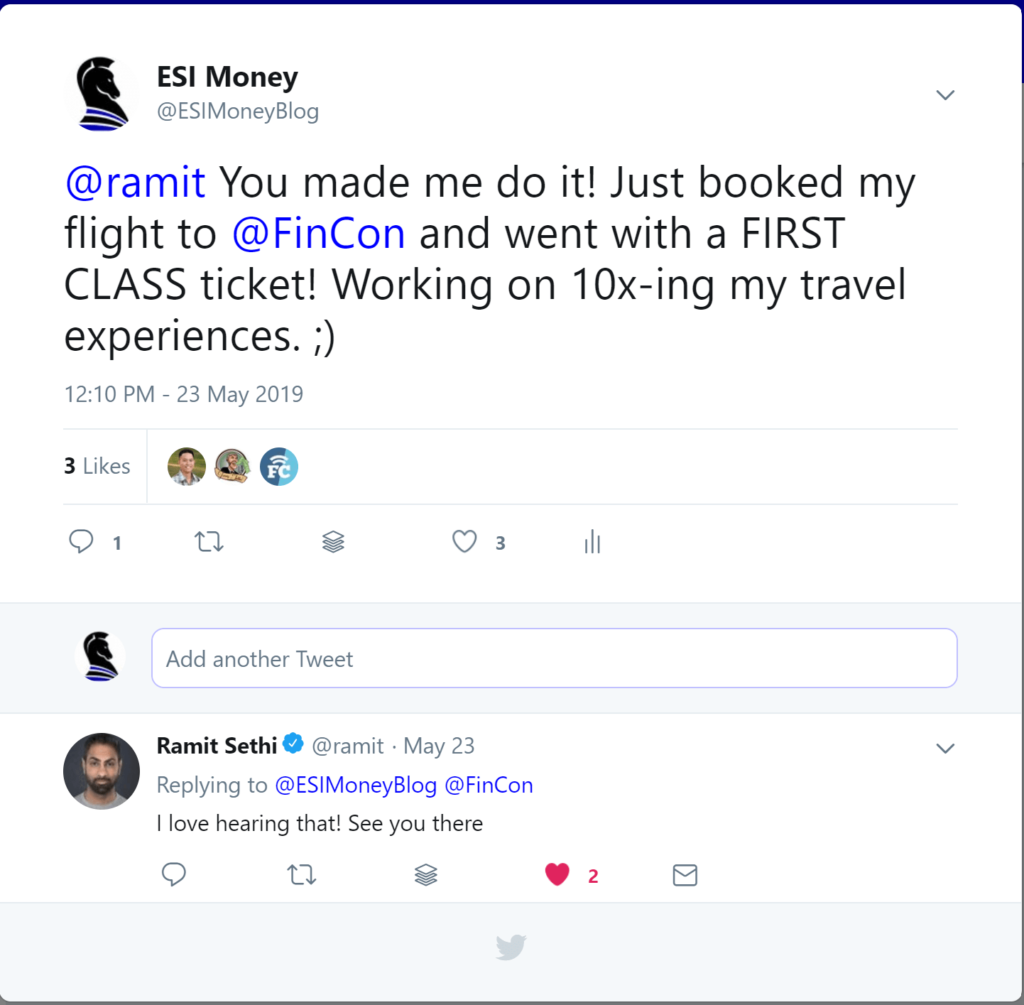 But then I was left with the question…where else can I work on 10X-ing my spending?
My 10X List
So I decided to develop a list of possibilities. But along the way to creating it (which I'll share in a minute), I realized I already had a few areas where I was opting to spend more than I had in the past. These include:
Travel. After all, we've been to Grand Cayman twice in the past two years (see summary for 2018 and summary for 2019) and we didn't actually go on a bare-bones budget. We're also off to Florida in October and have a four-bedroom house on the beach. Nice. 😉
Gym. I belong to Lifetime Fitness (take a couple minutes to look at those pictures — it's very nice) and have for almost four years (we joined before my wife and daughter even moved here). It's a premium gym with lots of amenities. Sure, I could belong to 24 Hour Fitness or some similar place, but I love the feel of Lifetime, it's easily walkable from my house, and I can afford it. So why not?
House. This is an area that was more than we needed when all four of us lived here. But now that it's three of us (and one going out sometime in the near future), it's over the top. But the location is PERFECT for us so we'll likely keep it for some time.
While these areas had me already spending more than needed, I still wanted to think about what could I add. Some ideas:
Travel. BY FAR the worst part of traveling is flying. It's a nightmare these days. And it seems that all of our travels take us to the East Coast making the terrible process very looooooong. So I've decided to institute a new policy — if I take a flight more than three hours long, I'm going first class. I already have TSA Pre-check to make flying better and adding in first class takes out much of the remaining pain associated with flying.
Clothing. I've said previously that I like 1) dressing casually and 2) wearing Nike clothing. So I'll begin to loosen up on buying more of it. I've already started adding needed shirts to my wardrobe for when I play pickleball. I dislike wearing sunscreen, but need to on any exposed areas given my skin cancer history. So I have started to eliminate the amount of exposed areas by buying (and playing in) long-sleeved Nike shirts.
Hobbies. I don't see myself starting any really expensive hobbies like collecting cars, but the few that I add, I'm going to be a bit looser with the cash. I did upgrade my pickleball paddle and got some better balls (there are pickleball ball snobs) and may even do a bit of traveling for tournaments. And if I ever do take up sailing, that's one hobby where 10X might not be enough! LOL!
House Upgrades. Since we're keeping the house we're considering a host of inside and outside upgrades including new decorations, flooring, and landscaping. This could easily be a 10X category.
Entertainment. Only a couple small upgrades here but it's a start. First, when we go to the movies we usually go on bargain Tuesday, but have been supplementing the trip with a Starbucks stop at the theater's new cafe. And we have even (gasp!) seen a couple shows on non-Tuesdays, paying full price because a different day is more convenient. My wife still frets at this lack of fiscal responsibility! LOL! And I've started to BUY books again. If I think I will really like it, I actually order the book from Amazon and have it sent to me. I know, I'm living on the edge! 😉
Giving. I don't want to just be spending, spending, spending on myself. I also want to do more to help others. To this end, I've got something brewing I think you'll all love. Stay tuned as I'll roll it out near the beginning of November.
Of course the above is not always 10X-ing (probably not even 2X-ing in some cases) nor is it just in one category, but the principle is the same — spend more if you can afford it in areas that make you happy.
Anyway, that's my plan so far. How about you? How do you balance price and quality?
Are you willing to pay more for something you like better/will last longer?
And finally, what would you like to 10X?