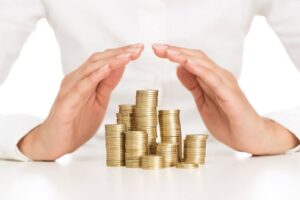 Today we continue our review of The New Rules of Retirement: Strategies for a Secure Future.
As usual, I'll be sharing some thoughts from the book as well as my opinions on what they say.
We've already covered the book's introduction as well as threats to income and controlling spending so if you haven't read those yet you should probably check it out before you read this post.
Today we'll be covering chapter 3 in the book which is all about securing and maximizing guaranteed lifetime income. Sounds like a great topic, right?
Let's get started…
Overview of Guaranteed Income
We begin with the book's overview of this subject as follows:
The most important financial goal for retirement planning is to establish a secure stream of income or cash flow that will meet your spending needs for the rest of your life. Too often, people lose track of this goal amid all the talk about how much to save, how to invest, and other topics.
The ultimate goal is to generate reliable income to pay your expenses for life, what I call establishing your retirement paycheck. The more income that can be guaranteed for life, the more financially secure and independent you'll be.
The book then offers the following as options:
Today those entering or nearing their post-career years have a number of tools available to them:
Social Security
Employer pensions
Annuities
Nest egg distribution or spending strategies
Nest egg investment strategies
Tax strategies
So much promise when we started…and is now lost. Hahaha.
This is a weak, unimaginative list IMO.
I'll get to why I dislike it as well as some alternatives I prefer, but for now let's hear out the author.
He continues with this:
After estimating and prioritizing your spending, the next step is to decide how much of the spending you'll like to be supported by guaranteed lifetime income, which includes Social Security, employer pensions, and annuities.
I think it's a good idea for most people to match their basic or required living expenses with guaranteed income. You don't want to worry about being able to pay for food, utilities, and the like. When you don't have guaranteed income paying for those basic expenses, there's a tendency to worry and reevaluate spending and investments each time the investment markets take a tumble. When there are large, sustained market declines, many retirees wonder if their next eggs will last the rest of their retirement years and often make emotional or panic decisions to change their spending on investments or both.
When basic expenses are covered by guaranteed lifetime income, people are able to take a little more risk with the rest of their nest eggs than they otherwise would. Taking more risk intelligently creates the potential to earn higher investment return. Higher returns can lead to a higher standard of living in retirement or more legacy spending for family or charities.
The amount of guaranteed income you desire can vary, deeding on your financial situation. Someone who hasn't quite saved enough money for a secure retirement might want to increase the amount of guaranteed income. The less financially secure a person is, the lower is the allowable margin of error from low investment returns or other surprises. That's why someone on the edge of a secure retirement might prefer a high level of guaranteed income to ensure the income doesn't fall short of or either basic expenses or spending beyond that.
Someone who is more financially secure might be comfortable with less guaranteed income. Investment portfolios might be large enough that basic expenses and beyond would be covered even after major surprises, such as investment losses and unexpected expenses. A financially secure personal might be willing to take more risk in exchange for the potential of earning higher income and having more for the aspirational and legacy spending.
The greatest fear for those in or approaching retirees is running out of money during their lifetimes. Whatever income doesn't come from guaranteed sources must one from working, savings, and investment returns. Those income sources have risk and uncertainty, and with it, the potential for running out of money.
There are two sources of guaranteed lifetime income for almost everyone: Social Security and annuities.
Ok, so this is a bit better.
Some thoughts from me:
I like the idea of the basics being covered by guaranteed income. And it looks like Social Security should cover this. A couple pages later the book says, "The average U.S. worker receives about 40 percent of final salary income in Social Security retirement benefits." If that is true and if retirement spending is 80% of final salary, then that means Social Security should cover 50% of retirement spending on average, which will probably take care of the basics (or at least get you close).
I also like the "take more risks" suggestions and we'll get into those a bit later in this post. With higher risk comes higher reward as well, so you don't need to have as much saved to earn what you need (i.e. earning 7% on $500k is the same as withdrawing 4% from $875k). As such, I'm a proponent of looking at other options to help fund retirement (not just asset withdrawal).
I'm not a big fan of annuities, but for the uneducated and those who want low risk and no effort, they serve a purpose. They are an expensive way to get it, but for some they work well in special circumstances (and are better than nothing).
Pensions are so rare (and getting rarer) that they aren't worth adding to the conversation (FYI, 13% of Americans had pensions based on this. That was four years ago so it's probably lower these days).
Those are my initial, high level thoughts.
When to Take Social Security
Now the book takes a deeper dive into Social Security. In fact, much of the rest of the chapter is devoted to it.
I know why — it's the one piece of guaranteed income almost every American has.
It's also worth a longer discussion because of its complexity.
Unfortunately, the longer you look at it, the less clear things become. Hahahaha. There's nothing like a government program to take a simple idea and make it impossible to decode.
Here are some highlights of what the book shares:
The easiest way to decide when to begin benefits is to compute the simple break-even point.
The simple break-even calculation does not include all possible factors and can oversimplify the decision.
The monthly increases for delaying benefits aren't steady and equal, pointed out William Meyer of Social Security Solutions in an article in the Wall Street Journal, so the breakeven age changes. From age 62-63, benefits increase 0.42 percent of the benefit per month of delay. From 63 though 66, they increase at 0.56 percent. From 66-70, benefits increase 0.67 percent for each month of delay.
The worst times for singles to begin benefits, says Meyer, are between 62 years, one month and 63 years, 11 months and from 65 years, five months and 66 years, seven months. Many people take benefits either when they're first eligible or at normal retirement age, and those are among the worst times. He says the break-even age is 78 years when benefits are begun from 62 to 63 but falls to 76 years at ages 63 to 64. The break-even point from then is on a roller coaster through age 70.
Also, if you're considering delaying benefits, that means you don't need the money at 62 to pay expenses. You have other resources available. You could begin benefits at 62 to pay expenses. You have other resources available. Investment returns could increase the advantage of early benefits, and that would push the break-even point of waiting farther into the future. This is the time value of money. Receiving money now is more valuable than receiving the same amount later. Of course, there's risk in this approach. If your investments lose money or earn less than the 8 percent annually that benefits increase by delaying them, you've taken a gamble that didn't pay off.
The key is that the rules for increasing or decreasing benefits are set so that anyone who lives to life expectancy receives the same lifetime payouts regardless of the age benefits begin. That makes the normal life expectancy the breakeven point, as discussed in the above examples. Live beyond that point and you will benefit by waiting to receive benefits. Your lifetime benefits will exceed what you would receive by starting at age 63.
But the formal as were set in 1983, the last time Social Security was reformed, using life expectancy tables available at the time. Life expectancies have increased. For example, about half of men currently age 65 will live past age 85. So, more people will benefit from delaying benefits than was the case when the rules were set in 1983.
Another consideration is that the wages in your work history are indexed for increases in overall wages each year. That should increase your wage history and your benefits when you delay receiving benefits, even if you're not working and earning more income. If you actually want until age 70 to be in benefits, you are likely to receive a higher benefit than the age 70 benefit estimated when you decide to delay retirement and continue wage indexing. Also, when you decide to delay retirement and continue generating income from working, your benefits are likely to increase if those wages from those additional years are higher than the wages earlier in your career. Social Security uses only the highest 35 years of wages. If you can replace low early-career wages with higher late-career wages and knock the lower wages out of your top 35 years, that will increase your benefits.
The increase in life expectancy is a reason many should at least consider delaying benefits. If you have no reason to believe your life expectancy will be below average, the delay should make sense. Since half of your age will be below average the day should make sense. Since half of your age group will live beyond life expectancy, and that life expectancy is higher than what was assumed in 1983, a majority of the age group will receive a higher lifetime benefit by waiting.
Another reason to consider delaying benefits is your spouse. Delayed Social Security benefits are a very low-cost form of life insurance when you were the higher-earning spouse. Your surviving spouse receives the higher of the benefit you were receiving and his or her earned benefit. For the cost of forgoing Social Security benefits a few years, that can be a good deal.
There also might be tax benefits when you delay Social Security benefits if that increases your draw down of IRAs and other qualified retirement accounts. Required minimum distributions from qualified retirement accounts can greatly accelerate as one lives to the late 70s and beyond. In time, these tamale distinctions could greatly exceed spending needs. This increases lifetime at taxes and reduces the amounts available for heirs to inherit. A good strategy can be to spend some money from the qualified retirement plan first, reducing future required minimum distributions and allowing Social Security benefits to increase. The approach might also make it less likely in the future that required minimum distribution from a qualified plan will trigger than an 8 percent after-tax return from your IRA, spending the IRA early to earn higher delayed Social Security benefits can be a good trade-off.
Another reason to delay benefits is that many baby boomers are likely to work past normal retirement age and certainly past age 62. A number of them will try retirement and, for lack of either money or things to do, will return to work. If they begin taking Social Security benefits early, returning to work could cause the benefits to be reduced. Working will increase their benefits later, but it might be enough to make up for the reduction from taking benefits early.
The important rule is that a married person can qualify for Social Security benefits based on either his or her own earnings or the spouse's. More than one quarter of Social Security benefits, in fact, are paid to survivors and family members.
Because your spouse's retirement and survivor benefits depend on your benefit, they are something to keep in mind when choosing the starting date for your Social Security benefits.
For example, let's assume a married couple in which the husband earned more than his wife. The husband might decide, considering only his situation, that it makes sense for him to begin benefits at age 62. The decision might change, however, if he considers the effect on his wife. As a woman, she is statistically likely to I've longer than the husband. If she survives her husband, her survivor's benefit is going to be based on the husband's benefit, unless her earned benefit is higher. Also, during her life she'll receive the higher or her own benefit and 50 percent of her husband's benefit at FRA. For the husband in some situations, delaying Social Security retirement benefits can be a cheap form of life insurance that maximizes his wife's income after he's gone.
Well, that clears things up, doesn't it? Hahaha. And this is only a fraction of what the book has to say on the issue.
The main problem here is that no one knows when he'll die. If he did, the decision would be much easier.
The book argues that even though we don't know when we'll die, the odds are stacked in our favor to wait.
This is because based on average life expectancies, you should get the same amount no matter when you take Social Security.
Ok, so that kinda takes the pressure off.
However, those average life expectancies are dated (established in 1983) and people are living longer now. So ON AVERAGE the odds are in your favor to wait as more than 50% will outlive the old life expectancy numbers.
So that argues for waiting until 70 to take Social Security.
However, the time value of money argues for taking it earlier.
In addition, there's a strategy that says to take it early and invest it (which most articles on the issue don't consider — they assume it's always spent) then let it grow and compound.
And, of course, there's the "take it early because the system is going bankrupt" line of thinking.
Throw in spousal benefits and the various ways you can play those plus tax implications of various choices and it's a complete mess.
Personally, I haven't yet analyzed what I think we should do as it's a few years off. But I have had a few posts on the issue for you to consider if you want to get into it. these are:
In the end, there is a right answer — it's just impossible to know it until after you're dead!
Don't you love issues like this? Ha!
Annuities and Retirement Income
Before we get into my thoughts on income, let me share the following from the book on annuities:
I believe that fixed indexed annuities and variable annuities can have roles in the accumulation phases on your life. But they are not the best ways to secure guaranteed lifetime income. You're better off focusing on immediate annuities and longevity annuities.
I am in no way an expert on annuities so I'll leave this here for your consideration.
But I would like to comment on retirement income in general and some of my ideas around it:
Let's begin with the title of this chapter: "Securing and Maximizing Guaranteed Lifetime Income". Those are some big words, so let's talk about several of them.
"Maximizing" — I don't think this book does a good job of maximizing retirement income, but I don't think you have to either. As long as you do "pretty well" with your income strategy, most people should be fine IMO.
"Guaranteed" — A tough hurdle to jump. Not much in life is guaranteed and even Social Security's "guarantee" is called into question by some. If that can't be guaranteed, what can?
"Lifetime" — Actually this is easier than most to achieve. We'll get into that in a minute.
"Passive" — Interestingly enough, the book doesn't include passive in its list of requirements. That means non-passive income is acceptable, right? I guess it depends on how much of your life you want on auto-pilot.
Covering retirement costs through income is not the only way to meet expenses — there's withdrawing from assets as well. This is covered in the next chapter (and in my next post), so placing all the burden on income to cover expenses is a bit lopsided IMO.
In fact, most people will have a combination of income and assets to meet retirement expenses. I think this is a reasonable way to pay for retirement. It's also my preferred method if I had to choose one.
As for other income sources not discussed here, there are two big ones: investments (real estate of various kinds, private loans, dividend investing) and work (part-time work, side hustle, business ownership or investment).
In the end, these are great topics to think about NOW, before retirement.
The keys are simply (assuming retirement is some years off):
Having a general idea of what you'll spend in retirement.
Having a plan how to fund that — with income, asset withdrawal, or both.
Of course the closer you get to retirement day, the more dialed in this needs to be, especially if you retire early and can't count on Social Security (or even some assets) for some time.
That's it for this time. If you want to see how this series wraps up, see The New Rules of Retirement, Conclusion.