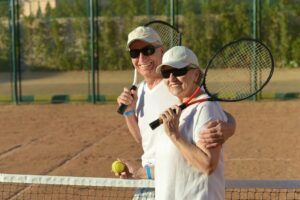 Today we conclude our review of The New Rules of Retirement: Strategies for a Secure Future.
As usual, I'll be sharing some thoughts from the book as well as my opinions on what they say.
We've already covered the book's introduction, threats to income and controlling spending, and securing and maximizing guaranteed lifetime income so if you haven't read those yet you should probably check it out before you read this post.
In this post we'll be covering several chapters (and topics) and wrapping up this book.
Let's get started…
Tapping Your Nest Egg
We begin with an overview on how to tap your nest egg:
Once you're ready to spend for retirement, you should have a distribution strategy. Your plan must ensure that you spend the nest egg at a rate that is sustainable. You don't want to run out of money.
Many financial planners believe that a retiree can safely spend on 4 percent or less of a nest egg per year.
Spend more and you risk running out of money after fewer than 30 years. Yet, surveys of Americans age 50 and over find that most believe they safely can spend safely seven percent or more of their nest eggs each year. Too often, Americans enter retirement with no idea how much they can safely spend each year.
The risk of running out of money is not the only risk of having the wrong sending strategy. Some people are too conservative in their estimates. They live at a much lower standard of living than they could afford. They shortchange themselves riding their lifetimes. That's good news for the loved ones and charities who benefit from their frugality, but it means those people deprived themselves of opportunities they could have had during their lives.
Ok, that's a good introduction. The summary:
You need a plan for withdrawing from your nest egg.
You should plan on taking out 4% or less, even though many feel like 7% is ok (yikes!)
Some people end up taking out too little and don't spend all they have. Not the worst problem in the world but if you equate "spending more" with "better life" you can see how that sort of person would die with a lot less life than they could have had.
Next the book shares some specifics on the 4% "rule":
The question the study sought to answer was: What is the maximum percentage of the portfolio that could be withdrawn while maintaining a low risk of running out of money in fewer than 30 years? The answer in the original study and most follow-up studies was greater than 4 percent and less than 5 percent, with the answer usually closer to 4 percent than 5 percent. So, the answer was shortened to the 4 percent rule.
The 4 percent rule is important research, but it should not be followed mechanically in a retirement plan. It is an important benchmark. It should be used as a starting point and modified according to the current investment environment and the individual's situation.
There isn't a maximum safe spending rate that will work in all scenarios if you plan to invest for a decent return that subjects you to market risk, interest rate risk, and other risks. Instead of searching for a safe spending rate, you need to either invest for safety and keep your spending within the cash generated or have a flexible spending plan under which your spewing increases or decreases with both your goals and market changes.
My thoughts on this so far:
For most people, I think the 4% rule is probably pretty good.
But, the inventor of the 4% rule now says, "a new retiree should be safe if they start with a withdrawal rate of…no more than 5%."
Of course the lower you can go (below 4%), the more margin of safety you have.
In addition to tapping your nest egg, you should have sources of income to fund retirement (Social Security at the least, but hopefully more). These will take pressure off your nest egg withdrawal strategy.
In all these plans, you should have multiple margins of safety just in case things go poorly (which they tend to do now and then).
As the book notes, having flexible spending is a great asset. For example, let's say you have $10k of travel baked into your budget. If something goes wrong, there's $10k that can be cut right away to get you back on track. The more flexibility you have the better.
Next is something we've heard from other books — that people tend to over-estimate what they think retirement will cost:
Blanched concludes, as I do, that traditional retirement models such as those that use the 4 percent rule overestimate the cost of retirement.
Retirement plans should assume that most people will spend more in the early years of retirement when they are more healthy and active and less in the later years.
As I've noted previously, if you use actual spending numbers (by tracking spending before retirement), your actual retirement spending will be closer than any estimates you make.
And if you happen to overestimate costs then congrats — you now have more money to spend in the future!
How to Invest Your Nest Egg in Retirement
The book now contrasts what it calls the classic advice for investing your retirement portfolio versus what should be done these days.
First, here's the classic advice:
The investment advice for retirees used to be simple. As retirement approaches, the portfolio should be shifted from riskier investments—such as stocks—intro safer, income-producing investments—such as annuities, bonds, certificates of deposit, money market funds, and most dividend-paying stocks. The theory behind this advice was simple. A retiree needs regular income to pay expenses. A retiree also does not want the principal of the portfolio to fluctuate as much as stocks do. That's why, according to this advice, a retiree wants a portfolio that pays income and maintains a reasonably stable value.
The strategy made some sense when the average retirement lasted about five years, as it did for those who were in the first generation of retirees. It also made sense when interest rates and dividends yields were much higher than they are now. Also, for those early retirees an investment portfolio was a mere supplement to Social Security and employer pensions.
Things are different now.
The traditional retirement investing strategy is made more difficult by the very low interest rate policy that the Federal Reserve has followed most of the time since 2001 and especially since 2008. It's tough to generate sufficient income from an investment portfolio when yields on the safest investments are near historic lows, and yields on investments with much greater risk and volatility aren't much higher.
And here's what they say is the way to invest these days:
The advice most frequently given to retirees and preretirees the last couple of decades was to invest like everyone else. Don't change the portfolio as retirement approaches to invest for income and safety. Instead, continue to hold a diversified portfolio of assets and invest for total return (income and capital gains) without regard to how much income (interest and dividends) the portfolio generates.
This is what we have done.
The rest of this section is stuff most of us know already — like how to deal with sequence of returns risk (answer: have cash available to cover the first year or more of your retirement).
In fact, much of the rest of the book covers familiar territory, going through topics like:
Medical insurance
Required Minimum Distributions
Taxes
Estate planning
Fraud
Choosing the right retirement location
That said, at the end of the book they do offer some good advice starting with the keys to having a successful retirement. A summary of their thoughts:
People often tell me that they failed at retirement the first time. And the second. And the third.
These aren't people with serious financial problems. They didn't cut short retirement because they needed the money. Instead, they devoted their retirement planning time and resources to the financial aspects. They neglected the other elements of retirement planning, and those often are the more important parts.
Most retirement planning focuses on the financial side of retirement, which we also can call the hard side of retirement planning. Finances certainly are important to a happy and successful retirement. Yet, they aren't the end of the story or even the most important contributors to retirement success.
The most difficult parts of retirement planning usually are what can be called the soft side of planning. You need to decide how to spend all that time you used to spend working. You need activities that fulfill you and give you a sense of purpose. There's a lot of time to fill, and the amount of time only grows as people live longer and are retired longer. The biggest non financial mistakes people make in their retirement planning is neglecting the soft side of planning, and it is the source of many unsuccessful retirements.
The first step in retirement planning should be to imagine the life you want after your current career. Determine how you'd like to spend your time for at least the first few years and then how that might change in the following years. Where will you live? How do you want to live day to day, month to month, and over the course of a year? Do you know people who already are living that way? Set your life goals first, not your income or asset accumulation goals.
They call it the "soft side of planning." I call it the "life" ("time" works too) side of planning.
To have a great retirement, you need to cover both the financial side and the life side.
Most of the advice out there these days deals with the financial side — knowing what you will be spending, planning to have enough to cover that, building in a margin of safety, etc.
This is also what most people focus on because their top concern is running out of money. And so they should be concerned with it since once you stop working, it's tough to go back. So if you have an income shortfall, you are limited in how you can cover it.
However, very few people give thought to the life side of retirement. They simply "wing it" or think "I'll figure it out once I get there — I know I can fill the time."
This is a recipe for disaster. It's because they get to retirement, now have 16 hours a day to fill (assuming they sleep 8 hours a day), and have enough interests in their lives to fill an hour or so.
Soon they are bored and soon after that many are depressed. They have now "failed" at retirement, something that is really as easy as pie to succeed at (and is one of the greatest things in life IMO). So now it's back to work (generally). Ugh.
Successful retirees consider both the financial and life sides of retirement, plan for them both, and go off to have amazing retirements for the most part.
If you want more thoughts on how to plan for the life side of retirement, see these posts:
Caring for Your Mind and Spirit
Next the book talks about taking care of yourself in retirement as follows:
A very important factor in establishing a successful post-career period is social interaction or human connectivity. Your social relationships are more important to your well-being than money is. More and more research makes this clear.
The relationships could be with family, friends, co-workers, and others in your community. It's not clear why this matters, but regularly and close interactions with others is important to maintaining health and a positive outlook. An important point is that the number of relationships or contact isn't key. What really matters is the depth or closeness or relationships.
You can read some details in two books with similar titles.
The Longevity Project by Dr. Howard S. Friedman and Leslie R. Martin analyzed data accumulated from 1,500 individuals over 80 years. The Project periodically interviewed the participants and had them complete questionnaires. Among its findings are that close involvement with friends and communities improves health and longevity and is more important as we age.
The Longevity Prescription by Dr. Robert Butler appears at first to be the latest in a long line of books by doctors in their 80s giving personal prescriptions for a long life. Butler died in 2010 at age 83. In fact, Butler devoted much of his life to research on aging in the United States and offers much more than his personal experience and reflections.
Reviewing his research and that of others, Butler identified eight keys to a long healthy life. Two of them are nurturing your relationships and connecting with your community. Butler said social connectivity is so important that, rather than struggling to stay in their homes, most American around 80 should seek to move into senior living communities.
So I'm a bit mixed on this for sure.
On one hand, I'm an introvert, so what fills up my relationship/social needs is a lot less than what others might need.
That said, even I realize the need for relationships — from casual to intimate.
Here's a list of the ones I have now from across the "how well do we know each other spectrum":
Gym friends/acquaintances including the manager, my trainer, the staff, other members, and the people at the cafe (where I eat breakfast several times a week).
Pickleball friends. These range from people I see e=very now and then to people I see at least once a week (if not more).
Family. Includes my wife, son, daughter, and son-in-law. I also talk to my dads (step and biological) once a week or so. My step dad also vacations with us. And I just saw a bunch of my family in Iowa last month at an anniversary celebration for my uncle.
Neighbors. I see one neighbor a couple times a week and we chat about what's going on. He's a lawn expert and gives me some great tips.
MMM Members. These are online relationships, but several have become very close and I correspond with them directly quite often (still working on a possible meet-up for the group).
ESI Money readers. Same as above, though not as intimate.
When you combine all of these, they more than cover the social needs I have in retirement. Sometimes, it's too much! LOL!
Key Retirement Mistakes to Avoid
Next the book lists some mistakes to avoid:
Most of this book is focused on actions you should take toward a successful retirement. Sometimes, however, the best way to have food results is to avoid mistakes. We have enough experience with retirement to know the major events and actions that are likely to lead to unsuccessful retirement. Some of these we discussed earlier in the book, but they bear repeating here.
Debt — The combination of high debt and large surprise expenses can be financially devastating in retirement. You can control your level of debt. Less debt means you have more flexibility and a larger cushion against surprises. For most people, it's better to eliminate debt in retirement.
Spending Too Rapidly — Surveys of retirees and preretirement indicates consistently that many believe they can safely spend 7 percent or more of their assets each year without the risk of running out of money.
Uncovered Major Medical Expenses
Helping Others — These days, many retirees are overextending themselves to help their younger loved ones.
Flying Solo — The data are clear that married couples do better financially retirement than singles.
Failing to Adapt — A retirement plan is important. Equally important is to realize it is only a plan. It shouldn't be treated as a one-time exercise that serves as a roadmap to be followed without deviation. A plan is based on a large number of assumptions. It also is based on current laws and circumstances. Actual results are likely to vary quite a bit from the assumptions built into the plan over time. You need to review the plan regularly. Determine where the plan assumptions no longer are valid. Then, revise the plan as needed to stay on course. Don't wait too long to review means relatively small adjustments each year. Waiting longer to review could mean substantial adjustments will be needed.
We covered a lot of these in detail during my series on How to Fail at Retirement. You should read those posts if you want details on these (and more) ways that people put their retirements at risk.
Health Concerns in Retirement
The book notes that retirees need to be aware of their health in retirement and work to keep (or get) themselves fit. Otherwise, what good is all the money and free time in the world if you can't enjoy it?
Some of their thoughts:
More importantly, you also can use this new information to improve your cognitive ability to keep your brain young. The best way to do that is to learn new things. Most people believe the way to prevent cognitive decline is to keep the brain working. That's what the first wave of older people carrying around crossword puzzle and Sudoku books.
The latest research indicates that learning new things from time to time is better than doing puzzles and games. The brain seems to be more flexible and resilient when it is forced to learn new tastes and information instead of applying or remembering things already known.
Stay abreast of what's new, and your mind will stay fresh.
Another fact everyone knows is that exercise improves health and longevity. The standard advice is to engage in at least a minimum amount of physical activity, but that more is better for most people.
I exercise six times a week — three cardio and three weights.
I also play pickleball about 5-10 hours a week and walk 20k steps a day.
For my mind I write, read, do puzzles (Sudoku and chess), and learn new things (currently working on website marketing tactics and systems). It's just enough to keep me challenged and interested but not so much that it's stressful.
For those of you in retirement, what do you do to keep your body and mind in shape?
Happiness and Purpose
And finally we get to the "p" word.
It's not a favorite of mine, and I'll tell you why in a minute.
First, let's hear what the book has to say:
In 2013, Emily Esfahani Smith wrote a couple of articles in The Atlantic discussing the deeper studies. The research indicates that happiness is different from purpose or meaning. People tend to report being happy when their lives are easy and they can have or do what they want. But happiness is fleeting. More lasting satisfaction comes from lives with purpose, even if that makes life difficult for a while. In fact, striving for happiness, wanting to be happy, and planning for happiness don't increase happiness and could contribute to unhappiness.
Most studies of happiness indicate that happy people tend to have a lot of social interaction, are optimistic, and are physically active, among other attributes. Yet, not all people who report being happy are satisfied. Having a purpose makes people more satisfied and, more importantly, makes them feel their lives are meaningful.
That's why many people become somewhat depressed after retiring or losing their jobs. They've lost a lot of their purpose in life, and their lives start to lack meaning.
In your retirement planning, be sure to include one or more things that will give you purpose and a feeling of being meaningful. You don't have to strive to do great things to have a purpose. Volunteering, working part-time, or helping family members or neighbors provide many people enough purpose to give their daily lives meaning.
Several thoughts here:
"People tend to report being happy when their lives are easy and they can have or do what they want." I agree with this. It's been my retirement experience for sure.
"But happiness is fleeting." Not sure what their definition of "fleeting" is but I'm five years into retirement and I have yet to become unhappy.
Now they get into the "p" word — purpose. And they do something that many do and which drives me crazy — they equate it with saving the world in some form or fashion. That's why volunteering and helping others are listed.
In this line of thinking, you MUST have a purpose that includes serving or helping others in some way. If you do, your retirement will be amazing. If you don't, you will (most likely) be doomed to a terrible retirement.
I'm here to tell you that is hogwash. You do not need to save the world, serve others, volunteer, or do any helpful thing for others to have a great retirement. Many do help others and volunteer and love it, and that's great. But you don't have to do something like that to have a meaningful purpose and retirement.
What you do need to have is interests, activities, or as Wes Moss in Retire Sooner than You Think calls them, core pursuits (he describes them as hobbies on steroids). Here's a quote from Wes where he talks about these activities as passions (which is used interchangeably with "purpose"): "What are you passionate about? Tennis? Espionage novels? Painting? Doing volunteer work? Whatever it is for you—those are your core pursuits. 'These pursuits aren't simple pastimes; they are passions to which the retirees devote a great deal of time, energy, and sometimes money,' Moss notes. 'The happiest retirees give priority to their core pursuits and derive great satisfaction from those endeavors.' "
In other words, you can be passionate about something that doesn't save the world in any way — like tennis. And this can be your purpose — to play lots of tennis and have a ball with it.
We had a discussion about this in the Millionaire Money Mentors forums many months ago. I started the thread with this:
Here's an issue that's been bugging me. Maybe you all can make it clearer.
I've been reading a ton of retirement books and almost all of them list finding your "purpose in life" as being vital to having a great retirement.
And yet none of them has a definition of purpose – or at least a clear one.
Some seem to imply your purpose is a higher calling that requires personal sacrifice and service to others (a la Mother Theresa levels).
Others seem to imply it's simply "something that makes you want to get up in the morning" which could be anything from fly fishing to working at Walmart as a greeter.
From personal experience, I think it's more of the latter – you need to have something(s) that get you up in the morning. But these sound more like "core activities" than a "purpose".
Anyway, I would appreciate your thoughts on the issue as I try to sort things out.
I'll share a few of the comments — most of which agreed with my thinking — starting with this one:
I am similar to you as don't think I have some secret "calling" that I have been putting off all these years waiting to start in retirement and very very much doubt I need to find one to have a happy retirement as have enough things that I enjoy (and doing many today) that will fill my time when I finally throw in the towel.
And another:
I find grand ideas like a "purpose" in life to be a destructive force more often than not. So many people fail in their search for a purpose because what makes them happy doesn't seem good enough, big enough, or important enough to call it their purpose or they are embarrassed about what they actually find joy in doing. I'm all for challenging myself and seeking continual growth, but I'm not creating a hole in my life from nothing because I can't identify a single defining statement, thought, or "purpose" that guides everything I do.
And another:
Like ESI Money, I too think that, in retirement, life is less about a higher calling than it is about having something that makes me want to get up in the morning.
One of the reasons that I did not fully retire 4 years ago was the very issue of trying to sort out the meaning of retirement for me. What I have found so far, 4 years into semi-retirement, is that it is indeed about having something that I want to do each day. I've been lucky and had ~3.5 years where I enjoyed working part-time and consulting. With COVID, my focus as shifted a bit. Perhaps age has something to do with it as I would have replied differently while engaged in my career pre-retirement.
They go on and on, but you get the idea.
So when you hear the word "purpose" (or "passion") related to retirement, it really means you need to have several interests that you like/enjoy so much that they fill your life and time with joy. If you have those, whether they be saving the world or simply playing tennis (or pickleball in my case), you should have a happy retirement.
Well, that is it for this book. Overall, I liked it. And for the person who's very new at retirement planning, especially the financial side, I think it's very useful and comprehensive.
Has anyone else read this book? If so, what are your thoughts on it?