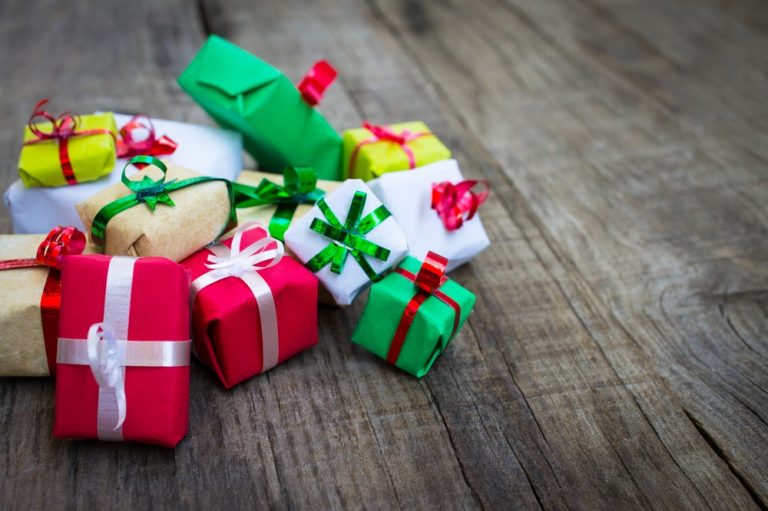 Update: This was originally posted as a list of gift ideas for the holidays, but it's really a list of awesome products to buy at any time of year. I'll be adding to it from time to time so anyone who's hard-pressed for some birthday, anniversary, special occasion, etc. ideas will have a good resource. 
We all have someone on our holiday shopping list who is hard to buy for.
I actually have two on my Christmas list — my dad and my wife.
I usually find a way to get them something they like, but it's a challenge. My dad has limited interests and my wife always says she doesn't need anything. Ugh.
Anyway, you probably have people like them in your life. Or maybe you just want a few good gift ideas. If so, you've come to the right place.
This post will highlight several items I personally recommend for one reason or another (explained below). I hope you will find them useful.
FYI, the links to these products are affiliate links and I will receive a small commission if you buy using them. That said, you will pay the same price anyone not using them and buying pays, so there's no cost to you. And, of course, in line with my policy here, I only use links on products and services I either personally use or recommend.
With that said, let's get started on the ideas…
Classic Money Books
These make great gifts IMO because they are the best of the best when it comes to learning about money.
I wrote about my favorites in The Only Five Money Books You'll Ever Need, but here I'll share a bit more about them.
My selections:
New Money Books
Let's face it, most new books on money are not that great. They are wastes of time at best and downright harmful at worst.
These books are different. They are new and yet very relevant/useful.
Here are my recommendations:
Non-Money Books
I love to read and not just about money.
Here are some of my favorites from this year:
Books I Want to Read
Here are a couple of books I have on my potential list for 2018:
The Rooster Bar — Another John Grisham book! Yea!!!!
Grant — From the guy who wrote Washington, Hamilton, etc. I'm sure it will be awesome.
Travel
As you know from my post on packing, I'm getting into travel.
I'm still working on what I think my best travel set-up is, but here are some things I really like so far from all the things I've tried:
Eagle Creek Pack-It Specter Sac Set – 3pc Set — I recently bought these when I couldn't find the right holder for all my electronic accessories. The small and medium sizes work great for holding my chargers, cords, etc. — everything it takes to do mobile computing.
Pro Packing Cubes – 6 Piece Lightweight Travel Cube Set — Great combination of usefulness and good price when it comes to packing clothes. These are currently my go-to items and I've used them several times with great success.
Osprey Packs Skarab 32 Hydration Pack — Currently my go-to pack for a travel personal item (which could change, I'll be looking at others) and hitting the trails in Colorado (likely will NOT change for this purpose). I love Osprey and this mid-size sort of pack as it's a balance between storing enough stuff but not being too big.
Working Out
You all know that I've made some big physical changes the past couple years.
Here are some items that helped me do that:
Video Games
One of my guilty pleasures in retirement is video games.
That said, there has been a lack of the type of games I like to play in the past year or so.
I'm not fast enough to play many of the shooting games. I prefer using a combination of strategy, sneaking about, and surprise attacks when I play my games. I also like to be the hero. 😉
Given those criteria, here are three games I really love:
BTW, if any videogame companies are out there listening, will someone please bring back the old Batman Arkham-like video games? The new Telltale ones are junk IMO.
Best Amazon Purchases
I order from Amazon quite a bit. I looked through my orders from the past two years and came up with three items I really like but that can't be put into one category:
Monopoly Deal Card Game — I had heard this game was awesome so I sent one to my daughter at college. She loves it! And for $5, what's there to lose?
Seagate Expansion 4TB Portable External Hard Drive — I added this on to my PlayStation 4 and my storage went up something like a million times. It was SO EASY to install as well — even for a non-techie like me.
Proctor Silex Coffee Grinder — I drink freshly ground coffee in single cups (I allow myself three per day) and this is my go-to grinder. Even though it has a great price, it's a workhorse and has lasted me going on two years now.
Give Money
Of course if all else fails, you can give money this holiday season.
You can do it the old-fashioned way (cash) or the new-fashioned way (gift cards). I buy the latter at my grocery store and save tons on gas prices as a result (my store gives 10 cents per gallon back for every $100 spent in a given month).
If you want to give money but be a little creative about it, let me suggest American Eagle Silver coins. They are fun, unique, affordable, and a new way to give a gift someone (especially kids) will treasure for a long time.
So, those are my recommendations. Any products you'd like to suggest?