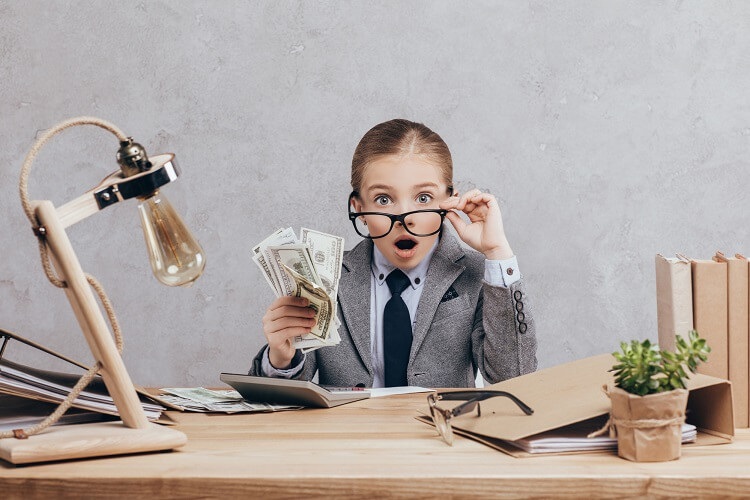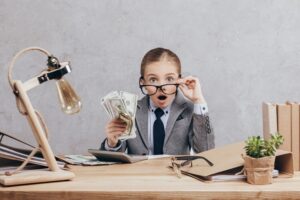 Today we continue sharing some parts of the book Die with Zero as well as my thoughts on them.
So far we've covered the introduction and Rule 1 of the book's nine rules, Rule 2, and Rules 3 and 4.
If you missed any of those you should probably read them before proceeding.
As for this post, we'll get into Rules 5 and 6.
Let's get started…
Rule 5
Here's Rule 5 of the Die with Zero rule list:
Give money to your children or to charity when it has the most impact.
In this section the author makes a few points clearer:
When you die with zero, that means YOU have zero left of YOUR money.
What is not included in that is money you leave for someone or something else — like your kids or charity (the two most common "other" uses for your money.)
But with that said, you should be giving to both of those before you die, not when you die.
This chapter is about that last point mostly, so I'll let the author tell you about it in his own words.
Giving to Your Kids
Here's the author's take on giving to your kids:
If you're really putting your kids first, as you claim you are, don't wait until you're dead to show your generosity. (I like to say that dead people can't give money away — they can't do anything.) Putting your kids first means you give to them much earlier, and you make a deliberate plan to make sure that what you have for your children reaches them when it will make the most impact.
A real plan for dying with zero includes the kids, if you have kids. That way, you've already separated out their money (which becomes untouchable by you) from your money, which is what you must spend down to zero. That's my short answer to the question about the kids.
Why does he suggest you give to your kids sooner? Well, other than giving to them when you're dead not really being giving (in the author's mind), there is this:
So, for example, if the peak utility of money (the time when it can bring optimal usefulness or enjoyment) occurs at age 30, then at age 30 every dollar buys you one dollar's worth of enjoyment. By age 50, the utility of money' has declined considerably: Either you would get a lot less enjoyment out of that same dollar or you would get a lot less enjoyment out of that same dollar or you would need more money (say, $1.50) to obtain the same amount of enjoyment as you got out of $1 back when you were a healthy, vibrant 30-year-old. For the same reason, as your adult children age, every dollar you give them goes less far, and at some point that money becomes almost useless to them.
If you have the means to give money to your children, then you have the power to control when they receive it. So don't waste that opportunity! Whatever you give your heirs past their optimal age of receiving has less value to them. If you're trying to maximize the impact of the money you give — instead of just maximizing the absolute dollar amount you give — then you should aim to give the money as close to their peak as you can.
In short, by giving the money to my kids and other people at a time when it can have the greatest impact on their lives, I'm making it their money, not mine. That's a clear distinction, and I find it liberating: It frees me to spend to the hilt on myself. If I want to spend like mad, I can do it without worrying about the effect on my kids. They have their money to spend as they wish, and I have mine.
I can't say I disagree with this. This is why we've decided to help our kids out earlier in their lives.
We've paid for college for our daughter and the non-profit work done by our son.
We've also told our kids that they can draw from their inheritance if they have a meaningful reason to when they are younger.
For example, putting down a larger down payment on a house is a meaningful reason which is why we matched the down payment our daughter and son-in-law made on their recent home purchase.
FYI, spending a boatload of money so they can both drive Teslas is not a meaningful reason in our opinions (not that they've wanted to do this, it's just an example).
Anyway, we are firmly in the camp of wanting to help them when they need it more, which is usually when they are younger. But there are details, of course. What do we help with, how much do we help, and so on?
We're still working on that.
Kids and Experiences
And of course the author has to note that giving your kids money is not as valuable as giving them experiences (as you might imagine).
Here's what he has to say:
I do believe firmly that your real legacy for your kids consists of the experiences you've shared with your children, especially when they're growing up — the lessons and other memories you've imparted to them. But I don't mean it in a schmaltzy, best-things-in-life-are-free way. In fact, the best things in life aren't actually free, because everything you do takes away from something else you could be doing.
Spending time with your family usually means not spending that time earning money — and the other way around. Instead, there are ways to think about experiences in a more quantitative way that will help you make better decisions about how to spend your time.
But before I get to that, let me make my main point clear: Of all the experiences you are trying to bequeath to your child, one of those experiences is time with you.
I am making a big deal about quantifying the value of experiences with your children because doing so focuses you to pause and think about what's really best for your kids: Sometimes it is earning more money, and sometimes it is spending more time with them. So many people tell themselves that they are working for their kids — they just blindly assume that earning more money will benefit their kids. But until you stop to think about the numbers, you can't know whether sacrificing your time to earn more money will result in a net benefit for your children.
I think we did "ok" on this measure, but as most parents consider their actions in hindsight, we could have done better.
I was blessed with a job in the key years my kids were growing up where I only worked 7 am to 5 pm weekdays. No weekends. No nights. Little travel.
So I was home much more than most dads (my wife was at home full-time). I went to sports practices and games (was often the coach), school events (our kids were homeschooled but still in activities), church events, and the like.
We always took two vacations to see family each year — one to see my family and one to see my wife's.
As the kids got older we began to travel — first with cruises and then eventually straight to the island (Grand Cayman — trip 1 and trip 2). In between we had lots of other great experiences as well. But…we could have always done more.
Giving While You're Living
The author has a the same take on giving to charity as he does giving to kids.
He tells the story of a woman who saved her meager salary for decades only to accumulate a fortune. Then when she died, she left it to charity.
The author's thoughts on this:
So what's the problem? The problem is terrible inefficiency: People who were needy during her lifetime did not benefit from her largesse. Here was a person who, by her own choice to consume very little of her growing wealth, routinely lived far below her means. She chose to keep taking the subway to work and to keep living in a rent-controlled apartment (which, incidentally, could have gone to a needier person). Let's assume that she was saving specifically so that her money could go to these charities. So why didn't she give it to her beloved charities earlier, when she clearly could have?
You already know my take on timing your spending in general: that it's important. My number one rule is: Maximizing your life experiences. So spend your money while you're alive — whether it's on yourself, your loved ones, or charity. And beyond that, find the optimal times to spend money.
When it comes to giving money to your kids, the optimal time, as I suggest earlier in the chapter, is when they're between 26 and 35 — not too late to make a big impact and not so soon that they might squander the money. But what about giving money to charity? With charity, there's no such thing as too soon. The sooner you give money to medical research, for example the sooner that money can help combat disease — as we can see from the research into returns on investments in medical research.
Every day, a new technological advancement happens that improves lives, and over time these advances make a huge difference. But you can't just wait for these things to happen — you have to give what you can based on the resources you have today and the resources you expect to have in the future.
I agree with this line of thinking as well. We did a pretty good job of this while we were on our way to financial independence.
I said the following in The Case for Giving on the Road to Financial Independence:
Let's face it, people are hurting/hungry/dying/etc. now, so our giving needs to be now. To wait would be to leave so many behind while we simply accumulate more in our lives. How can we enrich ourselves when others are suffering? Can't we see our way clear for at least a bit of charity while we strive toward the financial heights so few ever achieve? Does compassion for others have to die on the altar of financial freedom?
We need to be better with this as well even now, despite the fact that giving continues to be either the largest or second largest (after taxes) "expense" in retirement.
Rule 6
Now let's move on to Rule 6 which the author lists as follows:
Don't live your life on autopilot.
We've already covered this a bit in past posts, but since it's a rule unto itself, I wanted to add some additional thoughts from the author.
Here's his best thinking on this issue IMO:
We've all been told — like so many hardworking, diligent ants — that we need to save up our money for our "golden years" of retirement. But ironically, the real golden years — the period of maximum potential enjoyment because we have the most health and wealth — mostly come before the traditional retirement age of 65. And those real golden years are the years during which we should be doing most of our spending, not delaying gratification.
Too many people are making the mistake of investing in their future well past the point when those investments will ever pay off in ways that increase their overall lifetime fulfillment. Why do they persist? I think a lot of it is just the inertia (or, as I call it, autopilot) of doing what's worked in the past. Sometimes it's better to spend now, and other times you're better off saving up (and investing) your money for a potentially better experience in the future.
Think about the three basics people need to have to get the most out of life: health, free time, and money. The problem is that these things rarely all come together at once. Young people tend to have abundant health and a good deal of free time, but they don't usually have a lot of money. Retirees in their sixties, seventies, and beyond — the other end of the spectrum — have abundant time (and often more money than young people), but, unfortunately, they have less health, and thus a diminished ability to enjoy the time and money they do have than the young do.
To get the most positive life experiences at any age, you must balance your life, and this requires you to exchange an abundant resource in order to get more of a scarce one.
Nothing has a greater effect on your ability to enjoy experiences — at any age — than your health. In fact, health is actually a lot more valuable than money, because no amount of money can ever make up for very poor health — whereas people in good health but with little money can still have many wonderful experiences.
In our three-pronged model — where fulfillment from a single experience is a function of health, money, and free time — health is the single biggest factor (or multiplier) affecting the size of a person's lifetime fulfillment curve: Our simulations show that even a small permanent reduction in health at some point in a person's life amounts to a large reduction in the person's lifetime fulfillment score.
Lots of good stuff in here. Some thoughts from me:
The Dalai Lama, when asked what surprised him most about humanity, famously said: "Man. Because he sacrifices his health in order to make money. Then he sacrifices money to recuperate his health." Unfortunately this is so, so true. Especially in America.
I certainly wish I had taken better care of my health when I was younger and spent more time enjoying some of my true "golden years." (i.e. younger years). But I was busy working to earn, so money was the focus. I traded time (mostly) and some health for it.
One thing I like about the FI life is once you get enough money, you can get much more time and health. The time thing is awesome since retirement years are like reverse dog years. I've been retired for almost five years now and it feels like I've gotten 10-15 years of joy out of them.
And if you spend part of your time working out, eating right, sleeping well, and so forth, you can get some of your health back too. Not all of it, by a long stretch, but some of it for sure. But you need to be intentional about working to get it — which is the point of this rule. This is why I lift weights three times a week, do cardio three times a week, have a trainer I see once every 2-3 weeks, play lots of pickleball, and so on.
Again, some good thoughts from the author here IMO (thankfully — after rules 3 and 4 I was ready to throw in the towel on this book!)
He takes these ideas and offers this challenge to readers:
Think about your current physical health: What life experiences can you have now that you might not be able to have later? Think of one way in which you can invest your time or your money to improve your health and thereby improve all of your future life experiences.
So, what's on your list?
Finally he addresses an issue we've discussed in the Millionaire Money Mentors forums — spending money to get back time.
His thoughts:
The other big opportunity I see for creating a more balanced life is to exchange money for free time — a tactic that usually has the most impact in one's middle year, when you have more money than time. The classic example is laundry, a time-consuming weekly chore that most people dread doing and that, in many places, can be done inexpensively by an outside service that specializes in it.
The more money you have, the more you should be using this tactic, because your time is a lot more scarce and finite then your cash. I am constantly trading money back into time. I'll never get more than 24 hours in a day, but I can do my utmost to free up as much of that finite time as I possibly can.
Again, this is something I wish we had done more of on our path to FI.
Now that we are financially independent, we don't worry as much about price and do concentrate more on convenience (which often equates to saving time).
That's a wrap for this time. To read more about this book, check out my post on rules 7 and 8.