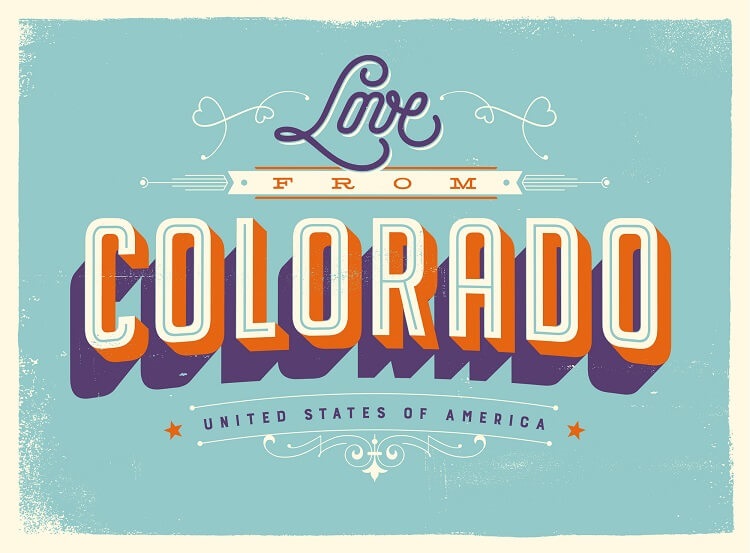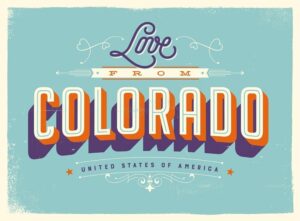 Here's our latest interview with a millionaire as we seek to learn from those who have grown their wealth to high heights.
If you'd like to be considered for an interview, drop me a note and we can chat about specifics.
This interview took place in December.
My questions are in bold italics and their responses follow in black.
Let's get started…
OVERVIEW
How old are you (and spouse if applicable, plus how long you've been married)?
I am 57 and my husband is 55.
We've been married 28 years.
Do you have kids/family (if so, how old are they)?
We have 3 children: son (24), son (22), and daughter (22). Yes, twins!
What area of the country do you live in (and urban or rural)?
We live in a suburban town in Colorado.
We are originally from Ohio but moved to Colorado about 25 years ago for the blue skies, sunshine, and great outdoor activities.
What is your current net worth?
Current net worth is about $4,730,000.
This includes our primary residence valued at $1.25M.
What are the main assets that make up your net worth (stocks, real estate, business, home, retirement accounts, etc.) and any debt that offsets part of these?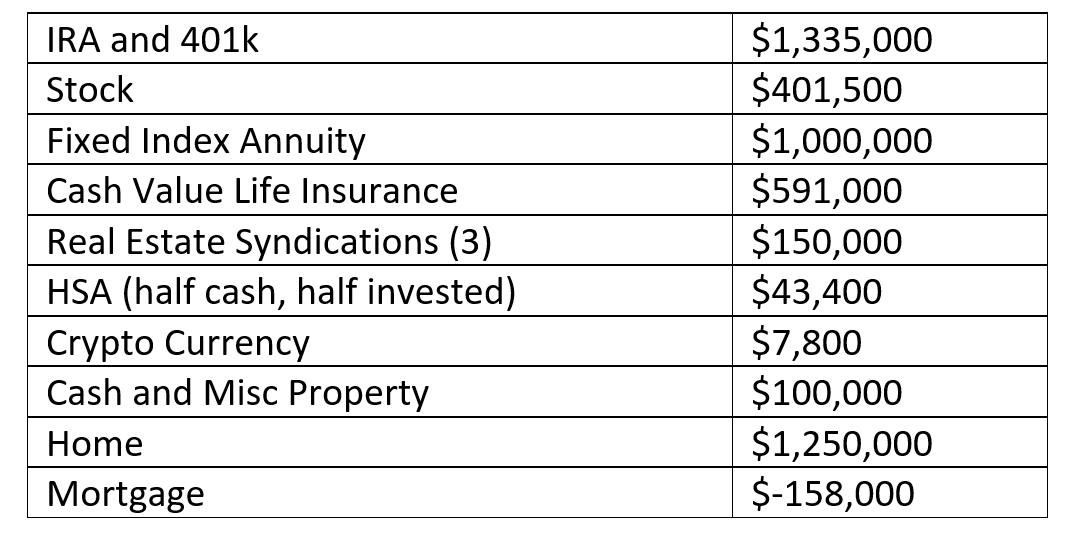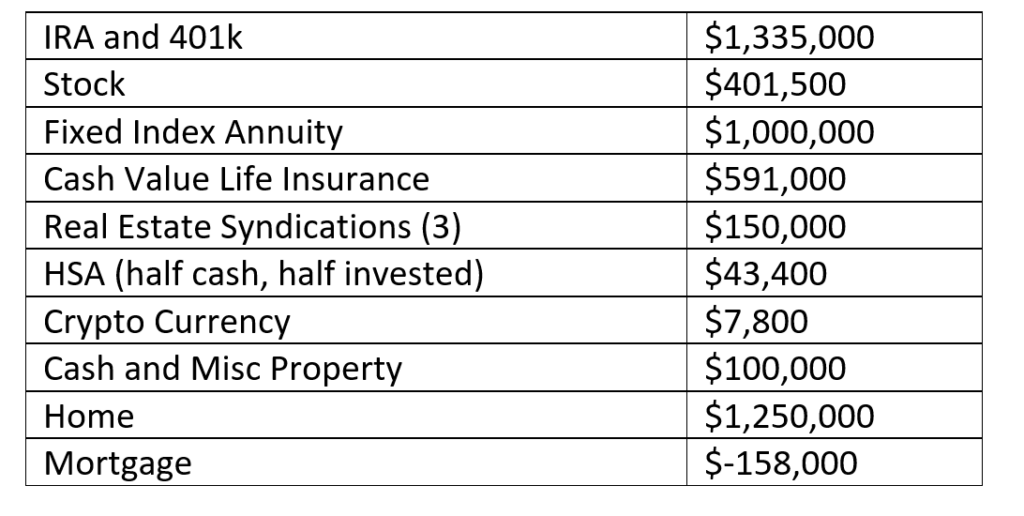 EARN
What is your job?
I am a financial planner and insurance advisor. I have worked for the same company for about 10 years.
My husband is a principal-level software engineer. He has worked at the same company for 24 years.
What is your annual income?
My annual income is about $68,000.
My husband's base salary is $181,000 with a potential bonus of 15%.
Tell us about your income performance over time. What was the starting salary of your first job, how did it grow from there (and what you did to make it grow), and where are you now?
My income has not been very steady on the growth curve post kids. In 1986, my first job out of college was paying $23,000 as assistant Director of Medical Records in a hospital. I was also teaching some college classes and doing some consulting work which supplemented it.
I transitioned to an information technology job that paid in the mid-40s and continued to teach some college classes.
When we moved to Colorado I started contracting and was making $90k a year. Then, I had 3 kids in 22 months. The day care costs and time away from the kids did not justify working full time. I did some part-time work over the years from home.
Eventually I transitioned to the insurance world and then financial advising. Between kids, various injuries and recoveries, I mainly worked part-time, but enjoyed the flexibility.
I dropped to part-time work to research college planning, structuring of assets and scholarships. It paid off with two of our kids accepting over $425,000 in college scholarships.
At times, I wish I had done a different career path and made more money (like when I look at my Social Security statement). Being self-employed for most of my career allowed me to write off many things and lower my income, but to the detriment of my Social Security numbers.
This past year I made about $68k.
My husband's first job out of college was as a software engineer with AT&T Bell Labs in 1987 with a starting salary of $27,500. That grew steadily over 8 years to about $60,000. During that time Bell Labs paid for him to obtain a master's degree in Computer Information Systems.
In 1996, AT&T was breaking into several companies (like Lucent) and they offered a buy-out opportunity. The buy-out provided 6 months of salary, a year of health insurance and $10,000 toward moving expenses. We decided to jump on the opportunity and make the move from Ohio to Colorado.
Once in Colorado, my husband held software contract jobs for about two years, making about $60/hr. His last contract turned into a full-time position with the company he's currently with.
Starting salary with this company was $72,500 in 1999. This has steadily grown to $181,000 with additional bonus up to 15%. So, his current annual income is a bit over $200k with good benefits and 4 weeks of vacation per year.
What tips do you have for others who want to grow their career-related income?
Work for an employer that provides good benefits and don't be afraid to change companies to increase salary.
Choose a field that is in demand.
Don't take on a high-debt degree for a job you won't do or doesn't pay much.
Consider side hustles such as teaching, tutoring, consulting, real estate, etc.
My husband probably could have made more money if he had changed jobs every few years. But he generally enjoys his work (especially in the earlier years), likes his co-workers, it is low stress, and the company treats him well.
He also could have increased salary if he had interest in moving up the management ladder. He was offered several times to move into management but managing people didn't fit his personality and he preferred to stay on the technical side.
Work hard, be reliable and make sure people like you. If people like you I'm convinced you are perceived as a better worker and will be rewarded for it.
Own your career and seek out the positions you want. Don't wait for or expect others to advance your career.
What's your work-life balance look like?
For me, being self-employed does not always provide for the best work-life balance. I have a habit of working into the evenings and weekends. But this is sometimes due to having social activities during the day.
It's difficult to track how much time I spend on work-related stuff because I'm usually multi-tasking several things at once.
When the kids were growing up, I did make it a priority to spend time with them and attend their activities.
My husband's work-life balance has always been pretty good. He doesn't have to get out the door super early in the morning and is usually home before 5 pm (he's the cook!). He probably works right around 40 hours a week.
With Covid he worked from home for 19 months and is now able to work from home two days a week. He does look at e-mail and Slack in the evenings and will respond if there's an urgent production issue. During work hours he can get out on a couple walks a day rather than stay glued behind a computer monitor.
Now that we are empty nesters, we do spend a healthy amount of time as a couple going on walks, hiking, working out at the gym, playing pickleball, eating dinner together, vacationing and watching TV shows together.
Do you have any sources of income besides your career? If so, can you list them, give us a feel for how much you earn with each, and offer some insight into how you developed them?
We don't have side hustles.
We are currently invested in 3 real estate syndications at $50k each. This brings in residual income of $1000 per month. Like so many others on the ESI Money blog, it was information on the Millionaire Money Mentors forums that led us to invest in real estate syndications. We will probably invest in additional syndications once more cash frees up.
We are empty nesters, so we have 3 unused bedrooms right now plus a 1400 sq. ft. finished basement. Last year my husband had the idea of renting out the basement to travel nurses that work in 3-month stints in a particular city.
After stocking the basement with a new TV and some kitchen gadgets, our first renter (Airbnb) turned out to be someone moving to Colorado that needed a place to stay while his new home was being built. A couple months of rent brought in about $3000.
But even though we thought we had cleared this situation with the HOA, the community board ultimately decided these short-term rentals are a violation of covenants and disallowed additional rentals. It was good while it lasted – maybe in the future we'll find a work-around to bring in some cash flow using the extra space in our home.
Funny enough, my husband and I did DoorDash a handful of times. It was just something fun to try to see what it was like. We'd load up the SUV with our two dogs and go out in the evening for a couple hours. We made maybe $25/hr, but decided Dashing probably wasn't worth the time, gas, and wear and tear on the car (unless there's a ridiculously high promo being offered).
SAVE
What is your annual spending?
Current annual spending is about $115,000.
What are the main categories (expenses) this spending breaks into?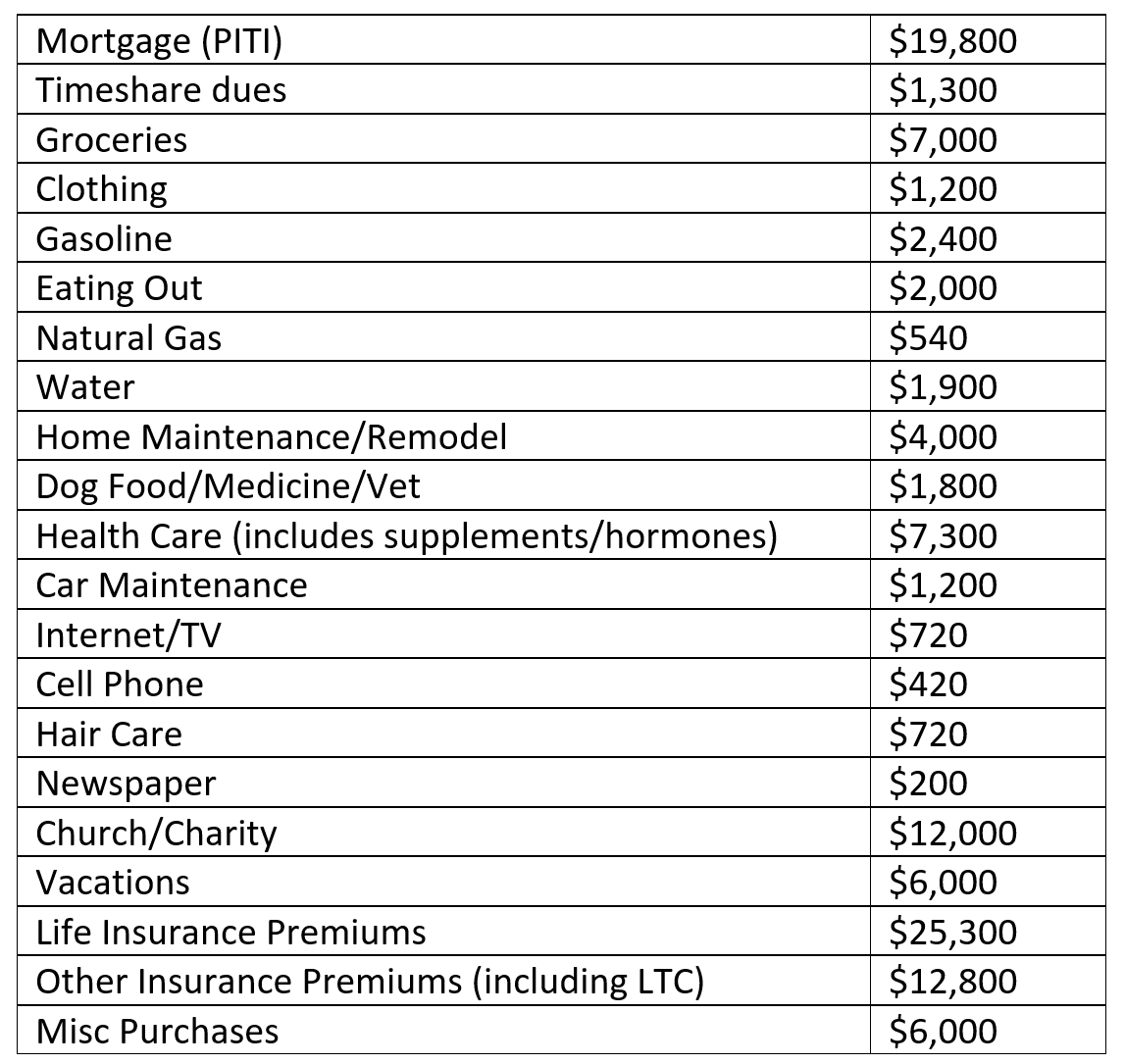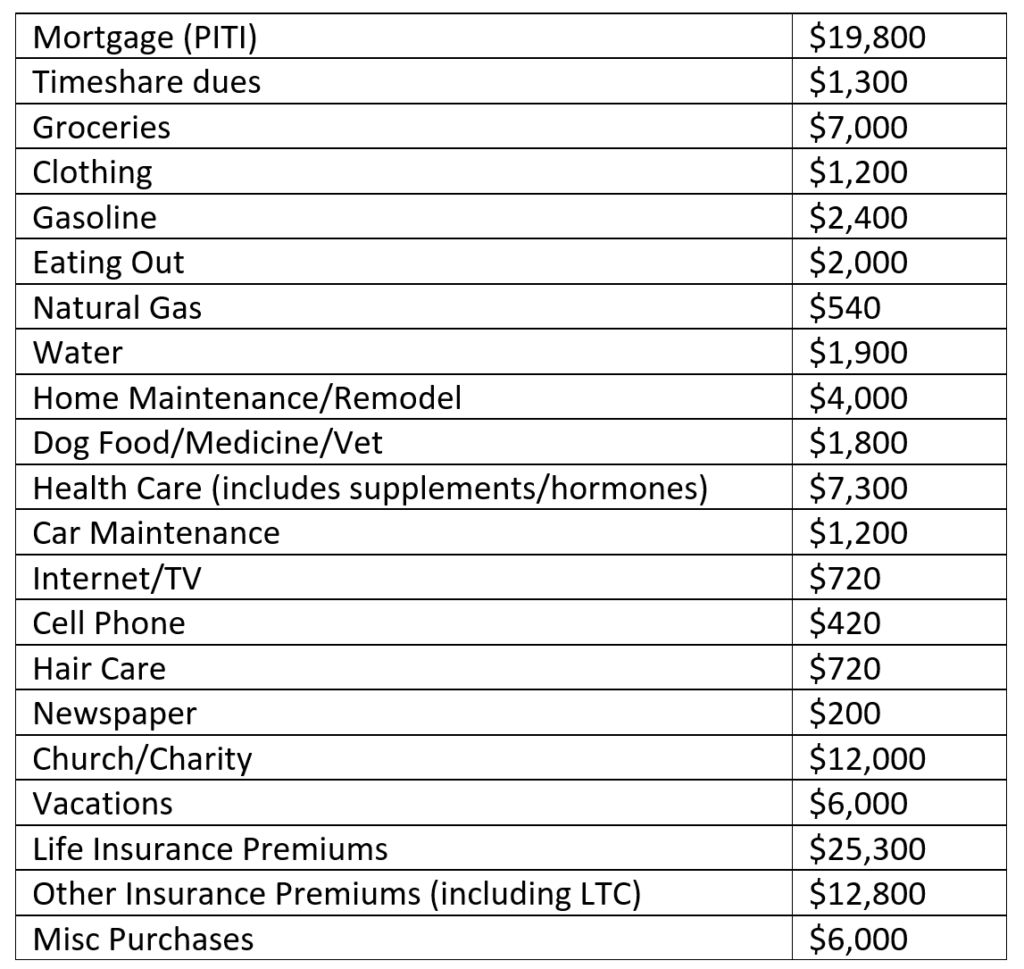 The life insurance premiums are high, but I don't consider the premiums to be total expense. Most of the premiums are for cash value life and some of the other life insurance premiums will be returned in a few years. Also, the cash value life insurance premiums will end at age 65.
Do you have a budget? If so, how do you implement it?
We don't use a budget but are always conscious about saving money and being frugal.
As we are getting closer to retirement, we've documented our spending much better so that we know our expenses for retirement planning.
What percentage of your gross income do you save and how has that changed over time?
We have always saved between 20-25% of our income. I do consider what we have in return-of-premium life insurance and cash value life insurance to be part of our savings program as well.
Savings can vary slightly based on other things going on in life, but we have always automated our savings, so it happens regardless. Our philosophy is to adjust our spending when needed rather than adjusting our savings.
What's your best tip for saving (accumulating) money?
Automate savings and increase the amount you are saving with every raise. Be willing to take calculated risks with investments. Although it is possible to save a million dollars with low-interest investments like bank accounts and CDs, our net worth has grown from investing in the market and riding out the bad times.
Don't carry credit card debt.
I do wish we had done more in real estate investing years ago. Real estate is something that always seems too expensive at the present time but looks good in hindsight. Like if we had bought Colorado mountain property in the mid 90's.
What's your best tip for spending less money?
We love finding BOGO deals at restaurants and using coupons when possible. We've also found some good restaurant meals that are plenty enough for us to share.
Don't buy a new car every couple of years. It's better to spend a few hundred bucks a year to maintain a car than to spend a few hundred bucks a month on a new one. We usually drive our cars to about 200k miles. If buying new, look for 0% financing.
Live below your means. Don't buy the largest home and nicest car you can afford.
Identify budget items that are overkill or may not be useful or important to you anymore. My husband thinks I should kill that newspaper subscription. 🙂
If you are handy, do home projects yourself rather than hiring it out. Luckily my husband loves home improvement projects, so we rarely have someone else build, remodel or fix something on our home.
What is your favorite thing to spend money on/your secret splurge?
Travel – We value experiences more than possessions.
Home Improvement – My husband loves home improvement projects and is very good at them.
We don't really have a secret splurge. But we do love ice cream and chocolate.
INVEST
What is your investment philosophy/plan?
I believe in Foundational Planning. So many people want to start with investing before they build their base – emergency fund (3-6 months) along with car, homeowners, umbrella, life, disability, health, and long-term care insurances.
But if life happens to you and you have not created leverage with insurance, then the bottom can drop out and you can potentially lose everything.
I've always been a fan of insurance since it creates an instant large bucket of money that can create wealth unlike anything else. If something bad happens to you and you only have an investment account, it is worth what it is worth on the day you die or become disabled. If you have life or disability insurance, you have instantly created a large bucket of money. You can't save or invest and have those guaranteed results.
I'm a fan of making sure you use insurance as a "Plan B" to guarantee you make it to retirement regardless of what happens to you.
We have our more aggressive investments in Roth IRAs and our less aggressive investments in our traditional IRAs. As we realized we are close to retirement, we took down some of the risk. We do not need to swing for the fences anymore. We need to make sure we maintain and still grow the money.
We don't want to be constantly watching the market and stressing every day in retirement – especially in our 70s, 80s and 90s. We are using a portion of our money in a type-2 fixed indexed annuity. It will grow for at least 5 more years and then we will start to draw an income. We are trying to convert much of this money to Roth so it is a tax-free retirement income stream. We are using this as a bond alternative.
The income payment can increase based on how the indexes perform. If there is a bad year, we get a 0 and earn the same income the next year. If indexes perform better, then our income goes up and locks in at a higher value. Unlike the traditional model of taking years to crawl out of the hole of a market downturn, we can have a positive year the very next year.
The income stream is based on both of our lives and does not reduce when one spouse dies. We are using it to always know our monthly expenses are covered.
I know many people do not like annuities, but if you get to know the actuarial design of mortality credits, lapse credits and longevity credits, you will see that you can potentially pull more money out of an annuity over time versus an investment account, even at a conservative return.
I like to have a bucket of "Know So" (safe) money as well as "Hope So" (investment money).
I have no idea what my account values will be tomorrow, next year, 10 years, or 20 years from now. Nobody does. The other things we don't know are how long we will live, what the tax rates will be, what inflation will be, will we need long term care, etc. That makes exact planning impossible.
We'll use the "Know So" bucket in down years to give the "Hope So" bucket a chance to recover (versus locking in losses). The "Know So" bucket includes investments that have no chance of losing money – like cash value life insurance, fixed investments, dividends (although they can change) and even the annuity (although we won't be tapping it yet). The "Hope So" money is stocks and mutual funds.
What has been your best investment?
We've had okay results with individual stocks, but several have really paid off. Most of our big capital gains are with Apple, Tesla and Nvidia.
Our home has been a good investment because of good appreciation over the years (especially the last 2 years).
I consider my disability policy that I bought at age 22 to have been a great investment. I've kept it even when I had a job that offered disability. Individual disability policies are so much better than group plans. I've been able to collect on this policy at various times in my career.
Investing my time to do scholarship and college financial research for our kids has been a great investment of time. I worked part-time and spent the other part of my time researching. Our twins accepted over $430,000 in scholarship money.
What has been your worst investment?
We invested $20,000 in 2008 with a friend who was starting a company and we received over 3 million "shares" in exchange. The $20k was actually a loan to be paid back with interest once the company started making money.
Needless to say, we still haven't received the $20k back and the "shares" are currently worth zero.
Surprisingly, this person is still plugging away trying to find the right investor with deep pockets so she can pay all the original loans back. She originally had life insurance to cover the loans if she died. She let it lapse and then got cancer.
I invested in a business with a very smart and smooth-talking businessman. He had some great financial ideas that did add value to our overall plan. Long story short, he was a con artist and the FBI was after him. Never heard from him or saw the money again.
What's been your overall return?
We have not tracked this number closely but would estimate roughly 8% over time.
Obviously, there are years in which the growth has been significantly higher.
We also experienced pain in the market downturns of the mid 80s, the tech bubble, 2008, etc.
How often do you monitor/review your portfolio?
We track almost all our accounts and assets in Mint. This provides a good snapshot of everything and allows us to see how net worth is climbing. A lot of the numbers are linked to the accounts and update automatically. Some of the accounts and assets need to be updated manually. We review this information once or twice a week.
Recently we purchased a subscription to NewRetirement and have input most of the same information from Mint into that tool. The data analysis in NewRetirement has provided some very good graphs, simulations, and projections for retirement. We can also model the effects of Roth conversions.
This gives us peace of mine for our upcoming retirement plans because we can view the performance of many aspects of our portfolio over the time span of our retirement years. The software currently projects 99% success rate of maintaining a high net worth to age 95 for each of the Optimistic, Average, and Pessimistic scenarios.
NET WORTH
How did you accumulate your net worth?
My husband and I are both good savers but did not have parents who invested. I had to pay a good chunk of my college, but I paid off any college loans quickly. My husband had a full-tuition scholarship.
I started investing in mutual funds at age nineteen. My first boss after college introduced me to her financial advisor but he churned my account and put me in investments that I can't believe made it through compliance. The only good thing he did was sell me a disability policy that I collected on several times over the decades.
My salary was pretty average over the years until I had kids and stopped working full time.
My husband's salary and benefits grew well over the years but was not unusually large. It was more important to have some flexibility and sanity than to climb the ladder. Our maximum combined income in any given year was 250K.
Besides owning a single-family home over the years (four homes total over 30 years – each time increasing in size and value), we always maxed out our 401(k)s and started saving in a Roth IRA as soon as it was available.
We also began investing on our own as subscribers to the Right Line Split Report. We made a lot of money and lost a lot of money over the years. At times we would use stop limits but would often be taken out on a quick dip (don't ask me about being taken out of AMZN years ago at $225!).
I was also involved with some friends in a stock club. Again, we had some good trades and some bad trades, but still learned a lot over the years.
Investing in good stocks and mutual funds, being diversified, riding the ups and downs and not panicking worked for us. We had a goal to have a net worth of 1 million (including home equity) at age 40, 2 million at age 50 and 3 million at age 60. At ages 57 & 55, we are just under 5 million in total net worth.
I got insurance licensed in 2005 and securities licensed in 2014. I studied cash value whole life insurance and how big-name families use it to create more wealth. I'm a fan of foundational planning and making sure you have a Plan B in case life happens to you (health, life, disability, and long-term care insurances).
For cash value life, I like the death benefit leverage, the safe growth, and ability to borrow from the cash value. I also like return of premium term life insurance. If you don't die, you get all your premiums back tax-free at the end of the term. The premiums are higher, but you get all the money back. I consider both our return of premium term insurance and our whole life insurance as "safe money" that has incredible leverage on it.
We also have a traditional long term care policy that will cover each of us for 3 years (the average). It has a 5% compound inflation rider on it and would currently pay out almost $10,000 per month for care.
We wish we had invested in rental properties or a second home in the mountains. We looked, we researched, but we never acted. We have regrets on that, but recently have begun investing in real estate syndications. This has been a great way to invest in real estate for cash flow without the headaches of being a landlord. Currently, this brings in $1,000 per month of income.
Because we are ready to retire soon, I've been researching ways of creating more tax-free retirement income. I was impressed enough with a type-2 fixed indexed annuity that I am using one as a replacement for bonds in our portfolio. I like the 0% floor (versus climbing out of a 30% hole over several years with a market crash), being able to increase our income each year (and in down years, getting the same income), taking advantage of the product design credits that enable us to take more money out over the years than we could with historical market returns, and the fact that the income gets paid out on both spouses' lives. The annuity income will give us permission to spend versus always worrying about spending.
Transitioning from saving to spending is going to be one of my biggest challenges in retirement. The annuity will help me psychologically by knowing I will always have money coming in (and hopefully increasing most years) and that I'll never run out of money.
For younger people, fixed indexed life insurance can also be a great bond alternative to create a good tax-free retirement income.
What would you say is your greatest strength in the ESI wealth-building model (Earn, Save or Invest) and why would you say it's tops?
Our greatest strengths have been Saving and Investing.
We didn't have incredible salaries, so being smart with savings and investing the money has allowed our wealth building.
Without investing, achieving life-changing wealth through savings alone will likely not be enough.
What road bumps did you face along the way to becoming a millionaire and how did you handle them?
Rough times in the market (1986, 2001, 2008 and 2020) were all heart stoppers. But learning not to panic and letting solid investments come back was the best lesson to learn. Some months, I did not even open my statements – it would have only depressed me.
The lost decade between 2000 and 2010, was tough as well to realize we were about the same at the end of the decade as when we started. We learned that diversification and just trusting that the market will come back are important lessons.
I actually thought I was having a heart attack in 2001 and went to the ER. It was a panic attack over the stock market. I've learned to adjust my thinking with dollar cost averaging. My attitude when the market is down is that I'm shopping the clearance racks. When the market is up, my attitude is that I'm a genius and can afford to pay more.
We used to chase hot stocks but that created a lot of stress trying to follow the market and keep up with stop-loss orders. We've gotten away from doing this.
We "invested" in others' businesses twice and got burned both times. We've learned to avoid these situations. Luckily it wasn't an overly large amount of money, but it would have been nice to invest that money elsewhere. From watching other people, we also avoid lending money to family and friends.
Paying for college can be a major hurdle for a lot of people. Having 3 kids in college at the same time, we set up a definitive amount that each kid would get for college. If they got scholarships or did it for less, then they got the balance of the money. If they did not graduate, then we kept the rest of the money.
Having a definitive plan was helpful to keep spending in check. We had saved about 80K in the Colorado 529 program before they started college. The twins both got total full ride scholarships, so we are paying out our son (who just graduated) and transferring the money to our daughter for her graduate degree.
Our oldest son dropped out of college as a junior so we kept the rest of his money and applied it to the twins. Don't feel sorry for him, he's a software engineer and makes more money than I ever have – no degree needed.
I see so many families risking their retirements and financial security for their kids' college experiences. Unfortunately, 40% of kids who start a degree never graduate or they wind up working in jobs that did not even require a degree.
What are you currently doing to maintain/grow your net worth?
We consider that we've "already won the game", so we are reducing risk to maintain net worth. This includes reducing our stock market exposure (money in the market) to about 30% of our total assets.
We are investing more aggressively in our Roth accounts and have reduced risk in traditional IRA accounts since we do not need those accounts to grow as aggressively.
Our "safe" money is in our home equity, cash value life insurance, return of premium life insurance, and our fixed indexed annuity (type 2). Since bonds have not performed well in recent years, we are using these to safely grow cash and have the leverage of life insurance. In the stock market, we have individual stocks as well as some mutual funds.
To grow net worth we have started investing in real estate syndications to create more cash flow. We plan to increase our investments in syndications in the upcoming years. We will continue to have a decent chunk of assets in the stock market but will keep that portion down in order to lower stress.
We are using the fixed indexed annuity to grow our income in retirement and know we will never have to worry about money. When one of us dies, the other will continue to get the same amount of income, so the annuity doesn't have the typical issues that impact a spouse with social security income.
Do you have a target net worth you are trying to attain?
Every time we cross a million-dollar threshold, my sights are fixed on the next million.
The last two years, we've seen tremendous growth – 3 and 4 million quickly passed by. We are on the crest of 5 million.
How old were you when you made your first million and have you had any significant behavior shifts since then?
I was 40 years old (husband 38) when we were technically millionaires.
The only real shift since then has been a desire to continually learn about other products and techniques that can help leverage and preserve wealth regardless of what happens in life.
What money mistakes have you made along the way that others can learn from?
Don't try to chase highs and lows in the market. Have an exit strategy for stock positions or ignore and let them ride for a long time.
Be careful who you lend money to or invest with. We invested with a couple friends' businesses and wish we had that money back. Luckily, those investments were relatively small.
Overall, we don't have many money regrets or feel that we've made very many large mistakes.
What advice do you have for ESI Money readers on how to become wealthy?
Pick a good career. Choose something that you will enjoy and aligns with your passions, but make sure it is something that is in demand, pays well and has opportunities for growth.
Make sure you have the same money values as your significant other.
Invest early in your career and maintain consistency with saving and investing.
Invest in real estate earlier than we did.
FUTURE
What are your plans for the future regarding lifestyle?
With our current lifestyle and net worth, my husband is planning to retire early at the end of May 2022. He will be 56. This does stress me out a bit as he is the primary breadwinner.
I plan to continue to work part time since I have my own business and my hours are fairly flexible. I want to have the ability to write off our health insurance and other things, so having some 1099 income will be important. I also feel like we've learned many things (both through mistakes as well as good research and decisions) that I need to help others achieve their dreams as well.
What are your retirement plans?
As we approach retirement, we realized we don't need to swing for the fences and have taken some of the at-risk money off the table. For our money that is in the market at risk (around 1.5 million), I always remember that it is only a portion of our overall portfolio. I need to consider that we have home equity, cash value life insurance and some money in safe vehicles. It helps with the anxiety when the market goes down.
Since we are retiring in our mid/late 50s, we will need to do the Rule of 55 to access my husband's current 401(k) without penalty. Even though we are multimillionaires, most of our wealth is in our retirement accounts, home equity and highly appreciated stock. We are definitely more cash poor since we started using our cash for real estate syndications and to pay for Roth conversions.
My husband reads comments from other retirees about how they don't know where they ever found time to work. That's pretty much the way he feels now. He looks forward to being able to spread out the fun and the chores into a more relaxed pace rather than squeezing them into evenings and weekends.
We do most of these activities now but look forward to having more time to enjoy them in retirement.
Walking – We do lots of walking now and will maintain.
Hiking – We look forward to being able to go on hikes in the middle of the week.
Bike rides – We don't do too many rides now. Possibly get an E-bike someday.
Exercising – We go to the gym about 3 times a week now but will probably increase the frequency. We may also go to the gym in the middle of the day when it is less crowded.
Tennis – We like tennis but don't play too often now. We've switched more to Pickleball.
Pickleball – Be able to play during the day in the middle of the week. Good social activity, too.
Golf – I like to golf but my husband doesn't care for it too much. I might join a women's league.
Cooking – Try more recipes and fewer hurried meals. Eat healthier too.
Traveling – We love to explore new places. I only need Antarctica to complete all 7 continents.
Home improvement projects – My husband loves these and wishes he had more time.
Meet Up Groups – Meet more people like us with similar interests.
Learn Spanish – We've taken vacations to Mexico and Spain and always wish we were better at Spanish.
Learn songs on bass – My husband is "okay" at playing and would like to learn more.
Reading – Great relaxing activity that we don't prioritize much right now.
Puzzling – Great way to exercise the brain as we age.
Sightseeing and Museums – Explore some of the sights within an easy drive from home.
Volunteering – Great way to help others and increase social interaction.
Woodworking – My husband thinks this would be challenging yet relaxing.
Are there any issues in retirement that concern you? If so, how are you planning to address them?
Pivoting from saving to spending will be a difficult mental shift for me during retirement. But knowing that our fixed index annuity provides an increasing (potentially) income stream in retirement every year will make it much easier to spend money. Knowing that when one of us dies, the other spouse still gets 100% of the income amount also provides peace of mind. Knowing the product design with mortality credits, longevity credits and index lock features will increase both peace of mind and spendable income.
I'm hoping my husband also does some part time work to keep us from tapping into the retirement funds.
We are also concerned about the cost of health insurance. During the first few years, we will continue to convert more money into Roth to create more tax-free income. That will keep us from being eligible for any subsidies with health insurance.
I'm concerned that the current tax cuts are set to expire soon and the government has spent so much over the years that taxes are bound to go up.
I'm definitely worried about getting bored. But during the early years of retirement I'm convinced that we need to take advantage of our GO-GO years while we are fit and healthy. The SLOW-GO and NO-GO years will happen soon enough unfortunately.
I'll likely be working some, always researching things and trying to stay fit and healthy.
My husband doesn't have a circle of friends and is perfectly happy spending time alone. However, we recognize that relationships and interaction can be key to maintaining a healthy brain in later years. For this reason, we'll have to increase our social activities in retirement.
We both love walking, hiking, pickleball, travel, and other outdoor activities. We will make it a point to do some of these with others to increase our social interaction. Volunteering is also a good choice to increase social interaction.
MISCELLANEOUS
How did you learn about finances and at what age did it "click"?
My mom and dad were frugal. We were middle class. They did bank accounts and CDs.
Luckily, I had 3 roommates on a summer college sublet who introduced me to mutual funds. I invested at age 19 and continued to invest.
My first boss hooked me up with her financial advisor who churned my account and put me in investments no compliance department should have allowed. I realized I needed to take a more active role.
My neighbors and I started an investment club and we also subscribed to some newsletters. We made a lot of money and lost a lot of money over the years. However, I realize if it was not for those roommates, I would have not gotten the early start and we would not be in the position we are in today.
Who inspired you to excel in life? Who are your heroes?
Neither my husband nor I think of our parents as heroes, but they definitely inspired us to excel in life.
Working hard, doing a good job and treating others well were unspoken expectations that allowed us to excel.
We were also both raised in solid Christian homes, which laid the groundwork for our character.
Do you have any favorite money books you like/recommend? If so, can you share with us your top three and why you like them?
I love anything by Ed Slott. He is a CPA and super knowledgeable and funny.
He focuses on taxes and how to lower them in many creative ways.
Do you give to charity? Why or why not? If you do, what percent of time/money do you give?
Yes, we have consistently given to our church and various charities over the years. We have not figured out how and how much we will give to the church once the income stops. In the past, we've mainly given appreciated stock. The amount we give to church and charities is about 5% of gross income.
We donate used household goods a couple times a year. We also volunteer a couple times a year serving meals and packaging food bags for school-age children in need. We plan to increase volunteer time in retirement.
Do you plan to leave an inheritance for your heirs (how do you plan to distribute your wealth at your death)? What are your reasons behind this plan?
We have written several charities into our wills. The kids will get a chunk of the money that is passed in the will. They will also get most of the life insurance and the Roth accounts.
Due to the wrongly named SECURE Act, which requires non-spousal beneficiaries to take an entire IRA balance out in 10 years (and pay taxes), most of that money will go directly to charities.
Life insurance allows us to instantly create millions more dollars. It is a great way to create more tax-free wealth. The kids will be well provided for, but that money can also be used to help charities.