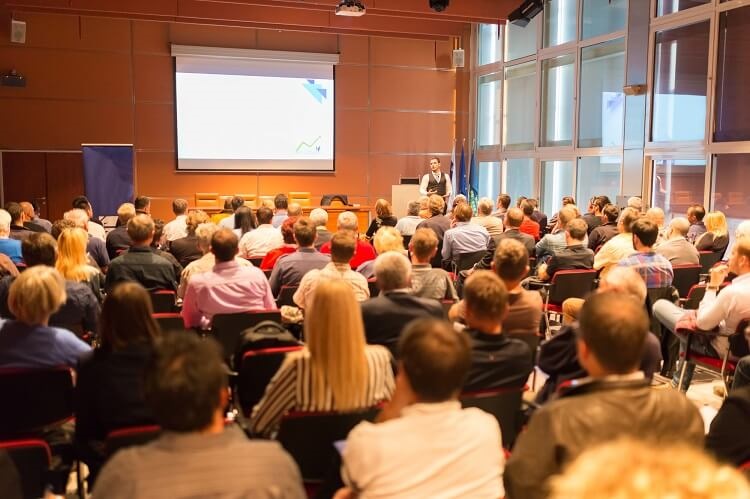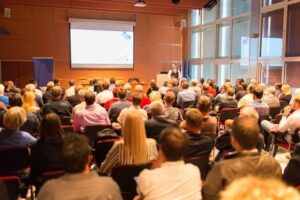 I know. It's becoming somewhat of a bad habit.
But I just couldn't resist this time!
I received a mailer on April 20 that invited me to a direct mail retirement seminar.
It promised to "Help you (me) know information beneficial to your retirement" by presenting a seminar on "understanding different retirement strategies."
It also said the presentation would be "followed by a delicious meal."
Sounds enticing, right? That's what I thought! LOL.
In the second half of the mailer it said that we would learn about:
How our clients have kept their money safe from market declines.
How to not outlive your income during retirement.
Strategies to help achieve your long-term financial goals.
What impact could the Russia-Ukraine crisis have on the global economy (and your retirement)?
Is your planning strategy built to withstand the unexpected?
Will the yields on your savings be able to keep up with rising inflation?
Let me just say that the presentation did NOT cover most of these. I'm convinced that the mailers are designed to have the most compelling bullet points possible — topics that are on the minds of recipients — which will result in the highest levels of attendance. Then the host can talk about whatever he wants to even if it has nothing (or very little) to do with those topics.
For example, there was absolutely no mention of "What impact could the Russia-Ukraine crisis have on the global economy (and your retirement)?" in this seminar. But I digress…
Overall, I was a bit so-so on the subject matter. That said, attending these events is always an interesting case study in human behavior (presenter and audience) — there are simply so many dynamics going on when you throw in money, a (generally good) salesperson, and an audience that knows very little about managing their finances but wants to appear as if they have it all together. I really do recommend everyone reading this go to at least one for the entertainment value alone if for nothing else.
But the kicker for this one was that it was hosted in a new place/restaurant close to our house (5 minute drive if that) that we wanted to try out. It had been a restaurant, then was converted to a restaurant/coffee shop/game arcade/pickleball courts. I had been up there many times playing pickleball and loved it. But the owners were complete idiots at running such a place, so it closed down within a few months of opening and has since become a wedding and event venue.
Anyway, we wanted to check things out. So we signed up for the 6 p.m. seminar on May 5th.
FWIW, I'm writing this post on May 6th so it's fresh in my mind (even though it won't post for a few days).
Oops, I Did It Again
As I alluded to in the opening, going to these seminars and similar events is not something new to us.
We've been to six (counting this one) overall presentations — 5 of which I would call seminars (one specialized on Social Security) and one a two-day workshop.
I've written about the others as follows:
It had been some time since we'd been to a seminar as the last one was in December (which seems like a lifetime ago since going to Florida and back for a few months has thrown out all perspective of how long it's been since "before Florida.")
The Event
We left home and arrived at The Pinery North at 5:45 p.m. We were the first ones there. I like to be early and scope out the situation before the crowd arrives.
We got our name badges, folder full of propaganda, and headed to our seats, selecting a table near the back of the room. FYI, there were about eight tables and each had room for six people.
While my wife filled out the information form, I got some coffee and chatted with the bartender (it was a cash bar). He was a golfer and the weather was turning nice, so we talked about how he was headed out in the morning to enjoy his favorite pastime.
People started filing in while we completed our info sheet (name and address — which they already had). We didn't answer the questions about asset mix or whether or not we wanted a follow-up meeting. We generally give just the basic information at these things. there's no reason anyone needs to know anything personal about us, especially before we even hear the presentation.
We were soon joined by an older gentleman (77 years old). Then a bit later a son (probably late 20's or early 30's) and his dad (about 65 or so — and retired). So there were five of us at our table.
We chatted a bit as we ate our salads and then the presentation started promptly at 6 p.m., as promised. I like that — someone who begins on time.
Before I get into the specifics, let me say that the comments I'm sharing here are all paraphrased and not exact quotations (even the ones I put in quotes). I'm not that fast of a note taker to get actual quotes. That said, I am a decent writer and took nine pages of notes. While I didn't get verbatim quotes, I did get his meaning, especially in the sections below that I put in quotation marks. So you are getting a true sense of what was said even though the exact words might be slightly different.
Our Host and Opening Remarks
The evening was hosted by Ralph Siebert, the president of Senior Benefit Resources. Here's some info from his website which he also shared in his opening comments to our group:
I have been in the financial services industry for over 38 years, helping many people in the Colorado Springs and Denver area secure their retirement. In that time I have presented hundreds of seminars, offering assistance to countless individuals and families with their retirement planning needs. With thousands of clients in the Western US, I am in the top 1% of financial professionals in my chosen specialty. "All credit goes to the special relationship I have with my clients. I get up each day doing what I love to do with the knowledge that I have made a difference in my clients' lives and still have the opportunity to help others."
My guess is that Ralph is somewhere in his late 60's or early 70's (more on why I mention it later). My wife guessed 70 so I think we had to be close.
As part of his initial remarks Ralph said a couple times that he invited us and doesn't care why we came, he was just thankful that we did. And it was completely up to us whether we wanted to have a follow-up meeting with him or not.
Personally I appreciated this and, as an aside, I can say that I liked Ralph as well as or better than most of the presenters we've seen in the previous seminars. My wife thought he was a bit too "direct" and maybe he was. Perhaps I'm just a bit more used to that style after 28 years in business. 😉
He asked how many of us had been to previous seminars like this one and almost everyone raised their hands. Apparently we weren't the only seminar-aholics in the group. Hahahaha.
Next he talked about "most financial advisors." He doesn't like them because their interests are simply to get your assets under management (basically they want your money to generate fees and don't worry much about your needs). Haha. I really liked him after this comment. LOL. But I knew that in all probability, he was very similar to them.
He also talked about their training — which he went through back in the day. He said the training focused more on how much money he could make versus how he could help people. I don't doubt it. He didn't like this focus and that's why he decided to be different.
He promised us that after his presentation we would know what he's about and then we could decide if he could help us.
BTW, let me interject and say that this event occurred the day the stock market had plunged 1,000 points. So he had an attentive (and nervous) audience. It was perfect timing for him to talk about his subject matter.
Ralph said the average financial planner is aware of what he was going to share but won't talk about it since it doesn't make the planner as much money. Hahaha. I doubted that, but I let it go.
FYI, he also introduced two couples in the audience who were his current clients. As a marketing guy, I thought this was clever as I knew he'd be using them for some sort of endorsement/recommendation later.
Ralph said that he wouldn't be taking questions during the presentation since his experience was that those often were personal to the asker, resulted in additional questions, got the presentation off track, and made for a bit of chaos. I can't say I disagree. I've been in seminars where they take questions and it does get into question after question that's either too personal to apply to anyone else in the room or is less of a question and more of a statement as someone tries to show the room how much he knows about money.
He did say he'd be around after the presentation to answer questions one-on-one and that seemed like a reasonable way to handle things.
This concluded his introductory remarks. He now instructed us to open the booklet in our folder as the formal presentation was about to begin.
The Presentation
What follows are Ralph's thoughts as he presented them. I'll add my comments when I feel it's necessary. Remember that just because I am reporting what he said doesn't mean I agree with it. But I want to give you a clear view of his words so you get a true sense of what happened that night.
Here we go:
Ralph started by saying that the market can do three things — go up, go down, or stay flat. He said that at this point it's most likely that the market will go down, that inflation will be high, and that we're headed to a recession. Then he asked, "Have you made sure that (if the market goes down and values drop) it doesn't happen to you?" Already I could already feel the insurance pitch coming…
He noted that if we go into a bear market it takes a long time just to get back to even and that we shouldn't let a market drop impact us.
He then noted that we should learn from the past and take steps so we aren't impacted by a down market.
He said this is the most important time in 25 years to watch our money. He noted that losing money is tougher now that we are older as there is less time to recover. Notice how he mixes his opinions with solid facts (less time to recover as we age) and less-than-reliable comments (like trying to predict the future — he seemed like he knew 100% what would happen). It was an interesting mix that worked well at helping him make his points with an uneducated (on money) audience (and lead them where he wanted).
He said we are still at good levels of the market and now's the time to protect ourselves from losing what we've gained.
He then asked hypothetically, "If there was a bank offering 4-6% interest for totally safe investments, wouldn't we all be running to it these days?" It was meant to be a rhetorical question — "obviously" we'd all want it (that was his answer).
Then he noted that since we've established that the market can go up, down, or sideways, if we could eliminate one of these, which would it be? "Down", of course!
He now called on one of his clients and asked which one he had eliminated for that client. "Down." Of course.
Now he started the main thrust of what his offering would be by telling us that "the idea with me is that if the market goes down you don't lose money but if it goes up you make money." Sounds like it's too good to be true, huh? Let's continue…
He said diversification doesn't make you safe but that some part of your diversification should be safe. FYI, from here on out the word "safe" seemed like it was in every other sentence.
He also said that paying fees is optional, not normal. He called on the other client and asked, "Have I ever charged you?" The answer: "No." Another question: "Have the products I used for you ever had a fee?" Answer again: "No." The skeptic in me was about to explode at this point, but I was too busy writing to let it take over. LOL.
He said that other planners make it a "law" that "everybody has to lose money sometimes." But with him that is not true — you do not have to lose money.
Next he said that as you get older you should never have more money in the market than you can afford to lose. He then took us through the "rule of 100" where you subtract your age from 100 and that's what should be in risky investments. The rest should be in safe investments. It was clear to me that he was making the following points: Since almost everyone in the audience 9the one exception was the son at our table) was well past 50, the implication was that over half of our assets should be in "safe" investments. Just by coincidence, that's what he was offering. Hahahaha.
He said the #1 fear of seniors is running out of money in retirement (this is true, BTW, at least in regards to retirement planning), but if we are safe as we age we probably won't run out of money. And if we use his systems we are guaranteed not to run out of money. IMO "guaranteed" seemed like a strong word to use, but he used it.
He next got into 401ks a bit and how the employer controls them (you might think you do, but you don't). He then talked about how to roll over that money into other options outside the 401k. The transition here was a bit clunky but basically he was setting the stage for using your 401k money to invest in whatever he was selling (which was still a mystery at this point).
He then showed us a graph of the market's returns of $100k invested starting with 2000 until today and noted from 2000, it took 13 years to get back to even on your dollars. Then he asked if any of us wanted to do that again. He answered for us that we didn't as we don't have the time to recover.
Then he asked, "What if there was a strategy where you could take money now, send it to your future self where it would come back tax free?" For good measure he threw in how the government is spending like crazy which will force taxes to go up (a message we've heard at a couple other seminars as well).
He also noted that if your financial advisor was 30 and you're 65, has the advisor seen what you have? Then he said there's nothing that says you have to trust someone else versus trusting yourself (implying that your advisor hasn't been there and done that so how does he know what's best in any given situation?) I can't say I disagree with this (I don't trust financial advisors at all), but it also made me wonder about Ralph. If he's still working at 70, why should people think he's an expert on retiring wealthy? It's worth thinking about. BTW, he did address this later and we'll get to it.
Then he said most people have too much in stocks as they get older which is too risky and volatile.
And finally…he mentioned his first product of the night (though it was not to recommend it): a Variable Annuity. He said these are "BAD" (he spelled out the word) because they are "CRAP." They are terrible because they are hard to understand, they don't protect your principal, they have high fees of 3-4% (3.5% average), and they are not SAFE.
So, what's a possible solution to the issue of wanting to have safe money? Let's see…
The Pitch
All that was just the set-up. Now Ralph begins to reel us in:
Ralph asked us if we would ever go even one day without insurance on our house. His answer: "Of course not." Well, one day? I was thinking of my dad who had closed on his home in The Villages three days earlier and still didn't have his homeowner's insurance, but I wasn't going to bring that up now. LOL.
He then said that we may have more money in the market (than the value of our homes), so what are we doing to insure it?
Then he said it. "I sell retirement plan insurance." This is an interesting and unique concept IMO. I like the phrase and concept though I knew I would not likely like the answer. But the idea of insuring your retirement is completely new (who has or sells retirement insurance — no one (except maybe Social Security)?) but when it hits you, the idea makes you think, "Yeah, I should get some insurance to cover one of the biggest financial moves I'll ever make in my life."
He followed that up with, "The money you have with me will never go down and you'll never lose it."
Then he asked, "Does it make sense to have some money that's safe as you get older? You have already said that it does."
He told us that his plan was as follows: When the market goes up, your money goes up. When the market goes down, you don't lose. I know, it seems too good to be true, right? But he's got just the product for us, though we didn't know what it was yet.
Next he took us back to 1997 when he said a "new financial strategy" came out. You put money into an index annuity and when the market goes up, your money goes up. But when the market falls, you don't lose.
Then he hit us with it officially, what he was offering was a Fixed Index Annuity (FIA). It's "fixed" because it's "set", it's an "index" because it's tied to a market index, but only on the up side, and it's an "annuity" because it "never runs out of income."
He also noted that the benefit of a FIA versus the stock market is awesome when the market is down 40% and your loss on the annuity is zero.
Who offers FIAs? "The largest financial companies in the world." Then he noted that "insurance companies don't go away, they get absorbed." This implied that the money was 100% safe. Is it? I'm not sure. Any company can go under in the right circumstances. The financial meltdown in 2008 taught us that.
He told us he works with the premier, biggest and baddest companies and that an insurance company by law can't risk your money — so you are completely protected.
Then he admitted there were a couple "catches". The first was liquidity. You need to lock up most of your money for 5-10 years. The second is returns. You are capped on the upside. In other words, you might earn 4% even if the market is up 10%.
The Product
Now we're getting down to business as he shared the exact products he was pitching.
He gave us three possible types of FIAs as follows:
Option 1: 5 year time frame, 3-6% return, no fees, 10% free withdrawal yearly, 0% bonus
Option 2: 10 year time frame, 3-6% return, no fees, 10% free withdrawal yearly, 7% bonus
Option 3: 10 year time frame, 3-6%+ return, no fees, 10% free withdrawal yearly, 15%-30% bonus
Let me pause a minute and explain what he's offering so it's clear. It wasn't straightforward for me right away as he was throwing information at us so fast and I was focused on writing it down, but it became clear once I had a minute to think of it.
Let's take option 3 as the example because this is obviously the one he suggested as the "best deal":
In this case, you give the insurance company a set amount of dollars for 10 years.
Right away they add a bonus to it (which you can only claim if you leave all the money in for all 10 years.) So if the bonus is 30% (as it is now) and if you invested $100k, you would then have $130k in year 1. (Not sure when you get the $30k…we were short on details here.) You also have 18 months to add to the account and get the 30% bonus on that money too.
During the 10 year term, your money grows at 3-6% per year. (He did not explain when it would earn 3% and when it earns 6% BTW.) If you do not touch it (take any out), that's when I think you can get the 50% bonus return (again, this was a bit unclear). So if you would have earned 4%, you now earn 6%.
You can take out 10% per year if you need to, but since that kills your bonuses, who would do that unless they had to?
Then, at the end of 10 years, you can convert the amount you have into an income producing annuity. Not sure if you can simply take the money — that was unclear as well.
BTW, if you die during the initial 10 years, the FIA goes to your heirs and avoids probate. I assume that once it's converted to an income producing annuity in year 11, if you die all the money goes to the company.
Also, the "no fees" was justified by "the company pays me, you don't." Take that for what it's worth as we all know you pay in some form or fashion. There's no free lunch.
The Close
Now he started to wind down the presentation. Good thing too as everyone was starting to get hungry.
He said that this (option 3) was the "#1 fixed annuity on the planet" and that he had four of them. He bought them because "they do everything I've ever wanted: offer a safe, reasonable rate of return and deliver money neither he nor his wife can outlive."
He also said that if you convert to income after the 10 years and you then qualify as needing LTC insurance, they will double the income.
Then he stated, "This is how I help people."
That was followed up with, "We sell sleep insurance." Ok, I thought it was retirement plan insurance but it's your show.
Now he started dealing with potential objections or stumbling blocks as follows:
Your advisor will hate this because you move money from him. Here he's trying to prepare you for the inevitable objection your planner will have when you tell him you're buying a FIA from Ralph.
Or your advisor will say, "Well I can sell you one." Why hasn't he already? (implying the advisor is crooked in some way and that you owe Ralph for bringing this concept to you.)
You can move money from an IRA or 401k into this (thus removing the "where do I get the money?" obstacle).
Then he got into an obscure "you control your money" but if you want to move/take it out, we will need to discuss it to be sure it's best for you line of thinking. My guess is that he was trying to say "you have control of your money but not that much control and if you do take it out, it's going to cost you." Again, details were scarce.
Then he said, "If you believe, as I do, that this market can drop soon, then it's worth your while to check this out. It's more likely than not that I can help you."
The Charts
For the closing crescendo, the charts came out.
First is this one which details the FIA he's promoting versus the market over 10 years (sorry if these are blurry, I was sitting in the back):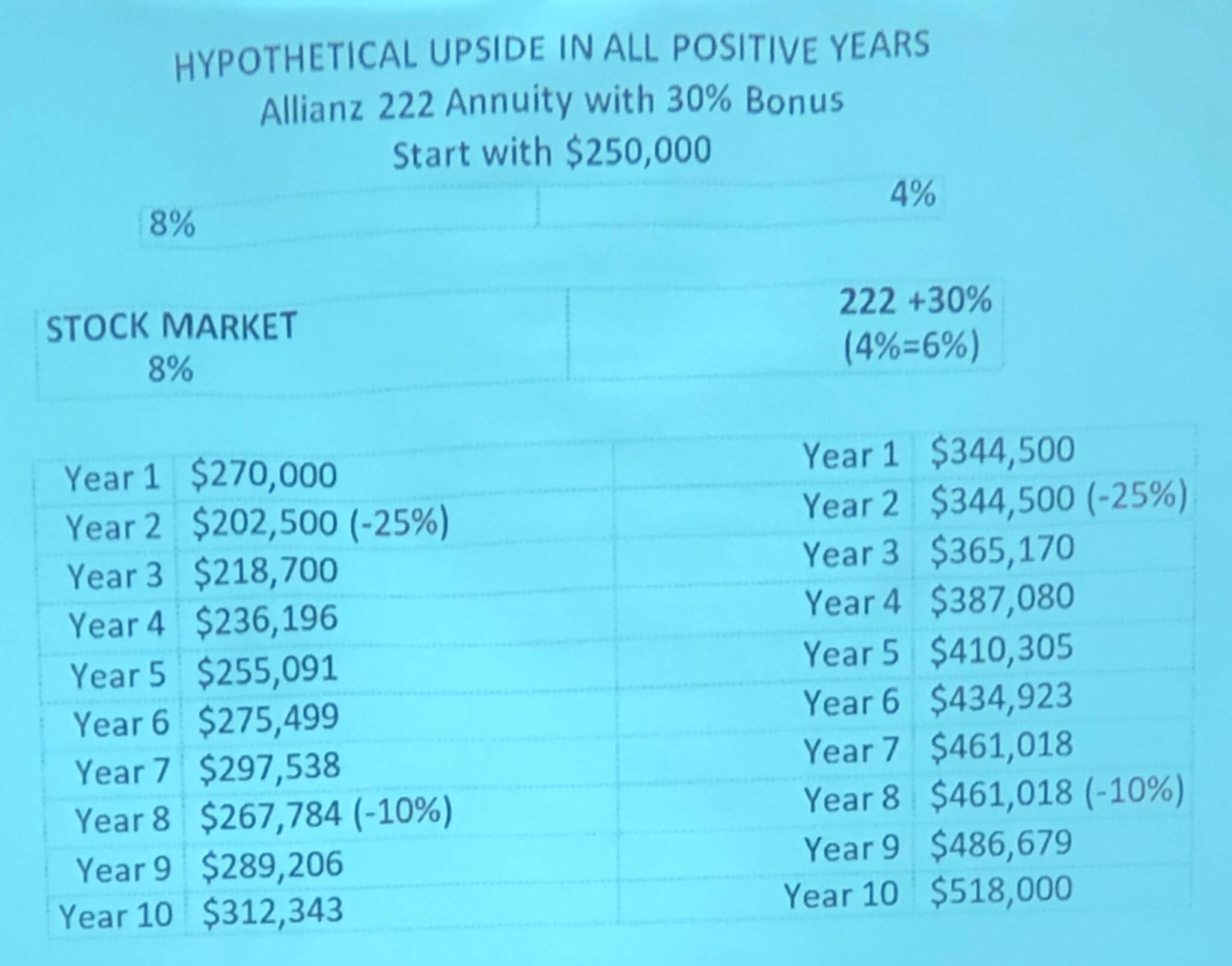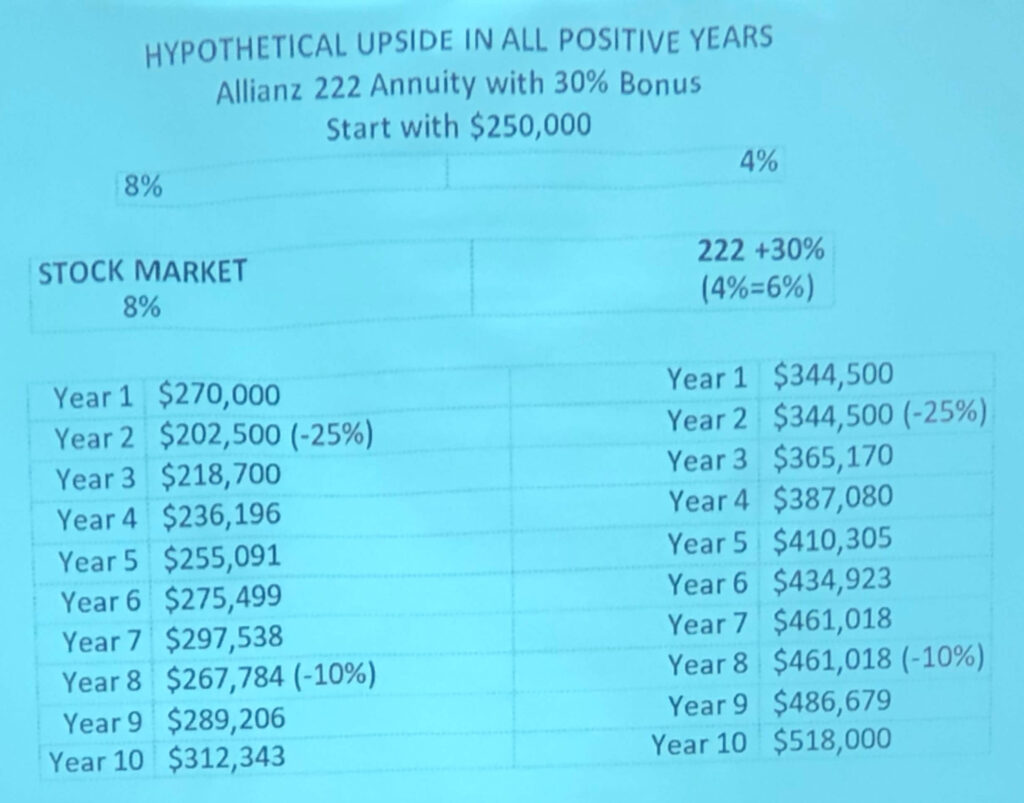 You start with $250k in each. Then basically, the two drops kill the stock market results.
If you have the money in the market you end up with $312k after 10 years. If you use his FIA (with all the best assumptions BTW — 30% bonus plus 50% rate bonus) you end up with $518k. It's a no-brainer, right?
That's if his numbers are right, which, according to one Millionaire Money Mentor, they are not:
His example of the stock market earning 8% represents a CAGR of less than 2% compounded annually. Yes, you're not likely to beat his fixed indexed annuity if the stock market returns under 2% nominal over the next decade.
The chart does seem to imply that the annual return for the market is 8%. But I believe it is 8% in most years, with one 25% drop and one 10% drop, which nets out to around 2% annually. So it's a less than honest chart IMO.
Next is the chart of what you could expect in income if you convert to an income annuity in year 11 ("after 10 years" as noted in the chart's headline):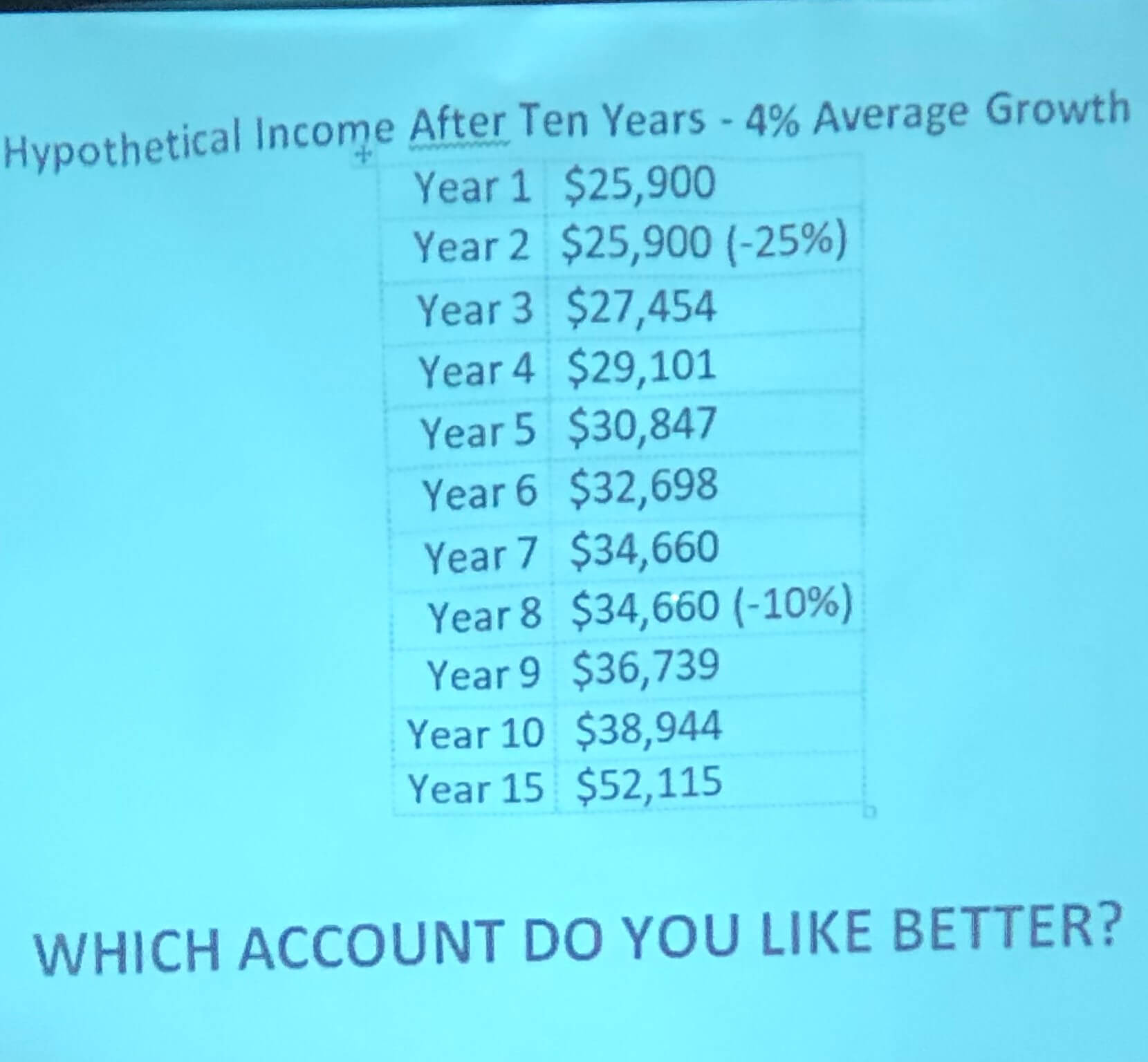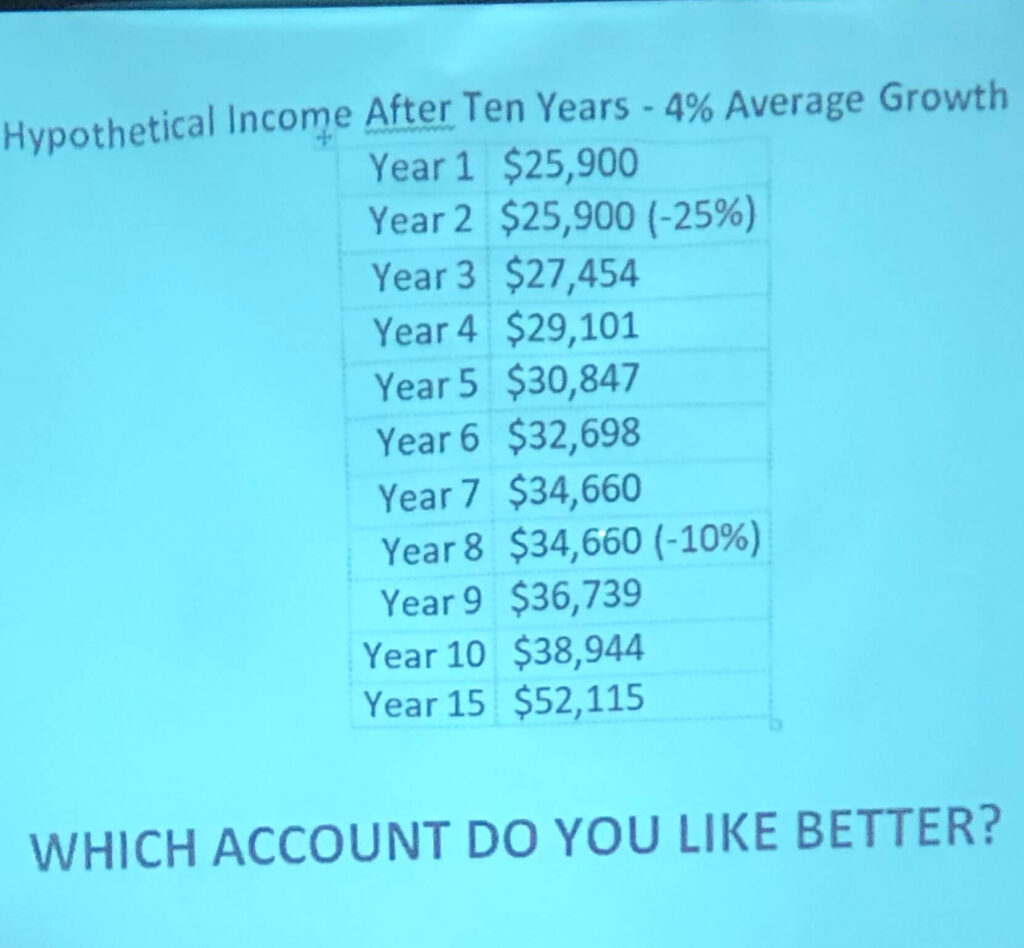 And finally he compares the results from 2000 to today of 1) the stock market (red line), 2) a simple 3% annual return (the blue line), and 3) his FIA (the green line):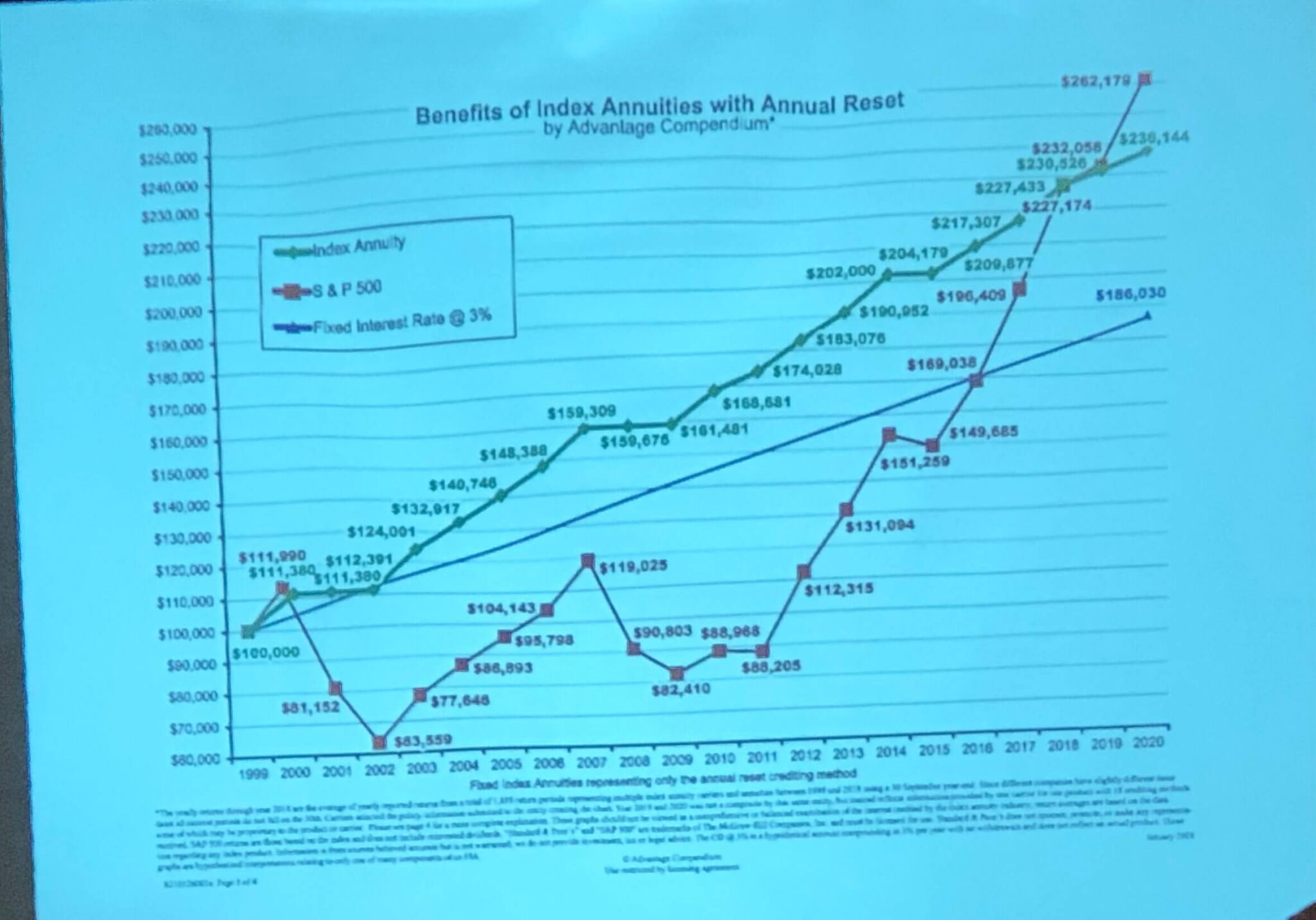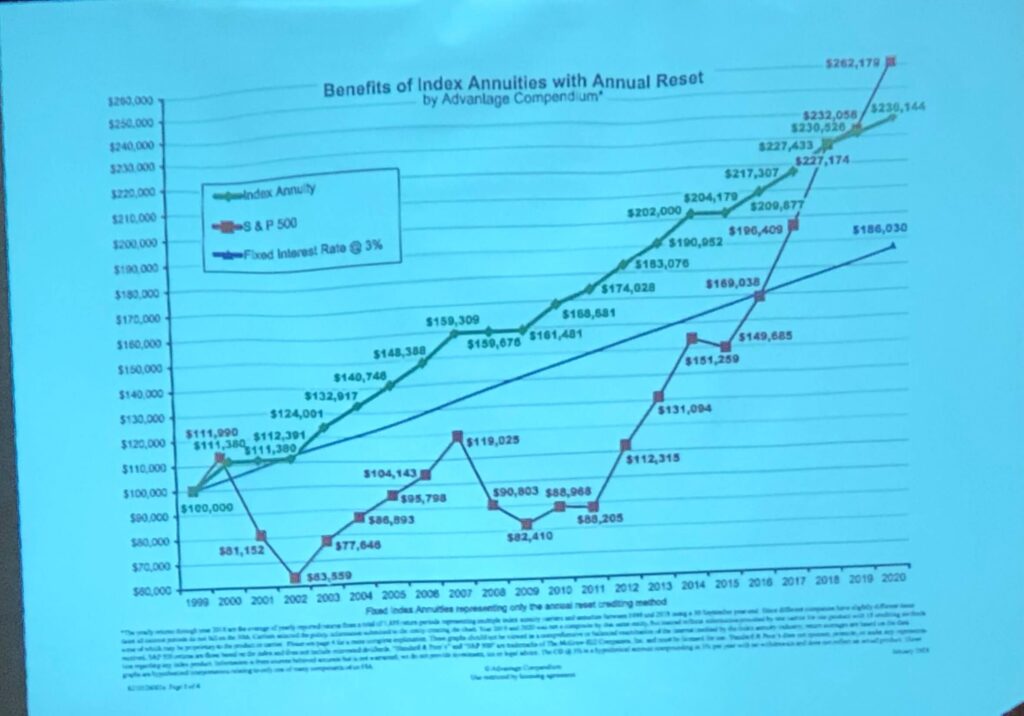 Yes, the market wins in the end, but only after many years and a HUGE run-up the past decade (his points).
Then he said that later in May they were having a webinar on the "tax free green line" and we could sign up for that if we wanted. And no, I'm not signing up. I don't have the heart for it.
He then ended with this:
He said, "If the market drops and you don't take action (on this) you will remember this dinner because you had the chance to take action."
Then said thank you, noted that his assistant would be coming around to collect our forms (and see who wanted another meeting), and told us dinner was coming.
Dinner and Discussion
Dinner did come — salmon, steak, potatoes, and green beans. It was good, but nothing special. It certainly wasn't anything that would make me want to come back here. It's more of a wedding and event facility anyway — so the food was "average" for that sort of thing.
As we ate, we started talking about what he said. The guy next to us (77 year old) asked me what I thought and I said we didn't get all the details and there was probably a 20-page document with them and fine print to go through.
At this point he told me that what the presenter had said was pretty much it as he (the 77 year old) had three of these policies himself. I didn't want to argue with him (one of the interesting things about these seminars is that few people know much about managing money — you can tell from their comments — but many think they do) so I let it pass. But the father/son combination were tracking with me.
I then told the son about his having time to recover from a market correction, told him about index funds, and suggested he read The Simple Path to Wealth. He seemed to eat this up.
We chatted about finances, careers, etc. while we ate and then dessert came (cheesecake). When I finished my cheesecake, my bartender buddy from earlier in the night (who was now a waiter) came over, said "shhhh" to me, and handed me another one. I thanked him profusely and he gave me a huge smile.
As we chatted on I found out that Mr. 77 had four financial advisors ("each doing something different"). Then he mentioned a great investment he made which was earning him 8%. But he also admitted he had a lot in bonds and they "weren't doing that well." Yikes!
We were among the last to leave as we were enjoying chatting with our tablemates but we did eventually leave and head home.
My wife is still trying to determine what she thought of the evening, but getting her take as someone not interested in finances is always worthwhile so it will come eventually.
Miscellaneous Comments
Among the presentation and afterwards Ralph stopped and made some comments that didn't fit with the narrative but I thought were worth sharing:
After he presented us the FIA options, he noted, "This is why I still work at my age — to help people." I had actually wondered about this — if he was so successful and this product was so amazing, why was he still working? Yes, it could be because he really enjoys it and truly wants to help people (though I think there are probably better ways to help people than selling them an insurance product). But the skeptic in me thinks it's because he needs to.
He noted that he has a succession plan so we shouldn't worry if we buy something from him and he passes. And the guy who inherits the plans is in his 40's so we should be ok with that. I wanted to ask if I should trust a 40-year-old youngster with my money, but I didn't go there. LOL.
No one at our table wanted a follow-up meeting. That seemed kind of cold to me but as I thought about it, if Ralph sold one of these policies over the two nights he had meetings (we were the second night) he probably paid for the meals many times over.
As we were eating Ralph interrupted us to caution against having to "do some research" on this product (maybe someone said that to him). "What is there to research? I told you everything you need to know or can answer any other questions you have." Hahahahahaha. Well, when we got home, we did do some research. You can do your own as well if you're interested. Just Google "Fixed Index Annuity" and see what you get.
At one point in the presentation Ralph was talking about how vital it was to have some safe money. Then he said, "Of course if you have $3 million and it drops to $2 million you'll still be ok, right?" And then he scoffed like that was nonsense as no one had $3 million. Hahahahaha!!!!!
And that was it.
I did leave one question off the table (which I could have asked after he was done). I shared this with the Millionaire Money Mentors before I went…
I told my wife I wanted to ask:
Obviously you are very successful and certainly you've taken the knowledge you've shared with us here tonight and applied it to your life. Would you please tell us what your personal net worth is?
Hahahaha.
She said if I asked that, she'd kill me. lol.
So I adjusted and said what about this:
My wife wants to ask this but she's too embarrassed to do so, so I'll ask for her. Obviously you are very successful and certainly you've taken the knowledge you've shared with us here tonight and applied it to your life. Would you please tell us what your personal net worth is?
She was not amused…
My Final Thoughts
Here are some very general thoughts on the evening and the product. These are my thoughts based on my financials and yours will likely differ, so take them however you like:
We are not taking a meeting with Ralph nor will we buy this product.
We aren't taking action because the cons associated with FIAs outweigh the pros (and other options) given our situation. If you want the cons, do a bit of googling. It won't take long to find them.
Overall, I'd rather have my money in my hands than in the hands of an insurance company.
Are there times that a FIA might be the right fit for people? Sure. Almost anything can be the right fit in the right situation. For example, for someone who doesn't want to learn about managing their own money, is willing to give up control in exchange for safety and income (ultimately), etc., this might be a worthwhile product.
Another way you can look at it is that FIAs are likely better than bonds in many situations, so there is that consideration.
Again, your opinions and situation might differ from mine so make the decision that's best for you based on your situation and goals. Just do your research before you commit one way or the other.
That said, does anyone have a FIA? Care to tell us why you bought it, why you like it, the specific details around it, or anything else?
Thoughts from a Millionaire Mentor
After I wrote this article and scheduled it to go live a week or so later, I posted it in the Millionaire Money Mentors forums for discussion. One of the mentors made an especially useful comment that I thought adds another perspective to this conversation. I asked his permission and he allowed me to share the following with you…
I have a real life example to share. Attended a "dinner/seminar" in 2006 with an investment advisor and after the meeting signed up for a complementary "investment review". The agent asked me to provide a list of assets and liabilities, and then met at my home to go over his analysis. The recommendation was to invest in a FIA. The pitch – "Value can go up when the market is up, and can not go down when the market is down". One of the items that highlighted in the "dinner/seminar" presentation.
I was intrigued. I saw it as an experiment just to see how it worked and what the result would be. My "investment" was $100,000 and received a $10,000 bonus in the account. To fund it I had some cash available from a recent bonus and had to sell some index funds. It had a 15-year declining surrender value, starting at 18% and decreasing each year to year 15. I saw this as a long-term investment and was not concerned about the surrender charge and was guaranteed no surrender charge upon my demise if it were to occur before the 15 year period.
Some of the other features, besides the $10,000 bonus, were, any gains were tax deferred until cashed out or annuitized, I could withdraw 10% per year with no surrender charge, and I had a choice of 16 different indexes that the investment would track to. Also, the investment was in a non-qualified account.
Results:
After 16 years I still have the account. It represents about 4% of my net worth and I view it is almost immaterial to my overall investment strategy. The initial investment of $100,000 is now valued at $265,390 or 165.39% increase. I calculated the CAGR (Compound Annual Growth Rate) and it is 6.29% after the 16 years.
Every year I selected the tracking index, P2P Monthly S&P 500. For example, in 2021, I was capped at a monthly increase of 1.70%, but unlimited percent on monthly downside. At the end of 12 months, the pluses are canceled out by the minuses, and if the result is a plus then the value goes up, and if the minuses are greater than the pluses, then no change in value. I track the value each month. So for comparison, over the 16 year period, the account is up 165.39%, the S&P 500 is up 241.75%, and the SP500TR (S&P 500 Total Return – which tracks with reinvested dividends and is a better gauge) is up 372.95%.
My Assessment:
It is a complex investment to understand the mathematics and rules for value, but I was able to get the methodology from my agent and built an excel spreadsheet to track monthly. My tracking for 2021 was $0.85 less than the annuity company's annual statement for me.
The returns are bond like.
I would have been better off to invest the funds in a S&P 500 Index fund, especially when considering that I viewed it as a long-term investment.
11 years had increased value and 5 years no change in value.
Market volatility wrecks the returns based on the mathematics. One or two bad months cancels out many months of gains, because upsides are capped, but downside months are not.
Any annual gains are tax free, until withdrawn or annuitized.
A downside is that the gains will be taxed at marginal income tax rates rather than 15% capital gains if in an index fund. A partial withdrawal for me would be taxed at 26% (federal + state).
I do not plan to annuitize it.
My agent says that in my estate that this investment would not be eligible for a "stepped up" basis when passed through my trust to heirs. That was new information to me.
If I would have invested in a S&P500 index fund and reinvested the dividends, the $100,000 would be worth $472,948 instead of my $265,390.