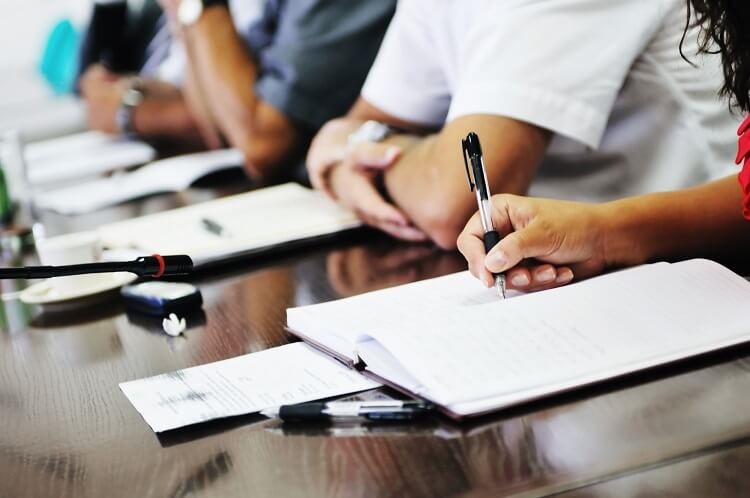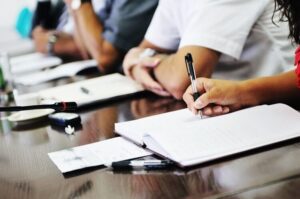 Today we're concluding the details of our recent retirement workshop.
If you missed the first two parts, I suggest you read them so you're up to speed. See part 1 and part 2 to catch up.
So far we've made it through day 1 and section 5. Today let's get rolling with day 2 and section 6…
Getting to the Second Class
We arrived early for the second class, found our seats, and chatted with a few other early birds.
All were older than us (early 60s) and lamented that 1) they didn't know much about retirement planning and 2) hadn't done much to prepare for retirement. Yikes!
I went through the regular round of familiar questions:
Them: What do you do for a living?
Me: I'm retired.
Them: How long have you been retired?
Me: Almost four years.
Them: You seem young to be retired.
Me: I'm older than I look.
Them: What did you do for a living?
Me: I worked in business and did marketing.
Them: Wow, that's great.
My wife: We spent less than we earned.
Haha! Leave it to my wife to boil it all down for everyone.
At 6:30 pm the instructor (John) kicked off the class.
Of course it began with another pitch for the free Strategy Session. He encouraged us to set up a time to meet and discuss our personal financial questions and situations.
While we had waited for the class to begin, I looked ahead in our workbook and knew I wasn't going to like this section much…
Section 6 — Protecting Against Market Loss
Before I get into what he presented, let me set the scene:
The market had just dropped off a cliff due the combination of the coronavirus and an oil war between Russia and Saudi Arabia, so the audience was panicked.
As noted, most were quickly approaching retirement age, had no idea what to do, had no savings so they were way behind, and the world was collapsing around them.
In other words, he couldn't have picked a better night to cover this section.
John started with what he called the old paradigm of stock market investing:
The stock market will always vindicate itself.
"Buy and hold" is an appropriate long-term investment strategy during retirement.
Diversifying your portfolio through proper asset allocation will protect your retirement against dramatic swings in the stock market.
Ok, so I was already primed for a fight after reading ahead and these three points didn't help.
My take on them are as follows:
I don't think the stock market vindicating itself is an old paradigm. I think it's a current one as long as you have a long-term time horizon. If you invest and need the money back in 30 days, then all bets are off.
I think a portion of assets should certainly be buy and hold during retirement. You have to have some growth after all. Inflation can be a deadly enemy. I was surprised we talked relatively little about it over the two classes.
Notice how point three is worded — it's meant to be negative, especially "dramatic swings". Yes, the market goes up and it goes down. That's a fact of life. It's always been that way. But it goes up more on average than it goes down. Sheesh.
Wondering what the new paradigm is? Here's his take:
The market is more unpredictable and volatile than ever.
Buy and hold strategies may be incompatible with volatile markets.
Asset allocation is no longer enough to protect against all the risks your portfolio may face.
A down market at the wrong time may force you to postpone retirement indefinitely.
Not sure these are "new" but let's go with it for now and explore what he wants to say in this section.
Next he noted that "in 2008 many investors lost between 30% and 50%." Then he asked, "How did this happen when most investors had diversified portfolios?"
His answer: "True diversification only takes place when investors protect themselves against all of the investment risks that lead to market loss."
This (naturally) leads to the question: What are "all of the investment risks that lead to market loss?"
Well, it turns out there are two (according to our instructor):
Unsystematic risk: The investment risk associated with investing in a single company.
Systematic risk: The risk inherent to the entire market or the entire economic system (like when the coronavirus breaks out, we have a recession, 9/11, credit crises, etc.)
According to the teacher, unsystematic risk is combatted through asset allocation and owning a variety of stocks.
But "no amount of diversification or asset allocation can protect you against systematic risk".
At this point I had to speak up. I pointed out that he was using an example that focused on only owning stocks (in other words, not truly a diversified portfolio) — and that there were other asset classes like real estate that could help against systematic risk.
He acknowledged this was true, then moved on without another word. This line of thinking did not fit his narrative, so we glossed over it.
BTW, I think this was the only time real estate was mentioned in a six-hour class on retirement. I found that very "interesting".
Now that he had us backed into a corner, knowing there was no escape from systematic risk (which we were all living through at the moment), he offered the solution: the Principal Protection Program (PPP).
Here's how the workbook described the PPP:
One way to mitigate systematic risk is to consider incorporating a Principal Protection Program such as a Fixed Indexed Annuity.
BTW, there are a gazillion fine print words at the bottom of this page in the workbook, footnoted to the statement above. And well there should be…but let's move on. The workbook continues:
A Fixed Indexed Annuity can be defined as follows: An annuity that allows you to off-load systematic risk to a large financial institution. Such programs link the growth of your portfolio to the upward movement of a stock market index without exposure to market loss.
Before he launched into details of the PPP, he said that we insure many aspects of our lives, so why don't we insure our portfolios?
The unspoken answer was that we should! And it just so happens that this is what the PPP does!
He then noted that it's much more likely we'll need portfolio insurance than other types of insurance. The workbook included a chart with the following chances that a family would have any of the following incidents in a year:
Loss of life: 0.9%
Loss of car: 1.2%
Loss of house: 1.3%
Disability: 12.6%
Loss of investments: 21.4%
So if we insure the other items, which were far less likely to happen, why wouldn't we insure our money?
But wait, there's more!
Next we moved to a chart showing if you lose X% in the market you need to gain X+% (more than the percent you lost) to break even. Oh the horror!
This chart was meant to show how terrible losing money is (as well as how hard it is to regain lost money).
Then he moved into the three ways to diversify your money:
Emergency fund — Six months worth of income.
Asset allocation — Used to mitigate risk in the portion of your portfolio you are willing to let rise and fall with the market.
Principal Protection Program — Contribute the portion of your assets you're not comfortable losing in the market.
The workbook listed the rule of thumb for how much to put in asset allocation versus PPP as "take your age, subtract 100 and contribute to asset allocation."
I kid you not. Those are the exact words printed in the book.
I think they mean "subtract your age from 100 and that's the percentage you should put into the asset allocation bucket."
This matches the example they gave of a 60-year-old that should have 40% of his non-emergency fund assets in the asset allocation bucket.
Which, of course, means he should have 60% of his assets in the PPP.
BTW, a simpler way of saying this is that your age is the percent you should invest in the PPP. The rest then goes to asset allocation.
We spent the next 30 minutes diving into the type of annuity he recommended for the PPP. The key elements of it were:
You invest money into the annuity for a given time period like 10 years.
If the market goes up, the company takes the first 3% of gains and you get the rest. So if the market is up 10%, your investment goes up 7%.
If the market goes down in any given year, your investment stays flat (no downside loss).
I asked if there were ANY other costs or fees other than the 3% and he said there was not, but I'm sure there are lots of "details" we didn't get to.
There were many questions and lots of discussion about this, but the meat of what it's about is above.
Anyway, we then moved on…
Section 7 — Retirement Distribution Pitfalls
We started this section listing the main three distribution pitfalls:
Withdrawing money too quickly.
Liquidating assets in the wrong order.
Getting the wrong sequence of returns on your investments during the distribution phase.
Here's what the book and instructor had to say about each of these:
Basically we talked about a variety of reasons why 4% might be too much to withdraw (life expectancy, rates of return, etc.) He didn't say it outright but the tone was that 4% was generally too much and a lower amount was better.
Liquidating assets in the correct order can make a huge difference. It's a complicated calculation but planners have software (that costs "about $1,000") that can run thousands of scenarios to get your optimal answer. The book says, "The difference in orders of liquidation can sometimes stretch into the millions of dollars." They then presented an example of a couple comparing "random" withdrawal to a "strategic" withdrawal. The difference was that the strategic option money lasted seven years longer and resulted in over $1 million additional spending after taxes. FYI, I'm not sure "random" really was random — it might be "worst case" to help prove their point.
The sequence of returns part compared two different couples with the same return rates overall and who both started with $500k in assets. One had good returns at the beginning of retirement and the other had poor ones. The poor return couple ran out of money in 13 years. The other couple had almost $1 million at age 95. So how do you protect yourself against sequence of returns risk? Why the PPP of course!
By this time I was ready to throw in the towel mentally, but we were moving on…
Section 8 — Long-Term Care Planning
John began with the old paradigm for long-term care (LTC):
Medicare will pay for long-term care expenses.
Assets can be gifted away in order to qualify for Medicaid faster.
Children can take care of aging parents.
"I won't end up in long-term care."
There are only three ways to mitigate LTC risks: self-insure, rely on family members, or buy expensive LTC insurance.
But there's a new paradigm! It contains the following:
The national average cost of LTC is $7,441 to $8,365 per month.
70% of retirees will need LTC at some point in retirement.
Medicare does not pay for LTC.
Medicaid only steps in when you're broke!
The Medicaid look-back period is now 60 months (5 years). Any assets you've given to someone else in the past five years can be claimed for Medicaid payment.
LTC can destroy a lifetime of savings before it reaches the next generation.
Children are often incapable or resentful of taking on LTC duties.
Expensive LTC insurance is no longer the only way to safeguard against a LTC event.
I was in the midst of researching LTC for a series on ESI Money, so I saw one glaring error in the above. Everything I had seen said the chances of needing LTC were 50/50. In other words, 50% of people would need LTC eventually, not 70%.
I asked the teacher if the URL at the bottom of the page (this web page) was the source for the 70% and he said it was. But when I visited the page the next day, it didn't say anything about the percent of people who need LTC.
We next spent a few minutes on the Medicaid spend-down rules, how you can't have more than $2,000 worth of "countable assets", and that your spouse is left with a pittance as well.
So what are the options to pay for LTC? The choices net out to these:
Plan to pay the costs yourself.
Ask your family members to take care of you.
Purchase a traditional LTC insurance policy.
Purchase a life insurance policy with LTC features.
Take a wild guess at which one he recommended…
We spent the next 15 minutes or so covering how:
Only the very wealthy can self-insure.
Your family probably won't want to or be able to care for you (I told my wife they probably would for $100k per year — the cost of LTC above — Haha!)
LTC insurance policies are terrible. Either you pay for it and don't use it or you do need it and the insurance company will fight you tooth and nail before they give you anything.
That's why buying a life insurance policy with LTC features is the best option.
I asked him what he thought the amount was before you became self-insured.
He said it depended on how much you spent. This was kind of a fair answer, but also I think he was trying to dodge the question.
Yes, if you live in a swanky LTC facility you're going to need more. But he just told us the average cost is $100k per year, so certainly he could estimate what you'd need in assets to cover that.
He did say, "If you need $20k per month to live on like one of my clients, you'd need $3 million."
He said it as if $3 million might as well have been $3 billion — it was just not a realistic number for people to acquire — it was too high. LOL!
By this time it was 8:15 pm or so and the workshop was over. He gave us a ten minute break and then said we'd come back for the final exam.
Ugh…
The Final Exam
During the break I tried everything I could to get my wife to leave.
Why did I want to stay and take a test based on what he had shared? What would the benefit be?
And I asked her, "What answers does he want anyway? The ones he gave us or the right ones?" Hahahaha.
But she noted that she's a "finisher" and thus we were there to the bitter end.
The final exam turned out to be both better and worse than I imagined.
It was better because it was a group conversation with slides at the front.
It was worse because the "exam" was simply a rehash of what he'd taught us, much of it meaningless to financial planning today. Why did we need to cover the year Social Security was created, what the highest marginal tax rate was in 1945, and who said this or that in 1980 about the federal deficit? What did these things do to help anyone plan for retirement today?
I'll tell you why we covered them though — because they fit his sales pitch.
He also hand-selected numbers, time frames, comments, etc. that supported the story he wanted to tell.
Later in the car I told my wife that we used to say "figures lie and liars figure" at work because you could make numbers say almost anything if you had enough skill. I told her, "I built my career on making numbers say whatever I wanted them to say." LOL!
Ok, it wasn't that bad, but it was close at times.
Anyway, we had to endure an hour commercial for basically why we were all doomed without some sort of professional help (never said this outright but it was very much implied). It was brutal.
There were three points he made during the exam that are worth calling out from the rest.
The first was his example of how a couple could get to zero taxes in retirement and a corresponding comparison between their results and what would have happened if they had paid taxes. Spoiler alert: their finances were much better off assuming zero taxes.
The second was an entirely new concept. I found this interesting in that we were learning about something new during the final exam. Isn't a final exam to test knowledge of something you've already learned?
Anyway, he introduced the concept of a Life Insurance Retirement Plan (LIRP) which he explained as permanent insurance with a LTC benefit. It's designed to give you "as much savings as possible with as little death benefit as possible to mimic a Roth IRA." John said it is a good option for those who can't use a Roth.
As I look back, this is likely what the financial advisors we met with were proposing since they used almost the exact same words: "insurance designed to maximize savings with as little death benefit as possible."
If you want a bit more on LIRPs, here's a summary:
If you own a whole life insurance policy — or any other type of cash value life insurance — you can use your life insurance policy's cash value to supplement your retirement income. This is known as a life insurance retirement plan (LIRP).
Some insurance agents tout this option as a major advantage of cash value life insurance. But while cash value policies sometimes offer flexibility in retirement planning, cash value life insurance also comes with risks that all life insurance shoppers — particularly those approaching retirement — should know about.
In some circumstances, a life insurance retirement plan can offer additional flexibility. Like a 401(k) or IRA, the cash value of an insurance policy is tax-deferred, but a cash value policy also has the following advantages: 1) There is no limit to how much money you can pay into a cash value policy, while 401(k)s and IRAs both have annual contribution limits. 2) Whole life insurance and certain other types of cash value life insurance often guarantee a floor for returns. That means that you won't lose money during a market downturn. 3) There are no age restrictions on accessing the cash value of a life insurance policy, whereas you'll pay a penalty for withdrawing money from a 401(k) or IRA before age 59½.
There are several reasons why relying on cash value life insurance for retirement isn't recommended for most people: 1) Cash value policies can be prohibitively expensive. 2) Accessing the cash value is complicated. 3) You're likely to get better returns on other investments.
The third was a statement that summarized much of the course (and was what the planners we met with also said at their event): "Taxes are now on sale. They will go up later."
This meant that we need to do something to pay taxes now (while on sale) and avoid them later (when they are pricey).
Of course he ended with one last pitch for the Strategy Session, this time mentioning that if we signed up we would also get a free book.
He also added that when anyone came in for a Strategy Session he would run an analysis showing the impact on retirement savings using three scenarios:
Taxes stay the same as they are today
Taxes increase dramatically
Taxes are at 0% (based on making the right moves)
Hmmmm. I wonder which one will look the best?
Our Discussion
Anyway, that was the end of the class and I beat it out of the room quickly. As we drove home we chatted about the workshop.
My wife thought he generally made some great points though she admitted she didn't understand everything and how it all fit together.
I was a bit more jaded (I know, a shocker) and told her I thought he had presented us facts and details designed to lead us down a path — which was that we needed his help to make the most of our retirements.
Therefore the entire thing was a sales presentation for his services, something he said it was not several times during the workshop.
As I said previously, I'm fine with him "selling" us. After all, we went into this knowing that he had to get something out of it.
But don't tell me it's not a sales presentation and there's a non-profit behind it who just wants to educate people on finances. That insults my intelligence.
My Thoughts
So, what do I think about the two-day, six-hour workshop? Some takeaways:
I'm glad we did it as I'm always looking for new perspectives. I want to know what's "out there" these days and the only way to know for sure is to get out and try it. Plus doing so gives me some experiences to share here.
I didn't learn much that was new or useful. Maybe I missed it and you can tell me what it was.
It did make me think about taxes (and having a Roth) and portfolio protection. Does anyone have anything like the PPP? If so, how's it working for you?
The estate planning section was the most valuable and one we'll probably take action on.
For all the grief I give financial planners, it's likely that people who don't know anything about money will be better off if they use a planner. Of course they have to find a good, honest one and then actually do what she says (both of which can be hard to do), but if they do my hunch is they'll be better off than if they try to figure it out on their own. Talking to the people before the class showed me that there are so many out there who know almost nothing about money and are doomed if they don't get help (and for some reason they won't read/educate themselves.)
Anyway, that's the saga of our retirement workshop.
Has anyone been to anything like this? If so, what did you think of it?