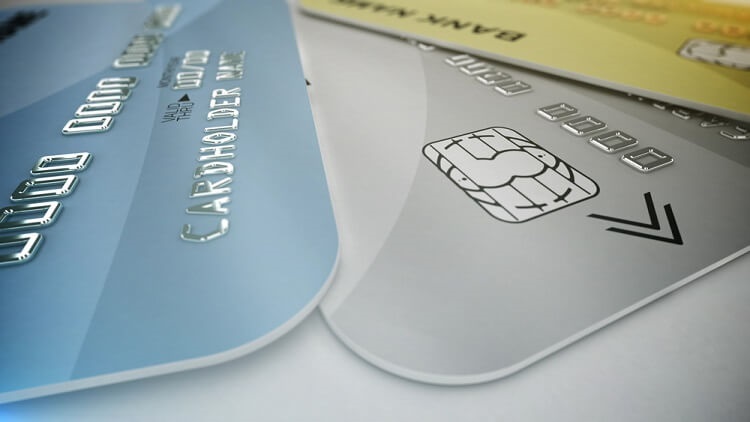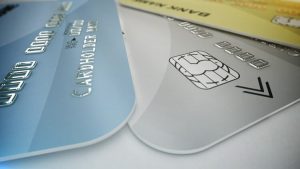 Yes, it seems pretty late to be posting results from 2018, but what can I say — time has just flown by.
Between all the other posts I've wanted to write, launching a new interview series, and managing Rockstar Finance, not to mention completing our taxes and working to update our estate plans, things have been busy!
Like many early retirees say, "Where did I find the time to do all this while I was working?"
But it's better later than never, so let's get into what we earned last year with credit card rewards.
Easy Extra Income
As you may know, I've given a short summary of credit card rewards each year for some time now.
I do this because using your cards correctly can add up to a nice bit of extra change.
As reported with last year's update, we have earned $17,525 earned since 2006 (not counting what we've earned in 2018).
No, not a fortune, but it's not chump change either.
And why not make some extra money by doing something you'd already do (buy stuff)?
A Few Warnings
I can't write a post about credit card rewards without giving a few warnings.
The most important:
Using credit cards is an advanced financial technique IMO. It's not advanced because it's difficult, but because it requires discipline, control, and organization. If you have these traits, you may be a candidate for maximizing credit card rewards.
You should never carry a balance on a card. If you do, don't use them. At all.
You should never buy something just for the points. There are times when you need a purchase for a larger (and better financial) reason, but buying simply to rack up rewards is a no-no.
If having credit cards makes you buy things you wouldn't otherwise buy, don't use them. There's research that suggest cards do this to many (not all, of course) people, so this warning is real.
With those said, let's move on.
Cash Versus Points
Now and then I get asked why I use cash back cards instead of points/rewards cards.
My reasons are mainly:
With cash, you can spend the rewards on anything (like food, clothing, shelter, etc.) It's cash after all. But with points, you are limited by what the points can be redeemed on.
The value is about the same. Some will tout that points are worth more, but they usually add in bonus amounts to make that claim.
There's no problem redeeming cash. It takes time and effort to get the most out of any points accumulated.
Even if points were a bit better (which I'm not sure they are), they have a high hassle factor. I've tried them and the process of using/managing them is much more involved than dealing with cash back cards. I prefer earning the easy way.
That said, I don't object to someone using points-based cards. I'll even recommend some from time to time (mostly because they have great bonus offers). But for those who don't want to churn, cash is the way to go IMO.
If you disagree, here's a listing of the top travel rewards cards for your review.
The Cards I Use
Now let's get into what we do as a family.
Here are the cards I used in 2018 and their key cash back rewards:
Fidelity Visa — 2% cash back on all purchases
Costco Visa — 4% cash back on gas, 3% cash back on restaurant and travel, 2% back from Costco and Costco.com
Amazon Store Credit Card — 5% cash back on Amazon purchases
Chase Ink — 5% cash back on cable and cell phone charges
Chase Freedom — 5% cash back on rotating quarterly categories
I have had all these cards for at least a few years and have been an especially long-term user of the Fidelity and Freedom cards.
2018 Rewards
Here's what each card earned in 2018:
Fidelity Visa — $1,381.89
Costco Visa — $444.17
Chase Ink — $256.51
Amazon Store Credit Card — $77.46
Chase Freedom — $80.75
Other — $15.94
That's a total of $2,256.72!
This brings our total since 2006 to $19,782!
FYI, the "other" earnings were from two cards I canceled that straggled in.
Not bad, huh?
How We Got There
Like last year, you're probably thinking, "Wow, they must have had a ton of charges in 2018!"
Yes, that's true.
But it's also true that in most cases (not all, more on that later) our minimum cash back was 2%. In many cases we earned significantly more.
We were actually down in earnings versus 2017, mostly because we had two large bonuses in 2017 that helped out quite a bit.
Here are the specific ways each card was able to earn what it did:
Fidelity Visa


This is our go-to card for "all other" spending — any purchases that do not get higher rewards with another card. The biggest "earner" with this card was my daughter's college tuition. They allow you to pay by credit card with no added fees, so why not get 2% cash back while I'm sending them thousands?
I also used this card for some business expenses, which can add up.
Of all the transactions we complete in a year, we probably use this card for 75% of them. It's 2% back right away (none of this 1% now and 1% when you pay stuff) and it's easy money in our pockets.
You do have to set up a Fidelity account for the cash to go into, but that takes only a few minutes. It's very easy to redeem the cash and have it sent to our checking account.
Of any card I've had in the past 20 years, this is by far my favorite. Simple and easy to use, plus pays out a great cash percentage.
BTW, in case you are wondering from the pic above, you get 2 "points" for every dollar spent which can then be converted to cash to equal 2% cash back.
If you want to get your own version of this card, they are currently offering a $100 bonus on it, so now's a great time to pounce.
That said, the Chase Freedom Unlimited card just launched and has 3% cash back (no bonus) on all purchases in the first year up to $20,000 spent.
I'm planning on getting one and making it our go-to card for the next year. You can see details on it here.
Costco Visa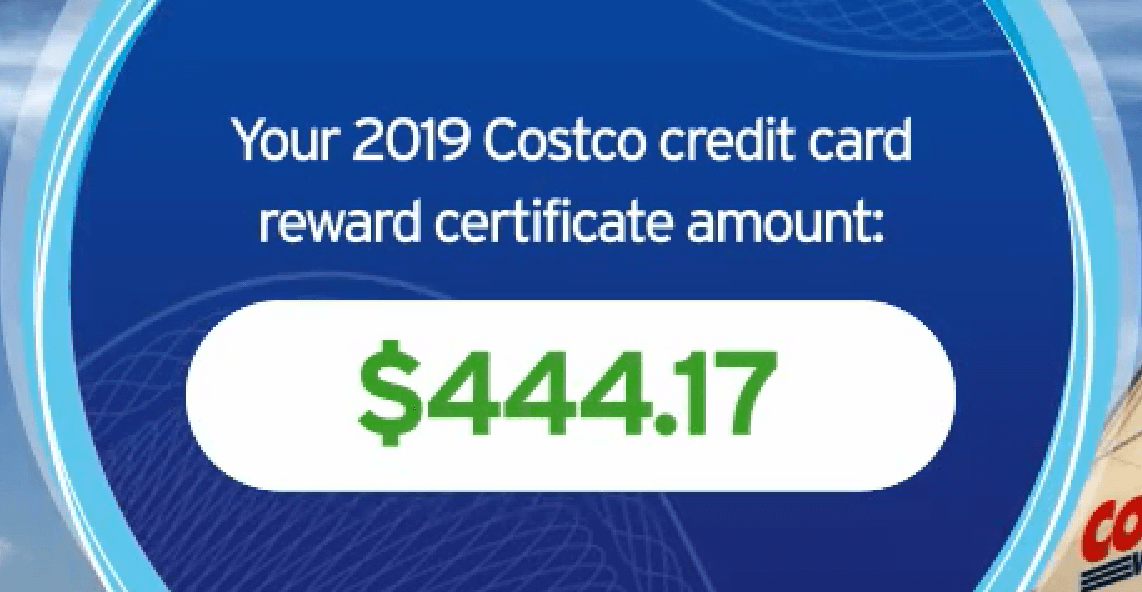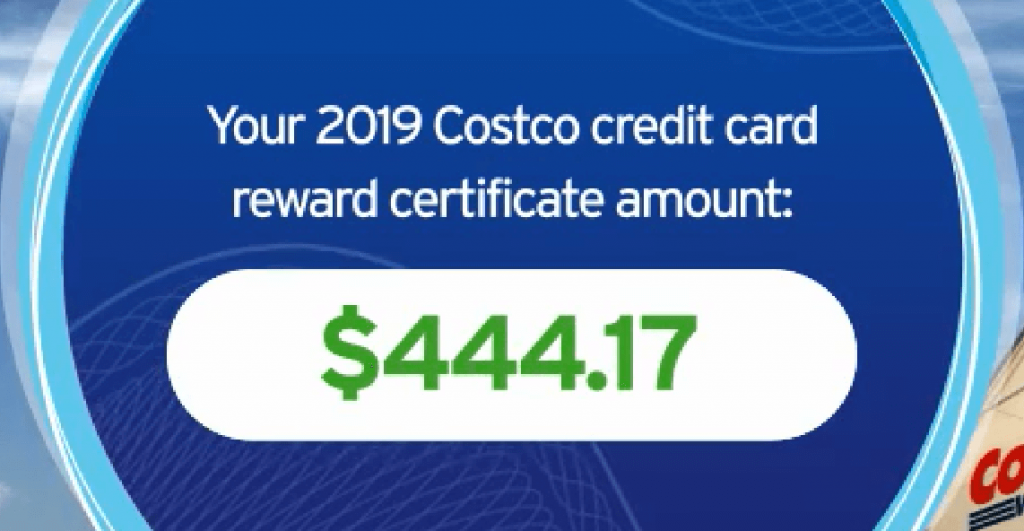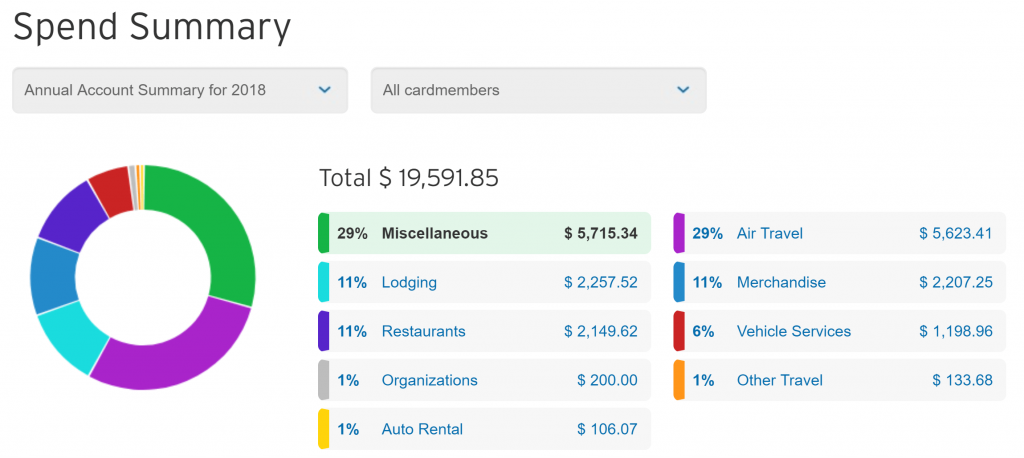 We haven't had this card that long, but it's suddenly become our #2 earner.
Unless the Chase Freedom card has a better deal, was use this card for gas, travel, and eating out. It's a great option for these categories and using it earned us a good amount (especially on all the travel we did last year).
That said, let me explain the photos above a bit.
If you do the math, you'll see that we averaged 2.3% cash back on this card. But how could this be if we only used it for purchases that were 4% or 3% cash back?
The short answer is that we used it (inadvertently) on some purchases that earned 1%.
In particular, we rented our place in Grand Cayman on Homeaway. I thought this would qualify as "travel" and earn us 3% cash back. I was wrong. It obviously counts in some other category so for that purchase we got 1% cash back.
This is why it's always good to do a test charge (make a small purchase, let it run through the system, and see what rewards you get) to verify the category if you can. We couldn't in this case, but now that we know, we'll use a different card in the future.
That said, the Costco card is awesome for gas and travel (hotels, airfare, etc.) and obviously we use it a lot. Plus there are no international transaction fees, so that's nice.
Chase Ink
I don't have any summary photos for the Chase cards. Maybe because I bank with Chase and just sweep rewards into my checking account — so they assume I know how much I got! Ha!
We use this card to pay Verizon and Comcast. That's what's so great about 5% cash back — it can really add up fast. And it helps to make those painful cable and phone bills not as painful.
If you want to get your own Chase Ink card, you can here.
FYI, it's a business card, so you need a business to qualify.
Amazon Store Credit Card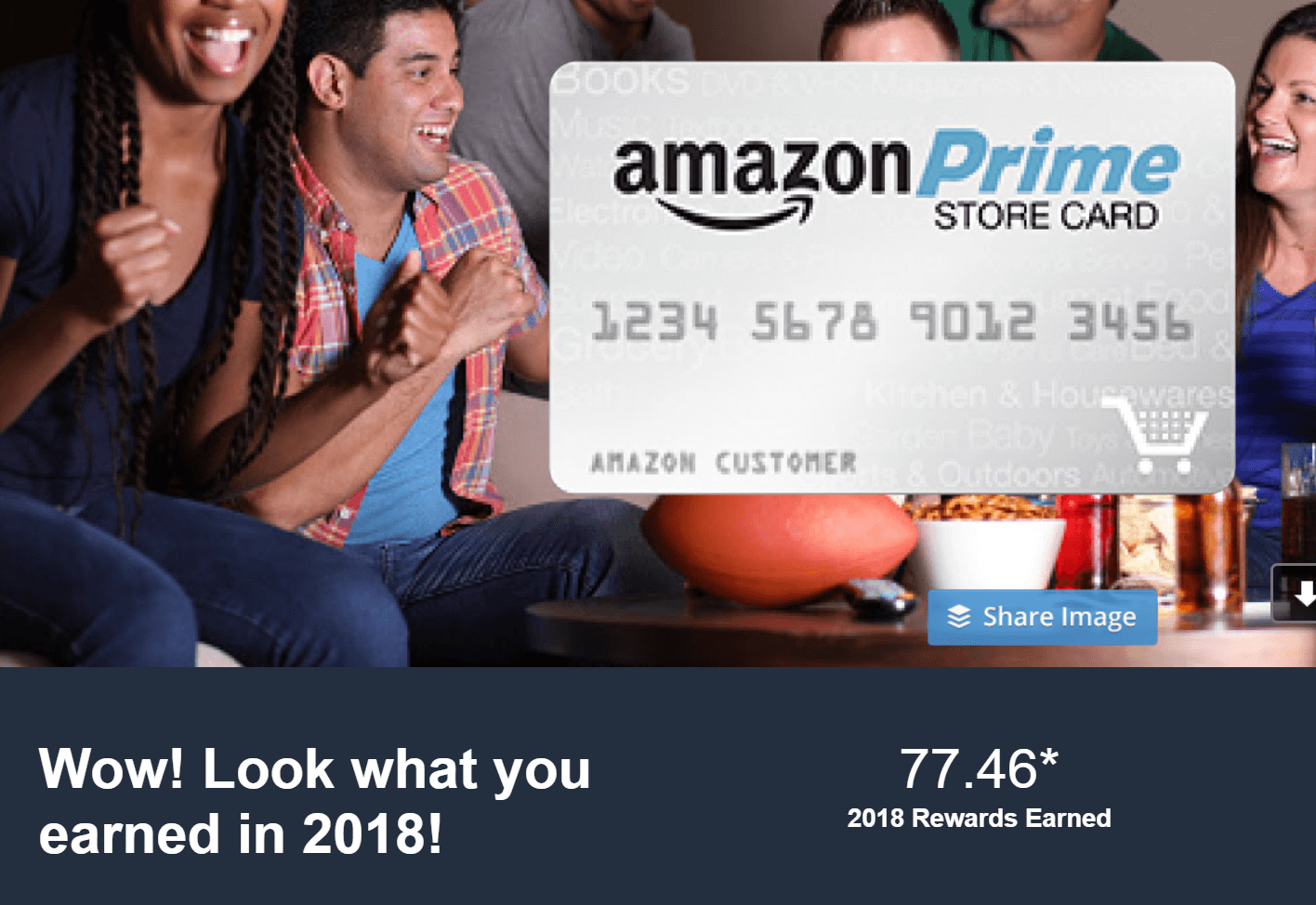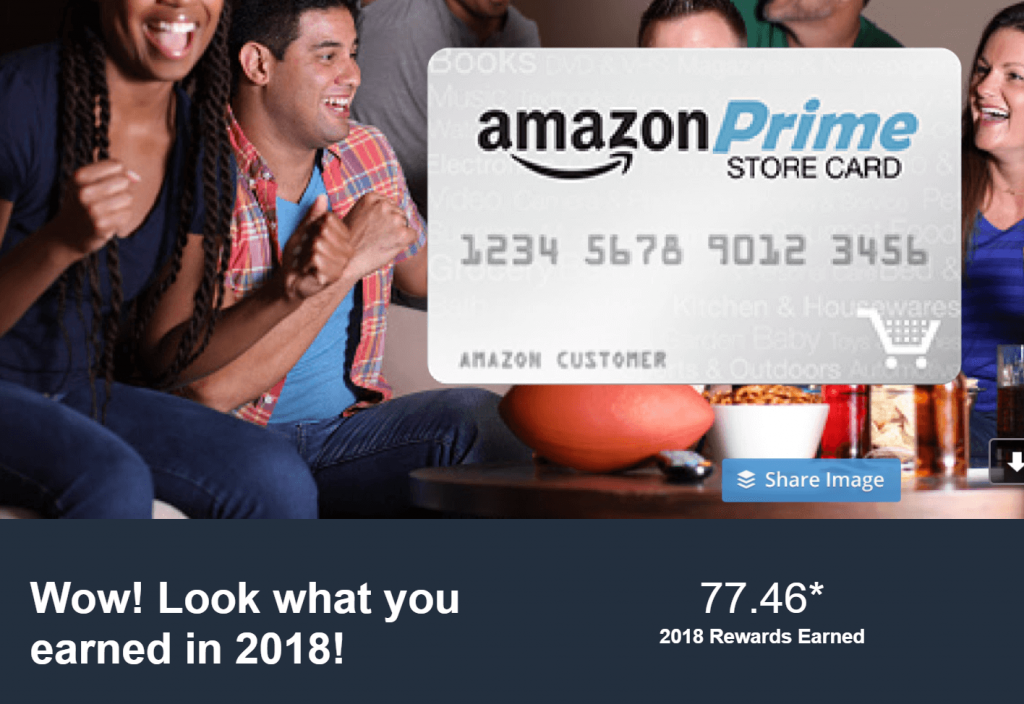 I actually did a pretty good job of controlling my Amazon spending this year.
That said, the savings is 5%, so even with fewer purchases, the cash adds up.
Chase Freedom
This is the oldest card I own. It's probably worth 30 points alone on my credit score (which was 830 last I checked)! Ha!
We use it now and then, especially when groceries have 5% cash back.
Here's what we do with it then:
During the quarter it's 5% cash back on groceries, we buy gift cards at our local store.
We buy when the store promotes 4x gas points on gift card purchases (which is often).
We only buy cards we will use ourselves or give as gifts.
Here's what the financials look like on that:
$1,500 spent on gift cards (the most you can get 5% cash back on), which earns us $75.
This generates 6,000 gas points, which saves us $1 a gallon (the max) on six fill ups. At 15 gallons each at least, that's $90+ saved on gas.
When we spend the gift cards, we usually do it at a place that we go to often which we 1) have a coupon for, 2) are part of a loyalty program, or 3) both.
Stacking discounts FTW!
I'm starting to tire of it a bit as:
They rotate categories each quarter which makes it hard to remember what it's good for (especially for my wife who isn't into cash back credit cards as much as I am)
You have to register each quarter to get the 5% (which is a hassle)
The card is limited to $75 a quarter — at that point the 5% tops out.
That said, I still see this card being named among the best cash back cards out there by this group and that group. And it is hard to argue with 5% cash back.
If you want to get your own Chase Freedom card, you can do so here.
Best Cards for You
Those are the best cards for us and may be great cards for you as well.
But your spending might be totally different than ours, so perhaps there are better options for you as well.
If you're interested in searching to find the best cash back credit cards for you, check out this page.
So that's how we did with credit card rewards in 2018. How did you do?