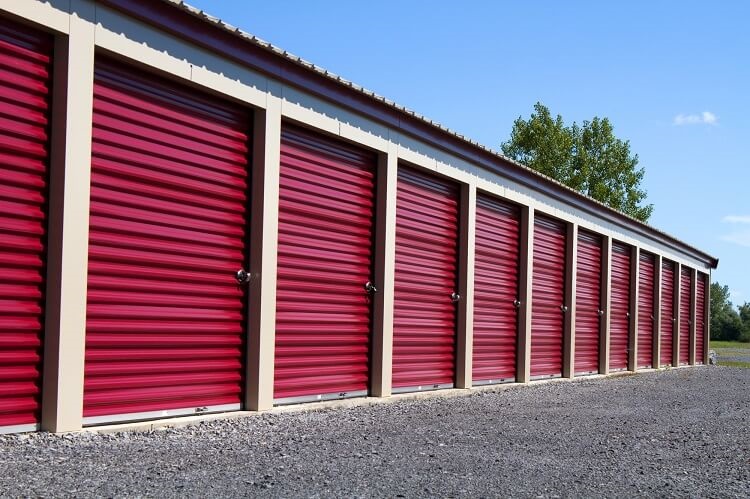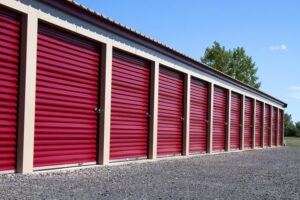 I've shared on various posts that I have a ton of cash laying around at the present moment.
I have found a use for some of it in private real estate lending, but there's still plenty left over.
I'd love to buy some more rental apartments, but both markets I'm interested in (my current home of Colorado Springs and where my current units are in Grand Rapids, MI) are way over-priced. I have even thought about selling my places now, then sitting on the cash until there's a dip.
But who knows when the dip will be and if it will be enough to make it worth it? Plus the apartments are churning off cash like crazy — one reason I have an excess now.
I've also thought about doing a 1031 exchange, but I'd need to find a great deal elsewhere before I could do that, and finding a great deal is my biggest issue.
So I've thought about buying a business instead. I've done some networking and have yet to identify anything I like up to this point. I did have a potential partner in a vending machine business, but in the end he didn't want a partner.
I thought about car washes (imagine all that cash!) until a reader emailed me telling of the horrors of owning a car wash. Haha! So I think I'll pass on that one.
One business I've watched from the sidelines and always been interested in is storage units. After all, Americans are still piling up their stuff in droves and they need places to put it.
Even on my daily walks I can't avoid this issue. Here's a sign that I pass every day — located on some prime Colorado Springs land not far from my house: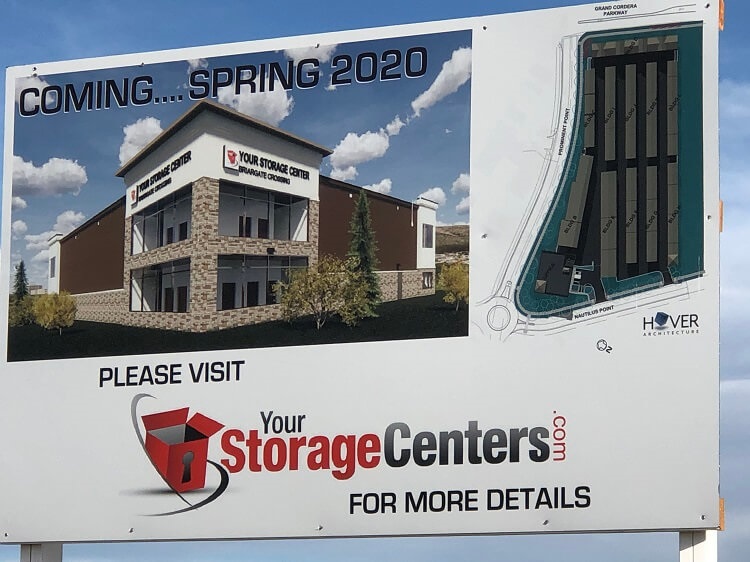 The only problem is, I don't know how to invest in storage units.
That's where my buddy, Jeff, from Debt Free Doctor, comes in.
After our successful collaboration on How to Save Money On Medical Costs, he asked if there was something else we could work on. Since he's both a business and real estate guy (in addition to being a doctor), I knew he could tackle the issue of storage unit investing for me. 😉
So with that said, let me turn it over to Jeff for his thoughts on how to invest in storage units. As he shares his insights, I'll chime in from time to time with my thoughts…
——————————————
Should you be investing in storage units?
Before you answer, let me ask you a question. Have you ever heard someone say, "Man, my house has TOO much room in it. I'm NEVER going to be able to fill it up with stuff"?
Probably never, right?
Large retailers and online shopping have made buying stuff way too easy. From Amazon to Wal-Mart to Zappos, we can literally have whatever we want at our doorstep by the next day. Sometimes sooner depending on where you live.
So what are we doing with all of this stuff? That's the million dollar question.
Seven Reasons People Are Using Self Storage
With more and more people acquiring the contagious disease "stuffitis," they're having to find somewhere to store all of their newfound possessions. That's why there's been a big increase in the number of storage units that have been popping up all over the country.
Here's a breakdown of why consumers are using self storage:
1. Free up home space.
Occasionally my wife gets on a "decluttering" kick. Usually this coincides with spring…I guess that's why they call it spring cleaning. There must be something in the air at this time of year that makes us want to change as well.
Sometimes people will temporarily rent a storage unit while they go through their own decluttering process. This way they can slowly go through their things without having to throw them away but also keeping their homes neat during the process.
ESI comments: This is the case with at least 50% of my neighborhood (or at least I suspect this is the reason). I walk all over the area and see garage after garage full of stuff. My guess is that many of those people have filled their homes and then their garages until they are finally "forced" to rent a storage unit.
2. To store a loved one's possessions.
It's hard to let go of the past, especially when we lose a love one. I remember when we lost my grandmother a few years ago, my mom had her entire house full of possessions to sort through.
She was in charge of selling my late grandmother's house and needed storage in order to get it done.
Many people have to deal with these types of issues when they arise. Renting storage space helps to slow down the process of going through their things before either selling or discarding them.
ESI comments: My next door neighbor had this issue. His garage is full of junk, so when his mother passed and they got her stuff (two years later), it was dropped off in a pod storage unit in their driveway. After they sorted it out, they still had so much left over that he had to rent a storage unit to keep it all.
3. Extra space for businesses.
Whether someone is working from home or an office, having extra space is a must.
It's for this reason that many small business owners seek out storage units to store their inventory, supplies, and other business related items.
Self-storage is also helpful for those in the pharmaceutical industry, whose reps need to store drugs they distribute to doctors and hospitals.
ESI comments: Next on ESI Money — "Side Hustle story: How to Store and Distribute Drugs." LOL! Seriously, I could use more "office" space. I've been considering appropriating my daughter's old room as my satellite office (versus the one on the first floor) and fitting it with an always-wanted-but-never-purchased rolltop desk. Plus there's a bathroom attached — what more could I ask for?
4. Moving.
Moving can be very stressful. We're doing it next year and I'm NOT looking forward to it.
Occasionally, home owners will temporarily rent storage units to help offset this stress. This is especially helpful for those that are in the process of downsizing.
One of the largest population groups, baby boomers, tend to downsize more than any other group. As more and more in this group continue to downsize their homes, the need for storage space will continue to climb.
ESI comments: Note to self, have Dr. Jeff do a pictorial post of his new digs next year. I've seen where this guy stays when he travels (rhymes with Nitz Marleton) so I can only imagine what his home will look like! He is a doctor after all…
5. Off season storage.
No matter how old we get, us boys love our toys! Being from Louisiana, this is especially true.
Renting storage space for our boats, RVs, motorcycles, ATVs, side-by-side and more is a must as many times our better halves don't want them in the driveway.
ESI comments: Note to self #2, visit Dr. Jeff and his family. Sounds like they have tons of fun things to keep me busy. 😉
6. Dorm room space.
In my area, the storage units located next to our local university stay packed.
Many times this is due to kids leaving for the summer but needing a place to store their things.
ESI comments: My daughter used one of these between her two years of college. She piled her stuff in a friend's storage unit and we picked it up in the fall before school started.
7. During a remodel.
Whether someone is remodeling a home or business, storage space is likely going to be needed.
Renting a storage unit during this time period can help things stay organized until the project is completed.
ESI comments: I've never used a unit for a remodel, but I can see how one might be needed. Reviewing this list, there are a TON of reasons why someone would rent a storage unit. All that means $$$$$$$$$ for a potential investor like me!
Self Storage Background and Stats
Many believe that investing in storage units is a recession-proof asset class. They originally started in the 1960's in Texas. Back then, most were locally owned by mom and pop operators but today its ownership is highly fragmented.
According to the Self Storage Association, there are more than 54,000 self-storage facilities in the US generating over $35 billion in revenue. That's a lot of stuff!
The largest owner of self-storage facilities is a publicly traded REIT (Real Estate Investment Trust) called Public Storage, which owns approximately 6% of the total self-storage square footage in the U.S.
Check out their largest facility located in New York: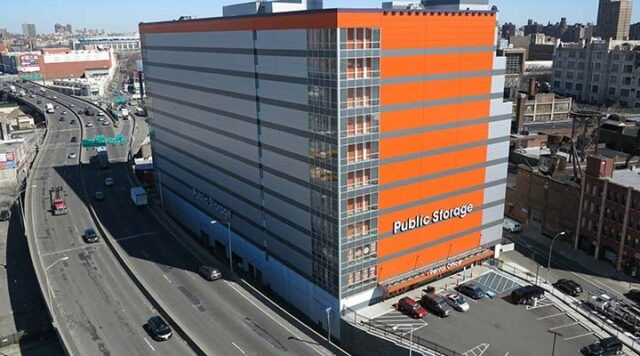 This massive 12-story building has more than 270,000 rentable square feet. I can't think of a better way to repurpose an old warehouse building in the heart of downtown New York City. Can you?
Storage Unit Statistics
Here are a few statistics regarding the self-storage industry in the U.S.:
The typical size of a storage unit facility is 2.5 to 5 acres, with an average of roughly 540 units and 46,000 sf of rentable space.
Total amount of self-storage space in the US totals 2,300,000,000 sq ft.
There are over 54,000 storage units in the United States. To put this in perspective, that's more than McDonald's and Starbucks locations combined.
Amount of self-storage space in the US: 5.4 square feet per capita
Percentage of U.S. households that rent a self-storage unit: 9.5%
The national average cost for all unit sizes is $88.85 per month
67% of self storage renters live in single-family homes which have enough space for their stuff. They still need the extra room a storage unit provides.
Most customers rent long term, with 52% renting > 1 year.
13% of customers rented storage for less than three months.
People in the military utilize self-storage often since towns with a large military presence usually have anywhere from 20 to 95% of rented units occupied by military personnel. Nationwide the number is only 6%.
Check out this growth chart from Curbed: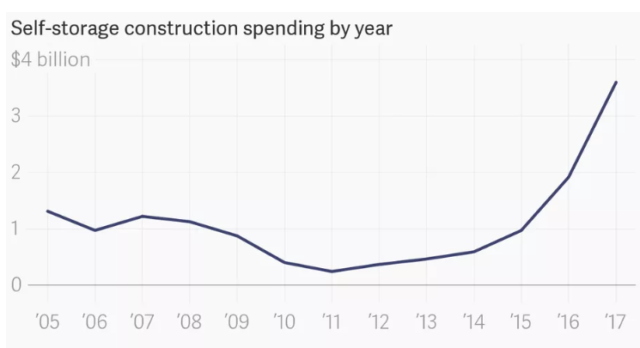 Largest self-storage operators in the U.S. (by number of facilities, owned or managed) according to Sparefoot:
Public Storage: 2,429
Extra Space Storage: 1,647
U-Haul: 1,519
CubeSmart: 1,084
Life Storage: 744
National Storage Affiliates Trust: 675
Fun Fact: There's now so much need for people storing their possessions that homeowners in the UK with space are Airbnb'ing their homes. Now there are companies such as Storemates and Stashbee that connect people needing to rent space with these homeowners.
ESI comments: I remember writing about this sort of thing years ago in a "How to Make Money from Your House" post. People told me I was crazy to suggest renting out parts of a home for storage. Who's laughing now? Hahaha! I am!
Top Five Reasons You Should Be Investing In Storage Units
1. High Demand
As we discussed earlier, as consumers continue to consume at a rapid rate, spurred by retailers making it easier with next day shipping, the need for self storage continues to climb. The majority of those that rent space is from the residential groups (70%).
Much of this demand stems from both baby boomers needing storage due to downsizing and millennials who typically shy away from home ownership and rent longer.
Other groups that also have a high need for storage are:
Military (6.2%)
Students (6.3%)
Commercial/business owners (17.2%)
ESI comments: It's always funny to me that people "downsize" and yet add a storage unit as part of the process. Wouldn't you get a place big enough to hold whatever you wanted to keep, and discard the rest? Or if you wanted a much smaller place, just be more ruthless in your stuff-cutting.
2. Low Overhead
Compared to office buildings or multifamily apartments, the cost to build and maintain self storage units are considerably lower.
One of the main reasons is there are no tenants living in them (at least we hope not!). Think about it. When a tenant moves out of an apartment, maintenance has to come in and typically do tasks such as:
carpet cleaning
repair any damage (i.e. holes in walls, etc)
painting
redo flooring/carpet
But when a storage unit becomes vacant, turnover usually involves only having to sweep out the space for the next renter. Also, as technology continues to improve such as remote controlled systems and automated entry, the need for a full-time manager is decreased.
On average, the break even occupancy for self storage facilities is around 60-70% due to the lower overhead and expenses that come with them.
ESI comments: I'm not sure if 60-70% is good or not. A friend of mine I play pickleball with told me the breakeven occupancy for the new hotel he's building is around 40%. That's my kind of deal — lots of margin of safety! I do identify with the costs of sprucing up a rental unit when a tenant moves out. Ugh.
3. Tax Benefits and Cash Flow
One of the reasons I love real estate investing is the cash flow. Investing in storage units can provide this cash flow especially for those who want to retire sooner by building up multiple streams of passive income.
Investors can usually expect cash flow to be somewhere in the 8-10% range annually.
Also, as a high-income professional, you're going to want to also invest in something that is going to give you the most tax benefits now as well as later.
Self storage investors are able to take advantage of accelerated depreciation which helps offset the income.
I've typically invested in syndication deals with other limited partners that take advantage of these pass-through deductions which allows us to keep more money where it belongs, in our pockets.
ESI comments: All these are GREAT reasons for why I am thinking about this sort of business — cash flow, good complement to real estate holdings, tax benefits, and on and on. I think I'm in love…
4. Recession Resistant
Nothing is recession proof but according to NAREIT, the self-storage asset class can be recession resistant.
Do you remember the 2008-9 recession? While the stock market was dropping, the self-storage sector REITs returned 5% including dividends.
This is partly because there's a higher percentage of downsizing during economic downturns. And guess what? People need a place to store their possessions during those times.
ESI comments: I thought he was going to say people moved into the units when things got really bad…
5. Low Turnover
In general, people don't like change. For instance, if you were notified that your cable company was going to raise rates $10/month, you'd probably stick with them instead of going through the hassle of sitting on hold for 45 minutes trying to haggle with them.
Same goes with self storage.
Typically, once people have leased a storage unit, they're usually slower to move out. I don't know about you, but I don't like to move, it's a hassle. Renters in storage units are the same and will actually tolerate occasional rent hikes as well.
They don't want to spend a weekend moving their stuff from one storage facility to another to only save $20 a month.
But a $20 rent increase on a $150/month storage unit is a 13% increase to the bottom line for the owner. Not too shabby.
ESI comments: Yet another reason to love this business! Whenever you have a product where people buy in and then it's just too inconvenient to cancel (or they forget about it or whatever), you're sitting on a potential goldmine. I think exercise facilities make most of their money from people who rarely visit the gym.
Three Ways To Invest In Storage Units
Now that we know why investing in storage units is a such a good asset class to consider, here are the three main ways you can invest in them.
1. Direct Ownership
Whenever I invest real estate, I do so passively. I don't have the time to manage multiple properties and would rather have a hands-off approach while still benefiting from extra cash flow besides my practice.
If you decide to go the direct ownership route and build new or buy an existing one, I'd recommend you do your research and also find a local mentor that could help you through the process.
Some things to consider are:
Land costs – A good rule of thumb is that you can expect the land cost to be 25-30% of the total development cost. Just like anything in real estate, it's all about location, location, location.
Building costs – The average cost for new self storage units is roughly $25-$40 per square foot. Costs go up if you decide on multi-story units. This does not include site improvement costs. It often takes 18-24 months for many self-storage facilities to realize its full income potential in a competitive market.
Market analysis – Another reason to seek out a mentor is that they're going to be in the "know" regarding your local market. They'll have first hand experience regarding the potential of your occupancy, your competitors and the better units to acquire such as Climate Controlled Self Storage or Boat & RV Storage, etc.
If you decide on new construction, you'll also need to consider:
Hiring an architect
Developing a construction budget
Secure financing
Purchasing the land
Obtaining building permits
ESI comments: I think I'd opt for buying existing before building new — the latter sounds like a TON of work and a potential financial disaster if you didn't know what you were doing (which I don't). I love the suggestion of getting a mentor to help guide you — just like I did with my real estate mentor.
2. Buying Into a REIT
A REIT, or real estate investment trust, is a company that owns, operates or finances income-producing real estate. They can either be private or public.
Buying and selling REITs are easy, so if you're needing access to your money sooner than later, then they're a good option.
REITs offer attractive risk-adjusted returns and stable cash flow as they are highly diversified with 1000's of properties to choose from.
Here are more reasons to consider investing in storage REITs from Seeking Alpha: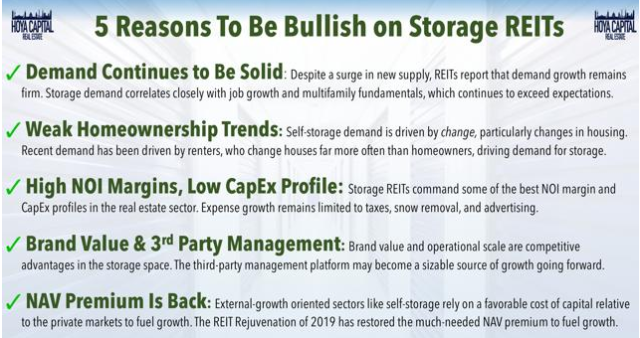 ESI comments: I do like the liquidity of this option. But my guess is that you give up some in returns for having this benefit.
3. Syndications
I personally focus on investing in real estate through syndications as I believe it's an attractive way for busy professionals to invest passively in a tax-efficient manner while providing stable and predictable passive income.
A real estate syndication is simply the pooling of capital from a group of investors in order to purchase property.
The benefit of putting capital together is that it might make it possible to purchase something that one person or small group may not be able to on their own with a Joint Venture agreement.
You can syndicate anything from a cupcake store to a multi-million dollar development.
Here's a couple of different scenarios where investing in a syndication would be beneficial:
If you didn't have the funds to afford a down payment on a good deal, you could syndicate it by finding others to help fund it.
On the other hand, if you had the down payment, but not much real estate experience, you could use real estate syndication to get partners to help.
Most of the syndication deals I'm currently in are in the multifamily space. As investors, we can take advantage of the recession resistant nature of this asset class by participating in private syndications that offer investing in storage units.
Just like apartment syndications, the key is to find experienced and trusted sponsors in this asset class who have proven track records of success.
ESI comments: I've yet to jump into real estate crowdfunding. After my poor experience with Lending Club (which is taking me YEARS to get out of), I'm just not sure this sort of option is for me. I know many ESI Money readers invest in real estate syndications, so I'm interested to hear your thoughts on them.
Summary
If you're looking into adding diversification to your investment portfolio, you may want to consider investing in storage units.
They have strong demand, are more recession resistant, and offer many ways to invest based on your interests, goals, and abilities.
——————————————
Now that Jeff has done a great job of laying out the case for investing in storage units as well as the options for doing so, what do you think?
Anyone doing this now or considering it? If so I'd LOVE it if you'd share your thoughts and any experience you have with the rest of us!