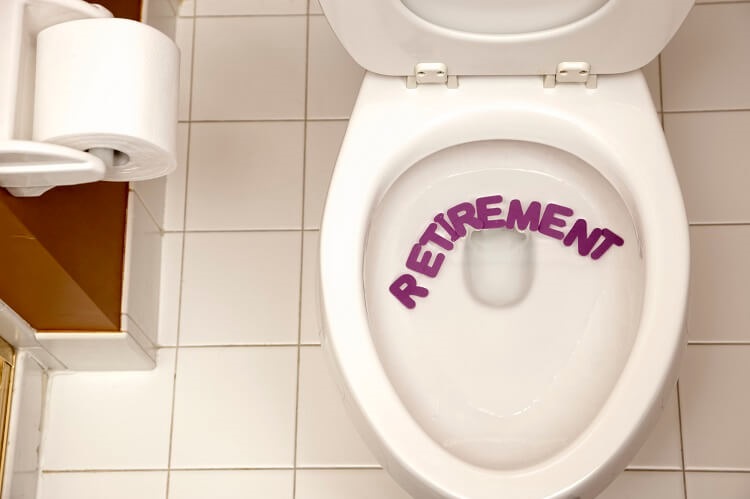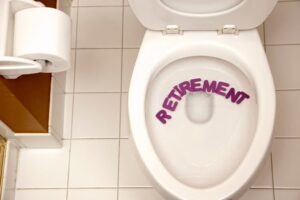 Today I'm beginning a new series covering the book Retirement Fail: The 9 Reasons People Flunk Post-Work Life and How to Ace Your Own.
I'll share thoughts from the book as well as my take on what it says.
Obviously the idea here is that if we know where people fail at retirement, we can take steps to avoid these impediments and have a great retirement.
I'll let you be the judge of whether or not that's the case, but IMO the book does a good job of warning us against some potential issues that could cause a retirement to go south.
So with that said, let's get going…
Where People Fail at Retirement
Let's get the obvious out of the way first — the nine reasons the book says people fail at retirement.
These are:
Spending too much (out of control)
Kids who continue to drain parent's finances
Divorce in retirement/older age
Buying a second home/vacation home
Starting a new business—includes a business with family.
You get scammed
Health issues—take the precautions you can: will, insurance, care, CTC, health issues, estate plan
Bad events—stock market crash, lay off, disability
Under living your wealth—shift to spender, many can spend more than they do
No comment on these yet — I'll save my thoughts for when we dig into each of the items above.
I just wanted to start by giving you the nine as I'm sure you were wondering what they were. 😉
And just in case you are reading the book and don't see these nine reasons listed, it's because the author got cute with chapter titles. For instance, for reason 1 instead of saying "spending too much" he titled it "A (Too) Free Flow of Cash."
Uh, ok. Hahaha.
Anyway, I renamed them to better describe (at least IMO) what the "fail" actually was.
Next, I'd like to share a few remarks from the introduction as it gives the author's perspective on the book.
Some highlights:
I wrote Retirement Fail for those of you who have been preparing for retirement financially but need some guidance to ensure that your plans for a happy, healthy retirement are not compromised. Ready or not, you will be making decisions that can positively or negatively impact your financial future. You may be on track with savings goals, but there are potential pitfalls ahead, and the deepest pits are the ones thoughts don't even see or, in some cases, those you would rather not acknowledge.
Many people have good, strong financial plans, but they don't necessarily notice themselves getting caught up in troubling patterns – or they may be surprised by an event they didn't see coming. The number I also side is one thing; an advisor can easily come up with numbers and projections. The more difficult thing is to look at the way the decisions we all make impact our own future and those around us. Retirement Fail shows you the watch points you need to pay attention to and helps you think through what your priorities are—and what trade-offs you may have to make to reach your goals.
At the heart of retirement planning is the question: What is most important to you in your post-work life and how can you translate that into your day-to-day living and decision making? One you know the answer to that question, you can frame your decisions so that your assets are truly working for you and your spending is aligned with your clause and objectives.
Retirement Fail helps you answer that essential question, addressing the nine ways you are most likely to compromise your retirement. Armed with a sense of your values and goals – and a true awareness of the challenges that may life ahead – you can craft a plan that lets you ace your retirement.
Right away, I like what this book is about — it recognizes that there's more to having a great retirement than just the numbers.
You need to plan for the money side of retirement, of course, but you also have to plan for what I call the life side of retirement.
If you forget the life side it could derail the financial side. And even if it doesn't, not having a plan for how you'll spend your time in retirement is likely going to result in a sub-par or even failure at retirement.
That's why I'm sharing what this book has to say as I think it hits on some very important topics.
Retirement Fail Reason 1: Spending Too Much
This is not going to shock anyone but apparently spending too much in retirement can cause it to fail.
LOL! Who knew?
Anyway, here are some thoughts from the book:
As financial advisors, we see situations like Julia's – in which people are living a lifestyle that outstrips their means – more often than you might imagine.
Imprudent spending is one major reason people fail at retirement.
While conventional wisdom dictates that people need 80% of their pre-retirement income to maintain their lifestyle in their post-work years, recent research has shown that spending patterns are actually quite variable – while some households do indeed reduce their spending considerably, nearly half spent more in the first two years of retirement than they had while working. And 28% of the retirees surveyed spent more than 120% of what they'd spent in the years preceding retirement, with the majority continuing that pattern of increased spending into their sixth year of retirement.
So, while 80% of may indeed represent an average, the spending picture is uneven, with some households cutting spending by a sizable amount and others actually increasing their outlays rather dramatically.
According to the data, most of the increased spending was discretionary in nature, used either for travel or for home expenses.
Yes, spending too much can be a killer in retirement — just like it's the worst money mistake anyone can make before retirement.
So what are some suggestions for avoiding this retirement fail? Here's what the book offers:
Take some time to reflect on your goals for this next phase of your life, a period when you have either stopped working or have slowed markedly. How will you spend your time? What kind of lifestyle do you expect to have? What will your days look like? Tally all the things you'd like to do in a typical year, and also the things you'd like to do for family. Think ahead, too, to how your life might change as you age, and make provisions for unforeseen events.
Researchers have discovered that, though people may have a realistic understanding of how much income they have, they have blind spots when it comes to forecasting expenses. They focus on what is coming in and underestimate what is going out, which leads them to be overly optimistic about what they can afford.
As a general guideline, when we look at the income for your investment portfolio, we figure that you can, at the outset of retirement, safely withdraw about 4 to 5% from your portfolio on an annual basis to cover expenses in retirement and still expect to maintain your financial independence over the long term.
To consider yourself financially independent, you need to have enough secure assets to get you through any market cycle.
A general rule of thumb is spend 4 to 5% of your portfolio each year in your 60s, 5 to 6% in your 70s, 6 to 7% in your 80s, and 7 to 8% in your 90s.
Several thoughts from me here:
Yes, people have blind spots when it comes to spending. That's why I recommend tracking your actual spending a few years before retirement, then using those ACTUAL NUMBERS (not guesses) to estimate your retirement spending. IMO, estimating future spending based on guesses of what you actually spend is simply too risky and most certainly can derail your retirement. BTW, I've yet to meet anyone who has over-estimated their spending.
The more I think about it, the less I like the pure asset withdrawal method for funding retirement. I prefer having some, if not major, sources of income when you retire. Thankfully, many people have at least one source of income in addition to withdrawing from savings: Social Security.
I have gone a bit overboard in the "income over assets" retirement funding. We've been retired for five years now and haven't had to dip into assets at all as we have more than enough income to fund our lifestyle. This has allowed our assets to almost double since we retired. That all sounds great, but it really means we saved too much for retirement — which means we could have retired much earlier than we did (i.e. we lost time in retirement).
So in the end the suggestion here is to know your retirement spending, plan to cover it with assets and/or income, and have enough self-control not to over-spend in retirement.
Seems pretty straightforward to me…of course the last part is easier said than done for many people.
Retirement Fail Reason 2: Continuing to Fund Your Grown Children's Lifestyles
The author lists this fail as "the nest that won't empty".
Here's what he says about the issue:
When I talk about the nest that won't empty, I'm not talking about kids who literally will not leave home – though, to be sure, that can also be a challenge for some parents. What I'm talking about here are situations where the kids continue to be a drain on their parents' finances well after they should be flying on their own. We see this over and over again: Grown children, some of them in their 40s or 50s and with advanced degrees, are taking money from their parents at a rate those parents can ill afford.
A study conducted by the Pew Research Center in 2013 showed that 73% of adults in their 40s and 50s had provided financial support to a grown child in the prior year, and more than half of those parents reported being that child's primary means of support. Some of the kids were in school, but more than a third were not.
There are four main reasons that adult children put a strain on their parents' finances.
These four categories are ongoing support needed because of a child's illness of disability; an excessive focus on education, especially private schooling and elite colleges; a change in life circumstances for a child; and good old-fashioned failure of kids to fully grow up.
Each of these situations has a different impact on your assets and retirement plans, and each necessitates a different way of thinking about preparation and solutions.
Personally, the first reason is a legitimate one IMO. If you have a child that has an illness or disability, there's really no choice but to try and help them — even if you need to work longer to do so.
But the other three are mostly decisions that the child has made that can derail your retirement (yes, some involve you as well, but you need to manage the process as well as the expectations to make sure these don't become an issue.)
For example, the private education and college issue is something parents can completely control. As an option, I suggest creating a college incentive to limit your liability. The one we created for our daughter worked out well for us and certainly worked for her.
As for a "change in life circumstances" this could involved reasons to temporarily help (like when our daughter and son-in-law lived with us while finding their house), but I would go in with expectations that there was a cap on what I'd do.
And for kids who simply won't grow up, they will need to be cut loose as some point — for the benefit of your retirement as well as their lives.
How big of an issue is this?
Some highlights:
Among 18-to-34 year olds, just over 32% are living with their parents.
Even more problematic are some older kids – even into their 40s, 50s, or 60s, – who continue to depend on their parents. In some instances, the children may simply not realize the toll they are taking on their parents' finances. They figure their parents have enough money to go around, and they never stop to consider that their parents may outlive their wealth. Parents who've always provided for their children may be unwilling or unable to say no.
Really? One-third of 18-34 year olds are living at home?
I can see how 18-24 year olds are still "at home" (they my officially live at home but spend a lot of time elsewhere — like school), many of them are probably still in college.
But once a child gets to 25 or so, shouldn't they be out on their own?
I'd like to know what percent of 25-34 year olds are at home. So I did some Googling…and now I'm sorry I asked.
The coronavirus outbreak has pushed millions of Americans, especially young adults, to move in with family members. The share of 18- to 29-year-olds living with their parents has become a majority since U.S. coronavirus cases began spreading early this year, surpassing the previous peak during the Great Depression era.
In July, 52% of young adults resided with one or both of their parents, up from 47% in February, according to a new Pew Research Center analysis of monthly Census Bureau data. The number living with parents grew to 26.6 million, an increase of 2.6 million from February.
Ok, it's still not the age range I was looking for AND it's greatly impacted by Covid, but it's the latest study I could find.
I guess we'll see where it sorts itself out.
All I know is that when I left my parents' house for college, I didn't come back except to visit. It seems like that isn't as common these days as it was then.
The author continues:
There are two separate questions: (1) Does the money you are giving jeopardize your own financial health and future? and (2) Does doling out cash really help your child? If a child has a health problem or a setback of some other kind, that's one thing, but often the child's dependence is based on a dynamic between the parent and child.
If the amount of money you're gifting is small enough (or if you are wealthy enough) that it has no significant negative impact on your finances, then your continued support may be fine. But for many people, that will not be the case: The amounts are large and/or the impact is significant. Even if you are able to afford the cash, you still need to answer the second question: Are you really helping your child when you allow her to remain dependent?
According to The Millionaire Next Door, too much Economic Outpatient Care can be bad for both the giver and the recipient.
So even if you are wealthy enough to afford the gifts, you do need to ask yourself if it is helping or hurting the child.
This is similar to my thoughts on the gift of the struggle. Sometimes there is simply great value in kids working out things on their own.
Eventually, the book offers some solutions for this retirement fail.
The author's suggestions:
One strategy we have used for scenarios in which kids are coming and asking for money on an as-needed (or wanted) basis is to create a trust account for the kids; the parents are then able to tell the children, "this is all you get. The trust will distribute a set amount each year, but you can't come back and ask for more."
In one recent instance, this strategy did not prevent a child from coming back and asking; but our clients were able to say, no, we all agreed on the amount, and that is all that can be given at this time.
We've also written loans from the parent to a child, and formalized the arrangement that way. A loan instrument in black and white, outlining the expectation of repayment – including invoices that are sent like bills – can be a powerful motivator, preventing the child from asking irresponsibly for more money. And if the child should fail to repay, the loan is part of the estate, which can lessen tensions with other siblings.
Trust me, the other kids in the family are generally not happy when one sibling is asking for and receiving large amounts of cash from mom and dad. A loan agreement can reduce the financial impact on the other children and take away some of the animosity that may result when parents gift a substantial amount of money to a child.
Don't create a bubble for your kids, especially if you are fortunate enough to be comfortable financially. Your kids should understand that there are many people in the world who have far less and who struggle far more. Help them learn to distinguish essentials from non essentials or luxuries and to choose essentials that are calibrated to their means. It's essential to have a way to get to work, but it's not essential that your transportation be a Porsche 911.
I have thought about the trust account idea.
Instead of willing our kids $X at our deaths, we could use assets to create an on-going source of income for them that starts before we pass.
This would give them a steady flow of income (versus a lump sum) that would be less likely to be wasted (and even if it was, it's a small, consistent amount that would allow quick recovery).
Besides, it would also give them the money when they needed it most, when they are younger. This is consistent with some thoughts found in Die with Zero (FYI, my series on the book begins here).
I'm still working through whether this will be more helpful or hurtful to them…so we haven't taken any action on it yet.
That's it for today. For more on this topic, click over to read reasons 3 through 5.