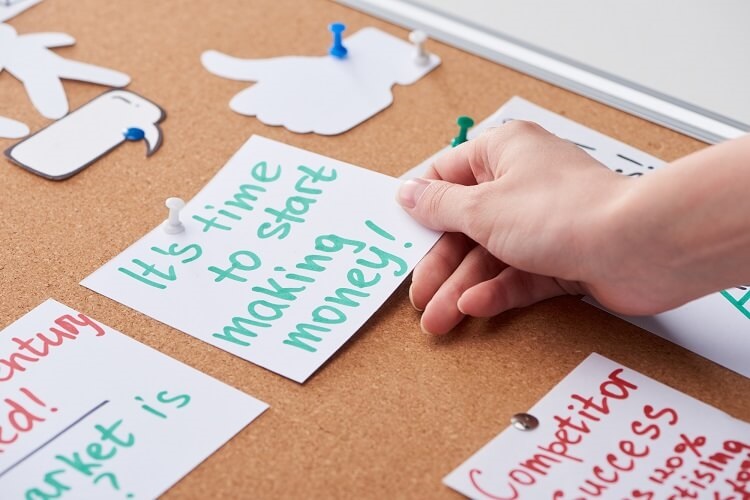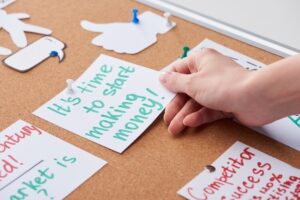 Now that I've shared my three ways to make money, I wanted to create a list of ideas for each category.
While I had my own list (of course), I also googled a bit to find more.
As you might imagine I discovered a gazillion posts on "how to earn money".
There are almost too many ideas to contemplate (and what some people consider to be an "idea" is a long stretch). I read a ton of articles and selected the ideas that I thought were both reasonable and at least worth consideration for a large percentage of ESI Money readers.
This is the list that appears below.
I've created it mostly as a brainstorming list — to get suggestions in front of those who might want to create extra sources of income. Even if none of these work, they might spur other ideas that do.
At the end of the list I'll do something "fun" (and will ask you to do it too).
And in the follow up post, I'll name what I consider to be the best 10 ways to earn money (I created a rating system and rated all these, so I'll share the metrics I used as well as the results.)
A few thoughts before I begin:
I'm splitting the ideas into my three money making categories. You may want to read that post for specifics on definitions if you haven't already.
Some ideas work in more than one category, so I had to decide which category I felt best fits them. You'll see some business ideas that I put in one category (like "time") when they could be in another category (like "investment") with a different spin (one requires you to do the work while the other requires you to invest and let others do the work).
Instead of listing every possible idea (imagine how many there could be for "start a business"") I listed a few examples to illustrate the options. In some cases where the ideas were similar but different enough, I've listed them both. (Yes, I realize this is a subjective call but every list is).
My goal wasn't to have 1,001 ideas for earning more money. I've seen those lists and they are 95% useless. Instead I've tried to consolidate and summarize the 20% of ideas that will work for 80%+ of the readers.
If I miss something (or your favorite), you can add it in the comments below to complete this list.
Ideas are listed in alphabetical order.
With that said, let's get started.
Time-Based Income Ideas
Here's my list of ideas that require mostly time and effort:
Consulting
Deliver food
Drive (Uber/Lyft)
Part-time job
Podcasting
Sell merchandise online or direct (arbitrage — buy items for cheap somewhere and sell elsewhere; Etsy; Amazon FBA)
Sell services on Fiverr
Start business (dog walking, landscaping, bike repair, handyman, baby sitting, etc.)
Teaching
These ideas will generally cost you less (in money) but require more time than most others.
See any you like there?
Creation-Based Income Ideas
Here are ideas where you make something, then sell/rent it for money:
App development / software
Audiobooks
Books/ebooks
Digital products
Music licensing
Online courses
Photo licensing
YouTube Channel
These require a bit more effort upfront and a unique set of skills (like writing music or editing audio), but can be good sources of income for those with specific talents.
Investment-Based Income Ideas
This group is more about buying an income stream with cash than earning it with time (though there are certain ideas — like buying a business — that may require your time too).
The ideas:
Annuities
Bonds
Certificates of deposit (CDs)
Coin-based businesses (Laundromat, Arcades, Vending Machines, car wash, ATMs)
Crowdfunded real estate
Interest from high-yield checking & savings accounts
REITs
Rent things you own (house (Airbnb), car, stuff, parking space, etc.)
Rental real estate (residential/commercial)
While these require some (often significant) wealth to participate, they also can generate strong cash flow fairly quickly.
That's my list. Add your ideas and comments below.
Debt and Spending
I need to mention this since I saw a lot of it.
In many lists I found "income creation" ideas like these:
Refinance your mortgage
Pay off or reduce debt
Cut spending
IMO, these are not income ideas. They are money-saving ideas.
Yes, they provide you with more cash (and you don't owe taxes on them so they actually deliver more cash than earning more), but they belong on another list — the "how to save money" list.
Our Income Streams
So, which of the above are you currently making money from?
Here's my list (in order of income provided):
Rental real estate — Regular readers know my story here quite well. I bought places shortly after the last crash and they now generate $60k per year or so.
Blogging — I was on my way to a $50k or even $60k blog before the virus hit, killing traffic and ad rates. Now I have a $30k (annual income) blog or so. I think it will come back plus I enjoy it, so it's not that concerning to me.
Private loans — I have $125k in private loans generating 10% for a total of $12,500 annually.
Dividend-paying stocks — I recently added dividend stocks to my portfolio, following in the steps of one of the kings of dividend investing. A $220k investment with a 5.5% yield delivers $12,100 a year in income (plus appreciation, of course).
Stocks — I invest in stock index funds for growth, but they do churn off dividends too (VTSAX has a roughly 2% yield as of this writing). That's not much, but since I have the majority of my assets in them, they generate $45k annually in dividends. Only $8k of that is in non-tax deferred accounts which are easy to access.
Wife's part-time job — My wife started as a volunteer at our church then they decided they wanted all teachers on staff so they would attend meetings, etc., so she works 15 hours per week there (and loves it.) She would do it for free but they insist on paying her $7,800 or so a year.
Interest from high-yield checking and savings accounts — "High yield" is certainly a misnomer these days, and I earn $3k or so from these each year (mostly my emergency cash).
Cash back credit cards — I have been a cash back credit card user for a long time. But my charges will likely be down this year since travel is a question, and I'll probably make $1k at best.
Peer-to-peer lending — I'm almost so low here as to be laughable. Ever since I finished with Lending Club so many years ago, I've been cashing out my loans as they come due. I'm now down to less than $7k between Lending Club and Prosper and will earn around $100 once losses are factored in.
That's it for my multiple streams of income.
How about you? What are your sources of income?
Now let's look at what I could add…
Possible Income Streams
Which of the above are you considering as future income sources?
Here's my list (based on order of interest):
Dividend-paying stocks — I want to get to around $500k in dividend stocks paying about 5% per year. At that point I'd be ready to call it quits. I'm just about halfway there. Whether or not I pursue this depends on if cash comes in time for me to buy before the market takes off (that could be tomorrow or five years from now).
Rental real estate — If housing prices fall a good amount, I'll be ready to add to my portfolio. I would add $400k or so more, which would get me an extra $40k per year if I could buy as well as I did the first time. I don't think this will happen though.
Online courses — This is the most likely place where I'd be willing to invest some time. Not only could I potentially earn a bit but it would be fun and an intellectual challenge — plus my daughter could work with me on it. I have an idea that's been brewing for some time — one that's reader-based and I think will help many folks. Stay tuned as you'll be the first to know if I do this.
Ebook — If I don't want to invest as much time in creating an online course, I could write an ebook. The time commitment would be less but the income potential would be far lower as well.
Buy/invest in an existing business — This could be a blog (the last one I purchased worked out well) or some other business like a coin-based operation. This is another potential option for my daughter and son-in-law if they move here.
Anyway, that's my list. What's yours?
And that's it for this post. Next time we'll get into what I consider to be the ten best ways to earn money.