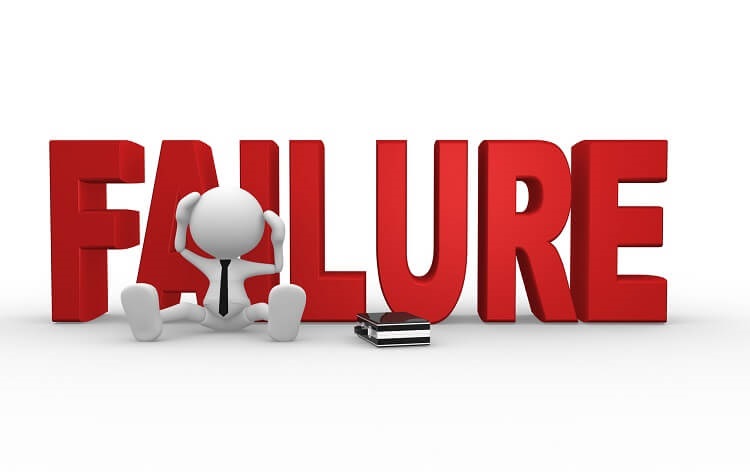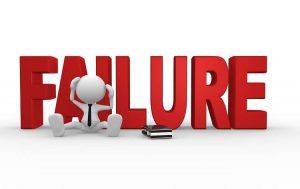 Today we're going to continue sharing thoughts from How to Fail at Almost Everything and Still Win Big: Kind of the Story of My Life
, a book that I recently read and loved.
If you missed the first post in this series, check out Money Lessons from Failure, Part 1.
We covered the first three (quite interesting) points in that post.
So now let's pick it up now where we left off…
4. Passion is BS.
Ok, he didn't say "BS" (he used the word) but I'm family-friendly here. 😉
He spends a whole chapter talking about how advice to "follow your passion" is bad.
He shares a story of when he was a loan officer. Adams was told not to loan money to businesses with passionate owners but instead to go for passion-less owners — the grinders who see it as a business and will make decisions based on information/facts and not emotions.
He adds the following as well:
My hypothesis is that passionate people are more likely to take big risks in the pursuit of unlikely goals, and so you would expect to see more failures and more huge successes among the passionate.
It's easy to be passionate about things that are working out, and that distorts our impression of the importance of passion.
Passion can be a simple market for talent. We humans tend to enjoy doing things we are good at, while not enjoying things we suck at.
If you ask a billionaire the secret of his success, he might say it is passion, because that sounds like a sexy answer that is suitably humble. But after a few drinks I think he'll say his success was a combination of desire, luck, hard work, determination, brains, and appetite for risk.
In money the whole passion thing raises it's ugly head most in the area of picking a career. People are told to "do what they love" (i.e. follow their passion).
This sort of advice, in part, is responsible for kids borrowing $100k+ for college degrees that produce $20k per year jobs. It just doesn't work.
The author of Rise: 3 Practical Steps for Advancing Your Career, Standing Out as a Leader, and Liking Your Life
completely agrees that "do what you love" is bad advice, saying the following:
We all get told at some point (if not over and over again), "Do what you love and the money will follow," and it's just plain bad advice. The number of people who make a lot of money doing what they love is so insignificantly small that it's an unrealistic and useless thing to model. The most unfortunate thing about this is that it makes people feel like they are failing when they don't achieve it.
This plays out in two destructive ways:
1. Because they don't have the same feeling of love for their work that they do for their family or leisure activities, they feel like they are selling out or living life wrong. They waste a lot of time feeling unfulfilled, unhappy, or plagued by the feeling that they should be doing something different.
2. Others, who try to do the things they love full time, find that the effort to make a business of it and a living at it takes away all the enjoyment of it. They end up turning their love into a job they don't like, one that generally doesn't pay very well. They end up not loving life after all. And they waste time that they could have spent earning money.
Don't put this pressure on yourself!
KEY INSIGHT: Consider thinking about your work/life strategy like this:
Do what you love for free.
Work for money.
Change how you do your job to feel less tortured about it—and maybe even feel pretty good about it.
Spend the money you make on doing the things you love when you're not at work.
And here's a great comment from a reader of my former blog:
Yes, you missed something VERY vital. Under #2) Not working to maximize your career, you should have added: "Make sure you pick a career that pays a decent amount of money. DO NOT 'do what you love' just because you have a lot of yes-men in your life saying 'ALL YOU NEED IS PASSION! You can make a living wage at any career!', because that advice is false, false, FALSE."
I followed my dreams to become a graphic designer, because I was sure that all I needed to do was be passionate about it, and 'do what I love' and the money would follow. I found out the hard way that life doesn't work this way. Some jobs are over-saturated, and have too many people doing them, and not nearly enough work, not even enough to employ half of the people who need jobs in that field.
This brings up an interesting conversation. Which is the true way to "maximize your career"?:
Do what you love – The old saying goes, "Do what you love and the money will follow." And even if it doesn't, the consolation is that you'll probably be happier since you are in a profession you enjoy.
Do what pays – This concept says forget doing what you love — go for the money. Work is work, it's meant to be hard. Work hard at something you may not enjoy, make a bundle, and get enjoyment from after-work activities.
Personally, I don't think "do what you love" works in most situations.
Do you know what most people LOVE doing? Nothing. Most would LOVE being paid a ton of money for little work.
In addition, people LOVE what is fun. Examples: going to the movies, playing video games, sitting on the beach, etc. But those are not work options — they are pleasure options. They call it "work" for a reason.
Here are things I LOVE:
Spending time with my family
Playing video games
Traveling to tropical islands
Watching TV/movies
Reading
Relaxing
Exercising
Unfortunately, these don't pay much (if anything.) Sure, I could start a "travel services" company, but that's not the same as "traveling". In fact, doing the former might kill my love of the latter.
Working in a job you hate just for the money doesn't work either. Eight to nine hours each day of having the life sucked out of you starts to wear on you pretty quickly. You won't be able to enjoy your off-time if you really hate your job.
"Do what you like" is the solution IMO. Find a profession that you like (one where you enjoy most of the job to a reasonable extent) and that also has decent pay. This is the balance between the two (generally accepted) options above, one that has worked for me, and a concept that I think will work for most people.
What's your take on the issue?
5. Start looking for another job as soon as you get a new one.
Adams tells the story of sitting next to a business man on a plane. The guy was the CEO of a company and as they chatted he offered Scott some career advice:
He said that every time he got a new job, he immediately started looking for a better one. For him, job seeking was not something one did when necessary. It was an ongoing process.
Adams comments on this idea with the following:
This makes perfect sense if you do the math. Chances are the best job for you won't become available at precisely the time you declare yourself ready. Your best bet, he explained, was to always be looking for a better deal. The better deal has its own schedule. I believe the way he explained it is that your job is not your job; your job is to find a better job.
I personally like this and wish I had thought of/applied it during my career.
Now some might ask about the loyalty you owe a company, and that used to be something of value. But these days I think most companies have made it clear that they are out for themselves. Employees are the same as machinery, buildings, etc. — as long as they produce, they are kept. But the second they stumble a bit, all company loyalty to the worker is out the window.
I'm not saying I like it this way, but that it's simply reality.
If I had been looking for a new job at all times, I probably wouldn't have wasted five years of my career in jobs that were decent enough but not ideal. At least twice I spent two years in a job I knew I needed to leave but had to ramp up the job search to find something — and it took time. In the meantime, I made less than I could have and certainly enjoyed my work-life less.
Anyway, this seems like decent advice, even if it's only used in moderation (i.e. begin looking for a new job after a year on any given job.)
6. Pay the price.
Here's a great passage from the book:
One of the best pieces of advice I've ever heard goes something like this: If you want success, figure out the price, then pay it.
I know a lot of people who wish they were rich and famous or otherwise fabulous. But these are merely wishes. Few of those wishful people have decided to have the things they wish for. It's a key difference, for once you decide, you take action. Wishing starts in the mind and generally stays there.
Haha! Tell me about it!
The world is full of those who want something handed to them. They want the results that others have achieved but don't want to put in the work (or often ANY work) to get those results.
I hear from this group quite often, usually when I get some sort of mainstream media coverage (ESI Money readers and not this sort). When it reaches a boiling point I then go on a mini-rant to get it out of my system.
Here are some of the posts inspired by those who want results without paying the price:
7. Success has a spillover effect.
Adams makes this claim in the book:
Success at anything has a spillover effect on other things. You can take advantage of that effect by becoming good at things that require nothing but practice. Once you have become good at a few unimportant things, such as hobbies or sports, the habit of success stays with you on more important quests. When you've tasted success, you want more. And the wanting gives you the sort of energy that is critical to success.
He goes on to say how he was "talented at several trivial games" (Scrabble, pool, tennis, ping-pong) simply because he was willing to invest "insane hours of practice" into each.
He then makes this point:
Thanks to my experience with these exceedingly minor successes, I have a realistic understanding of how many hours it takes to be good at something. That keeps me from bailing out of things too soon. But more important, I know what winning feels like (great!) and it energizes me to seek more if it.
A great strategy for success in life is to become good at something, anything, and let that feeling propel you to new and better victories. Success can be habit-forming.
A few thoughts on this from me:
I'm not so sure success in anything qualifies you for success in something else. Some of those things seem so trivial that I can't see how they really matter. So I'd prefer that the formula be revised to success in something at least semi-valuable leads to further success.
There's a value in knowing when to give up. Sometimes things don't work out (and never will). So as valuable as it can be to stick to something, it's also valuable to know when to quit. That said, I believe that the bigger problem is people quitting too early versus not quitting when something is doomed.
I 100% agree that success in something at least semi-important sets you up for the next (bigger) success. In fact, this is the story of my life — all the way back to grade school. As I accomplished one thing, I had more belief in myself to try the next. And when I was successful at that, I went to the next step. These built upon each other over years and decades to become quite significant.
That is not to say there weren't setbacks — like the time I tried out for the basketball team in high school. I was tall, but I had limited coordination, was in poor shape, and wasn't willing to put in the extra effort to get better. I realized I wasn't going to be a sports star, so I abandoned that hope and started focusing on speech and debate. I did pretty well in both of those and the skills I learned along the way helped my career tremendously.
In the end, I don't think it's the successes themselves that make Adams' statements true but the belief in oneself that results from the successes. As noted above, they have a way of building upon each other, reinforcing themselves, to drive the person forward.
8. Pause before you trust experts.
He says:
Dealing with experts is always tricky. Are they honest? Are they competent? How often are they right? My observation and best guess is that experts are right about 98 percent of the time on the easy stuff but only 50 percent of the time on anything that is unusually complicated, mysterious, or even new.
If your gut feeling (intuition) disagrees with the experts, take that seriously.
I think you know my view on "experts".
In fact I have a whole category on this site called "Not Experts" dedicated to highlighting those who claim to be experts but aren't really.
A few that I've covered so far:
I could probably write a blog on this subject alone if I wanted. Is "ExpertsNotExperts.com" taken? LOL!
In the end, I don't mind using experts/professionals, but I do think you need to know enough so you're not 100% reliant on their views without some perspective.
For instance, I use a CPA but I also pay attention to tax law so I can offer suggestions and have an intelligent conversation with her. On more than one occasion I have identified something she did incorrectly, so things do work out better when it's a team effort.
Conclusion
Adams wraps up the book with the following:
The model for success I described here looks roughly like this: Focus on your diet first and get that right so you have enough energy to want to exercise. Exercise will further improve your energy, and that in turn will make you more productive, more creative, more positive, more socially desirable, and more able to handle life's little bumps.
Once you optimize your personal energy, all you need for success is luck. You can't directly control luck, but you can move from strategies with bad odds to strategies with good odds. For example, learning multiple skills makes your odds of success dramatically higher than learning one skill. And if you stay in the game long enough, luck has a better chance of finding you.
Much of this is a summary of issues we've already addressed. I will say that I love the common sense approach in this book that is nicely summarized in these few sentences.
As I said at the beginning of part 1 — there's lots more great stuff in this book! I covered maybe a third of it. So if you're looking for an entertaining and educational book to take to the beach this summer, you should highly consider this one.