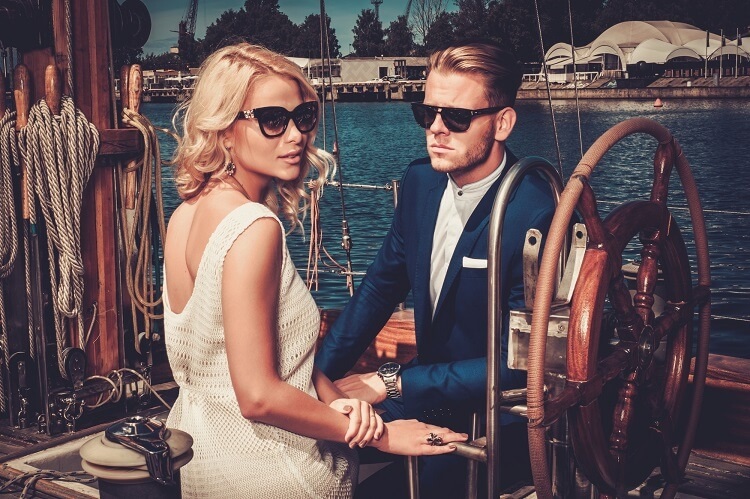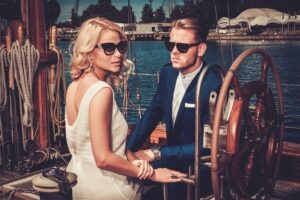 Shortly after I wrote How the Rich Get Richer I started reading Why the Rich Are Getting Richer
by Robert Kiyosaki, author of Rich Dad Poor Dad
.
The author says the following about both books:
If Rich Dad Poor Dad was elementary school, this book (Why the Rich Are Getting Richer) is graduate school.
That sounded good to me. I'm always up for a higher-level money book.
Plus I was also curious about answering the question — why do the rich get richer? I've taken my shot at it in the post above, but I was also interested in Kiyosaki's take on it.
Besides, I knew he'd have an "interesting" perspective. 🙂
Unfortunately, like his other books, there just wasn't a logical flow of the "___ Reasons Why the Rich Get Richer." As usual, he was all over the place with one thought after another. I would have preferred each reason being a chapter, but he mixes everything up, making the answers harder to find.
As he says about himself, he's a best SELLING author, not a best WRITING author. LOL! I couldn't agree more.
To make it easier on you, I'm going to dig through the book (I highlighted as I read it) and give you the reasons he thinks the rich get richer.
Here we go, in chronological order they appear in the book…
1. The rich understand how money works.
In the book's introduction Kiyosaki lists his first reason as follows:
One reason why rich entrepreneurs are getting richer is because they have extremely high financial IQs.
We'll get into his thoughts on what having an "extremely high financial IQ" means as we get further into the book, but for now, let's just take the statement at face value.
I think this relates back to education, a topic he's fairly adamant about (that people in general are not financially educated). If someone is reading about money, talking to others about money, and learning about money in practical ways (as simple as having a budget, starting investing in a 401k at work, etc.), and so forth, then he's going to have a higher financial IQ.
And as a result of being smarter about money, it's more likely that he'll become smarter with money. Not always, of course, but much of the time. And certainly more than someone with no financial education.
As a result, he's going to become wealthy and, over time, even wealthier.
To look at it from the opposite point of view, very rarely do you see someone who is wealthy who knows little about money. One exception would be most lottery winners, and you know what generally happens to their wealth! Ha!
I like this tip as it's accessible to almost everyone. Even if you can't afford books, there's the library and much of the good stuff on the internet is free — like ESI Money. 😉
2. The rich pay less in taxes (as a percentage of income).
Here's his second point in why the rich become richer:
One of the reasons for wealth and income inequality is tax. Simply stated, the rich know how to make more money and pay less in taxes than the poor and middle class — legally.
Paying less in taxes is one of the big two themes in this book, so we'll stick with it a bit.
Kiyosaki says that the rich pay less in taxes because most of them are 1) big business owners or 2) professional investors and there are many tax breaks available to these people. This is because they are in partnership with the government to provide jobs, housing, products, etc. (In other words, the government gives them tax breaks for certain behaviors.)
There's no doubt that taxes are a HUGE expense for most people. They are probably a top-three expense for almost everyone.
If you look at our expenses over 28 years you'll see that taxes were our #3 expense — if you count "savings" and "giving" as expenses. Most would not count the first two as expenses, and thus taxes would rank #1 for us, eating up 21% of our gross income.
And this doesn't include all taxes, simply federal and state income taxes. There's also sales tax (which is scattered among a ton of categories in our budget, lost in the total cost of items), real estate taxes, and a whole host of fees/licenses that could be listed as taxes.
Just think how much your net worth would benefit if your largest expense was cut by 25% or even 50%. It would make a huge difference, right?
Well, that's Kiyosaki's point.
Later in the book he digs more into the benefits of cutting taxes starting with his three types of income: ordinary income, portfolio income (capital gains), and passive income.
He says that ordinary (earned) income is the highest taxed of all three incomes. Then he says you can grow richer by earning more money with the last two types of income versus the first.
Here's an example he uses in the book…
There's a CEO who receives options to buy his company's stock at $10 a share. He gets 1 million options. The stock goes to $16 a share, the CEO exercises his options, then sells all shares. He's made $6 million.
The CEO pays roughly 25% (used in the book, the amount could be different now but the principle is the same) in federal and state taxes which is $1.5 million.
If he had made $6 million in ordinary income, he would be taxed at roughly 45% (Kiyosaki's number) and owe $2.7 million.
By earning the money in portfolio income versus ordinary income, the CEO nets an extra $1.2 million.
The same is true for the average person, the numbers are just lower.
Oh, and most of us don't get stock options either, so that's a bit different. 😉
We'll come back to taxes again as they play another role in a different way.
[Update: A couple of people have pointed out that stock options are taxed as ordinary income. As I googled around, I found there are actually different kinds of stock options and they are taxed differently. Details can be read here if you're interested. My guess is that Kiyosaki is assuming the best-case scenario and that the rich would employ CPAs to make sure the options were taxed as little as possible. The point remains valid no matter what: if you can get income taxed at a lower rate, you'll be better off. 🙂 Oh, and ask your CPA about any specific tax questions you have — don't just believe a guy in the internet (or in a book).]
3. They make mistakes.
The short version here is that:
The rich aren't afraid to make mistakes.
When they do make mistakes, they learn from them.
They then apply what they have learned from their mistakes and become richer.
Kiyosaki says the poor and middle class are risk adverse and see making mistakes as "wrong" (he cites the American education system where we equate mistakes with something "bad".)
I can't say I disagree with this either…I think it's correct…with one caveat…the mistakes can't be catastrophic.
The millionaires I've talked to have made plenty of mistakes. So have I. But we haven't killed our finances in the process. We had missteps, learned from them, got better, and moved on. Much like Kiyosaki says.
The best example I can think of making mistakes and still succeeding is found in the book How to Fail at Almost Everything and Still Win Big: Kind of the Story of My Life
. It's written by Dilbert creator Scott Adams. The book is a great read if you're looking for a personal finance/business book with lots of tongue-in-cheek comedy. It's very entertaining and educational.
4. They take advantage of crashes.
Here's the way Kiyosaki summarizes this point:
If Walmart was having a 50%-off sale, you could not get into the store. If Wall Street has a 50%-off sale, [the poor and middle class] run and hide.
Kiyosaki expands on this point with the following:
Unfortunately most people shop for things that make them poorer, things like new flashy cars, new clothes, and jewelry.
The rich shop for bargains that make them richer. They wait for stock market crashes to buy the best stocks at bargain prices. They're poised for crashes so they can buy real estate at bargain prices. They buy gold and silver, and businesses, at bargain prices.
This line of thinking is similar to that in this famous Warren Buffett quote:
Be fearful when others are greedy and greedy when others are fearful.
I have a couple thoughts on this point. Generally I agree with it but with some questions.
First of all, I know that lots of money can be made if you go against the flow and buy things at lower prices. I've seen this happen several times to me including:
When the 2007-2008 financial crisis hit, we invested a significant amount of cash in the market. It was gut-wrenching to buy funds and see our money fall big the next day (we did it in waves so it was death by a thousand investments). But eventually the market roared back and we made out well.
A few years after that, when our cash reserves had built back up, we did the same thing with real estate, buying buildings at a fraction of what they used to sell for (and a fraction of what they are now worth).
Then into retirement, I bought Rockstar Finance. Many would say I over-paid since I bought it for way more than what traditional metrics would say was its fair value. But to me, I bought it at a discount to what I thought I could turn it into. I did just that, made a good amount, then sold it a bit over a year later for more than twice what I paid.
So I see what he means.
That said, how do the rich pounce on opportunities unless they have a ton of cash on hand — which is something Kiyosaki says is for losers? Maybe they borrow the money? (As we'll see in a moment, he loves debt in certain cases.)
For us, we had an ever-widening gap between what we made and what we spent, so we were churning off tons of cash (we lived on 17% of our gross income which was helped by the fact that we had no debt — even our mortgage had been paid off years before — so expenses were quite low). We had enough to fully fund our 401ks with plenty left over.
In addition, I always kept a year or more's worth of emergency fund money. Between the cash we churned off and cutting the emergency fund down to six months, we had enough to buy our apartments for cash.
Is that how the rich do it?
5. They use debt to buy assets.
Kiyosaki is a big fan of using debt to buy assets, which he would define as "something that puts money in your pocket."
Examples of assets worth buying with debt include businesses, real estate, paper assets (stocks and bonds), and commodities. He favors real estate because it's easier to get loans (since banks use the property as collateral).
Note that he does NOT list a personal residence as an asset. He claims it's a liability since it doesn't put money in your pocket (it does the opposite — it costs you money).
He also notes that "savings are taxed and debt is tax-free money which is another reason for the rich getting richer."
We'll see what he means by this in the next point.
He does give this word of warning:
You must be very careful with debt. It takes financial education to learn how to use debt to get rich.
Debt is a double-edged sword. Debt can make you rich and then, suddenly, something changes and that same debt is making you poor, very poor.
It's been said that those who live by the sword die by the sword and that seems to be the case with debt.
For us debt was something we wanted to avoid. Of course we paid off debt in the days of very high rates, so borrowing didn't make as much sense as some could argue it does today.
That said, I'm not sure we'd do anything differently if we were starting out today. There's a sense of comfort in knowing you don't owe anyone anything.
6. They create phantom income.
This uses a couple of the points above (namely debt and taxes) to "create income", which he calls "phantom income."
IMO, phantom income is best described by using an example. This is from the book — cobbled together and paraphrased in parts to make it shorter and clearer:
Let's say a $100,000 property requires a 20% down payment.
If an investor is in the 40% tax bracket, the $20k down payment really cost him $35k in ordinary income since roughly $15k went to taxes.
If the investor borrows the $20k instead, he "saves" $15k or generates $15k in phantom income.
Kiyosaki says that "the phantom income from debt is the time and money you save renting money rather than working to earn it, paying taxes on it, and saving it."
Then the property goes up in value to $150k. The $50k is phantom income known as appreciation.
Then tenants pay off your mortgage and your debt is reduced. This amortization of your debt is also phantom income — as it reduces debt/grows the value of your asset.
In addition, you can take depreciation off your income. Depreciation costs you nothing and hence it's another form of phantom income, saving you even more in taxes.
The professional investor can keep things rolling by either 1) borrowing on the appreciated property to buy more properties or 2) sell the property, roll it into a 1031 exchange to buy a bigger place (using debt too), and owing no taxes on it.
Here's another example from the book:
Suppose your one rental property cost $100,000. You have no debt and you have $100,000 of property, all of which came from after-tax income.
Instead, you borrow $200,000 and buy three properties. Now you have real estate worth $300,000.
Let's say your appreciation is 10% on your properties. If you have one property, your appreciation, or phantom income is $10,000 ($100,000 * 10%).
However, if you have three properties worth $300,000, your appreciation or phantom income is $30,000 ($300,000 * 10%). In this case your debt tripled your phantom income.
A few thoughts on this subject:
I see what he means. If you work the system, you can certainly play it to your advantage. That said…
His examples assume there's always appreciation. I think we all know that's not the case. In fact, if the value of the rentals goes down, owning more of them loses you more than you would have lost if you'd bought with cash.
Try buying food with phantom income.
Anyway, those are the six reasons Kiyosaki gives for the rich getting richer.
As in his other books, he has a ton of additional thoughts and opinions that don't fit neatly under any of these topics (and don't really relate to the rich getting richer). I'll share those separately in another post.
For now, what do you think of his list? I'm particularly interested in your thoughts on phantom income…