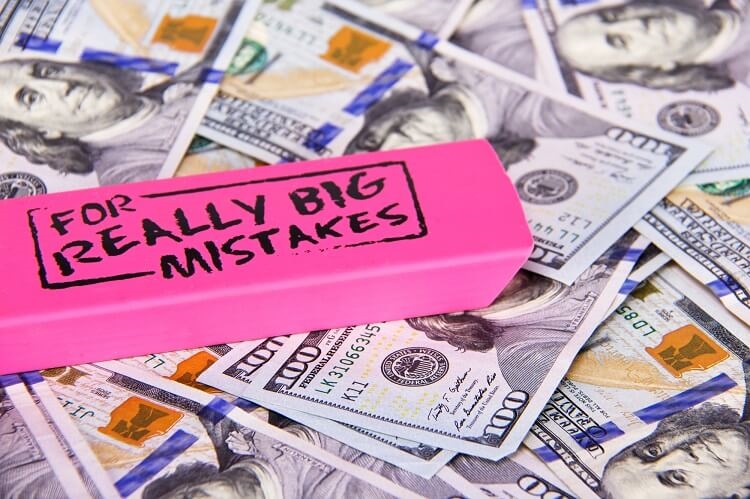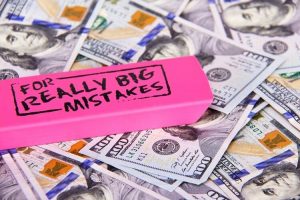 Here's another summary from our first 100 millionaire interviews.
We all make mistakes.
Or said another way: everyone makes mistakes.
To demonstrate how often mistakes show up even among a pretty sophisticated readership like ESI Money, here's a mixture of mistake-laden posts for your review:
Do you know who else makes mistakes? Millionaires. Yes, millionaires make mistakes with their money.
Many people assume that millionaires became wealthy because they "made all the right moves", "never make mistakes", or some other sort of nonsense.
This is simply not true.
In fact, millionaires make plenty of mistakes.
To prove this point and to illustrate that you don't have to be perfect to become wealthy, around millionaire interview #40 I began to ask the following question:
What money mistakes have you made along the way that others can learn from?
And I received a variety of responses!
I grouped the results into eight categories. Some responses could be included in multiple categories, so I had to make value judgments about which seemed most appropriate, so please forgive me if you think some of these should be classified differently.
Like I've done in many other millionaire summary posts, I'll let millionaires tell their own stories, using their quotes from our interviews, as I think that makes the examples more real.
Then once all the comments have been shared for each category, I'll add in a few general comments to summarize before moving to the next topic.
With that said, here are the categories where millionaires make the most money mistakes, listed in descending order…
1. Investing
This is BY FAR the leading area for millionaire mistakes.
In fact, many of the examples not listed in this group could easily be classified within it, so the impact is much bigger than what I'm showing below.
Buckle up as there are a lot of investing mistake examples…
Don't stay in a mutual fund just because Money or Kiplinger's at one time said glowing things about it.
Past performance of a flash in the pan style fund does not mean it will do anything in the future.
When I was first starting out I was simply amazed by the concept of a dividend. Once every few months this company would just send you a check!
Instead of understanding the company, why the dividend was big, or how it was going to be sustained I simply bought the companies with the largest dividend. This led to REIT (real estate investment trust) stocks and some very big losses.
To this day I still do not care for REIT stocks or funds due to the bad experiences I have had.
One is just never selling some investments (because I don't want a tax liability…) and simply watch the investment drop…drop…and even become delisted. Painful.
I invested 40% of my 401K in my company's stock. I also invested in an ESOP and had company stock options.
I knew that from a diversification point of view it's not a good idea to invest in single stocks, but still wanted to show my support.
I have since learned that it is an especially bad idea to invest in your own company or to at least limit such investments to 10% of your 401K.
The problem is that when your company is laying off (when you need money most) is also when the company stock goes way down.
I held off on cashing in some stock rights for two months to get it in a lower tax bracket year.
They went underwater and it cost us $60 thousand. That impressed my wife!
We should forget trying to time the market (we largely have but it is so tempting to try). Mr. Market is a fickle guy.
The biggest mistake is that we didn't start investing much sooner (we started in spring of 2014).
I'm originally from Japan, where saving is considered to be the most important key to building wealth, investment is often considered more like gambling, and only for those who with expertise.
I still get reactions like, "Are you sure you want to do that?" from my Japanese family and friends whenever I tell them that we invest our money in the stock market.
So we missed the 2008 recovery, which has been the biggest investment opportunity, because I thought investing when everything was down was the scariest idea. I thought it would only keep failing at that time, and had no idea that the market tends to recover and go up eventually.
Had we invested at that time, we probably would've had $200,000 to $300,000 more today???
The only major mistake was taking a 'hot tip' on a gold stock from a friend without doing my research.
I would say my money mistake was to get involved in forex trading.
I would say become an investor for the long run, instead of a trader in the short run.
Because of my Chinese American background, I was taught at an early age to put all my money in the bank and to stay away from "risky investments" such as stocks and real estate. I used to have money in the bank earning 0.01% interest without realizing I'm actually losing money having it there when I factor in inflation. I need to get money to work for me instead!
I used to think borrowing money to invest in real estate was risky and I should only buy when I have saved up all the money to buy. Only after I purchased my second building did I realized that taking a reasonable risk by borrowing money is necessary when investing.
I once invested in a biotech company; what a mistake! What do I know about biotech? Nothing! Why would I even invest in something I don't even know? I lost my shirt on that investment.
I would definitely have looked into my stock investments better as well. I would have skipped the individual stocks (yes, even Amazon!) and just put everything toward a low-cost index fund like VTSAX.
Another thing I would have focused on would have been more rental properties. It's true that our first rental house wasn't a great investment, but it truly was a great learning experience. If I had bought more properties back then, we would have paid off those mortgages much sooner…and that's when the money really starts rolling in!
A few years ago I had $20,000 in disposable investment income in my registered accounts.
I was managing it myself and made some silly mistakes with Blackberry and lost half of it.
Since then, I've never managed any investments myself.
Not actively pay attention to our portfolio at least 2x a year and making adjustments accordingly. I think we have given up at least $500k+ by not doing this.
Another mistake I made in December 2016 was an emotional reaction to the presidential election results (it's funny that the "big recession" didn't cause any panic for me, but the election sure did). I was convinced that the market would tank, so I moved $500k from my 401k into a stable fund. I was going to reinvest when everything went south.
We all know what the market did in 2017, I easily gave up $100k+ in appreciation. I take full responsibility for this decision, though my spouse knew I was doing it. I should've stayed the course and have been pumping big chunks back into the market on big downward turns.
Understand what you are investing in.
Enron was a perfect example of a stock investment that ended up badly. There were all sorts of red flags.
Rainforest Café was another disaster. I thought I knew what I was buying. Never buy a theme restaurant stock.
When I was in my 20s I let myself be guided (by 'free' bank investment advisors) into a diversified portfolio that included way too many conservative assets.
It wasn't whole life insurance bad but the fees and lack of return killed me when all I would have needed was a total stock market or S&P fund!
Hot stock tips never were hot.
Investment-wise a failed business slowed me down but I did follow that up with a successful business so I suppose I am ahead at the moment.
Capitalize more on down markets. I could have bought more stock or rental properties when markets were down. In this case, hindsight is 20/20.
When markets were down, I was just as worried as everybody else and it was hard to pull the trigger on burning some of our cash safety net on uncertain investments. In 2007-2009 we were all worried about our jobs and future income.
Avoid day trading and frequent stock trading. Index funds are easier and you will likely get better returns in the long haul.
If you get an opportunity to diversify into rental properties or other income streams consider them. I never did this. It bothers me now that all my eggs are essentially in one stock market basket. I failed to diversify.
Moving to Schwab vs managing it myself in index funds – impact on net worth: negative $1.5 million.
Lesson: Be brave and manage your money yourself in index funds.
Keeping $400K in a muni bond fund for the last 9 years (a component of the point above) – impact on net worth: negative $1 million.
Lesson: Do you really want muni-bonds? Even if they are tax free?
The primary mistake I've made has been not adhering to some of my trading tenets about cutting losses early.
Nearly every time, the losses grow and you end up cutting much later.
It's disappointing when I fail that aspect as I'm constantly pounding my fist on the table for others to "cut losses early". But I'm accountable each time and I make sure I understand why I'm holding rather than cutting. But I still profess to let winners run and cut the losers quickly.
Whew! What a list!
The point I'm getting out of all this is that millionaires have made almost every investing mistake in the book.
In some ways, these could be considered a trap for the wealthy/high-earning individual.
Consider this scenario: You do well in one area of your financial life (like your career/income), so you begin to think you can do well in all areas. That's when you start to invest in this, that, and everything else…and generally lose money.
Ultimately many realize the futility of this haphazard approach. They come to the conclusion that simple index fund investing is the best option for the vast majority.
Whether this happens sooner or later determines the total cost of the mistake.
I was not immune to these issues myself. I went through the "I know better than most stock pickers" stage early on in my career. Thankfully I wised up quickly before I cost myself significantly in lost time and money.
2. Spending and Saving
These two could have been their own categories, but since they are so closely related (spending too much limits saving) I decided to lump them together.
Here are some millionaire mistakes in this area…
I think we could have saved more, but hindsight is everything.
Certainly we were not as thoughtful in our spending in our younger years as we are now. We wish we could have realized that sooner.
Not starting (saving and investing) earlier was a big fail. If I had just maxed out my 401K for the first 10 years and saved a little something outside of that I'd have another million dollars at a minimum.
As they say…time waits for no one.
In my thirties, when my mother moved back into our lives from a small town outside the U.S. I helped her renovate her urban condo, took her out to a fancy lunch and dinner every week, bought her thousands of dollars' worth of clothing and luxury items, took her on luxury trips, paid $80,000 out of pocket over many years for a long-term care insurance policy, and made her feel like a queen. (Hey, you only have one mother, right?)
I also developed a taste for expensive wines and started collecting them, which quickly ran to $5,000 a year.
As a couple we keep three large purebred dogs who have monthly insurance payments and eat a lot of high-end dog food. They are amazing creatures but not for the financially faint of heart.
I think the issue I had when I was younger, was not having a tracking mentality. That is, not closely tracking what our spending was and what it was on/for. So I'd say I was less disciplined than I became over time.
I'm sure I missed opportunities to invest more dollars because I was not closely tracking what we had coming in. Luckily, the mentality my wife brought to our marriage probably saved me from doing really stupid things with our dollars – she held me accountable, which was a great thing.
Biggest money mistake was early in our marriage — having to go out to dinner three times a week was really dumb.
I made every mistake in the book. If I could do it all over again, though, I would start saving more when I was younger…compound interest really is magic!
I've spent too much on cars. Let's think about that for a moment…
How many cars have I had that were more expensive than the first house I bought?
My first house was $43K. I have had 3 cars that expensive or higher. I could have gotten some pretty nice cars for half that. I bought those cars in 1996, 2003, 2010 (at least I kept them 7 years each).
If I had spent half that and invested it with conservative 5% returns:
$21.5K for 22 years = $65K
$21.5K for 15 years = $45K
$21.5K for 8 years = $32K
Not perfectly calculated. But I'd have an extra $142K right now!
I carried 3-year notes on the first two cars and paid cash for the third. Think of the interest, sales tax, and insurance I would have saved too!
New cars, lease cars, financing, credit card debt, 30 year mortgages, avoid all of the above.
It took us a bit, but we learned that these behaviors prohibit FI and suck the life out of you.
Start saving earlier. It took me five years out of college to get my act together.
Maybe it's comforting to know that millionaires make the same mistakes everyone else does — they spend too much and they save too little.
As with investing, eventually they get a clue, control their spending, and begin saving more.
If they don't, then they probably don't end up as millionaires. 😉
3. Career
Almost all the millionaires I've interviewed have earned $100k or more a year.
In fact, only five of the first 100 earn below $100k, and some of those do because they are retired.
That said, most also started out with very low salaries, then built their careers into strong income streams.
And yet, their career paths were not mistake free.
Here are some of their problems…
I would have gone to the cheapest law school (that was still reputable) that I could find.
The most significant money mistake I made along the way was quitting a job without having another one. (See six-months of unemployment above.)
It is so much easier to get another job when you currently have one.
The biggest things I would have done differently are 1) to not leave a good job without a real solid plan for future income, 2) and not follow advice that could be costly if incorrect, without doing a lot of research.
The biggest mistake I made was not being more patient in both in my career and trying to grow wealth.
Slow and steady combined with compounding will work for anyone as the tortoise did beat the hare after all! 🙂
I got an MBA, but didn't exploit it as much as I should have.
One of my classmates was Mr. Intern. He interned constantly with a bunch of firms throughout his two years to figure out what industry floated his boat.
That was smart.
When my husband was laid off, he changed directions completely by going to law school. We would have handled my husband's entry into law practice differently.
After three months, he realized how badly his first partner mismanaged funds and severed the financial relationship.
We were also caught in the purchase and remodel of an older building for his law practice that we've been somewhat successful in renting out over the last ten years.
Perhaps the biggest, in dollars, mistake I made was not taking an opportunity that would have required me to move back to Southern California.
I was to be the 12th employee for a "digital" company serving financial institutions.
As that employee, I would have also received just over 100,000 shares of stock which wasn't public yet.
They went public two years later or so and their first trade was over $80 per share. Oops.
Network more. You hear it all the time – network, network, network.
I consider my working (and personal) life successful by my own definition (I don't care what others think honestly). My career progression was certainly helped by the small network of people I did have.
I have observed that those who are savvy about their networking tend to have more opportunities in the long term.
I've talked quite a bit about growing your career many times.
Instead of repeating myself about how important it is (thus avoiding sounding like the school teacher scolding a class), here are a few posts that cover all the details:
4. Retirement
I was a bit surprised to find this category so high on the list since most millionaires I've interviewed are not yet retired.
But many of their mistakes involve some aspect of either saving or investing for retirement, as you'll see…
By the time we learned about Roth IRA's it was a little late and we were earning too much.
It would have been nice now to have more tax free income to lean on as we begin to draw from our investments.
When I started a new job in 1987, I had a 401K (about $4K) from my former employer that I wanted to roll into an IRA.
I went to the bank to invest it in a CD until I could figure out a better place for it.
The investment consultant suggested that I put it in a variable annuity (which I had never heard of before).
Afterward I read that variable annuities are usually bad investments that charge high management fees and are pushed by salespeople. These investments also have a penalty for early withdrawal.
I waited the 10 years to get past the penalty and immediately moved it to my account at Vanguard. The whole experience gave me a healthy distrust of people selling investments.
I also realize that we missed a golden opportunity from 2002 to 2009 in LaGrange, Georgia.
Instead of buying a house, we could have used the money for living expenses while we fully funded our 403b, 457, and IRA accounts.
During that time, we could have saved almost $500k in those three accounts. Our 403b and IRA money would have been invested at either Vanguard or Tiaa-Cref. Like they say, hindsight is 20/20!
We should have started saving for retirement way earlier and more aggressively.
Early on I figured that everyone retired at 62 or 65. I had no clue about the math behind early retirement.
If I had, I might've been less apt to travel as much, dine out as much, etc.
Making 15% retirement contributions while at advocacy group (between the ages of 40 and 50) when I could have made 30% – impact on net worth: negative $670K.
This is the biggest mistake I ever made, as it will keep on giving – it will be a $2 million mistake by the time I turn 70.5.
And it would have been so easy to contribute an extra $2K – $3K per month.
Lesson: If you can afford to pay 30% into your retirement accounts do it! Think about it – you probably cannot afford not to…
My biggest mistake in this area was one of mindset.
Like Millionaire 92, I was convinced that retiring "early" was around 60.
I eventually woke up at 52, realized I had enough, and retired.
Then I went back, did the math and realized I could have retired at 42.
Ugh. That's a HUGE mistake — losing a decade of retirement.
5. Debt and Credit
Like most of America, millionaires have had their issues with debt.
Some of their experiences…
I would have avoided debt like the plague, and I would've purchased used cars instead of new ones.
Also understand and manage your credit score – At one point I did not pay a pager bill because of a dispute and it got sent to collection. That $40 collection cost my wife and I $15,000 in interest on our mortgage after it dropped my credit score to 719. If my credit score would have been 720 we could have gotten a .25% rate discount.
The biggest mistake (blessing) was I took out a couple of credit cards in college and racked up about $5000 in debt. My parents found out I was in debt and helped me out, but that painful, embarrassing lesson was actually a blessing, because we never had credit card debt moving forward.
I always made a good income when I was younger but also always struggled with overleveraging myself with credit. Paying off credit balances seemed like a continuous cycle for me in the first 10 years post-college. That definitely inhibited my ability to maximally save and invest.
In my early and mid-twenties my life was a series of revolving credit card bills.
When you go to an Ivy League school you can develop some seriously expensive tastes. I was investing in single stocks based on calls from brokers I didn't know. I bought expensive clothing rather than sock it away. I ate out and lived way beyond my means. I didn't live according to a monthly budget.
Thank God I went to a free credit card counseling service, rolled up all my payments, and got my financial life together. Rather than incurring more debt for graduate school, I also chose a less prestigious program that paid 100% of everything. And the program was so good, as it turned out, that I sold my first book to a major publisher before I'd even graduated.
Taking out too much in student loans forced me to start off in a large hole. Looking back, I should have looked at having the military pay for my education in return for my service.
It's like a snapshot of America.
Many would think that millionaires are immune to these mistakes, but that's simply not the case. They deal with debt problems like the majority of Americans.
6. House/Real Estate
A couple interesting things about this one…
First, when large dollars are involved as well as a list of "wants" (versus needs), you can see how buying a home can be fraught with mistakes.
Second, we have yet another sub-set of investing (along with retirement investing) to prove that investing is really where a lot of millionaire mistakes land.
Here are some stories…
A mistake was buying 2,200 sq. ft. home for two people. We would have been fine with a smaller and less expensive home. Plus, it would have required much less yardwork!
I also realize that we missed a golden opportunity from 2002 to 2009 in LaGrange, Georgia. Instead of buying a house, we could have used the money for living expenses while we fully funded our 403b, 457, and IRA accounts. During that time, we could have saved almost $500k in those three accounts. Our 403b and IRA money would have been invested at either Vanguard or Tiaa-Cref. Like they say, hindsight is 20/20!
Seriously though, we've made a few that I still shake my head at.
The farther one lives from Washington, DC, the cheaper the housing is. We decided to move significantly out (think going from suburbs to rural) and bought a great house for a good price. What we did was for a good reason, but we didn't factor in the wear and tear on our cars, commuting costs, and the time commuting.
We realized after a few years that all we had done was to take the money we were paying on our old mortgage and transferred it to auto expenses and commuting costs. This was not factoring in the loss of time!
We wound up selling that house and moved closer in, but the end result was roughly a $100k loss. Our lesson there was that although our motivation was right, failure to examine ALL possible ramifications may not provide the intended outcome.
My worst mistake was selling our townhouse to purchase a single family home.
When the time comes to buy a home, try to buy a house you feel you can live with for the long term, or something that will later become a great rental property.
Although my house is now paid off, I wish we had spent just a bit more for a slightly nicer home. I feel married to a house I don't love right now, looking back I could have afforded more and been much happier. Real estate price increases and property tax implications make it difficult to upgrade later.
Selling my first house vs keeping it and renting it out – impact on net worth: negative $500K. (All the smart people I know have real estate investments producing income as a part of their portfolio – I don't think I could handle the stress of it though).
Lesson: Do a detailed analysis if it is worth keeping your starter home as a rental investment.
After my vacation rental purchase I had another opportunity, a couple years ago, to pick up another house in the same area with a great vacation rental history. I overplayed my hand and tried to get the house for what "I" wanted it for, thinking that the sellers would jump to sell it quickly on a deal that would close quickly. I lost the house over $5,000. It would have had a monster return on cash rate and would now be worth $50,000 more due to appreciation.
Understand the level of risk you are taking on but also the materiality of the variables. Losing that property over $5,000, given the attached opportunity, was a big financial mistake.
Buying real estate is tough, whether it's for personal use or as an investment.
As with most high-value purchases, emotions get involved and when that happens, mistakes are made.
7. Family
This was an interesting, usually non-financial issue that surprised me.
But various aspects of family dynamics were mentioned more than once.
A few samples…
Don't do anything without your partner. I could have saved a lot more money had I not bought that model home. I actually did it somewhat behind my wife's back.
Don't loan money to family or friends. If you follow the advice above you will wind up being more successful than a few relatives. They may come to you for a loan, or multiple loans. You may think you are doing them a favor, but you are likely not. Give them good advice on how they might handle their finances if they ask, but don't give them money. I learned this the hard way.
Having three children vs staying childless – impact on net worth – approximately negative $5 million. OK, I am only joking about that one (or am I….??).
Lesson: No lesson – I would rather be a pauper with my children than have $10 million now without them. Although there are days…
I was married for about 11 years before getting divorced. My husband and I at the time were making about the same salary and same 401(k) matching from our respective employers. While splitting up our 401(k) accounts the balance in mine was $20k and his was $120k! He had $100k more than me and I had no idea.
Luckily during the divorce process we were able to split the accounts 50/50 but I felt so uninformed about our finances. That was the moment I vowed to learn about investments and how to grow the money that I had. I should have kept my eye on this and been more educated about saving, retirement accounts and other areas of personal finance.
We've talked about the "value" (if you want to call it that) of having the right spouse/partner.
If you have the right one, your life is better — financially and non-financially.
If you have the wrong one, your life and/or your finances are doomed. If you stay together, a spender will sink a saver. If you separate, divorce is very expensive.
No one thinks they are making a financial decision when they get married/commit to each other, but matching yourself with someone else will most certainly impact your finances — either for good or for ill.
8. Get Rich Quick
Only a few mentions here, but I was surprised that they appeared at all.
Some comments…
I made mistakes in get rich quick schemes with high pay out promises.
All my money mistakes were thankfully small compared to the amounts we are dealing with now but they all involved thinking I was smarter than the next guy and getting rich quick (at least in my mind.)
It is true what the fable about the tortoise and the hare taught us. Slow and steady wins the race. Life isn't a 100 meter dash. It's a marathon.
Again, here's another category that could be under investing.
Summary
Ok, now that we've heard the horror stories, what does all this tell us?
Here are some of my thoughts:
Millionaires make mistakes. They are not perfect. I personally love the fact that they didn't do everything right and yet still did well financially (because they did most things correctly).
They learn from their mistakes and correct them. And they seem to adjust rather quickly, minimizing the impact their mistakes have.
The mistakes made were not killers. It's true they generally don't make the death-blow money mistakes some make which keeps them from totally derailing their finances.
They succeeded despite making mistakes. This should be an encouragement to anyone who thinks they can't become wealthy because they've made money mistakes. The truth is we've all made mistakes — learn from them, change your habits, and move on.
No one needs to be perfect to reach financial independence. This is just a different way of saying the same thing but I feel like I can't stress it enough. If these people made mistakes and still thrived, there are many out there who can do the same.
Those are my take-aways from their stories? What do you think? And what are some of your worst money mistakes? 😉