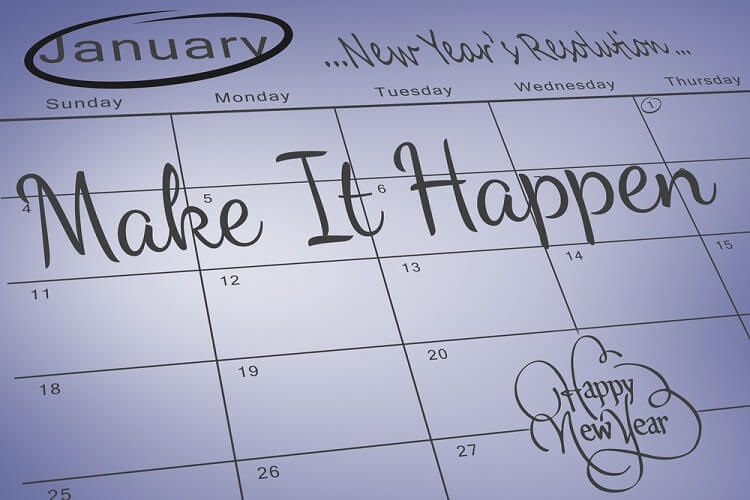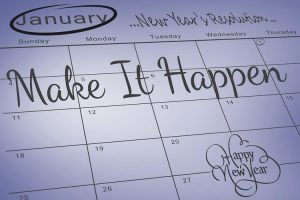 I am a New Year's resolutions guy.
For the past 20+ years or so I have set goals at the beginning of each year, then spent the next 365 days working towards them.
I adjust along the way as needed. Some get added and some eliminated, but I'd say a good 80% of those initial goals get accomplished in some form over the next year.
This system has been very kind to me. Setting goals and monitoring them to completion has been one of the keys to many of my life's successes.
And there's no better area where this process has worked than in my finances.
Money Goals
I've shared my money goals on this site before — both in 2016 and 2017.
I didn't in 2018 because 1) most of my major (and exciting goals) have been achieved and 2) as a result listing the ones I did have made for a boring post.
Instead, last year I shared Money Resolutions Everyone Should Consider to cover general resolutions that have the biggest impact and thus should be at least considered each year.
You may want to read that post as it's still relevant this year (and every year really).
With all that history I couldn't let a new year pass without encouraging everyone to think about your money goals for 2019 and develop plans to achieve them.
And to help in that process I have a simple option for how to make that happen (plus a free resource).
Old-School Resolutions
Before we get to those, I do have to mention that last month there was some talk about resolutions in the Rockstar Finance forums. Several bloggers left their top five resolutions for 2019.
Here are mine (with a few comments):
Update estate plan/will — We have started the ball rolling here and will likely get it over the finish line in 2019! I'm so excited! It's been on my to-do list for several years.
Launch both kids on their own (#EmptyNest) — My daughter has graduated college and will move out next month (I'll be giving an update on how her college savings turned out). My son now has two jobs that we're trying to turn into one that pays enough for him to move out. I'm his chief partner in this.
Take family on Caribbean vacation — Back to Grand Cayman we go!!!
Plan large-scale charity effort with other money bloggers — This is in the works. As you know, I'm a big believer in helping others. There's been a lot of chatter in the money blogging world about the fact that we should be givers too (not just savers for ourselves). Well, I'm going to work with some other great bloggers to put that chatter into action. Stay tuned.
Decide how to allocate large cash reserve I've built up — I'm thinking of putting it into the stock market at this point, but also wouldn't be opposed to buying more real estate if the housing market collapses. This time I'll be more prepared than in 2008-2010 and things should go even better.
So those are my old-school resolutions (at least the top five) for those of you who like to see what I'm doing each year.
And some of you might want to create similar resolutions. But for others, this process seems too complicated. For you I have a new alternative…
ESI Money Resolutions
If you've been reading this site for more than 10 seconds you know that we focus on earning, saving, and investing (ESI) — the three steps that lead anyone to wealth.
So why not concentrate New Year's resolutions around E-S-I? If those are the vital three steps, shouldn't each of them be part of a resolutions plan every year?
To get you started, here are some questions you may want to consider for each of these:
Earn
What are you going to do in 2019 to earn more?
Will you make plans to grow your salary at work?
Will you start a side hustle?
Will a spouse go back to work?
Or will it be something else?
Save
What will you be doing to save more in 2019?
Will you develop a budget and then review it monthly to look for savings?
Will you forego a large expense to save?
Will you cut a series of small expenses?
Invest
What will you do in 2019 to increase your investing efforts?
Will you reevaluate your portfolio?
Will you increase your 401k contribution?
Will you consider new investments like real estate?
There are more, of course, but these will get you started thinking about what you want to do in each area in 2019.
Just Pick Three
Now to put the "simple" in this process for those who do not want a complicated or extensive list of potential resolutions (which is most people, BTW.)
Here's my simple resolution alternative for those who want a big bang with minimal time commitment:
Simply list one annual goal for each of E-S-I that you want to accomplish in 2019.
Surely everyone can make the time to focus on three goals, right?
Let me show you what this might look like. If I was doing the simpler ESI resolution method, here's what I might come up with:
In 2019, I want to grow my income by $25,000 by growing my website income. (Earn)
In 2019, I want to save $1,000 by eating out less. It's healthier to eat at home anyway. (Save)
In 2019, I want to complete the liquidation of my P2P lending assets. (Invest)
There, see how easy that was?
It's really something anyone can do.
So if you've rejected resolutions to this point because they are too tough, what's your excuse now? 😉
30 Days to Great Finances
In addition to this option for making resolutions easier to set and achieve, I have a special offer (free, by the way) for those who want a guide to either get your finances in order or simply a series of reminders for any tuning-up you'd like to do.
I created a 30-day email series called "30 Days to Great Finances" that we will be giving to people when they register for the Rockstar Finance daily email.
But I also wanted to give current ESI Money readers a chance at it (without needing to sign up for the Rockstar Finance email), so for a limited time, it's available here. Sign up if you are interested.
Hopefully either (or both) of those options will provide enough guidance to get you started on achieving great financial goals in 2019.
So, does anyone want to share their goals for 2019, one each for earning, saving, and investing? I'd love to hear them!
And if you have goals in a different format or style, feel free to post those as well. I'd love to see what's in store for each of you this year.