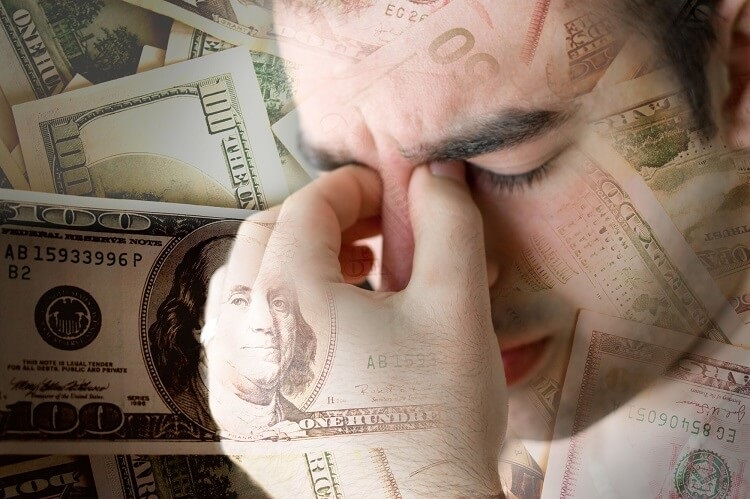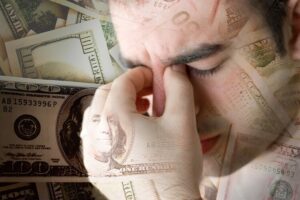 I've mentioned work stress quite a few times on ESI Money.
Most recently in Ten Things I Didn't Expect in Early Retirement, item #9 detailed how stress has departed my life since retirement.
It has virtually vanished for me over the past few years — something I am very thankful for.
While working, I didn't realize what an impact work stress had on me. Sure, I knew there were times where I was under pressure, but looking back I can see that I was under a lot of stress almost my entire working career.
And what's not to be stressed about? There seems to be a multitude of factors that contributed to my work stress:
Tough business situations. Even when things are good, you always need to perform…and do better.
Terrible bosses. Can I get an amen?
Subordinates. For the most part, I loved the people who worked for me and saw it as my job to help them get ahead (a stress of its own). But there's always one or two that are huge stress machines.
Co-workers. Where people gather, there will be stress.
The fact that my entire family's well-being was tied to my job performance. Talk about a reason to be stressed!
And on and on. One thing after another added work stress to my life.
Once I retired, I could literally feel the stress melting away. It took several months to leave completely.
I see many articles, tweets, comments, etc. every week about people dealing with work stress and wanting to escape.
They talk about how bad work is, how the stress is killing them, and how they can't wait to retire.
Some don't wait, they simply quit without a good financial plan. They just can't take it any more.
My Introduction to Fortune 500 Stress
In my first job out of grad school, I was employed by a Fortune 500 company. It's a multi-national company that you have most certainly heard of.
The company was known to be an excellent place to learn marketing (my specialty). It was a highly desirable organization in the marketing industry, so much so that the company's reputation gave me work-related advantages all throughout my career — even though I was there only two years.
Funny story, I received a call from an executive recruiter the first week I was on the job, asking if I wanted to interview for a new position with another company. When I related that I didn't have much experience, he told me it didn't matter — just being good enough to be hired by my company was all the experience I needed. Ha!
But life in the fast lane wasn't all rainbows and unicorns. Just under the glamor and prestige was a ton of stress. You were expected to perform and perform well. It was also a dog-eat-dog environment where everyone was crawling all over each other to get ahead.
I worked 70-hour weeks for almost my entire time there. I was single and alone in a new city so I didn't have much else to do, but still, the hours were crushing. I left many nights at 3 am or so. I had one co-worker who once spent the night at work to complete an assignment so we could all discuss it at…wait for it…an 8 am SATURDAY meeting.
You can imagine how a wide-eyed country boy from Iowa reacted in this environment. I think I was in shock the first six months I was there.
But I did better than most. Many couldn't take it and left for other jobs a few months after being hired. Others simply quit without having another job lined up — they couldn't stand the stress/pressure. The ultimate example of how bad it was is the story of a guy who came in for his first day of work, left for lunch at noon, and never came back. When they tracked him down he told them the stress was too much for him. LOL!
Just the Tip of the Stress Iceberg
Unfortunately, this was not the worse stress I had in my career. It was pretty bad, especially since I hadn't developed any stress anti-bodies at that time. Sure, I had some from completing a tough MBA program, but that was the minor leagues compared to this.
here are a few times the stress was even worse than this first job:
I was promoted to a new division and started working for a maniac. Working for him produced the only time I can remember yelling in anger at my boss. And I mean yelling. Actually, screaming might be a better word. But by the time I did that I had lost it — the guy was driving me crazy.
I was promoted to head a division where we were merging two different companies. 30% of the workers were duplicates. Guess who had to decide who stayed and who went? And who had to fire the 30% not needed? I slept very few hours a night for a couple months until things settled down.
I was hired at an internet start-up during the dot com boom. As if working at a start-up of any kind isn't stressful enough, it was during the Wild West days of the web when it was (supposedly) a land rush for eyeballs. So just to get our site up and running was a feat (which required $20 million or so — funny now that you can build a site in a few hours for almost nothing), then to deal with the market crashing all around us (a few months later), being unable to get second-round financing, and having to layoff our entire staff was pretty stressful. And we had two young children at home just to add some non-work stress in for good measure.
I was the fall guy for a bad season of business. I was either going to be demoted or fired and it was approaching quickly. Thankfully I had developed my network and secured what turned out to be the best job of my life literally a week before the ax was supposed to fall. But the few months before I did so were off-the-scale stressful.
I became the president of a $100 million company with over 800 employees in a declining industry which was being killed by Amazon. Nothing like the care of 800+ families to keep stress levels in the stratosphere.
So I've known some work stress in my life.
As I wrote the items above it was interesting to me to see what I didn't list as being particularly stressful — like the two times I was fired or the crazy boss who drove me off the edge into retirement. The reason for this is probably because I was already financially independent by this time. Three million dollars has a way of dampening work-related stress. Ha!
Anyway, back to the main point — not having work stress has been a great part of retirement. And thankfully, it hasn't been replaced by any other kind of stress.
That said, some are in danger of trading their work stress for something I think is even worse…
Money Stress
You know what is worse than work stress? Financial stress after retirement.
I'll get into why I think it's worse in a bit. For now let's look at a couple times this issue has come up recently.
In Ten Things I Didn't Expect in Early Retirement, one commenter asked:
The part about "no stress" got me thinking – do you ever stress at all about running out of money? It just seems like in ER you would potentially substitute financial stress for work stress.
Even though we probably have enough to ER now, I continue to work anyway to help eliminate that potential stress point since I also fear that – if I voluntarily leave – I will never take in the kind of substantial salary that I bring in now. (But man – the idea of not dreading Mondays sounds pretty sweet!)
Then when I wrote Early Semi-Retirement: An Alternative to Full Retirement I read the following passage in the book Work Less, Live More: The Way to Semi-Retirement
:
For many people, feeling financially secure is the ultimate challenge of semi-retirement. At least when you were working, you could marshal your paycheck to fight against the tide of unpaid bills or sustained portfolio losses. Now should some major unbudgeted expense rear up or your investments suffer a drop, you may feel vulnerable. Even a little daily stock market volatility can be wrenching for those people whose moods rise and fall with the day's Dow Jones averages.
In other words, this commenter and the book are talking about trading work stress money stress.
And for me, running out of money (or even worrying about it) would be a LOT more stressful than work-related stress.
Why It's Worse
We have never had to worry about money in our marriage.
We were on the same page financially from day one which eliminated most money-related arguments through the years. This is incredible compared to what most face as money issues are routinely cited as one of the top areas where couples disagree.
In addition, we made several decisions that kept most financial pressure off our lives. The major ones were:
So money stress has never been something we dealt with. This is one reason why it would have been brutal to introduce it into our lives at retirement. Money stress would have been something completely new and for which we were not prepared. I could handle work stress since my stress muscles were built up there, but I had nothing when it came to money stress. (BTW, just for perspective, much of my life before 25 had plenty of money stress, lest anyone think I've never faced it.)
Separately, retirement is supposed to be an enjoyable time. If we got rid of work stress simply to deal with money stress this would have taken much, if not all, of the enjoyment out of retirement. Who wants to wake up to the "joy" of retirement just to spend all their time worrying whether they have enough to make it or not?
This is why having money stress in retirement is worse to me.
Some Thoughts on Money Stress
As with most money topics, I have several thoughts on money stress in retirement (really replacing work stress with money stress). Here are some of the main ones:
1. Lean FIRE has potential money stress built in.
If you haven't heard of Lean FIRE it's basically saving enough to cover a minimum amount of expenses (let's say $30k per year or lower as an example) and then retiring.
Lean FIRE people often live on the edge IMO, just one bad event away from financial disaster (or at least trouble). There is NO WAY I could live like this. The stress of "what if" would be eating me alive much worse than any stress I had from work.
Furthermore, who wants to pinch pennies in retirement? Yes, I realize there's a trade off. Which is better — retiring at 35 with $30k a year or retiring at 55 with $100k a year? There is a time/money decision to be made that's valid either way.
That said, there's no way I'd cut my retirement so close financially. That would introduce a level of money stress into my life that's just not worth it.
2. Fat FIRE has money stress all but eliminated.
If you haven't heard of Fat FIRE it's basically saving enough to cover a large amount of expenses (let's say $75k+ per year or higher as an example) and then retiring.
These people want to live "the good life" in retirement and set up their assets to cover a large level of annual spending.
Even more, since these people have often lived a frugal lifestyle to save so much and now have assets for a higher-spending amounts, they could easily cover most money issues simply by cutting back a bit and resuming their former, less-spendy lifestyles.
In this way they have pretty much worked money stress out of their lives.
3. I have zero financial stress.
As noted above, we didn't have money stress during our saving years and I sure wasn't going to introduce it into my retirement life.
Retiring Fat FIRE was a big part of what we did, but more specifics can be found in my response to the reader comment/question above:
This is a GREAT question!
And it's one reason that I retired with 1) more than enough, 2) a set-up where I still earn more than we spend, and 3) plenty of margins of safety.
If I had to stress about whether or not our money would run out in retirement, that stress would be worse to me than the work-related stress I had for almost three decades.
I'll add to this that the more margins of safety you have and the stronger/larger they are, the better. We have several and they are significant. Hence we have no money stress.
4. There are other ways to deal with potential money stress.
Work Less, Live More: The Way to Semi-Retirement
recommends the following ways to deal with potential money stress including:
Looking at asset allocation
Setting up safe withdrawal rates
Considering income opportunities like annuities (not my personal favorite for income — I prefer real estate).
They offer this and more advice on pages 316-318 of the book. To summarize it all they end with:
By trying all these plans together to neutralize the hypothetical persistence of a negative financial trend into the long run, you can train yourself to be calm in the short-term — and restore the peace of mind that you sought by semi-retiring in the first place.
5. Retiring usually feels like jumping off a cliff no matter how prepared you are.
In our retirement interviews, some have said it was easy to step into retirement, but most note it's a big leap of faith.
I can vouch for the latter feeling myself. Even with a few million in the bank, income sources to cover living expenses, and a terrible work situation pushing me out, I still felt like I was stepping off a cliff when I retired.
I remember that first day, waking up with a combination of fear and excitement. I was excited because I was FREE, no longer bound to work, a bad boss, and the related stress. But it was also scary. Would the world somehow collapse on me?
This is natural when you do one thing for almost 30 years and then do another on a given day. It's going to feel a bit strange. Kind of like when you bought your first house. You wondered "Am I doing the right thing or committing financial suicide?"
Fortunately the fear doesn't last long and within a week for sure (maybe a few days) my fear was replaced by even higher levels of excitement. Freeeeeedommmmmm!!!
6. Too many people dismiss retirement because of unrealistic expected stress.
While I have spent this entire post talking about the dread of replacing one stress for another, let me say that many are fearful of money issues in retirement without reason (or at least without much reason).
I get emails from people with $5 million wondering if they have enough to retire. We chat a bit and once I find out their spending is low enough, I ask what's holding them back. It almost always comes down to the fear of the unknown noted above.
I wrote Why $3 Million is Not Enough to Retire On as well as created my free retirement email series to help these people get over the fear and take the plunge.
Some fear is good and considering the potential stress is worth thinking about. But if you have $5 million and only need $50k to retire on, your fears are in the wrong spot IMO.
7. Healthcare is the largest looming stress.
The one retirement money stress most people can't get away from is healthcare. It's a huge wildcard.
Look at it this way: Millionaires are worried about healthcare in retirement. If they have concerns with their net worths, just imagine how the rest of the population feels.
Unfortunately, there aren't a lot of great solutions. If you're interested, here's how we handle retirement healthcare.
Final Thoughts
In the end, my recommendations for those considering retirement and not wanting to simply trade work stress for money stress would be to:
Be sure you have more than enough to fund your retirement. For example, if you need $50k per year to live on, shoot for income/asset withdrawal that gets you to $55k+ per year.
Have several margins of safety in addition to this. The more, the better.
Know that you can always take a job if you need to. Many people think that once they retire they can never earn a dollar again. If worse comes to worse, you can always get a part-time job to help with the bills. This is really just another margin of safety but it's worth calling out.
Don't let fear/potential stress keep you from retiring when you have enough (assuming you want to retire). Retirement is AWESOME and I wish I would have been a bit more aggressive and retired a decade earlier. Retiring too late is as big of (if not bigger) a problem as retiring too early IMO.
Ok, that's my say on the issue. What are your thoughts?