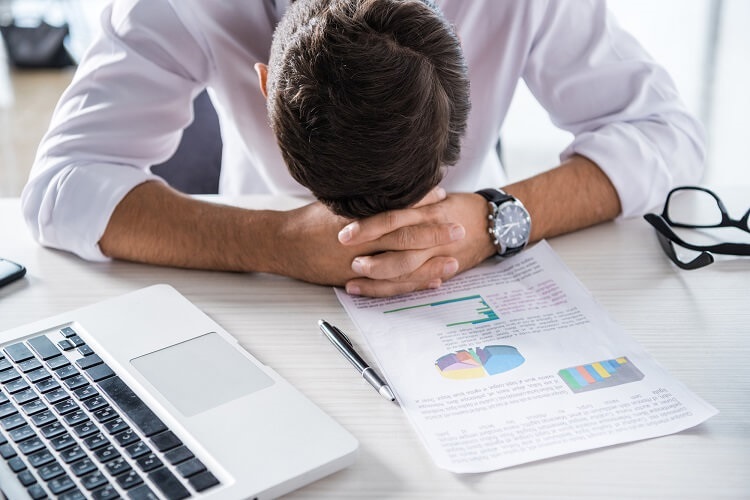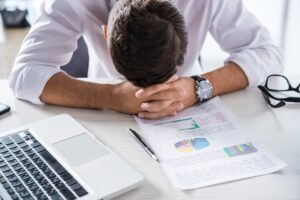 I worked for 28 years before I retired.
During that time I was quite successful.
I became a VP just after I turned 30.
I won numerous company and national awards.
I delivered great business results and thus my career advanced quickly. This allowed me to grow my income by over 8% annually.
Eventually I became the president of a $100 million company with 800 employees.
So overall, things went pretty well.
But that doesn't mean the road was all rainbows and butterflies. No, I had my fair share of career stumbles along the way.
I thought I'd share five of those today (there are many more of varying degrees) in order to do the following:
Show that I'm far from perfect. You know that already but a large helping of humble pie is good for the soul now and then.
Demonstrate that you don't have to be perfect to have success. This is true in business, finances, and life. No one makes it through without making mistakes, even millionaires.
Provide some examples of what not to do in your career. Perhaps someone can use my experience to avoid problems themselves.
Just to note, I'll be sharing these as they occurred chronologically. I think it makes for a more cohesive story.
Let's get started!
Get Ready, Get Set, Go Make Mistakes!
It didn't take long. The mistakes began with my first job out of graduate school.
Here's the bullet point version:
I had come from a small town in Iowa and was more of a bumpkin than Huckleberry Finn. But because I had a long history of success in school (high school all the way through grad school), I had gotten a big head. The world was my oyster and I was about to let them see my genius.
It didn't help that I was hired by one of the best marketing companies in the world, something that alone catapulted my ego to new heights.
This was followed by a stellar first six to ten months on the job. I had several quick successes which made me a "star".
So about a year into the position I knew I had this business thing down. It was a piece of cake like I thought it would be. Mere mortals would have to struggle but I would cruise through.
As such I was ripe when the wheels fell off. The destruction happened as follows:
I had a major change in bosses. And when I say "major" I mean I went from a boss (really two bosses above me) who loved me and was great at developing new people to one who hated me (more on that in a moment) and had no interest in helping anyone reporting to her.
I started dating a co-worker. I know. But I told you I was a bumpkin. What did I know? Anyway my girlfriend was HATED (not sure why) by my new boss and I became hated by association.
If this wasn't bad enough, I started making missteps. As I said in the post reviewing this job, "I had two major projects go down in flames (one my fault and another mostly the fault of another department.) And not only minor flames, but nuclear warhead-type flames." This was not the sort of company where mistakes were "learning experiences" (especially with the boss I had). Mistakes were weaknesses that needed to be purged.
Even after the mistakes I had some successes but the die was cast. I was branded a poor performer by my boss (who had considerable power in the organization) and short of making a successful hostile takeover of a wealthy, foreign country, nothing I could do would change her mind.
I saw the writing on the wall and started looking for new opportunities. I found one fairly quickly and was off within two years of starting.
What I Learned
Here are some of the things I learned from this experience:
One or two slip-ups can doom you. Once I had gone from "star" to "loser", it was very difficult to turn the tide. Even after I received a major company award for one of my projects, I made no progress with those higher up in the organization. In fact, my award (given by a level higher up than those in my direct area) seemed to reinforce with my boss that I "just didn't get it."
I could be a poor performer. I hadn't really had a lot of personal failure in my life up to this point, but here I realized I could do a bad job at times. Not all the time or even most of the time, but sometimes. Therefore I needed to focus, pay more attention, and put more effort into my projects.
The more visible you are, the worse failures are. Because I had so many initial successes, I was on the radar of many higher-level executives. So when I stumbled, it was very public. The people who did solid work day after day, took fewer risks, and flew under the radar advanced slowly but surely. I wish I could say this was a lesson I learned and took to heart, but it was to repeat itself a few times before I got it.
Don't be cocky. I cringe now when I think of the person I was then. If I met someone like that today I'd probably label him a "jerk." Anyway, there's no real benefit from being cocky. Confidence is good, but you don't have to be Mr. Cobra Kai about it. A strong but quiet confidence is best IMO.
Don't date a co-worker. I know, business common sense 101. And if you do date a co-worker, how about one in another department, not one on your same business? Sheesh, it's like I was the Gomer Pyle of business sense!
Sometimes things are out of your control. I wonder if the results would have been the same even if I hadn't made mistakes. My boss hated my girlfriend (and thus me) so much that I was likely doomed no matter what I did. From this I learned…
Who you work for makes a major difference. I was later to become familiar with the phrase, "People join companies. They leave managers." In other words, if your boss stinks, you will probably leave. Having a terrible boss makes a huge difference, especially when you're new and impressionable.
Anyway I moved on and had an extended run of success at my new company.
Highs and Lows
At least it started off well.
I was promoted, moved to a new division with more responsibility, given a much larger business (the largest we had), and won a national award for my performance one year.
I had four solid years of pretty much success after success. This was despite working for a maniac along the way.
Then a series of events led to another bad situation:
We had a company reorganization. I was given more responsibility in the changes (the good news) but I went from reporting to the maniac (kinda good/bad news) to reporting to another boss who I disliked (and who I was sure disliked me) (very bad news).
Turns out, I was wrong. This new boss was a pretty good guy — at least when things were going well. I liked working for him. It was under his supervision that I won the national award.
Four years in, my division was flying high. We were the star of the corporation and could do no wrong. Then the fiscal year ended and when the results came in, there were major issues.
It turned out that the sales VP had spent vastly more to make his numbers than anyone was aware of — something like $19 million more. As you might imagine, this was not well-received by our corporate overlords. The president of our division was fired and a new one took his place. And everything changed.
First of all, everyone went from working for a guy we knew, loved, and trusted to a new guy brought in to "fix things." As the new president started exerting pressure on his direct reports, the pressure worked its way down. Eventually we were all stressed out.
Next the new guy started getting rid of people and replacing them with his people (from former jobs). My boss left, Maniac left, and several at my level bailed to new companies. I started looking but not all that seriously.
Then I was moved to a much smaller business (which got me off the radar a bit — a good thing) but was put under one of the new president's henchmen. Let's just say he was the "new guard" who didn't much care for the "old guard."
I still hung in there until rumors began to swirl that the new president was going to move the company to Connecticut (where he lived). Now I don't have anything against Connecticut personally, but I didn't want to live there. I started looking for new opportunities which eventually helped me land my dream job.
In the end, it all worked out well for me. But it was painful to go through.
This situation was more of an instance of circumstances over-taking me (versus me making major mistakes) though there were things I could have done better.
What I Learned
Some key learnings:
Luck plays a role. In this series of events we see the benefits of good luck (being assigned to a big business, getting a good boss, etc.) and bad luck (the profit directive, how the program was executed, etc.) in the career process. This is a theme I saw over and over again in my career. Of course, you do have to make the best of good luck and try and counter any bad luck that comes your way.
Sometimes what you think is a change for the worse is actually for the better. This was the second time in my career that I had been assigned a new boss, dreaded working for him, and then found out he was really a great guy and a good mentor. And this wouldn't be the last time it happened to me either. So I guess I can say "don't judge a book by its cover (or reputation.)"
Business is rough. What a roller coaster ride I had been on for several years. Despite the fact that it didn't go as I expected, I felt my time in this job was well worth it because it taught me many valuable lessons, gave me some great experience, helped me amass some amazing accomplishments, and, ultimately, prepared me for the next phase of my career — a jump that was much more than I could have expected without this experience. No, I didn't leave happy. But I left having moved my career along dramatically and accomplishing much more than even I had expected from myself.
Company success trumps personal success. It doesn't matter if you're Barry Sanders. If you play for the Detroit Lions, you're not going to the playoffs often and you can forget the Super Bowl. In business you can rack up all the personal successes you want, but if the company tanks, it's all for naught.
Politics is huge. This is one reason I have networking as one of my seven steps to make millions more. Those that knew the new president did well despite the circumstances and, in some cases, their abilities. It's not what you know but who you know sometimes.
I didn't see the writing on the wall fast enough. I should have left several months earlier when many others did. But I wanted to stay and be part of the turnaround. But I was cast as "one of them" so I never really got the chance.
I was above the radar and a key part of the old guard. As my boss at that time said, "Those who fly close to the flame get burned." So true.
But I was able to more than land on my feet with a great career move…
It's Lonely at the Top
Thankfully I escaped the nastiness of my last company and moved into a job I loved with a company I loved…and I thrived at it.
I had two very successful years at the new company, growing in income, experience, and accomplishments. Eventually I was promoted to head a new division that was merging with a company we were acquiring.
This meant my department had 25 people from the existing company and 15 from the new company. And yet we only needed 30 of those people.
Guess who's job it was to decide on the new structure and get rid of the 10 extra people? You guessed it…me.
This was also the only time I had to ask for a raise for myself. I was taking on a ton more responsibility and yet my boss wanted to pay me the same amount. I went to him, presented my case, and got an appropriate raise.
I spent the first several months under tremendous stress. Making decisions on people's livelihoods is a terrible thing and I slept maybe 4-5 hours a night — my mind just couldn't shut off. The upside was traffic was light when I drove to work at 4 a.m. Ha!
Eventually we made the tough decisions, things settled down, and we got on with business.
Unfortunately this is when the cockiness returned. I won't go into it since it's frankly too embarrassing, but I reverted to my old self just out of grad school. I acted self-importantly and felt some work was beneath me — just the opposite of what needed to happen. Instead I should have dived in and taught/led those below me.
The fame and prestige had gone to my head and it was a disaster. What's so surprising is that this came on the heels of me executing such a successful transition between our two companies.
Oh yes, and politics played a major role again.
In My Jobs, The Dream Job Turns into a Nightmare I summarized it this way:
As I was shooting myself in the foot, a key executive at my level was shooting me in the back. He was a long-time friend of the president and I found out later that he'd been undermining my efforts since day one (telling the president I was doing this or that that wasn't acceptable.) In many cases, what he said was true. But he often twisted the facts to serve his purpose — which was getting rid of me and putting his man into my position.
One day my boss invited me to lunch and told me he was returning me to the former position (still a VP) I had before this one. I was devastated and humbled. A colleague of mine was to take my spot (which he did well in for about a year before he too crashed and burned.)
The one shining spot was that I kept the higher salary I negotiated.
Fortunately I learned my lesson this time, though it was a bitter pill to swallow.
When told I would return to my previous position, I decided two things:
I was leaving the company. They had basically decided that I wasn't getting to the next level and as such there was no point to staying.
While I remained, I was still going to do the best job I could. For one thing, I needed the job to provide for my family. For another, I'm not the sort of guy to simply coast.
It's ironic but I enjoyed some of my greatest career success during the two years it took me to find a better job (yes, TWO YEARS! I wasn't going to settle for any old job just to get out of there.) Our company won several awards at our industry convention, many of which I was directly responsible for. I was even given the highest award for the person who had the single-most positive impact on the entire industry. I was stunned when they called my name as the winner and I was very grateful, as you might imagine.
What I Learned
Here are some of the things I learned during this time:
Arrogance can kill. I got a bit caught up in my new role and was way too into myself. Soon thereafter, I was humbled. It was a tough lesson to learn, and one I grappled with later from time-to-time. In the end it was a valuable experience for me and made me a better executive. And now that some time has passed, I can look back on the experience and appreciate it.
Watch your back as you progress. The higher up you go, the more politics plays a role in your success. Ignore it at your own peril.
Don't let pride be your paycheck. Part of me was simply happy with the major promotion and didn't want/need a pay increase. But the other part pushed me on and I eventually got a pay raise — one that moved my salary up a significant amount. If I had let it go, who knows how long it would have taken for me to earn that raise back?
There's nothing worse than firing people. This was the first time I had to let people go (unfortunately, it wasn't the last) and it's gut-wrenching. If you've ever had to fire someone — even if they deserved it — you know how tough it can be. And if you never have, there's no way to describe it. At least in this case many of the people knew that lay-offs were coming. Even more brutal are the surprise firings. Ugh.
You can bloom despite tough times. Those two years after my demotion were very tough in a number of ways, but somehow I kept going and made a success out of it. Sure, I could have sat back, sulked, and wallowed in self-pity, but what good would that do? Instead, I delivered some major results for my company which allowed me to climb the next rung of the career ladder (though at another company.)
Wait for the right opportunity. You may be tempted to jump ship once the writing is on the wall at your current employer. But I guarantee if you take a position just to get out then there's a very high risk that your move will not be great. Take a breath, step back, look at what you really want, then take time to find it. I spent two years looking for the next great job twice in my career and both times the wait was worth it.
Fortunately I found a new position I was excited about at another company, though the outcome wasn't what I had hoped for…
The Blame's on Me
The right opportunity turned out to be for a web start-up. It was the dot-com boom and I was going to be rich!
Unfortunately we spent our $40 million (yes, FORTY MILLION DOLLARS) getting a website up and running that no one wanted to buy from. I personally had great success (our traffic numbers, for which I was responsible, were way above projections) but since we made very little revenue, the company suffered.
When it came time for our second round of financing, it was the dot-com bust and no one would invest in us.
The company went under, but fortunately I was able to get a position with our parent company.
I had a few years of success when I experienced a case of deja vu — our president was fired and a new guy was brought in to "fix" things.
As happens many times, the new guy was full of himself and knew he could hit a home run. So he promised the board an unreasonable profit number — one that we could only make if all the stars aligned.
A key part of this was the marketing plan which I was to develop to hit these huge numbers (with less money than I had in the past, BTW). The only possible way to even come close was to throw a Hail Mary.
In My Jobs, The Blame's on Me, I summarized the situation and the results as follows:
We had been given a profit number that was far out of our reach. Our only chance was to swing for the fence and try a risky plan, but one that had at least some chance of getting us close.
The president suggested I consult with a marketing firm he'd used in the past and do whatever they suggested. I worked with them, and they came up with a plan that seemed reasonable — at least it had a chance of succeeding.
I presented it to the president as well as his right-hand man (who he'd brought in from his last company) and got it approved. Now, we just needed to execute the plan.
The short story is that we executed it alright, then it executed us — the plan failed disastrously. Our sales tanked big-time and were down during our biggest time of the year. The board wasn't happy.
Then, the unbelievable happened. The president and his #2 claimed that they had never agreed to "my" plan. They "forgot" that they had recommended the company that put the plan together. They "forgot" that I had shared the plan with them. They "forgot" that they had agreed to it.
The only thing they "remembered" is that I had come up with a bad plan that was killing our company. Sure, I had advocated the plan as our only hope, but they had been in agreement and certainly given their approval. Otherwise, how could the plan have gone forward?
From there it was all downhill. As the scapegoat for the performance, my boss was set to demote me. I had an employment contract so there was no way he could fire me (without paying me a year's salary) and he couldn't pay me less. And even if he wanted to demote me, he might not have been able to (the contract was fuzzy on that issue), but I wasn't going to stay around and find out.
I wanted out, he wanted me out, and I had an option — a job that eventually turned into the best job of my life. More on that in a minute.
What I Learned
Here's what I learned in this position:
You need to be constantly networking. This specific instance is one reason I regularly encourage readers to develop, grow, and work their networks. Doing so helps you out in so many ways and is a big part of making the most of your career. And for me in this case, my network was a lifesaver.
An employment contract is a great thing. Even in what was probably the worst crisis of my career, the fact that I had a document guaranteeing me a year's pay was quite a comfort. Of course I had worked for that contract and managed my career appropriately to get it — it wasn't just handed to me.
You never know what can happen. A few months earlier, I was the guy that had listened to the company president, used his marketing company to develop a plan, and executed a plan that he signed off on. Now I was the fall guy to deflect blame from him. My, how things can change quickly. It speaks to the fact that you always need to keep your options as open as possible.
Fortunes can turn around quickly. I held my new job for nine years. It was everything I thought it was going to be and was awesome on many fronts. Out of the toughest of times came my greatest blessing (work-wise.)
You're Fired, Mr. President
So I went into the best job of my life and spent nine wonderful years there. If you want to read what made it so amazing, check out My Jobs, Last Three Jobs Before Retirement.
I would have probably retired from that job (after all, I was financially independent at that time) until a series of events opened up the president position at a company in my old industry (actually a competitor of the company I had left last). It was part calling and part "I want to see what it's like being a president" that made me accept the new position and leave my beloved company.
The short story of what happened is this:
The company I went to was in a dying industry and had declining sales.
Through tremendous efforts of my team and many of the company's management, the first full year I was there we had record company sales and the fourth best profit year in 35 years (all while the rest of the industry was being crushed by Amazon.)
A few months into the following year, our CEO left, a new one was hired who didn't want a president, and I was fired.
I had an employment contract here as well, and this time they paid me six months salary when I left, so it wasn't all bad. 😉
I detailed the drama and background in The Day My Most Valuable Asset Took a Hit if you want specifics.
What I Learned
Here are my key takeaways from this position:
Be very careful when making a career move. Whatever career decisions you make, always realize you are messing with your single greatest asset. A wrong move could hurt you financially in a very bad way. It's often worth it (as I've proven time and again in my career), so I'm not saying not to do it. Just be careful. Do your due diligence and consider the possibilities before any move.
Be on your guard. Even though you think you are "safe", you never truly are (even when you deliver a record year!). You need to always work your career.
Networks are key. They are a big part of your career insurance. Because of my network I was able to find another position pretty quickly, though that turned out to be a bust as well. The silver lining was that I now lived in Colorado, saw how awesome it was, and decided to retire! So it all worked out for the best!
Keep your head up. Things happen (bosses get fired/hired, reorganizations get announce, etc.) that can impact you through no fault of your own. Don't let them get you down. I allowed myself a week to wallow in self-pity and then I was back on the horse quickly.
Layoffs can be managed better if your financial house is in order. I contemplated retirement at this time, but we lived in Oklahoma, not exactly my idea of a retirement setting (apologies to those who love OK — it's just not my cup of tea.) But knowing that I was financially set was a great comfort during this time.
Getting fired is not the end of the world. This was a completely new experience for me and totally unknown territory. It was surreal in many ways (like who stuck by me and who didn't — many surprises there) and took some time to get my footing. But once I did, I realized the sun still came up, life kept on, and we were all ok. It eventually became kinda of nice and gave me a glimpse into what early retirement might be like.
So there you have it…five situations where I messed up and was forced to learn something.
I hope my failures help you make better decisions in your career.
Now it's your turn. Anyone out there ever had a career setback? What did you learn from it?