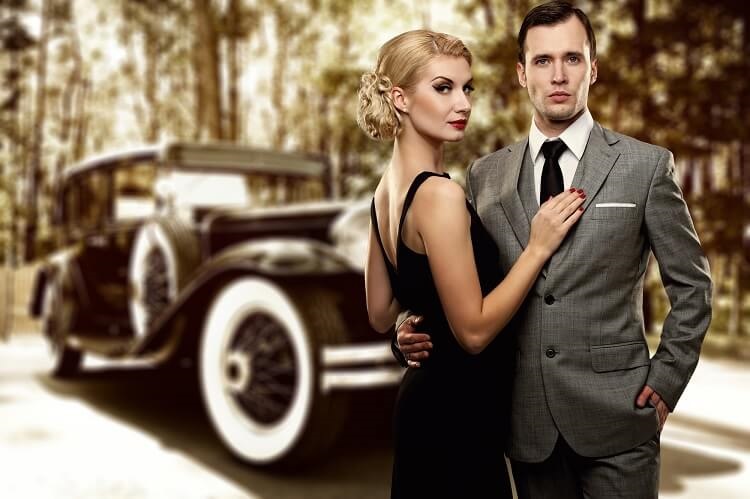 I'm not sure where I saw it, but someone I follow online mentioned that they were reading The Old Money Book
and recommended it to others.
Always on the lookout for a good money book, I went to my library's website to see if they had it. Nope.
I then hopped on Amazon to check it out.
I liked the fact that it had two (not just one) subtitles.
They are:
"How to Live Better While Spending Less"
"Secrets of America's Upper Class"
Ok, those sounded good. I'm all in favor of living large while spending less. And who doesn't like "secrets"? We all do, right?
So I bought the book and want to share what I found in it.
Living Like Old Money
The book states its purpose in the introduction as follows:
The purpose of this book is to help people who want to live fuller, happier, and more productive lives do so by learning about and emulating the values, priorities. and habits of "Old Money". The term "Old Money" refers to individuals whose families have enjoyed wealth and privilege for three generations or more.
In the United States, "Old Money" generally refers, but is not limited, to established families in the northeast of the country whose ancestors accumulated large amounts of money and then invested and spent it in a certain way.
If you want a list of "Old Money" families to give some perspective, here's a list from Wikipedia. Some of the more notable family names are Du Pont, Forbes, Astor, Rockefeller, and Griswold (not the family from Christmas Vacation).
If you want a feel for what these people are like, here's a video captured of them in their element:
But of course!
Anyway, the book is about how these families live and manage money. It's broken into two main parts:
Seven core values
Nine ways "Old Money does it"
The first are more geared for readers of this site, though the latter list is much more entertaining, as you'll see in a moment.
Seven Core Values of Old Money
We'll start by covering the seven core values. I'll list each one, quote what the book says about it, then provide some commentary.
1. Health.
Here's how the book summarizes this value:
You can have millions of dollars in the bank, but if you are not healthy, you are not truly wealthy.
Old Money is active. It eats well, but moderately. It rarely smokes cigarettes and enjoys cigars and pipes in moderation, and almost never in public. The same moderation applies to alcohol.
I love that they refer to Old Money as "it." LOL.
There's no arguing with the fact that if you don't have your health, all the money in the world is worth way less. I won't say it's worth nothing since money can save you if it lets you purchase the right treatment, but I think you know what I mean.
Old Money realizes the following about good health:
And of course Old Money agrees with my thoughts on smoking, proper nutrition, exercise, and alcohol shared in How to Save Money On Medical Costs.
BTW, I wonder if Grey Poupon is healthy. 😉
2. Education.
The book says the following about education:
The second core value of Old Money is education. This may be the most obvious core value, given the general public awareness of Old Money's tendency to send its children to Harvard, Yale, and other such institutions. But the value of education, and the actions that result from it, extends more deeply than that.
The book goes on to tell how Old Money reads to its children from their early ages, takes children to libraries and on field trips, invests in private education, teaches a love for reading, and plans for children's educations even before they are born.
Ok, a few thoughts on this from me:
It's hard to disagree with the overall sentiment. I think most people aspire to have their children love learning, reading, and the like.
As for college, I'll generally agree. Getting a college degree and then an MBA (which I calculated was worth somewhere between $1 million and $2 million) certainly changed the course of my financial future in a big way. And I believe for a good portion of people, college is still the right choice (as long as it's done in a manner where the resulting income stream is worth the investment.)
That said, I don't think college is for everyone. There are lots of career paths where specific training is needed instead of college. Many of these are good, solid careers. In addition, not going to college would certainly be preferable to attending college and racking up $100k in debt only to come home to the same job the student had in high school.
So another set of kudos for Old Money. Up to this point they are right on the mark.
3. Work ethic.
Here's how they talk about this core value:
Old Money realizes that there's no good chance at happiness without purposeful, productive work. Obviously, in many cases, Old Money doesn't work because it needs the money. It works because there's joy in doing what you love. Whether it's a profession that provides a paycheck, or volunteer work for a charity, Old Money works.
Ok, Old Money and I are going to have to differ just a bit on this one.
First of all, let's start with where we agree: that hard work is vital.
Old Money does it for the pleasure of itself as well as the intrinsic reward, while the rest of us work hard to grow our incomes and thus our finances. For example, millionaires know the value of hard work — that's why they listed it as the top way to grow an income.
But Old Money gets into the "do what you love" line of thinking that I can't buy into. I agree that you don't want to do a job you hate simply because you make a lot of money at it. Who wants to live that miserable life? But it's impossible for most people to truly do what they love (i.e. sleeping in until 10 am and then playing video games all day) and make any money at it.
Instead I recommend "doing what you like". Pick a field you enjoy well enough but one that also provides a solid income to grow your wealth. This seems like a great balance to me.
Of course Old Money doesn't need to make these compromises since they are already wealthy, so it's easy to say "do what you love" while they enjoy their tea and crumpets.
4. Etiquette and manners.
This section goes into a whole discussion of etiquette versus manners, the difference between them, and how Old Money deals with each. Yawn.
But here's an interesting sentence that is bolded in this section:
Old Money is never condescending to others, regardless of their social position or vocation.
Really? That's not the feeling I got from Thurston Howell III.
Later on in the chapter the book says:
At home, Old Money says good morning and good night. It offers to help if someone's cooking a meal. Old Money is dressed; no walking around in boxer shorts with no shirt on, thanks.
First of all, Old Money cooks? Doesn't the cook, chef, or maid handle that stuff?
Second, I don't think Old Money would approve of my retirement wardrobe. LOL!
Seriously, I'm all in favor of civility, kindness, and being polite and am thankful they recommend it. Just color me a bit skeptical that this is truly one of their core values.
5. Financial independence.
Now we're talking!!!!!
Here's how the book introduces this point:
You can't be Old Money without money. Saying that money does not buy happiness is missing the point; the truth is you have more options when you have money, and when you need money, there is rarely a substitute for it.
The priority for Old Money is financial independence, not display. If you have to get up in the morning and go to a miserable job in order to pay for a big house, expensive car, and high-end wardrobe, what's the point? If you can get up each morning and do whatever you want to do that day — and every day — that's quite a luxury. Financial independence makes it easier to discover what it is you really enjoy doing, both regarding a vocation and regarding hobbies and leisure.
Financial independence is easier to maintain when you live simply and focus on doing and being more than spending and having. Old Money knows material possessions can be cumbersome, so it chooses wisely. But don't think Old Money doesn't live well; it does. The convenience and comfort of quality clothing, a well-appointed home, a staff to take care of daily chores, private planes, and exotic travel — it's a good life. But it's not to be flaunted to those less fortunate, and it certainly is not an end unto itself.
Wow! Lots of thoughts here:
I have to agree with both "money doesn't buy happiness" and "it kinda does". If Eeyore is your spirit animal, then having money probably won't make you happy. But given almost any level of happiness, I'd say it's better to have money than not have it. In our case, money doesn't make us happy as we're generally a happy family anyway. But money provides lots of extras we enjoy. Conversely, if we were scraping pennies together or forced to work until 80 because we didn't have enough money I can guarantee we'd be less happy overall.
I'm not so sure about Old Money not displaying their wealth. I think they do display it…
"If you have to get up in the morning and go to a miserable job in order to pay for a big house, expensive car, and high-end wardrobe, what's the point?" Very true! But I'm not sure this is an issue for Old Money. It is for those of us who grew up as No Money and then had to take steps to accumulate our wealth.
"Financial independence makes it easier to discover what it is you really enjoy doing, both regarding a vocation and regarding hobbies and leisure." Another truth bomb. I would say financial independence needs to be coupled either with retirement or at least semi-retirement to free up time so you then can discover what you like. I was FI over a decade ago but because I didn't retire, I didn't get to really enjoy life in a way I do now that I am retired.
"Financial independence is easier to maintain when you live simply and focus on doing and being more than spending and having." Again, good advice for those of us who were (or those who still are) No Money. Obviously saving/controlling spending is a key part to becoming wealthy for anyone trying to increase their net worth.
I always think of Old Money as over-the-top when it comes to possessions. Either I have this wrong or the author is hedging a bit.
One other quote in this chapter that stood out to me is this one:
Children learn financial habits and attitudes about money from their parents. the apple doesn't fall far from the tree. Old Money knows that a generation without good financial habits is a generation — and possibly a fortune — lost.
It goes on to talk about how Old Money passes along financial knowledge to their children.
We talked about this a bit in How the Rich Get Richer. For Old Money, the family stays wealthy because they pass down financial principles to the next generation. For most families who become wealthy, they experience "shirtsleeves to shirtsleeves in three generations" because they don't know how to pass along that knowledge.
6. Family and marriage.
We'll cover this one briefly, starting with the summary:
Divorce, domestic violence, drug and alcohol abuse, unplanned pregnancies, spoiled or maladjusted children — these are deadly to Old Money, or money of any age.
Can't disagree here. I've talked about the cost of divorce and have listed "marrying the wrong person" as one of the ten worst money moves anyone can make.
On the opposite side, "marrying well" is one of the ten best money moves anyone can make. Plus if you have the right partner, you can be a great Super Bowl team. 🙂
7. Privacy.
Here's an interesting quote from the book:
It has been said that Old Money individuals who live appropriately have their names in the newspapers three times: when they're born, when they marry, and when they die.
Haha!
You've probably heard the term "stealth wealth", which is the idea of being wealthy but no one knows it.
I don't think Old Money has stealth wealth, but they do keep things on the down low.
Those of us who live normal lives can be even more low key and have wealth that no one would ever guess we have.
For instance, I look like some doofus half the time (or more) — the way I'm dressed, walking most places I go, and not having a job. I drive a car with 130k miles on it, live in a nice but normal house/neighborhood, and don't have any of the trappings you'd associate with wealth. If you put me in a line up with other random people and someone was told there was a multi-millionaire in the group, I probably would be selected somewhere around the middle of the group, if that.
But I like it this way. I get to go through life with all the advantages of being wealthy with few of the disadvantages.
Nine Ways Old Money Does It
The next section of the book lists nine ways Old Money "does it". In other words, nine things that are key to how Old Money lives successfully.
I'm not going to go through all of these. Instead I'll list all nine, then make comments on a few of them as appropriate.
The nine are:
Attire
Diction and Grammar
Furnishings
Reading
Housing
Socializing
Cars
Travel
Staff and Services
Some thoughts from me on these:
The "attire" section is quite a hoot to read. It goes into detail of how Old Money should dress — both for men and women. It also has this statement in bold: "It should take someone five minutes to realize that you're well-dressed." It would probably take me five hours if I got it that quickly. Clothes don't really impress me and I don't pay that much attention to them. I'm sure Old Money wouldn't approve of my standard athletic gear attire either. Ha!
I LOVE the fact that "Old Money reads." I also like this tip: "A good regimen for reading is to alternate: read a book that you want to read about a subject that interests you, a guilty pleasure, even. Then read a book that you should read, a classic." I have done this much of my life, sometimes reading a business book and others a fictional piece. These days I listen more than I read, but given that I listen when I walk (and I average 20k+ steps a day) I consume a TON of content. I'm a big fan of reading and it was key in enabling me to grow my career and income.
Old Money enjoys travel! You know who else enjoys travel? New Money! In fact travel is the #1 secret splurge of millionaires. I like travel as well, but don't live for it. The transit portion is increasingly more annoying to me, though I love being in the places I go (like Grand Cayman). This is why when I travel I go to a place I really enjoy and stay for more than a week to make the trip worth it. It's also why I'm spending more on the transit portion of travel — to try and make it more bearable.
The rest of the items are interesting to read but not really applicable to most of us. For instance, I don't need to understand how to select and manage a staff. 😉
Book Summary
Overall, this was an enjoyable book to read and I'm glad I purchased it.
That said, it certainly wouldn't make my top five money books list or even the expanded set of money books people should read. Why? Because it simply doesn't have enough valuable and unique money tips in it. You can find what it says elsewhere and described better. So I can't recommend it as a top money book.
That said, if you've read all the top books and want a different money book with an entertaining and interesting perspective, then this one could be for you. As I said, I did enjoy it. Plus it's an easy read (140 pages) — perfect to consume on a flight somewhere and back.
Anyone out there ever read this book? What did you think of it?