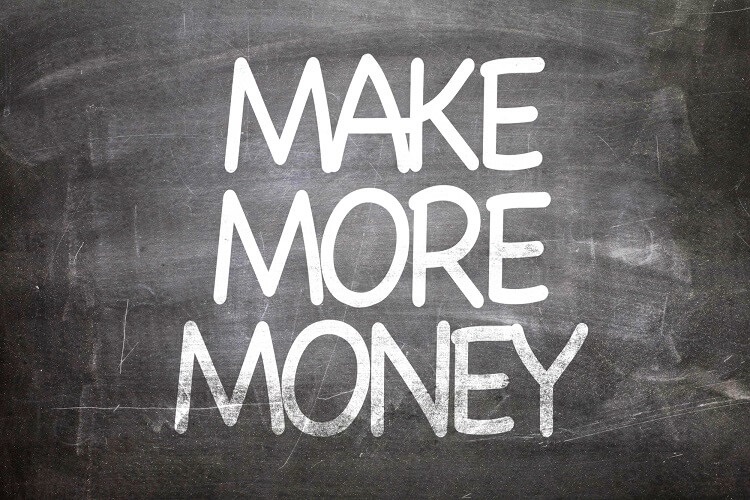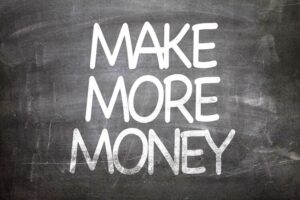 Now that we've discussed the three ways to earn income as well as reviewed a list of ideas for creating income, I want to share what I think are the best ways to earn money.
Of course to determine "the best" I had to have some criteria, so I developed my own as follows…
Criteria for Rating the Best Money-Making Methods
I considered a lot of options but eventually came down to the following five as being responsible for the vast majority of income-earning success:
Cost — What a money-making effort costs in time, money, or both. Example: Creating an ebook might cost a ton of time, while investing in dividend stocks is mostly a monetary cost.
Enjoyability — How much a person enjoys (or doesn't enjoy) the effort. If you like doing something (like I do with blogging), making money at it almost seems like an afterthought and/or bonus.
Ownership — Does it belong to you or to someone else? If you create a side hustle, you own it, which means you can take it with you wherever you go (like into retirement). If you're working a job, you own your career, but ultimately the company owns the position. So if you quit or retire, you lose all that income.
Probability of Success — How likely is it that the effort will result in income? For example, writing songs has a notoriously low chance of success while turning your hobby into an income is much more likely to earn something.
Potential — The amount and length of earning potential. Can you earn $200 a month or $2,000 a week? Will the earnings last a year, five years, or longer?
There are more criteria (and almost limitless amount) that could be included, but these are the main ones IMO and what I use to evaluate potential income-producing ideas.
Rating the Options
With the above criteria in place, I rated all the items we covered in my list of money making ideas.
I gave each idea a rating of 1 to 10 on each of the five criteria, then added them up for a total score.
Before I get to results, let me say this:
This process is completely subjective. Yes, it's based on my experience and knowledge, but others could do the same exercise and get different results. That said, in the end I suspect we'd all end up with the same top seven — the difference might be in items #8 through #10.
There wasn't a lot of difference between the top ten in total ranking. Turns out that an idea strong in a couple criteria is by nature weak in a couple as well. This tends to cluster all the top total scores, so there aren't huge differences between these. In addition…
Your personalized top ten might be different based on what you value. I rated all ideas from 1-10 on all measures, but you may decide that cost, ownership, and potential are the only criteria you care about. In that case, your list would be completely different.
Some of the ideas are so dependent on one thing or another that if you don't have that thing, it makes the idea a no-go for you. For instance, if you can't write well, creating a book is a dead-in-the-water idea no matter what score I give it. Or if you don't have a lot of money, buying a business isn't an option.
So, in summary, YMMV.
With that said, let's get to the top 10 in countdown order…
Ten Best Ways to Earn Money
Here's my list:
10. Write and sell an ebook.
There's probably something (or a few things) that you know how to do that most others don't. You could write an ebook about it and sell that book for some extra cash.
This one makes the list because the cost is only time (no money to speak of), most people can write, and selling an electronic book on the internet is so much easier than selling a printed book anywhere. It's also highly profitable as the product (electronic form) and distribution method (electronic delivery) cost very little.
It helps to have an audience (to market the product) or access to one (through an affiliate deal with sites) to really make this work, but if you have the right idea, can express yourself well, and get the word out, this could be an idea that pays you a decent amount for a long time.
9. Rent things you own (house (Airbnb), car, stuff, parking space, etc.)
IMO the big winner here is renting out your house, but there might be other things you can rent and make money on.
The great thing is that you have already paid for these things (or at least have them in your budget), so anything you earn from them is extra money with no expense.
Who knows where travel renting will bottom out after the virus issue plays out, but there's another great way to make money off your house — take in a renter or two.
My daughter's friend bought a house and then rented out two bedrooms to friends for a total of $1,100 a month. My son's friend rents out three bedrooms at $400 to $600 a month.
Yes, it's a hassle to live with other people (and thus this one gets dinged for "enjoyability") but if you're the sort who doesn't mind that (or at least can put up with it), this idea is a winner.
8. Private loans.
First, the bad news. Private loans are hard to find, risky, and you need cash to invest in them.
But the good news is very, very good — solid returns (10% or so) for a long, long time.
So if all works out, private loans can be home runs.
In fact, if it weren't for the cons listed above, these would rank much higher on the list.
7. Online course.
This is similar to writing an ebook, just a bit more in-depth and likely requiring multiple media talents (written word, graphics, video, audio, etc.). The time commitment might be longer, you need a few more skills (only at a basic level though), and perhaps some money.
That said, courses sell for significantly higher amounts than ebooks. You'd have to sell many more books to equal what you'd make from one course sale.
In addition, courses are more likely to be sold for you by other sites since the affiliate payments can be higher.
Plus there are tons of add-on sales that can complement an online course (private coaching, newsletters, forums, etc.) that make this a winning idea.
6. Freelance writer.
Anyone can write, right?
Hahahaha!
Ok, it's not that easy and takes some determination and marketing, but if you know a subject and can write, there are publications and sites out there that will pay you for it.
In fact, you can make a lot more doing this than you can writing an ebook. However, writing an ebook is a one-time commitment whereas you need to keep writing as a freelancer to keep earning.
So pick your poison and go for it.
FYI, I was a freelance writer for magazines back in the day (when people read magazines) and it helped us pay off our mortgage early.
I was never that good at or "into" writing (I favored math over English), so if I can do it there's a huge group that can as well.
5. Consulting.
The idea here is that you take your work skills and sell them to others.
It can be hard to find these gigs, but when you do many pay quite well.
And assuming you like what you do, you can make money at something you enjoy.
I did this as well (only a few times) and the money was very good (more than what I earned per hour at my job — by far).
4. Real estate.
Now we're getting to the heavy hitters. The top four ideas will generally require more time, money, and commitment, but also have the highest, most consistent payouts.
Real estate has long been known as a method to become and stay wealthy. It's a top investment choice of millionaires and even has its own 20-year investment plan for creating wealth.
And today there are a gazillion ways to invest in real estate — residential rental, commercial, REITs, crowdfunding, etc. — that there's something for everyone's level of commitment and dollar amount.
That said, I'm particularly fond of residential rental real estate as that's where I've invested and done well. I think it works for many too, but you can pick what works for you.
BTW, I wonder if crowdfunding real estate will see returns dry up like peer-to-peer lending has. Time will tell, but I'm hesitant to jump in based on my past poor experience with P2P lending.
I don't use debt in real estate investing (my wife insists on no debt) but it's a key factor for some in creating very nice returns.
In almost any form, as long as you do your homework, know what you're getting into, and include a margin of safety in your investment, real estate will work out for you.
3. Dividend investing.
This idea and real estate are neck and neck IMO, but I gave this the edge because it's generally easier to get into (and out of). You can begin with a small amount and buy stocks over time.
In fact, you can start buying a few shares each time you get paid. Keep it up for 30 years and you'll amass a fortune of valuable stocks that pay you a solid income.
Here are a couple examples of ESI Money readers who have done just that:
I'm a new entry in dividend investing but so far, so good.
2. Side hustle/business/blogging.
This is somewhat of a catch-all, but the idea here is that you build a business (you could buy one too if you are long on cash and short on time) that you (generally) or someone else (if you prefer) runs.
If you have the time and ability, you can build these into something quite nice while working, then take it into retirement as an extra income. In fact, income from a side hustle is so powerful that it can help you retire in 10 years.
Plus since they generally center around something you enjoy, they are fun.
I called out blogging specifically because I believe that most people can create a $25k blogging business if they have enough time, put in the effort, can write (you don't even have to write well), and have unique knowledge in a topic.
And since the cost of starting a site is so low, it's easy to get started. You just have to be committed though as success certainly doesn't happen overnight. Be prepared to write and market three posts a week for three years before you see any significant income. If you earn anything more before that, consider yourself lucky.
I have personally started two successful sites from scratch as well as purchased, grown, and sold another one, so if I can do it anyone can.
If you want to see the difference a side hustle can make, look at my ESI Scale calculator and run the numbers with and without side hustle income.
1. Career.
Most people don't want to see this as #1 since they prefer to make money outside their jobs — because they dislike their jobs (how whacked is that?). But growing your career is the best way to increase income IMO.
This is because your career is your biggest asset and with just a handful of proven steps (not requiring much effort), you can improve your raises slightly. These small bumps eventually add up to very big bucks.
If you want proof, run your specific numbers in my career growth calculator. Change the assumptions slightly and see what a difference it makes.
How to Go from One Income Stream to Multiple Streams
These income methods can be created sequentially into a very strong group of multiple streams of income.
Your journey might be different than what's below, but here's a frequent path if you want to create several sources of income:
Pick a career that earns a good amount of money and which you enjoy.
Keep spending low, creating a good gap between what you make and what you spend.
Use the gap money to invest in stock index funds (for growth — you'll need growth over time) plus dividend stocks (for added income).
Work on growing your career to increase income while keeping spending low to create an even larger gap. This allows you to put more into index funds, dividend stocks, and save for additional investments down the road (i.e. real estate or private loans).
Develop a side hustle/business/skill (could be any of numbers 2, 5, 6, 7, 9, or 10 above). For me it was initially freelance writing and then blogging (a natural transition) with refereeing and consulting thrown in along the way. As these build, you'll have even more extra income to invest in index funds, dividend stocks, and savings.
As your savings gets large enough, you can begin to buy real estate for rental income. If you run the financials and buy correctly, this will generate even more income which you can use for additional index funds, dividend stocks, real estate, and private loans.
Do this over time and you'll create a multi-asset portfolio which will offer you both appreciation (growth) and income. Eventually you will have more income than your living expenses. Once you reach this point (plus have at least a few margins of safety), you are financially independent. You can retire or not — the choice is up to you.
To see how these numbers can play out in your own scenario, see my financial independence calculator and play with the options.
That wraps it up for our three-part series in earning extra income.
Any thoughts you'd like to share as we draw to a close?